Actress Rebecca Lim is engaged after less than a year of dating
Lim said that she was introduced to her future husband, a "very private" 35-year-old Singaporean who works in corporate branding, by a family friend at a get-together earlier this year.
Singapore actress Rebecca Lim is engaged. The 35-year-old revealed the good news on Instagram on Monday evening (Nov 15) and included photos of the proposal that took place on Nov 12. 
So who's the lucky guy and when is her big day? Unfortunately, she didn't provide details to either question, only revealing that her "very private" future husband is a 35-year-old Singaporean who works in corporate branding.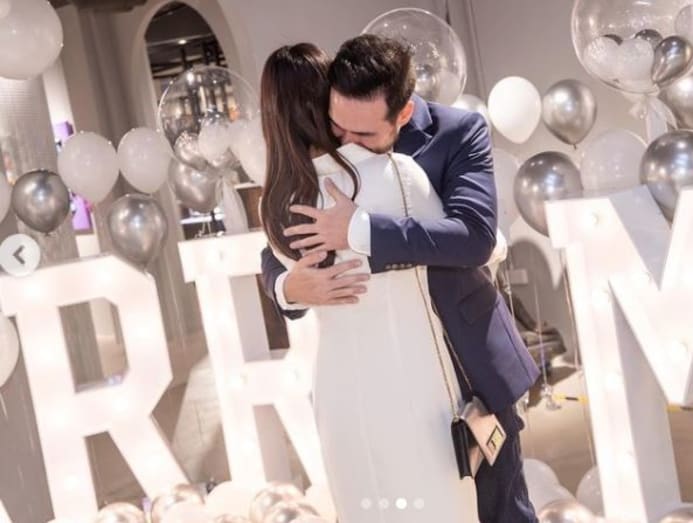 According to an interview with local entertainment portal 8days.sg, Lim said they were introduced by a family friend earlier this year at a get-together at a friend's place before all the restrictions kicked in.
"They thought we were quite suitable for each other, so they introduced us during the dinner and we hit it off," Lim said.
In the same interview, Lim revealed that only her close friends and both their families knew they were dating.
"With the pandemic, we didn't go out much, so we just stayed home to spend time together or with the family," she told the entertainment site. "Even when we did go out for meals and people saw us, I would still say hi to people who say hi to me."
She added: "No one in the industry has met him. I just wanted this relationship to be not so scrutinised and just evolve as naturally as it can."
Lim described her husband-to-be as "honest, mature, down-to-earth and very filial" – her pillar of support that has helped her a lot in her career by "being very secure and very stable".
So is getting married with less than a year of dating under her belt a wee bit too soon?

Lim explained that both of them were clear about their intentions from the start.
"I think when you meet at a certain age and you've been through things, you know what you want and what you don't want," she told 8days.sg. "I was very transparent from the beginning and so was he. And we laid our cards down at the beginning. We got to know each other at this age where we want to be as honest as possible. And not to waste any more time."

"Whenever we communicated, there was no pretence and no mind games," she shared. "Nothing of that sort."
Many of Lim's colleagues and fans have left congratulatory messages on Instagram, including Michelle Chong, Xiang Yun, Ben Yeo, Chantalle Ng and Ian Fang. 
Interestingly, a few hours before Lim announced her upcoming nuptials on social media, Fang wrote this cryptic post on his social media page.
The 30-year-old Fang, to whom Lim was previously romantically linked although they both insisted they were just friends, posted: "As transient as a fleeting cloud, quietly, and without a trace. Not every Christopher Lee will have his Fann Wong; not every Fann Wong will stay with her Christopher Lee. Not everyone can be Christopher Lee and Fann Wong. And when everyone thinks that the both of you will be like them, not everyone believes that you'll be the next (Fann and Chris)".
Later that same night, he posted an Instagram story, questioning why he was "getting scolded when someone else is getting married".
"Why? What have I done wrong?" he wrote. "What have I done to upset you? Did I do something? I didn't say anything! What did I do? Why are you scolding me?"
The actor didn't make clear what prompted these posts.