How a nostalgic couple brought 'old Singapore' into their new 700 sq ft BTO flat
CNA Lifestyle's Making Room series looks at small homes with big transformations. This week, step back in time as we check out a home full of vintage charm and local flavour.
How do you design a home if you're big on nostalgia, especially when it comes to Singapore? For thirty-something couple Jason and Abby, you take inspiration from the past – lots of it.
"I've always liked old Singapore, especially neighbourhoods such as Tiong Bahru, Katong and Joo Chiat," shared Jason, a freelance event manager and wedding planner.
"The both of us have always enjoyed going for heritage tours, and we even travel to places like Malacca in order to feel that 'old Singapore shophouse' vibe, to see the things we had in the 1940s, 50s, 60s. Things we took for granted that are slowly disappearing."
Their passion is so strong that over the years, they've been collecting "things from the bygone eras that we will never get to experience", as Abby, who works in the education industry, put it.
And that includes items such as colourful Peranakan crockery, old telephones and turntables, and rattan furniture that they happened to chance upon in secondhand shops.
When they got married four years ago, their chosen wedding venue was a restaurant within a hotel housed in a restored Chinatown shophouse; the wedding hongbao collection box they used was a vintage mailbox commonly seen outside old shophouses.
So when they got the keys to their 700 sq ft three-room BTO HDB flat in Tiong Bahru, it was a foregone conclusion that the brand-new home was going to be all about the past.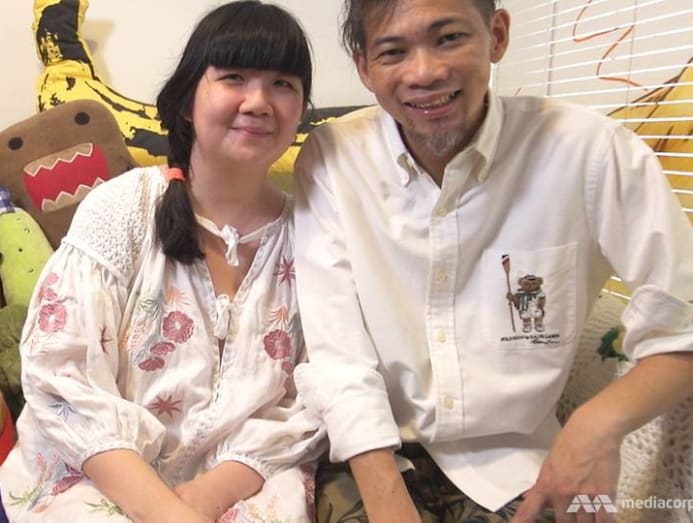 The homeowners worked with independent artists to come up with customised pieces, which was also a great way to support local talent while adding their own personal touch to the designs.
For example, a large store-bought yellow submarine plush toy hanging in a corner of their home was transformed into a one-off piece.
"We had somebody sew images of the Beatles, Jason, myself, and our two favourite toys (into the individual portholes on the submarine toy) because we love the Beatles' music. When things are handmade and/or old, there is a unique quality to them that we cannot really find in factory-made items today," said Abby.
What stands out most in their apartment are three sets of large food-themed wooden blinds they got custom-made in Malaysia – all with advertisements that used to be a common sight at kopitiams and provision stores decades ago.
"We got the chicken rice blinds made because we like chicken rice, and because chicken rice is so Singaporean," said Jason. The other two sets feature luncheon meat and lychees, which are his and her favourite canned foods, respectively. These also serve as room dividers demarcating the living and dining areas, study and bedroom.
Another focal point of their home is the dining area, thanks to the Chinoiserie-inspired white wooden dining set, which comes with four OTT oversized, ornately carved chairs.
"This was the first piece we bought for our home, and came from a restaurant in Clifford Pier that was closing down," explained Jason.
While most homeowners put up paintings or mirrors to dress up the dining area, Jason and Abby opted for the type of metal window grilles used in old HDB flats, then festooned it with vintage telephones in various colours.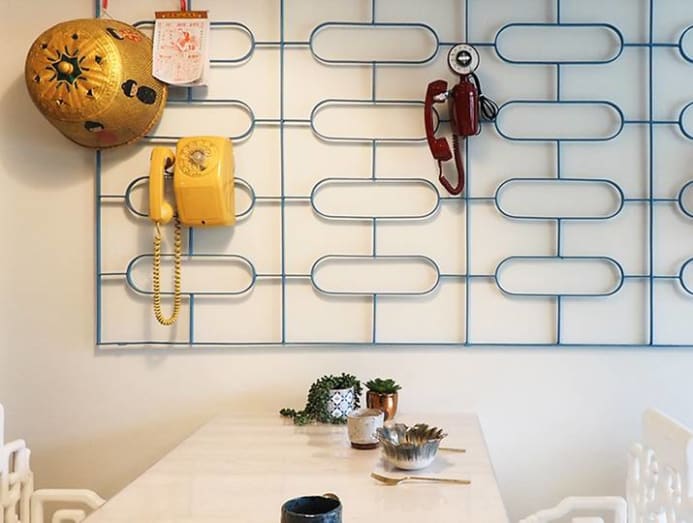 "These grilles remind me of when I used to stay in Clementi many years ago," said Jason.
Scattered throughout their home are many other details that surprise and delight with their quirky charm.
Take the wardrobe doors in their bedroom, for example. "We didn't want just a regular-looking wardrobe. We wanted to make it look like an old HDB door and of course at the same time, fulfilling all our wardrobe needs," he said.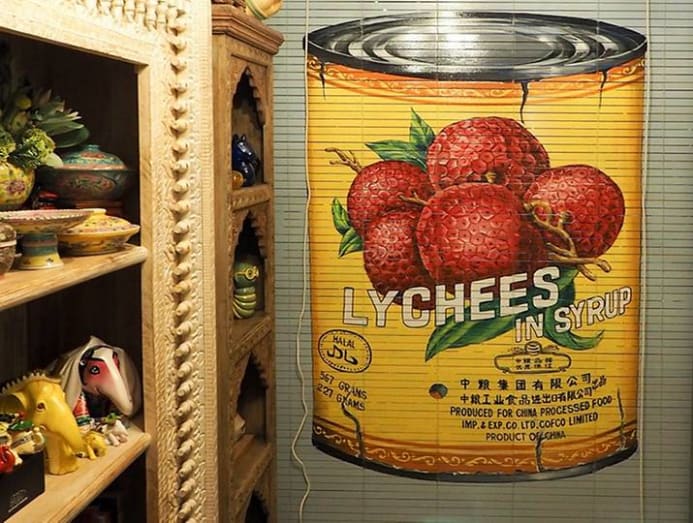 Green glazed porcelain breeze blocks embedded in the walls not only help improve the ventilation throughout their home, these also help evoke the feeling of wandering along back alleys of Singapore's older neighbourhoods.
Elsewhere, an old-fashioned wooden bead curtain separates the kitchen from the rest of the home, while a large, lavishly-patterned Peranakan porcelain bowl is used as a bathroom sink.
Meanwhile, open shelves act as display and storage spaces in places where cabinets do not fit, showcasing the couple's eclectic collections of paraphernalia, which range from plush toys, cooking utensils, and old record turntables to circa-80s Bookworm Club coin banks and children's storybooks.
"Those belonged to my brother, and subsequently, I read them," said Abby of her treasured book collection.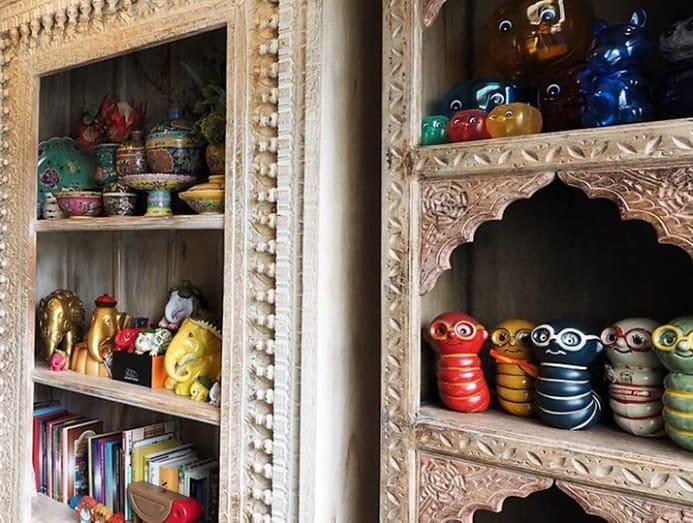 A handmade rug adds a touch of contrast and texture to the raw cement floor, which is punctuated with hexagonal tiles in different colours and patterns. Vintage light fixtures, ranging from retro 50s brass chandeliers to industrial warehouse lamps add even more character.
"Among our friends and family, we're the only ones to have a home designed and decorated this way. A lot of our friends feel like our place is like a museum. They like the little quirks that represent us. But an architect friend called us an architect's worst nightmare as we didn't measure anything before buying," quipped Jason.
The couple have nonetheless managed to create a home that meets their needs.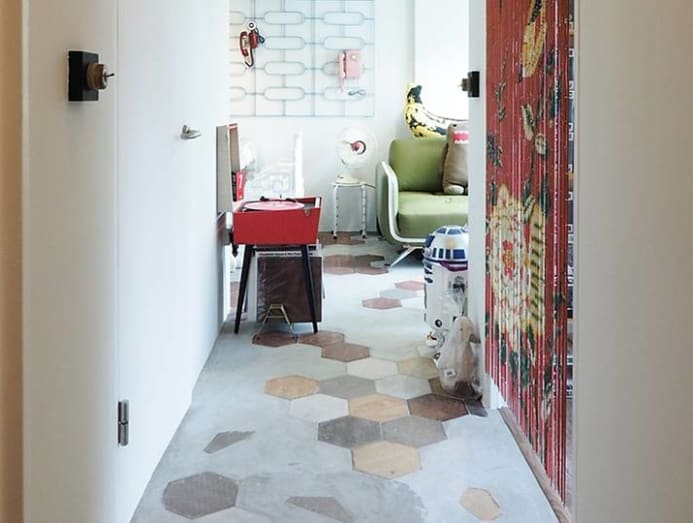 "With such a small space, you kind of just double-use every area. For example, our sofa becomes a reading spot as well as a space for us to chill and just watch TV. The dining table becomes a place to work or to catch up on stuff on the laptop, as well as to eat," said Abby.
"And I just like that it's a really cosy space where every single item in our home is really a reflection of our tastes."