How this 722 sq ft HDB flat combines tropical colonial charm with industrial chic
CNA Lifestyle's Making Room series looks at small homes with big transformations. This week, see how a rundown three-room corner unit was completely overhauled to incorporate a kitchen island and a balcony.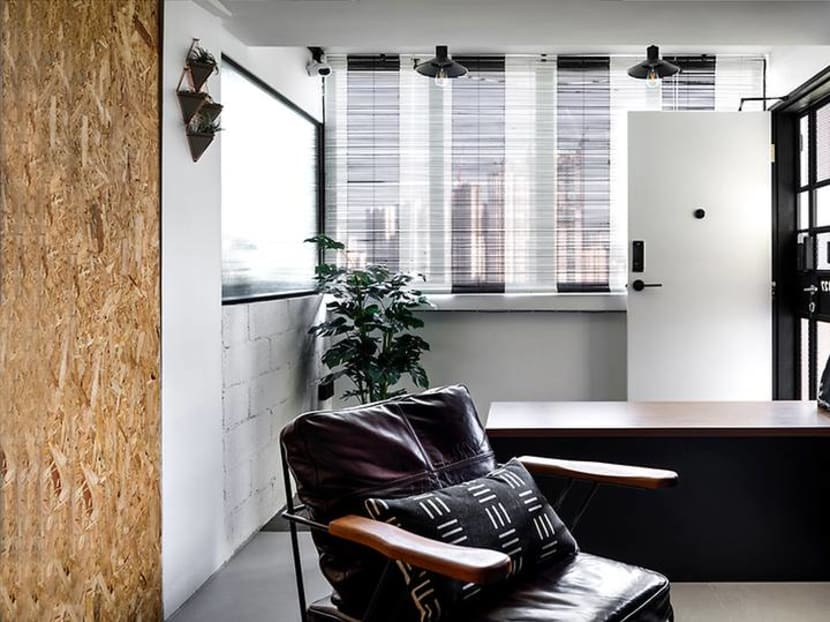 Homeowner Valerie Chong and her two daughters used to live in a bigger condominium unit, but decided to make a new home out of a resale 722 sq ft three-room HDB corner flat.
The wish list they presented to interior designer Vincent Tan of design firm The Local INN.terior. A master bedroom with its own balcony, a kitchen island, lots of smart storage solutions, and an industrial vibe with a dash of retro charm.
CNA Lifestyle's Making Room series look at small homes with big transformations. This week, see how a rundown three-room corner unit was completely overhauled to incorporate a kitchen island and a balcony.
In order to give the old, rundown apartment a new lease of life, Tan envisioned "a design that's multi-generational, a mixture of modern and colonial", and hacked down several walls in order to reconfigure the space to suit his clients' needs.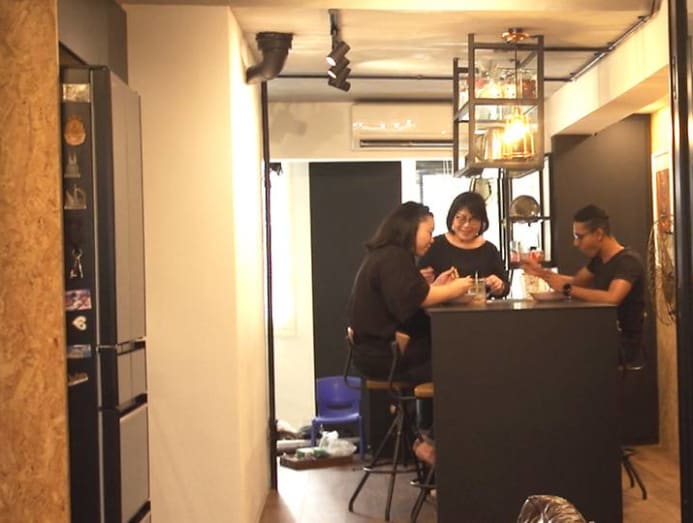 First, he carved out a foyer in the apartment's entryway and a balcony in the adjacent master bedroom, since foyers and balconies are common features in tropical colonial-era architecture that allow in natural light and fresh air, while keeping out the sun's heat, and rain.
Stepping in through the front door, the foyer features a half-height wall in white brick, an austere black subway-tiled floor, a wood-topped storage bench on the left, and traditional colonial-style black-and-white striped bamboo chick blinds on the right.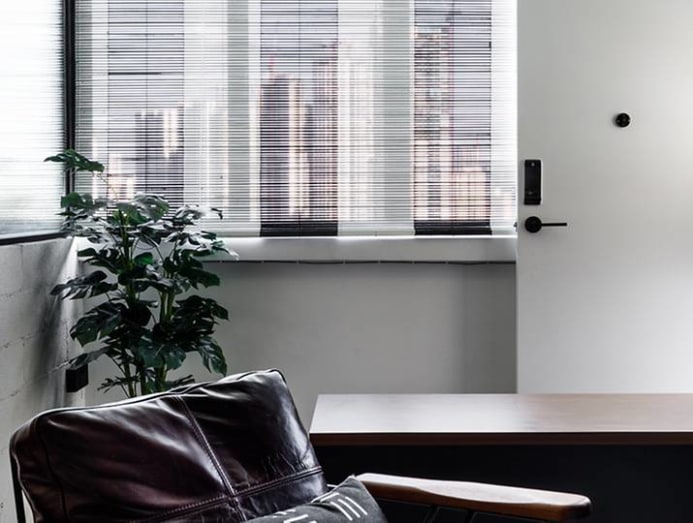 Lush tropical potted plants add a vibrant pop of green against this monochromatic backdrop. Lots of natural light streams in through a ribbed glass panel built atop the half-height white brick wall, which bisects the foyer and the master bedroom's balcony.
A large feature wall clad in oriented strand board (OSB) – a type of engineered wood formed by adding adhesives to compressed layers of wood strands – runs along the entire length of the living and dining/kitchen areas, imbuing the space with a strong industrial feel. This wall also hides sliding barn doors leading to the two bedrooms.
In the living area, the flat TV is mounted onto a cement screed feature wall, above a low-slung wood-topped console with black-framed, wired glass doors that provide ample storage space. On its left is a floor-to-ceiling cabinet in black laminate, for shoe storage. 
An unsightly bathroom pipe is transformed into an industrial-chic design statement, thanks to the clever addition of floating wood shelves displaying home decor items.
Black steel-framed armchairs with wooden armrests and dark brown leather cushions are accented starkly by cushions in a graphic black-and-white print.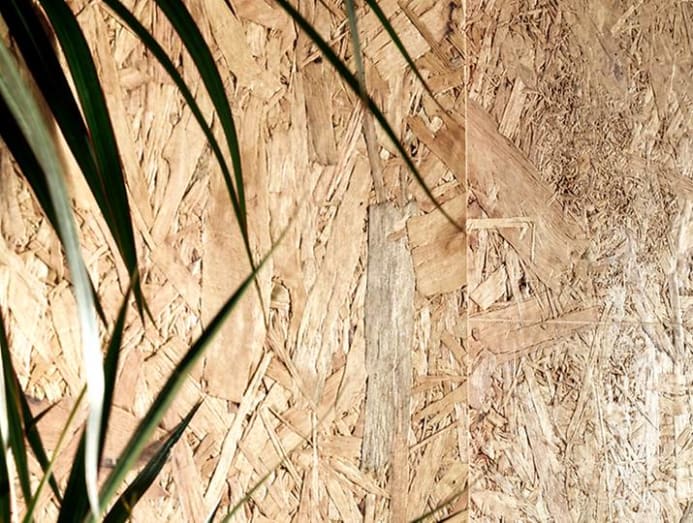 While the ceiling is also of cement screed, floor tiles that resemble wooden planks, and the aforementioned OSB feature wall, help add a sense of warmth and cosiness to the space. The way the family photos are displayed – hanging from a string, instead of mounted up in frames – adds a touch of whimsy.
Instead of having the kitchen separate from the dining area, Tan aggregated the family's cooking and eating needs within a strikingly monolithic kitchen island in black, which comfortably accommodates four diners, as well as built-in automated induction cooktops.
The fridge is placed flush against wall-to-wall cabinetry in black laminate, which provides lots of storage space for cookware and provisions. Wood-and-black steel bar stools, a metal frame for storing crockery suspended from the ceiling, an antique brass standing fan, and caged wire pendant lamps complete the industrial chic tableau.
The entire kitchen/dining area was built on a raised platform to demarcate the dining area from the living area. It also provides additional seating for when they have guests over.
In order for the family to be able to walk freely around the kitchen island, the kitchen/dining space had to be widened by knocking down a bedroom wall, and pushing that inwards; the use of sliding doors allows for more room to move as well.
In the master bedroom, what used to be a passageway has been converted into a small but utterly charming balcony, which is built on a raised platform, and tiled over with aged-looking terracotta tiles in chalky pastel shades. Black-paned glass bi-fold doors open fully to create a sense of expansiveness and allowing plenty of natural light, blurring the distinction between the indoors and the outdoors.
Charming retro and Chinoiserie accents, such as a porcelain stool, a turquoise-painted side table, and a miniature Victorian-style metal bench, add a sense of charm.
The bedroom itself features an austere yet calming vibe, with the bed placed against a cement screed feature wall, and bedlinens in deep blue hues.
The second bedroom features a more modern hipster vibe, thanks to its black ceiling, caged wire pendant lamps, and a wire frame for displaying cherished photos.
Both bedrooms boast walk-in wardrobes fronted by black-framed glass doors, designed to maximise every inch of space – less-used items are stored neatly in boxes placed on overhead shelves, a wall-to-wall rail at eye-level allows for easy spotting of clothes, while low-slung drawers in black, featuring chic leather-strap drawer pulls, keep other odds-and-ends neatly stored away.
Tan did not neglect the bathrooms either: The shower room is a small yet enveloping space with pebbledashed walls, while the WC area is done up in matte black tiles, while the stainless steel washer and dryer, stacked atop one another within a recess formed by black cabinetry, are not merely functional, but further echo the industrial vibe found throughout the apartment.