A girlfriend-approved HDB 'man cave' with room for comics, gaming and fast cars
CNA Lifestyle's Making Room series looks at small homes that were given big transformations. This week, we step into a 660-sq-ft flat where the owner's personality and hobbies shine through.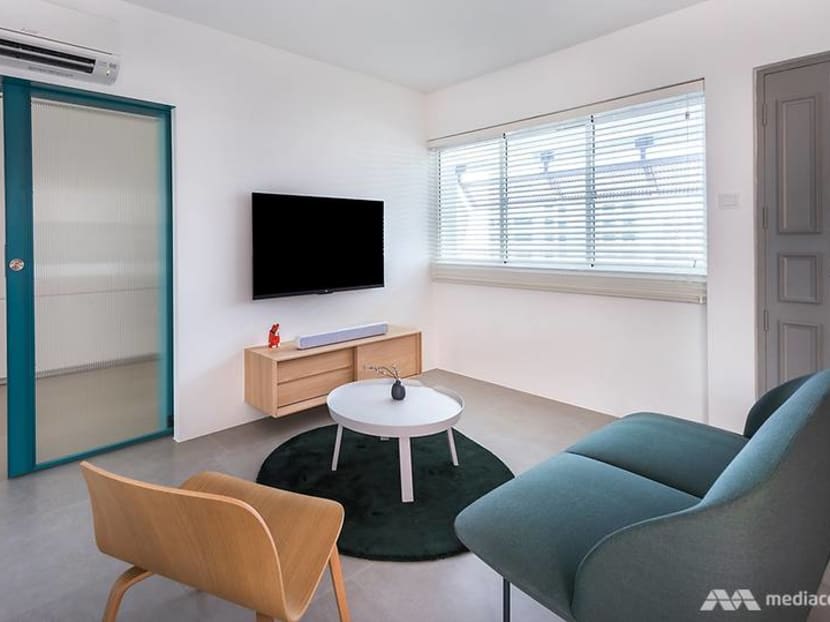 Daryl Lee is an avid gamer, loves comics, appreciates industrial design and embraces the Japanese concept of wabi-sabi, which is about finding beauty in imperfection.
And after getting his three-room HDB resale flat, the freelance journalist set about transforming its humdrum space into something that reflected his personality and hobbies more.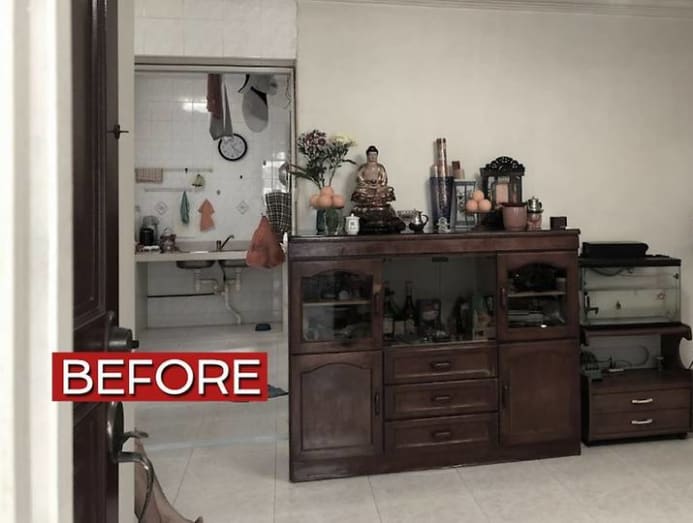 One of his big ideas was to separate the living and social spaces using glazed sliding doors that provide a sense of privacy, while allowing for natural light and easy access.
The dining area doubles as his work and chill-out area. "This is where I spend most of my time. My girlfriend is over quite a bit so we spend a lot of time here, chatting or eating," said the home-based motor sports reporter.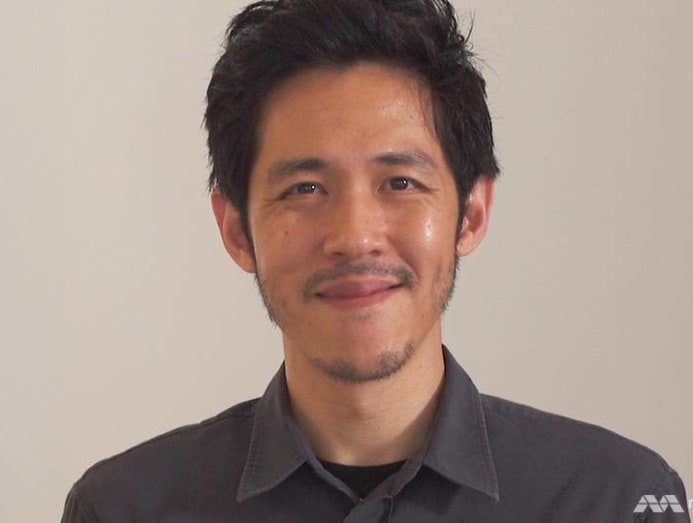 A black wooden "sculpture" shaped like the WeatherTech Raceway Laguna Seca race track in California pops against the white wall near his dining table, an aesthetic flourish expressing his chosen profession.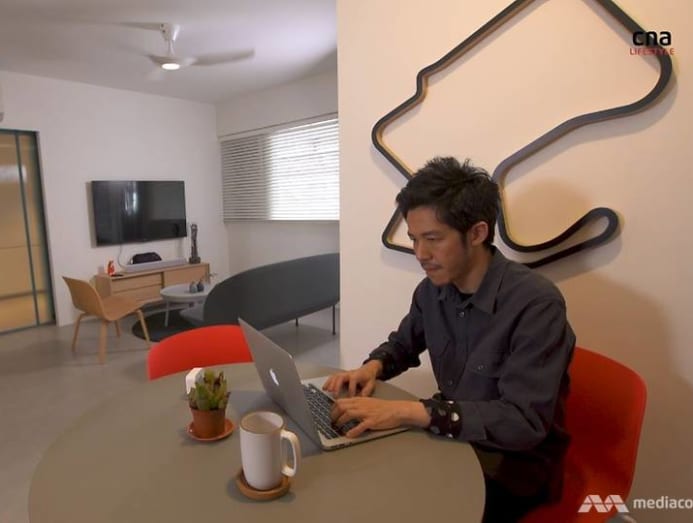 To add a bold pop of colour, there's a racy red, wall-mounted Uten Silo organiser from Vitra that Lee hangs near his front door. It's where he keeps his daily accoutrements, such as his sunglasses, house keys, office supplies and wallet, within arm's reach.
"You know how there are things you fall in love with the moment you see them? This is one of them for me. This just leads back to my love for industrial design and it's about making things that are beautiful to look at but also really useful, and this encapsulate that philosophy perfectly," he explained. There's also a sense of continuity – the organiser is also the same shade as his dining chairs.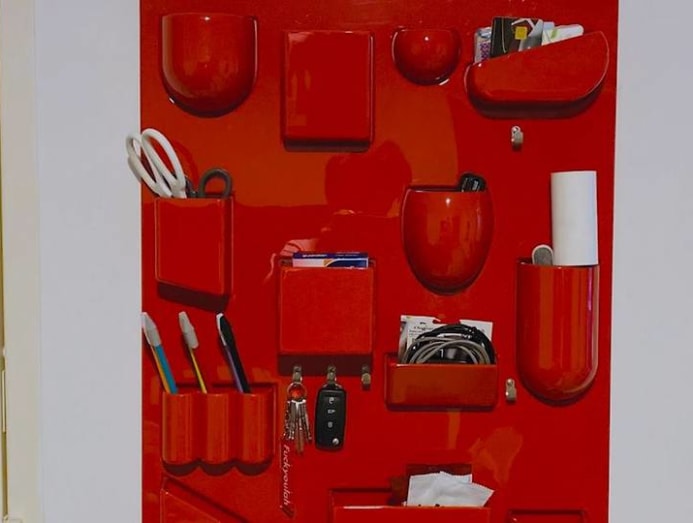 Meanwhile, the living area is a melange of irregular shapes. "I like asymmetry. It kind of leads into the Japanese aesthetic of wabi-sabi. Perfection in imperfection. My rug is kind of teardrop shaped. My sofa looks like a giant muffin. The coffee table has a raised lip all around except for this little bit for easy cleaning – when your table is dirty, all you need to do is sweep stuff through here," Lee explained, pointing to a gap on the table.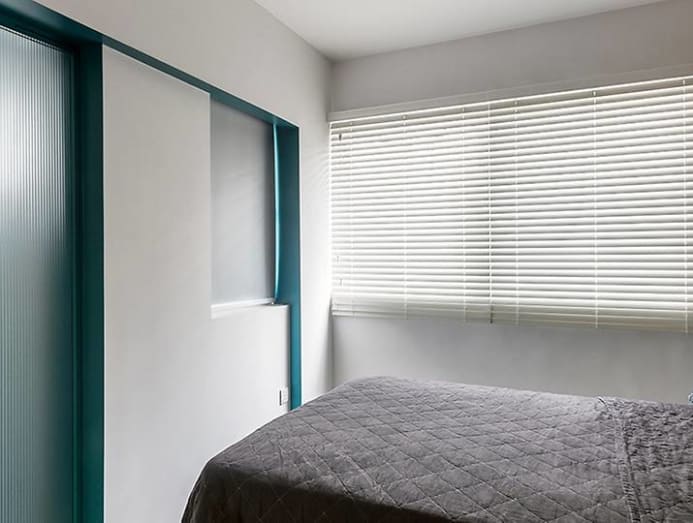 As for the master bedroom, it performs double duty as a game room, with the sleeping area on the left, and a dedicated gaming corner on the right.
Lee also pointed out his wall-to-ceiling turquoise bookshelf, which houses some of his most prized possessions – comic books.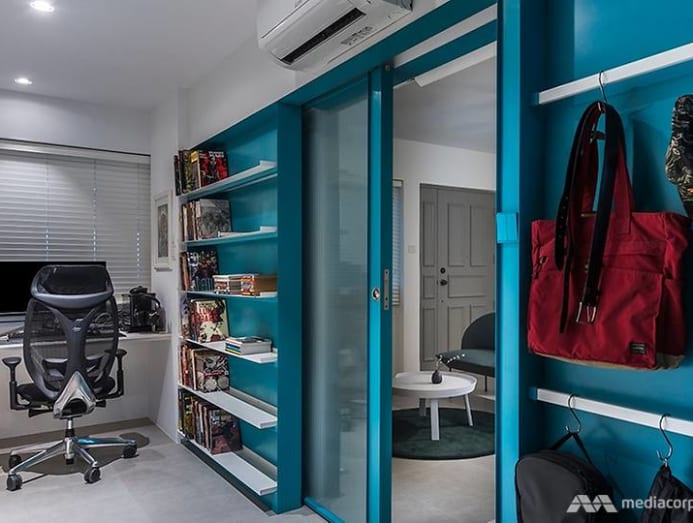 "This is one of the most useful things I have in the home. Back at my parents' place, I did not have a lot of space to store my comics and now I do. It's aesthetic but also very functional. The colour is special to me as it's the signature colour of one of my favourite bicycle brands. It also serves as a false wall to create separation between my living and social spaces.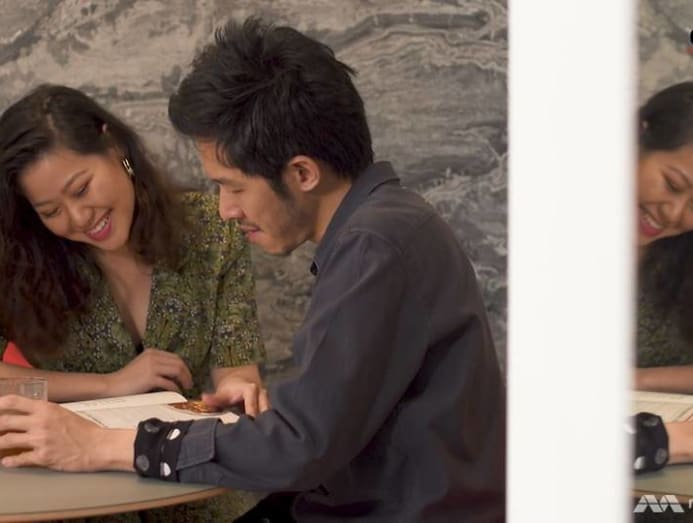 Lee also enjoys cooking and spends a lot of time doing so with his girlfriend. "When I was doing up the place, I knew I wanted a decent kitchen. The thing about the kitchen is, there is not a lot of space and counter space especially, is at a premium."
As such, the kitchen is minimalist yet practical, comprising just a single row of top-hung cabinets in a beechwood finish, floating elegantly directly above a row of all-white base cabinets with a matching white countertop.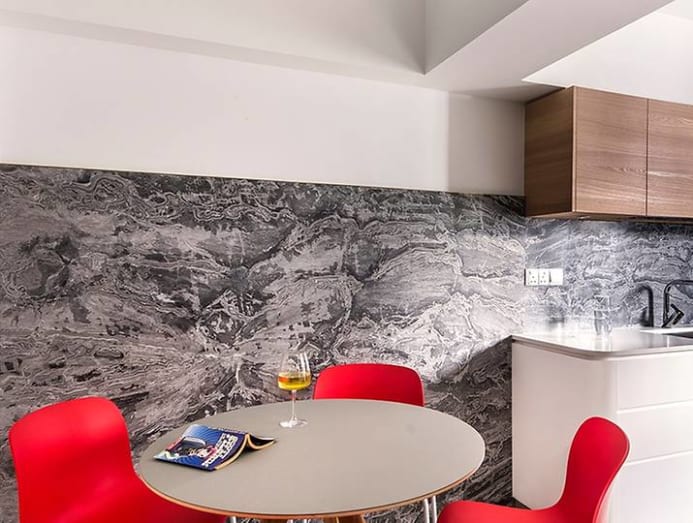 A grey marble slab that runs the length of the shared wall between the open-concept kitchen and dining areas adds a touch of luxe and drama, while uniting the two spaces. It also serves as a backsplash for the kitchen – and as a backdrop against which his red dining chairs pop.
Clever, hidden solutions also abound in the kitchen area. An overhead drying cabinet for crockery and glassware frees up counter space and keeps things tidy.
At the far end of the kitchen is what appears to be a feature wall in a deep mahogany finish. This turns out to be a folding door that completely conceals the laundry area, which houses a washer-dryer and four storage racks. "If I'm going to have clutter, I can at least hide it away," he said.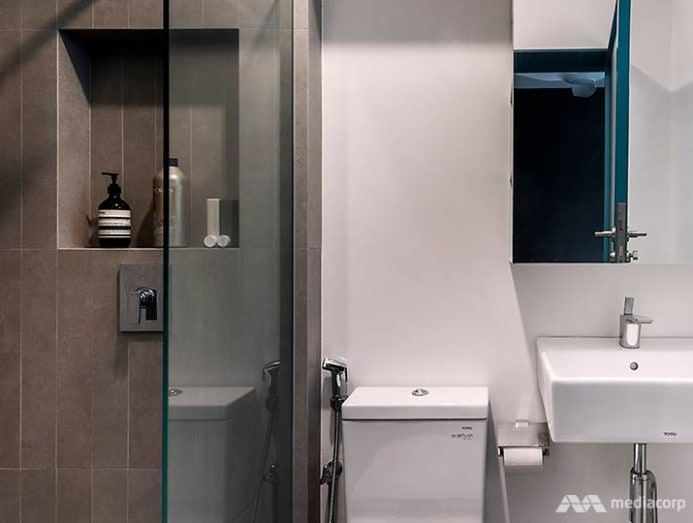 Everything else that could be concealed, such as pipes and wiring, are concealed.
"Having a small space, there's not a lot of room for you to accumulate stuff, so I think that helps to keep me a lot more disciplined on how I buy things, how I use my things, or how I store my things," Lee shared.