How a 700 sq ft industrial chic HDB flat managed to include a walk-in wardrobe
CNA Lifestyle's Making Room series looks at small homes that were given big transformations. This week, a resale 3-room flat with a hotel-worthy bathroom.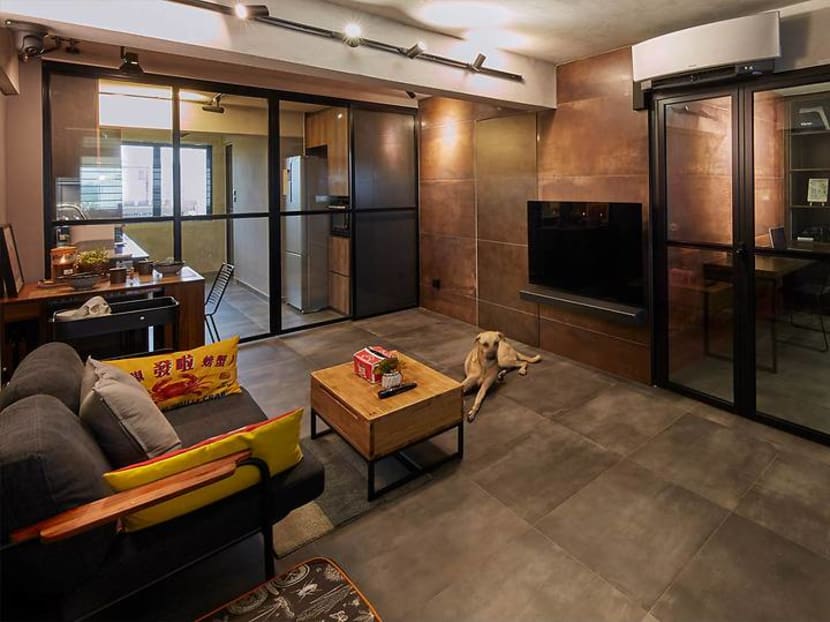 Wen" (he does not wish for his real name to be used) lives in a 700 sq ft resale HDB flat with his dog Freya.
"I was looking at the ability to make use of the entire space as a whole," the IT professional told CNA Lifestyle.
How this resale flat was transformed into an industrial chic bachelor pad.
So, he had most of the walls knocked down, and extended the wall of his master bedroom in order to accommodate a walk-in wardrobe.
To create a homogenous, unified feel, the same materials, such as concrete and concrete-look tiles, copper, glass, wood and wood laminate, black granite and blackened steel, were used throughout the space, ensuring the entire flat embodied the "industrial chic" theme he had in mind.

The subdued colour palette, comprising mainly of grey, brown, black and white, exudes a minimalist, yet masculine vibe.
At the same time, homes with pets need to balance aesthetics with practicality.
"The ceiling over here is cement screed, but because I have a dog, I opted for the use of tiles rather than a cement screed floor," he said.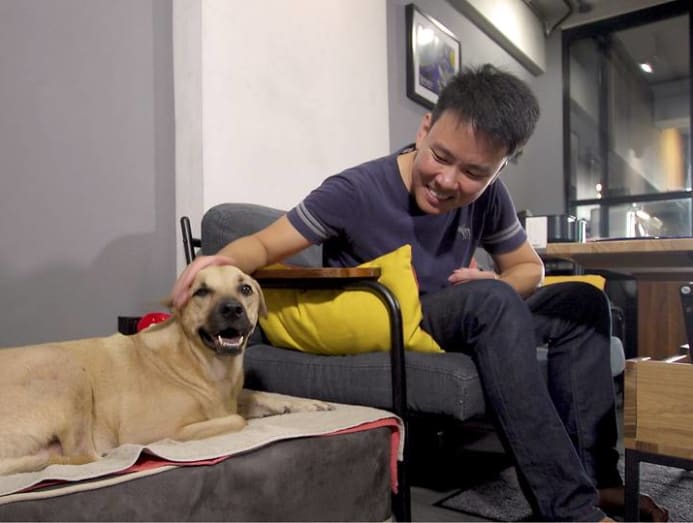 As Wen loves having people over, he also needed an open concept space that still offered the flexibility to separate his working and living areas.
As such, he installed black metal-framed, clear glass doors that could be slid shut to create more privacy for his home office, while still maintaining that open-concept feel. These clever partitions fold flat against the walls when not in use.
To reduce clutter while ensuring functionality of the space, he chose versatile, transformable furniture, which he describes as "intelligent furniture".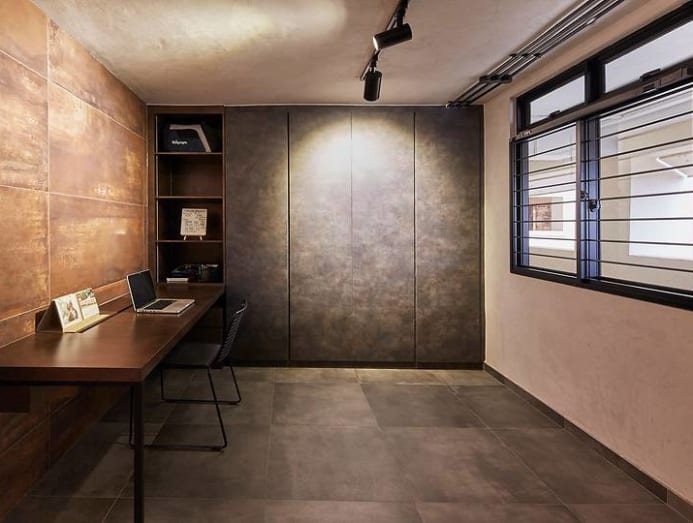 For example, the coffee table in the living area features a hinged top that allows it to lifted up so it doubles up as a small dining table for solo TV dinners. Its deep base also stores items Wen needs close at hand, such as drink coasters.
"While I have my casual meals over there, I still managed to make space in this living area for a dining table," he added.
A small square table placed unobtrusively in the corner right outside his kitchen, converts to a much larger one that seats eight comfortably, thanks to its extendable frame onto which extra panels can be fitted.
An ingenious bench, made of cardboard in a honeycomb pattern sandwiched between two pieces of wood the size of two stacked medium pizza boxes, can be pulled open like an accordion to become a lightweight yet sturdy bench which seats four. It takes mere seconds to set up, or put away.
A wall-mounted TV does away with the need for a TV console, freeing up more floor space.
An entire wall made up of copper tiles adds a sense of luxury and drama, while seamlessly camouflaging a hidden door covered in a laminate that closely resembles the copper tiles.
That secret door leads to his stark, minimalist bedroom, which sees a rustic wood-and-steel framed bed set against a red brick feature wall. "It's my favourite part of this room," he shared. "And these are actually real bricks."
The only other pieces of furniture in the bedroom are two plain black side tables and a standing mirror.
Hidden behind black metal-framed glass sliding doors is a small walk-in wardrobe featuring plenty of storage space — something especially important in a small apartment. The wardrobe doors' textured glass help conceal the contents of the wardrobe, while allowing light in.
Wen even came up with some of his own clever space-saving hacks, such as storing his t-shirts neatly folded inside boxes with see-through drop-down lids.
He names the chic five-star-hotel-worthy bathroom as the favourite part of his home – no mean feat as the typical three-room HDB flat comes with small, separate, toilet and shower areas placed side by side, with the bathroom sink outside.
By redesigning the entire configuration, he managed to create a generously proportioned ensuite bathroom.
A large backlit mirrored cabinet over the sink adds a touch of glamour and heightens the impression of spaciousness, while the black granite-topped below-the-sink cabinet provides ample storage.
The glass-screened shower stall, done up tastefully in grey and white mosaic tiles, features recessed nooks where toiletries can be unobtrusively yet within easy reach.
The bathroom can also be accessed from the bedroom, as well as from the kitchen, which features sleek black granite marble counters, and lots of top and bottom-hung cabinetry built flush against one wall.
"This actually creates flow around the whole entire house," he said. 
"After a long day's work, I just love to lounge on my sofa and watch TV. My dog is able to have its own space in the house right beside the sofa."