These are the winners at the first night of Vasantham's Pradhana Vizha 2022
The Lifetime Achievement Award went to V Balakrishnan for his notable contributions to the local Indian entertainment industry over a 40-year career, while Parambarai took home the award for Best Limited Drama Series during the awards show held on Wednesday (Nov 23).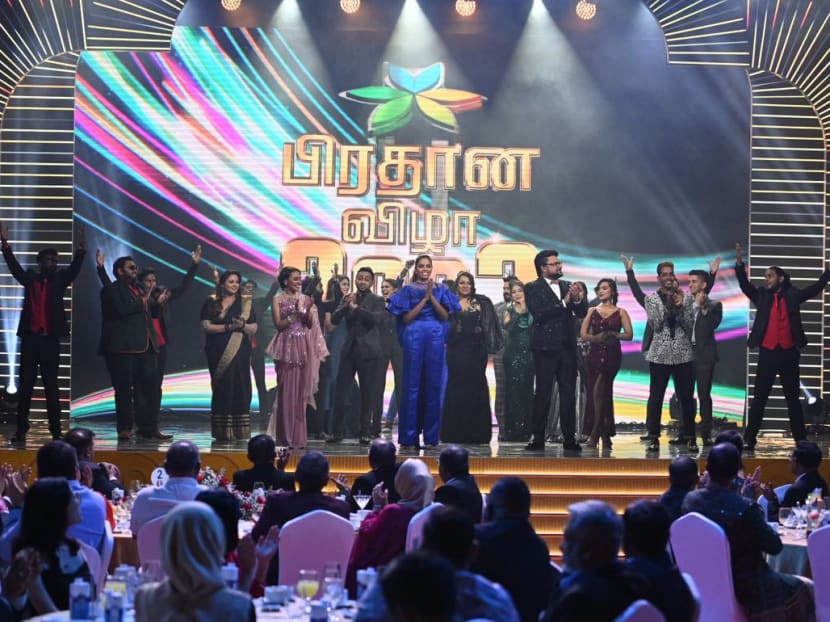 Mediacorp's annual awards ceremony Pradhana Vizha 2022 was held on Wednesday evening (Nov 23) at the Capitol Theatre, celebrating the best in local Indian entertainment.
Hosted by Mediacorp's Oli968 DJ Haleema Asman, Karthikeyan Somasundaram and Thavanesan Sivananthan, the 18th edition of Singapore's largest Indian entertainment event saw a total of 20 out of 41 awards handed out.
The next 21 awards will be presented at Pradhana Vizha Part Two, which is scheduled to be held on Dec 10 and hosted by Mediacorp's Oli968 DJ Gunalan Morgan, Jaynesh Isuran, Magalakshmi Sudarsanan and Shamini Gunasagar.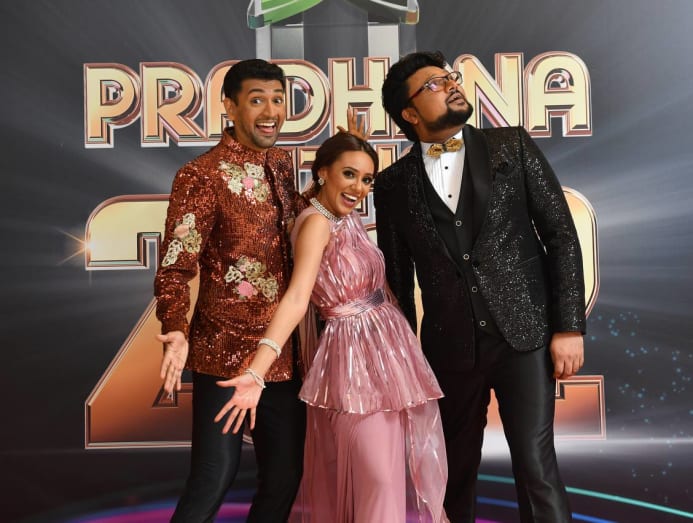 Wednesday night's festivities focused on presenting awards for the creative categories, including new category Best Editing, alongside Best Scripting and Best Cinematography, while Part Two will see the honouring of more performance categories including Performance in an Antagonist Role (Drama Series), Most Promising Actor/Actress (Drama Series), Best Host (Entertainment) and (Information), and the coveted Best Actor and Actress in a Leading Role (Drama Series).
In recognition of the latest forms of content in recent years, the Dec 10 event also boasts other new categories, such as Best Single Episode/Telemovie/Anthology Episode and Best Digital Short-Form Series.
Wednesday's event was graced by Minister S Iswaran, Minister for Transport and Minister-in-charge of Trade Relations, who presented the esteemed Lifetime Achievement Award to V Balakrishnan for his notable contributions to the media industry.
As a producer, V Balakrishnan has worked on numerous projects in the arts and heritage sector over the last 40 years, and contributed to the industry by nurturing new talents throughout his long career.
The keenly-watched new category – Best Limited Drama Series – was awarded to Parambarai, a four-episode period drama that chronicles the life journey of a female business tycoon's rags to riches story.
The Best Actor award (Limited Drama Series) went to Raghadeepan, for his work in the crime drama series Asoora Vettai, while Indra Chandran took the Best Actress (Limited Drama Series) trophy for a Limited Drama Series for the drama Kalaiyarasi Vayadhu 47, Vaagana Ottunar.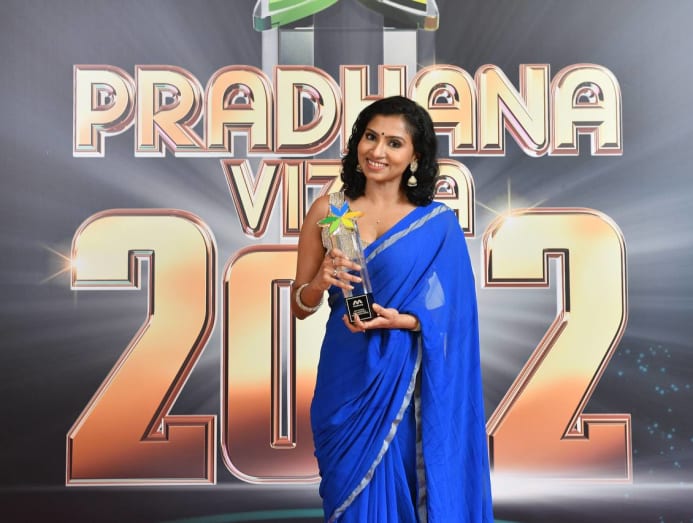 Sivakumar Palakrishnan took home the award for Best Supporting Actor (Limited Drama Series), also for drama Kalaiyarasi Vayadhu 47, Vaagana Ottunar. The Best Supporting Actress (Limited Drama Series) accolade went to Kokila for her role in Maasigaiye.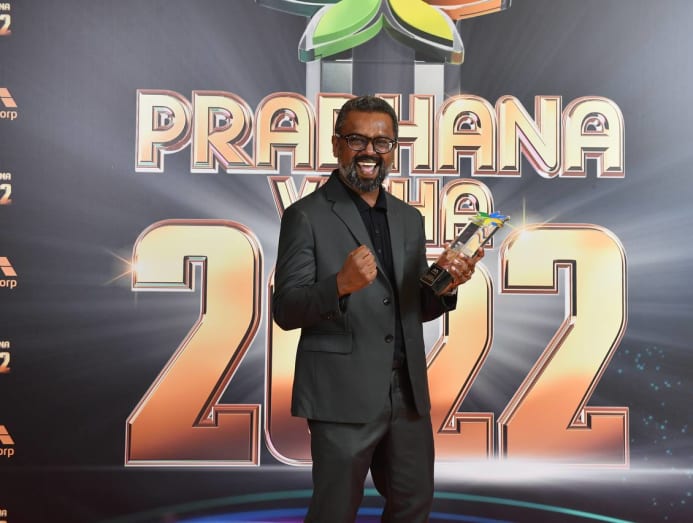 Other awards presented included Best Cinematography (Scripted) to Devamanikandan Kannaya Somu for Amartyan, as well as Best Radio DJ, which went to Haleema Asman and Best Radio Programme, which was won by Singapenne.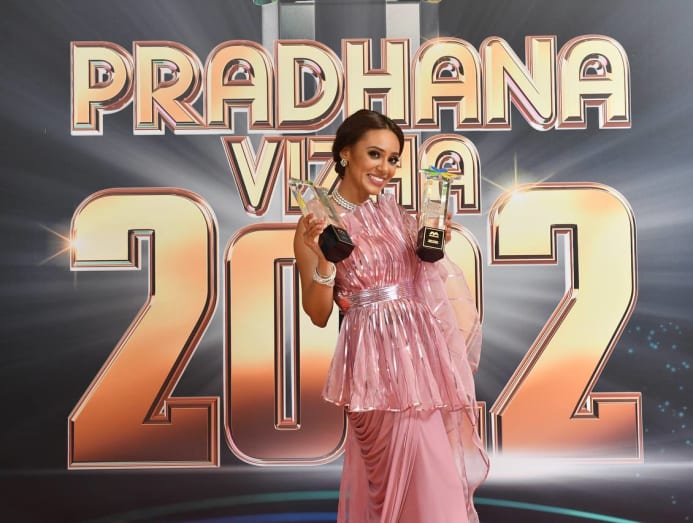 The Best Original Singer prize went to
Meenakshy Jyothish for the drama
Maasigaiye, while 
Best Original Track was nabbed by Shabir Tabare Alam for Vettai S5. Sagaasa Club won Best Children's Series.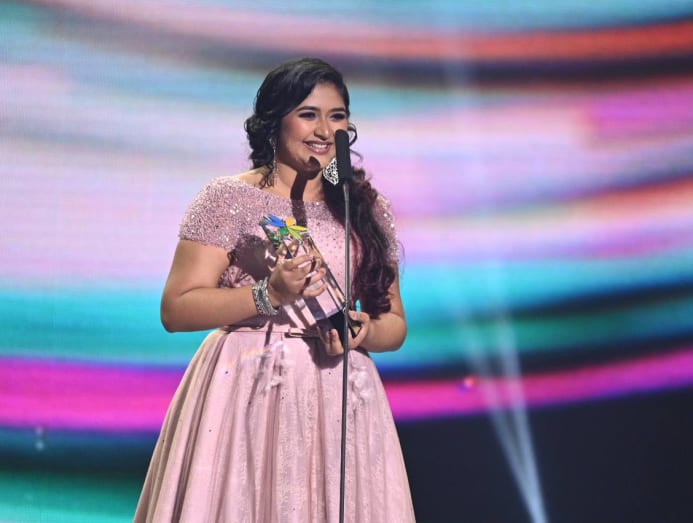 In Part Two, viewers can look forward to the results of the highly anticipated Most Popular Male and Female Personality awards.
The nominees for Most Popular Male Personality, which were announced during Wednesday's show, are Raghadeepan, Rajesh Kannan, Gunalan Morgan, Jaynesh Isuran, Stephen Zechariah, Ravi Guna, Karthikeyan Somasundram, Vishnu M Anandh, Nishmen Nair and Abbdul Kather.
In the Most Popular Female Personality category, Eswari Gunasagar, Udaya Soundari, Bronica, Rupini Anbalagan, Jayita, Vikneswary Se, Haleema Asman, Bharathi Rani, Pavithra Nair and Suthasini Rajenderan will be battling it out.
Voting for your favourites, at mediacorp.sg/pradhanavizha, will be ongoing till Dec 10, 10.30pm.
The number of awards presented this year features a significant increase from previous years' shows as part of Mediacorp's continuous efforts to recognise both offscreen and onscreen talents, as well as the innovative content across the local media industry.
Pradhana Vizha 2022 Part One will be available on meWATCH and Vasantham on Dec 3 at 9pm, and Part Two on Dec 10 with the Red Carpet Segment at 7.30pm and the main event at 9pm 'live' on meWATCH and Vasantham.