What do Singaporeans find funny – or not? Here's a handy guide
Want to make Singaporeans laugh? CNA Lifestyle asks some jokers about their thoughts on whether there's a uniquely local sense of humour. (Also, just say "lah".)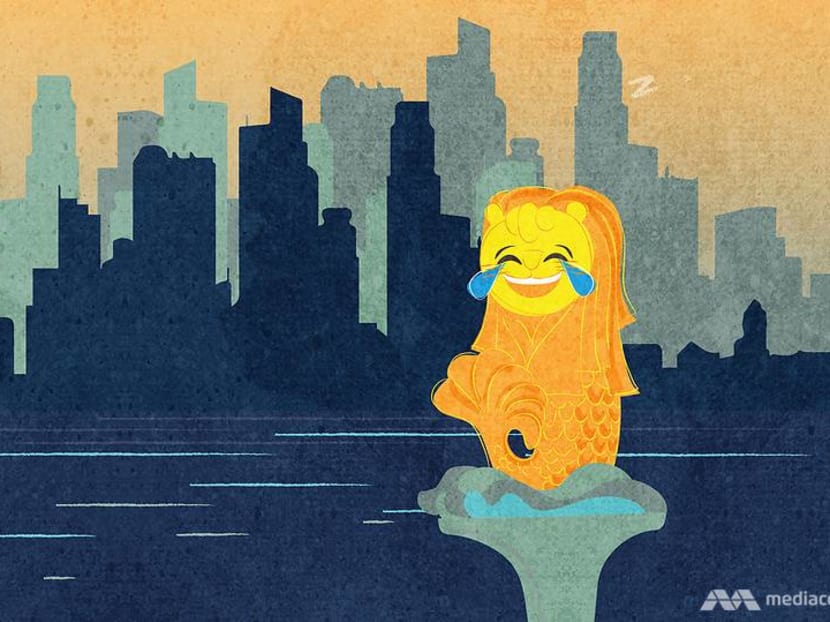 It might seem like a well-accepted fact that Singaporeans are a pretty dour bunch – pessimistic about life, unhappy with work, and always complaining. After all, every time of those "happiness" surveys come out, there's the Lion City, moping away down at the considerably less-happy end of the list, dark cloud hanging over our heads.
But apparently that's not 100 per cent true. A National Values Assessment survey recently revealed that Singaporeans do value humour and fun – the first time these results have shown in this study, which had been conducted twice before.
So it does seem like Singaporeans have a lighter, funny, non-complainy side. But what exactly is it? What do Singaporeans find funny – and how would you describe this particular sense of humour?
To get to the bottom of things, we asked some folks who might have an inkling.
Our expert panel: Stand-up comedian Sharul Channa, who'll be performing next at The Esplanade's Kalaa Utsavam festival; writer Suffian Hakim, who has written for shows like The Noose and has authored satire reads like Haris Bin Potter And The Stoned Philosopher; Oak 3 creative director Michael Tay, who has written for shows on Toggle and Mediacorp TV, including the new comedy FAM!; Facebook and YouTube sensation (and part-time 987FM DJ Preeti Nair, aka Preetipls; and writer-critic-expert-at-all-things-Singlish Gwee Li Sui.
Here's what CNA Lifestyle found out.
***
1. THE FUNNIEST THINGS ARE ABOUT OUR DIFFERENCES
What's a surefire way to crack up Singaporeans? Bring up the melting pot.
"Our situation is strange, you see. To have these many races together – that strange mix contributes to our situation a lot," said Suffian.
"It can be a sticky situation, so humour is our way of coming to terms with it. People like Kumar, Rishi Budhrani, Fakkah Fuzz – their material is mostly race-related, and the fact that they are successful suggests we're hungry for it."
And that includes stereotypes – precisely because it's a way of navigating around the pitfalls, Suffian added. He cited one popular joke in his spoof book Harris Bin Potter about why Santa Claus is Malay. (If you must know, it's because he works one day the entire year, lives in a corner of the North Pole and when he works… he does deliveries. His joke, not ours.)
However, be prepared that some might not get certain cultural references. In her recent music video, Thicc, Preetipls recalled how one particular verse of mainly Indian references flew over most viewers' heads. "I rhymed Thali, Kali, Deepavali and a bulk didn't get that, except for maybe two or three Indian people in the comments."
2. WE LOVE TO COMPLAIN ABOUT ANYTHING 'POLITICS'
"Singaporeans find funny things that are said by our politicians or when the MRT breaks down and someone comes out to say something 'intelligent'," observed Sharul.
But bringing up something that's related to politics isn't enough – complaining about it is what brings on the giggles.
"When it comes to Singapore humour, it's usually about how they creatively disguise their complaints as a joke or a remark," said Michael Tay, who cited that as the reason they created the character Ah Gong in FAM!, an Uber driver who loves to share his complaints with passengers.
It's usually about how they creatively disguise their complaints as a joke or a remark

That said, Suffian reckoned that while there's a hunger for political satire, it hasn't quite reached the level of satirists like Trevor Noah or Jon Stewart. "There are people who touch on political issues – Preetipls is doing an amazing job and The Noose was trying to approach that in a sense, but I don't think we're there yet."
3. RELIGION AND SPIRITUALITY ISN'T THAT FUNNY
In the, erm, holy grail of comedy, you might want to think twice about this one.
"I'd say Singaporeans are still very scared to laugh at religion – even if they might find something funny, they'd probably avoid laughing at it," said Sharul.
Singaporeans are still very scared to laugh at religion

In one segment of his book Minorities, Suffian mentioned how the ancient Egyptians believed the Sun God Amun Ra created the world by, well, canoodling himself. "When I shared it with my family and some relatives, they were unable to find it funny. I thought it was hilarious…"
4. JUST SAY 'LAH'
As for how to work your comedy magic, you can't go wrong with some slapstick and Singlish wordplay.
"I do notice on Facebook feeds that many Singaporeans find puns funny – like the ones about Thor and how it rhymes with paktor (dating in Hokkien)," said Michael Tay.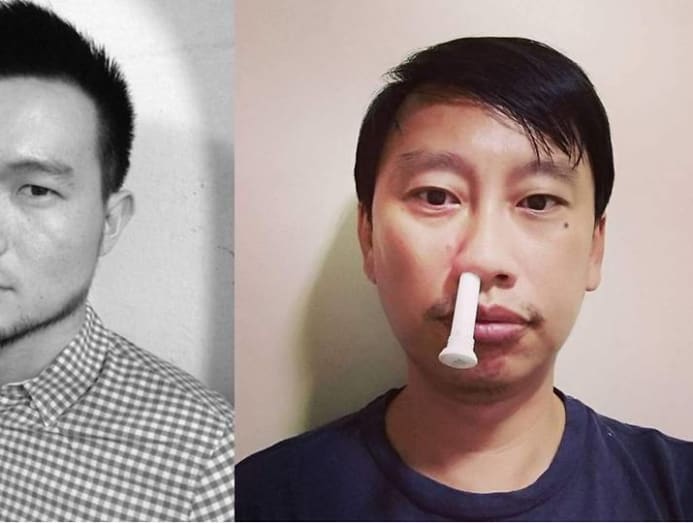 And don't forget to up your Singlish. "It's central to the evolution of Singaporean humour," explained Gwee Li Sui. "It's humour reaching past the physical to the cerebral, where the performance of words, not so much bodies, occurs in the head." So how? Can or not?
5. IF IT'S SLAPSTICK, IT'LL PROBABLY WORK
Of course, while your friends' brains are going into overdrive with all that cerebral Singlish, a little slapstick won't hurt – in fact, it'll do you good.
"I haven't seen us grow much beyond enjoying physical comedy over the decades. We still adore slapstick and laugh at social manners and behaviours. All platforms using performance – from stage to screen, be it film or YouTube – stress the physical body and exploit this form of humour. The recent S-hook Ah Lian videos are classic examples," observed Gwee.
I think we just like things in our face

But it might also depend on which demographic you're talking to. This might work with what Sharul considers the "older generation" of audiences – "people who are about 50 and above like the slightly slapstick, race-based, loud and expressive kind of humour."
She calls this kind of "in-your-face" humour an "Asian" one. "We act out our wit – if you're talking about the character, we'll act it out. I think we just like things in our face – that's why we have veterans Kumar, Hossan Leong and Irene Ang doing so well."
6. SINGAPOREANS ALSO LOVE LISTICLES ABOUT THEMSELVES
Yes, listicles are still popular, particularly for online videos, where it has proven to be a formula that still works. "Ten types of people – that does really well," said Preetipls. "JianHao Tan recently posted a video about 10 types of students before exams and that hit more than one million views. I thought it was an old video but it was posted on the first week of October. Singaporean love these types of relatable content."
7. DON'T BE CRUEL, CRUDE OR RUDE – THEY'LL GET TURNED OFF
That said, there are limits to what we can take. Much like how religion is often comedian's no man's land, humour that's too crude can be a hard pill to swallow for Singaporeans, said Michael Tay. "I don't foresee we can ever do a Sacha Baron-Cohen kind of a comic skit. I find him funny but a lot of local audiences might find his pranks getting a bit too far."
Ditto roasts. "You will rarely find the level of flaming humour you see from America's Comedy Central Roast in local humour. Singaporeans still hold back when making fun of others."
8. IF THE PUNCHLINE IS TOO COMPLICATED, THEY'LL PASS
There are a few other things that might fly over a lot of people's heads. Things like irony, dry wit or the more "intellectual" type of humour.
"We aren't big on the mere enjoyment of words, wit and life because, I think, we don't know what to do with that," said Gwee, who said that in general the humour that Singaporeans collectively find entertaining ranges from "buffoonery to sarcasm".
Many Singaporeans would find challenging humour that requires a bit more critical self-awareness

He added: "Many Singaporeans would find challenging humour that requires a bit more critical self-awareness. The immediate reaction is to take offence. It's why sarcasm is enjoyed more than irony."
However, Sharul added that in contrast to the older generation, younger people are also being exposed to other comedies thanks to platforms like Netflix. "They're open to different types, like dark humour or storytelling."
9. NO REACTION? IT TAKES TIME FOR THEM TO WARM UP
Not everyone's a stand-up comedian performing to an audience, but if you're getting silence from a friend after a joke, it might just be because he or she is waiting for someone to laugh first.
"You need 15 minutes for them to warm up," quipped Sharul. "Singaporeans take time to laugh, it's the process. Maybe they're scared to laugh and they're asking themselves, can I laugh at this?"
10. EXCITING THINGS ARE HAPPENING ONLINE
Television shows, movies, books and live performances have long been the benchmark for Singaporean comedy – from Jack Neo's movies to Under One Roof, Phua Chu Kang and The Noose, from The Teenage Textbook to Army Daze, Chestnuts and Dream Academy's shows – but the online world could very well be where a lot of the laughs are taking place.
Mean meme machine SGAG, satirical news site New Nation ("50% Real News"), and YouTubers like Mr Brown and Wah Banana are offering up a bunch of laughs by the clicks and hits.
I think Singapore humour is in a transitional phase

Preetipls agreed that the online world has opened up things to humourists. "There's no strict format compared to TV, so a lot of parody and satire can only exist online. There's a lot of content you can get away with saying and doing."
"A few YouTubers have followed what Buzzfeed, CollegeHumor and Cracked have done, in terms of parodying popular culture or listicle-style videos," said Suffian. "I think Singapore humour is in a transitional phase, and in the coming years, there will be a more solid stamp on what it is – we're moving away from cheap humour and audiences are wanting humour that's smarter, that pays off in punchlines that are earned."