Attempting to uncover the sweet-sour mystery of what Yakult really tastes like
Yakult is more than just a cultured milk drink. Its distinctive taste is a self-referential enigma of popular culture, posits CNA Lifestyle's May Seah, who may or may not have too much time on her hands at home.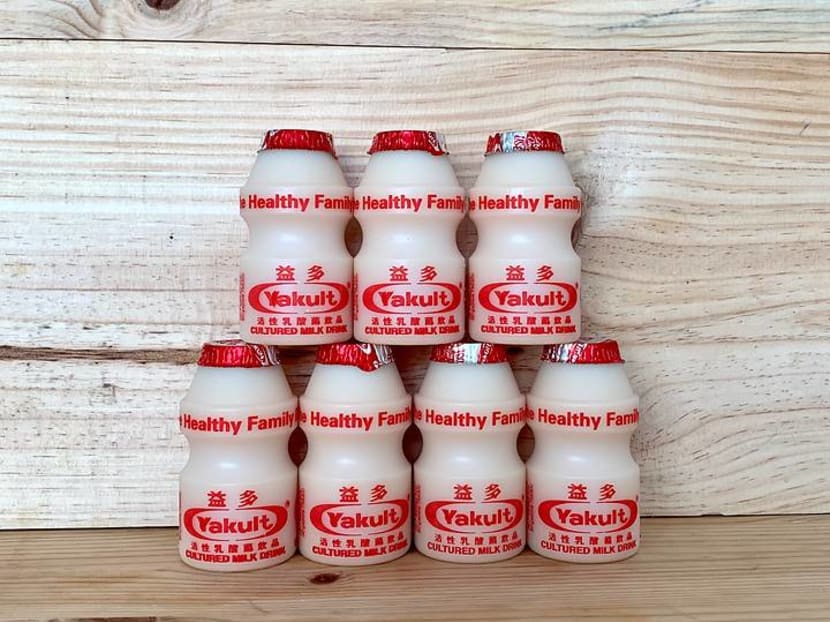 Much could be said about the challenges of work-from-home life during Phase 2 (Heightened Alert), but the upside of it is that you find yourself with a lot more time to reflect, cultivate awareness and ponder the important questions of life. 
One of those questions which occurred to me was: What exactly is the flavour of Yakult Original Flavour?
It struck me while I was having a leisurely after-dinner nightcap of the ubiquitous milky drink full of gut-friendly bacteria: Since Yakult comes in grape, apple and orange flavours, what gives Original its distinctive sweet-sour flavour? 
Besides being a lactobacillus wonderland, is it meant to resemble a fruit, too, or a blend of fruits, maybe? How would you describe the taste to someone who's never had it?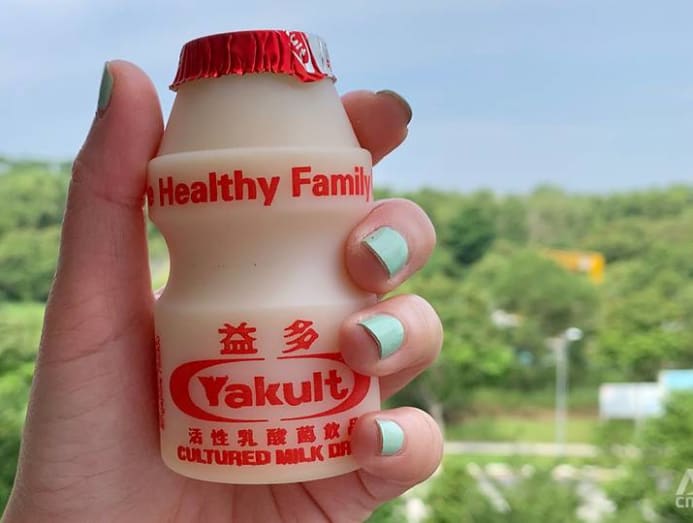 A glance at the ingredients list printed on the package yielded "sucrose, dried skim milk, glucose, fructose, flavouring, live L. casei strain Shirota".
The flavour of the "flavouring", it seemed to me, approximated to a sort of peach-y taste, like if a peach – or maybe even a nectarine – took a whole bunch of performance-enhancing substances and torpedoed through an Olympic-sized swimming pool of fermented milk.
But, don't take my word for it. I'm not a lactic acid authority. I don't have a badge or anything.
One of my colleagues, when I brought this pressing topic up at a meeting, agreed that it was indeed peach-like. The others mostly shrugged and said they would describe the taste as "sour milk", thereby demonstrating why they are newsroom staff and not scientists.
Tastes like a bunch of bacteria went out for a party and were hung over the next day.
At this point, if I were a person with a life, I would have tossed my empty Yakult container out and gotten on with it. But no, I am an intrepid lifestyle and culture (see what I did there) journalist. So, I did what any intrepid journalist would: I took to social media to conduct a survey of opinions.
It turned out that many people were interested in Yakult as a discussion topic.
Several folks said the taste of Yakult Original was "yogurty", "milky" and "sweet".
One person said it was "a mix of citrus and vanilla", which I thought was a solid step in a more specific direction.
My friend Andrea, who is a professional coffee judge, suggested "red apple", which must be right because it is her job to sip beverages and identify their "bouquet", "aroma", "nose", "chin" and "eyebrows".
But another friend, in a separate conversation, said, "It tastes like green apple to me."
Then there were other choice comments, like, "Tastes like a bunch of bacteria went out for a party and were hung over the next day"; "La fragrance de fermentation"; "Sweet bacteria"; "Sweetietartiecream"; and "Strawberry poo. The poo of a strawberry".
If I were Yakult Original, sitting in my shrink-wrap package next to Grape, Apple and Orange, I would be having an identity crisis.
It was clearly time to get more clarity and hard-hitting answers. It was time to write to Yakult.
In an email to Yakult Singapore, I asked, "What is the Original Flavour of Yakult? Is it meant to taste like a specific fruit, like the other flavours such as apple, grape and orange?"
The answer that eventually came – and I quote, verbatim – was, "Yakult Original does not taste any specific fruit, it has its own unique refreshing citrus taste".
This confused me because "citrus" refers to the fruits of citrus trees, which include lemon, lime, orange and grapefruit. Is the drink meant to taste like a unique blend of several citruses, then?
If I were Yakult Original, sitting in my shrink-wrap package next to Grape, Apple and Orange, I would be having an identity crisis.
By now the thing had snowballed out of control, like a socialite who'd had one too many Yakult cocktails.
An entire community had been mobilised to re-examine their previously unchallenged assumptions, namely, "Yakult just tastes like Yakult, lor".
And so, an alert science-inclined friend finally discovered "the answer" in a 1980 Japanese scientific publication.
It read, "Yakult, a cultured milk drink, contained 82.78% water, 1.18% crude protein, 0.05% ether extract, 15.75% N-free extract and 0.24% ash; pH was 3.8. The main nucleotides were 5'-IMP and 5'-GMP at 5.49 and 1.23 mg/100 ml, resp. The main organic acid was lactic acid at 495 mg/100 ml, and tartaric acid was also present. 17 free amino acids were detected, the main one being glutamic acid, followed by proline, leucine, valine, aspartic acid and threonine. Total sugar content was 13.64% (free reducing sugars 10.89%), with glucose at 2.98% and sucrose at 3.19%. The Ca content was 40.56 mg/100 ml.
"It is concluded that the flavour of Yakult was mainly due to amino acids, nucleotides and added sugars, which also accounted for most of its buffering capacity. An aqueous solution of the main organic constituents of Yakult had a similar taste to that of Yakult."
Protein and sugar? Erm, like char siew?
Anyway, there we have it. But at this juncture, the answer was no longer as relevant as the question itself. For I was finally able to see what had been eluding me all along.
In the words of my Instagram friend "Prairie Oyster" (probably not his real name): "Perhaps that taste is more of a Platonic ideal that cannot be further reduced, but must be understood for what it is."  
Yakult Original flavour is an end in itself, defined only by itself; the epitome of the originality that's proudly stated in its name. It has painstakingly carved out a niche for itself in the annals of popular culture. It is all things to all people. It is the drink of the people. And people who drink Yakult are the luckiest people in the world.
Now, what does Vitagen Original taste like?