A Singaporean's journey through Russia for the World Cup
Through Moscow, Vladivostok, Irkutsk, Yekaterinburg, St Petersburg, Nizhny Novgorod and Sochi, a football-loving traveller uncovers Russia.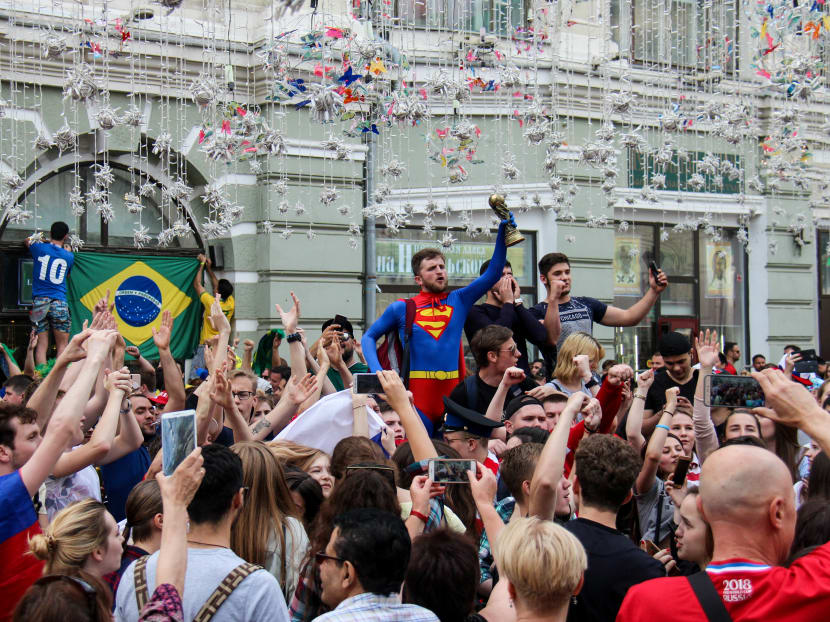 The wave of anticipation builds as I land at Moscow's Domodedovo Airport. I'm in Russia to attend my first ever FIFA World Cup and I'm excited as I spot the light blue and white of the Argentina flag on a lanyard, Senegal jerseys sporting Sadio Mane's name and a tiny Panama jersey keychain dangling from a backpack.
But this is just a transit. Before my first match, I will travel across most of Russia – twice to be precise – to see how the World Cup touches the far-flung corners of the world's biggest country. The first leg of my journey is an eight-hour flight to Vladivostok in the Russian Far East, a city further east than Seoul, seven hours ahead of Moscow and closer to Singapore than it is to the Russian capital.
Aboard the flight, I get to talking with my neighbour, Mikhail (or Michael as he introduces himself, noting that I'd probably be more familiar with the anglicised form of his name). A Muscovite working in the scaffolding business, Mikhail moved out to Vladivostok with his wife – a local – to raise their two daughters in a place with "less dust", as he puts it. 
Mikhail reminds me of the many Russians I met in 2015, when I crossed country for the first time, quickly appointing himself as an ambassador whose only intention is that you have a positive experience in his homeland. He recommends banyas (Russian saunas), the best tourist attractions and local taxi apps, and after sharing a taxi into the city, he refuses to accept my share of the fare, hopping back into the cab with a wide smile.
VLADIVOSTOK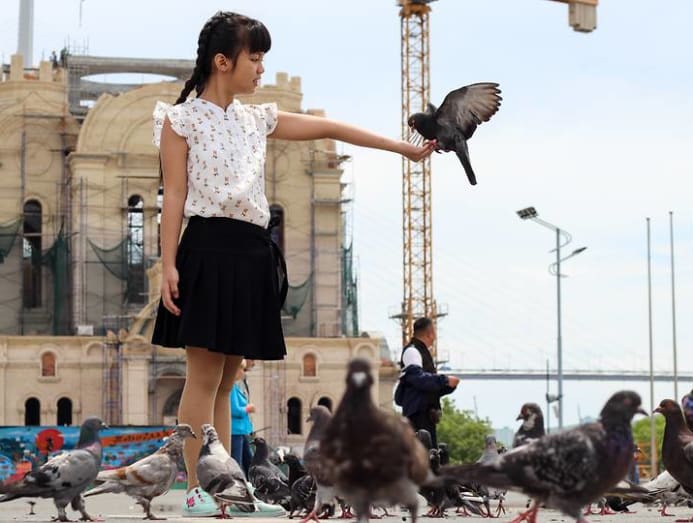 Vladivostok is quite a singular city. While the landscape is unmistakably Northeast Asian, the architecture couldn't be more Russian, representing the heyday of the Empire through to the Soviet era. With the rugged coastline of Golden Horn Bay, it also reminds you of another bay city – San Francisco – and you half expect the Golden Gate Bridge to loom in the distance around the next corner. 
There's a strong Asian presence here, from the right-hand drive Japanese cars (despite the fact that Russia has right-hand traffic) to the torrent of Chinese and Korean tourists and all the Asian food you could ask for. In some way even too much, seeing how two visitors from Hong Kong approach me to ask if I know of a place where they can actually eat local food. Vladivostok is also the home port of Russia's Pacific Fleet, and naval traditions run deep here. Young men and women in spiffy white uniforms are a common sight on the streets.

Any sign of the World Cup is however hard to find, in the lead up to the big event. The local football stadium is almost empty and apart from a locker room mock-up on central walking street Sportivnaya Naberezhnaya, and an outdoor exhibition in Central Square charting the highlights of Russian and Soviet football, the tournament really does feel a world away. That is until I make the trip to Tokarevsky Lighthouse, located on a narrow spit that a local tourism website describes as "the end of the world".
Unexpectedly, I spot a lone figure flying a drone. As he turns to acknowledge me, I see the Russia 2018 logo on his jacket. Constantin is a St Petersburg native and a big fan of Singapore; he shows me pictures taken recently at Marina Bay Sands and Gardens by the Bay. As luck would have it, we'd be at the same game in St Petersburg in just over a week, and we make plans to meet again in his home city.
Before I depart, I catch up for lunch with Mikhail and his daughters, and he shares his dreams of improving the way children are educated in Russia. Vladivostok would be the place to do it, it's a city with an old soul and young heart.
IRKUTSK
If Vladivostok is a city with salt water in its veins, then Irkutsk is a city of fresh water. It's the gateway to Lake Baikal, the world's deepest lake and largest freshwater lake by volume. Flying past it in the dying light however, you only get a glimpse of its magnitude.
By the time I land, Irkutsk has gone to sleep. It might be one of Siberia's biggest cities, but there are barely signs of life after midnight. My hostel here is a little less than underwhelming which is a good reminder to not always trust online reviews. 
More than any city in Russia I've visited, Irkutsk represents the diversity of the Russian people, with many of the country's ethnic groups calling it home. Home in Irkutsk is often an ancient wooden house, some appearing to warp and lean in every direction, but nevertheless still sturdily standing after more than a century of use.
It's Jun 14, the opening day of the World Cup, but still I'm not much closer to it. The level of excitement matches the calm waves of Lake Baikal: a handful of "Rossiya" shirts and jackets, an old hat emblazoned with the letters CCCP (the Russian name for the USSR) and Russian flags in vehicle windows. 
As kick-off approaches, Russian fans finally begin to make their presence known. I join them at Harat's, an Irish pub with Irkutsk roots, behind the statue of the "babr", the mythological part-tiger, part-rodent symbol of the city.
President Vladimir Putin and the Russian national anthem get tepid responses from the assembled crowd; the majority perhaps expecting a swift exit for their team (little do they know). It only takes 12 minutes for the unease to be ripped to shreds and Yury Gazinsky's opening goal leads to scenes of pandemonium. The cheers coalesce into chants of "Rossiya! Rossiya!", and as Russia go 2-0 up just before half-time, they know victory is in their sights. At 3-0, the hugs and high-fives begin flowing, and at 4-0 and 5-0, the vodka starts to flow as well.
A city that was silent a mere 24 hours ago sees people partying in the streets, and I get poured vodka shots by Paril, a visitor from the industrial city of Tula, south of Moscow. We down them together with a street musician named Pete, who has earned his share for making his way here from Rostov-on-Don on foot – a trek of more than 6,000km. The morning after, there's just enough time to visit the Church of the Savior, an icon of Irkutsk that dates back to 1706, before my train to Yekaterinburg arrives.
THE 48-HOUR RUSSIAN TRAIN RIDE
In Russia, trains can offer the ultimate in relaxation. Just get a bottom bunk, kick back and take in the journey, which in my case, will last for 48 hours. My cabin companions, Katya and her young son Lesha, have been on this train for more than two days, having departed from Khabarovsk, where Katya's mother lives.
A few hours into the ride, I hear an accent that is the unmistakable sound of home. Feng, Joshua, Luke and Nicole are young Singaporean twentysomethings who made their way to Russia from Beijing via Mongolia, and will continue on the rails all the way to St Petersburg. 
The foursome are testament to how Singaporean travel habits have changed in recent years. A spirit of adventure is growing, and being mostly neutral on the world stage with a less-than-spectacular football team puts us in a unique place to connect with every fan at the World Cup.
On train rides as long as these, a sense of community is inevitably forged by the time one reaches one's destination. You greet people each time you pass their bunks, you share childcare duties and, come mealtime, food is prepared together and shared in an impromptu potluck. 
I hadn't had time to stock up on supplies, and had nothing to contribute to our first meals, but I'm still given a share of potatoes, hard-boiled eggs, bread and cured meat by the generous Katya and Vusale, the other resident in our third-class cabin.
YEKATERINBURG
At last, I am in a World Cup host city which happens to be on the border of Asia and Europe. Yekaterinburg is perhaps best known as the city where Tsar Nicholas II and his family met their tragic end about a century ago, but it has since moved away from this dark past. In fact, the Church of All Saints that marks the site of their demise forms a backdrop for the lively riverfront walkway where buskers play before big, dancing crowds.
In Yekaterinburg, I visit a FIFA Fan Fest for the first time, and the power of football as the great unifier reveals itself. Egyptians, Mexicans, Brazilians and Russians party together as Brazil play out a draw with Switzerland, and the group of Russians I have a beer with ask the same question I've already been asked half a dozen times: Do you like Russia?
To be fair, there are many reasons why I shouldn't be here. The 2018 World Cup comes at a time when Russia is embroiled in a multitude of scandals, but the average Russian knows this, and wants to show you that the country's politics don't necessarily define its people. But there's really no need to explain anything. The many warm welcomes I've been receiving have been proof enough.
MOSCOW
It's Jun 19 and I'm in Red Square in Moscow. Thousands of fans mill about taking photos together with flags flying and scarves raised. Beneath St Basil's Cathedral, a multinational game of "keepie uppie" (juggling a football using anything but your hands) begins to grow with some serious skills on show.
The next day, I ride the Moscow Metro to Luzhniki Stadium to watch Portugal play Morocco. It's an experience all on its own. The trains have the feel of vintage cars, reaching speeds they are probably not equipped to be accelerating to. As the train slows on arrival, Moroccan fans in our carriage begin clapping and breaking out into song. I'm suddenly filled with a sense of disbelief at actually being here, and entering the stands through a tunnel-like walkway reminds me of my visits to our old National Stadium.
Almost as soon as the game begins, Portugal's Cristiano Ronaldo flies in to fire home an unstoppable header. It's the only goal of the match and Portugal knocks Morocco out of the cup.
ST PETERSBURG, NIZHNY NOVGOROD AND SOCHI
After the game, I leave Moscow for the imperial capital, St Petersburg, where about €350 million worth of players in the form of Brazil's Philippe Coutinho and Neymar produce an injury-time special to eliminate Costa Rica after a surprisingly bland 90 minutes. 
From there, I visit Nizhny Novgorod, an intriguing city by the Volga River and the very place where England put Panama to the sword in a record-breaking 6-1 victory. It has to be highlighted that Panama's one goal, their first at a World Cup, was greeted with wilder celebrations than any of England's six.
Finally, I fly south to Sochi, the Russian city on the Black Sea and a popular summer beach resort. It's also where Peru knocks Australia out of the competition with a 2-0 victory.
KHOSTA
And just like that, the group stage of the 2018 FIFA World Cup draws to a close. Just like the 16 eliminated national teams, I'm about to make my way home. It's sad to leave, especially while the party is still in full swing, but even in these final moments of my trip, Russia still has something to offer. 
I find myself in Khosta, a microdistrict between Sochi and Adler on the Black Sea. It's a beautiful day to be out, but I'm in a bar watching Germany play South Korea.
A trio of holidaymakers from the city of Vladimir are watching the game too, and they quickly ply me with cheese and smoked fish. Again, they want to know what I think of Russia. When I tell them of my journey, they joke that I still need to go to Kaliningrad in the west. 
"And Kamchatka," I reply, referring to the peninsula even further east of Vladivostok known as the Land of Fire and Ice.
Indeed, come Jul 15, the World Cup journey will eventually end for all but one national football team. But for the traveller in Russia, the road can and will go on as long as you want it to.