Creative Capital: The artist who brings joy through her small animal ceramics
28-year-old Singapore crafter Chien Nie Hong specialises in creating and selling miniature joy-catalysts since 2016 through her brand Lithops Studio.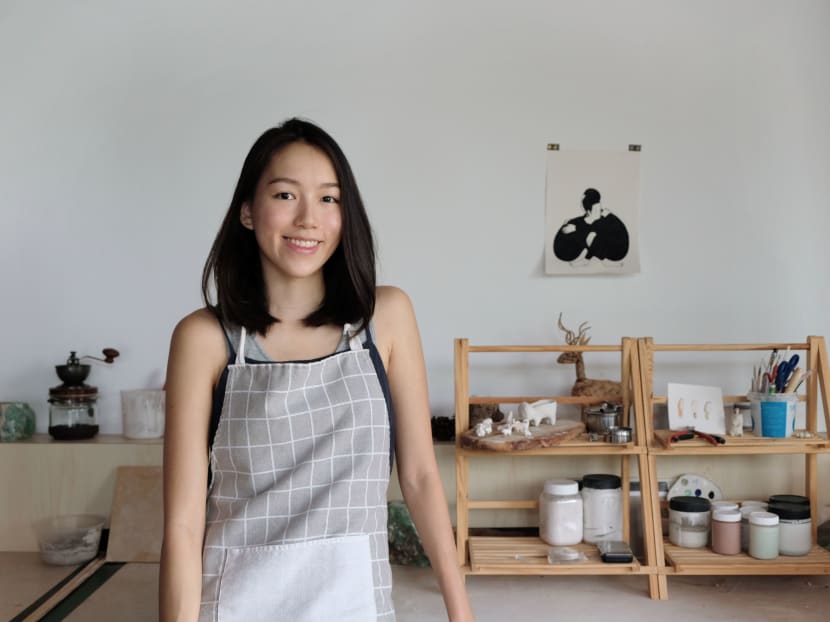 There is something adorably cute about Chien Nie Hong's ceramics. Delicate, glossy white animals, accented in gold or pastels, with curious and cheerful expressions. They are tiny objets d'arts, some useful, some purely decorative, that you enjoy looking at. Her patrons agree. For many, these miniature art pieces bring them joy. Her fans gush about her ceramics on social media, often openly declaring they are obsessed with her work.
Some artworks make socio-political statements or try and capture a specific moment in time. And those, when done well, can be brilliant. But equally special and magical are pieces that, as many customers have written, "spark joy". These kinds of work are what Chien Nie Hong, 28-year-old Singapore crafter, specialises in. She has been selling her miniature joy-catalysts since 2016 through her brand Lithops Studio, first via Etsy and now through her own website https://lithopsstudio.com/.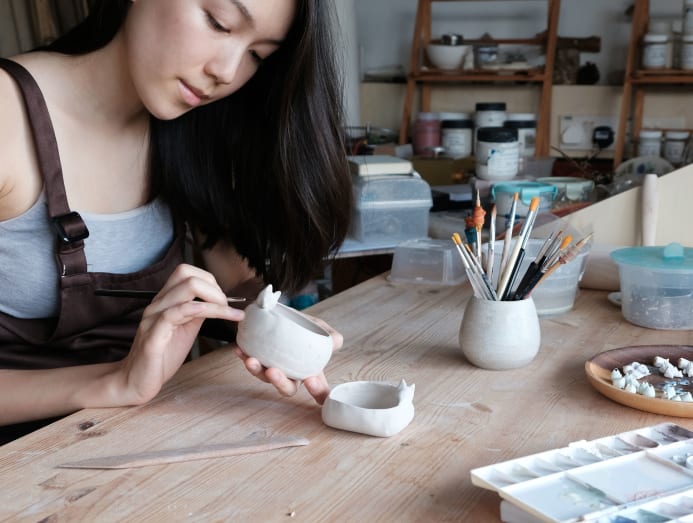 TELL ME A LITTLE ABOUT YOURSELF AND YOUR CHILDHOOD. WERE YOU ALWAYS CREATIVE, EVEN WHEN YOUNG?
I think people are inherently creative; we just need the right conditions to help us grow. My mother has always been supportive as she's also keen on crafts. She would bring me to all sorts of different workshops when I was younger and was always supportive of my creative pursuits. My first encounter with ceramics was actually when she brought me to a ceramics hand-building workshop at a community centre when I was in primary school.
Outside of workshops, I remember one of my past times, when I was little, would be to forage for leaves and flowers to pound into makeshift facemasks or potions using rocks. Thinking back, I pity the people I asked to test them out for me. Kudos to them for being good sports! I'm somewhat thankful technology was not as advanced during my younger years, so we had to get creative to keep ourselves entertained.
DID YOU STUDY ART PROFESSIONALLY OR ARE YOU SELF-TAUGHT?
I have not studied art professionally but I'm also not completely self-taught, depending on how that is defined. I've been to numerous short workshops, and I learn lots of valuable nuggets from each one that I go to.
Each different studio and workshop I've visited has their own philosophy and style of teaching. I learn different techniques from each one and combine those with my own research and experimentation, I find what works best for me at that point in time. Shout-out to all the ceramic studios I've been to, including Ceramics workshop at Tanglin CC, ClayStreet Studio, Sam Mui Kuang Pottery, School of Clay Arts, and Ves Studio.
I READ THAT YOU HAVE EXPERIMENTED WITH LOTS OF DIFFERENT MEDIA. WHAT ARE SOME OF THE DIFFERENT CRAFTS THAT YOU TRIED?
Firstly, pottery of course, which in itself encompasses many things. I've tried beading, wire-wrapping, metalsmithing, glass fusing, stained glass jewellery, sewing, knitting, crotchet, embroidery, candle making, wood carving, 3D printing, resin art, stamp carving, glass etching and so on!
Each one has contributed to Lithops Studio in some way or form, even if they do not manifest themselves so literally in my work.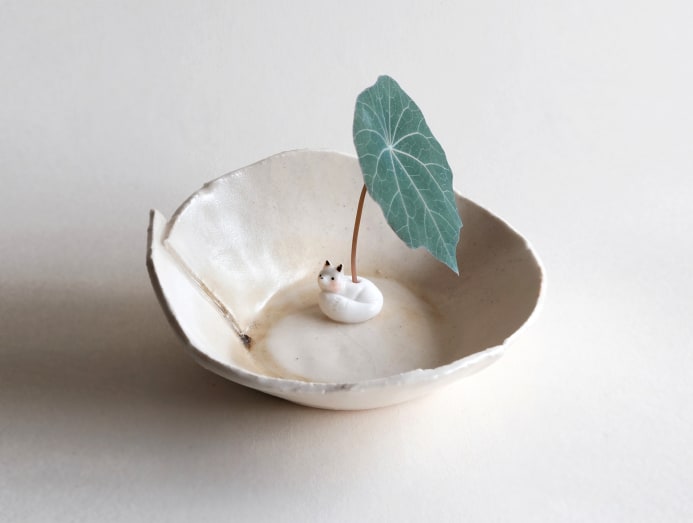 I SAW THAT LITHOPS WAS ONCE A JEWELLERY BRAND? CAN YOU ELABORATE?
Lithops Studio was initially called Lithops Jewellery. I started out selling wire-wrapped and metal-smithed jewellery via Carousell near the end of my university days. I made a number of sales and even got invited to set up a booth and host a workshop at a Carousell pop up event. It wasn't much but it meant a lot to me – validation that I was on the right track and my small store was interesting enough to be selected for an event.
However, as some time passed, I felt I didn't really enjoy the process of making the jewellery I designed then. I often found myself getting frustrated while making things and really just not looking forward to the work. However, I was still determined to have my own small business making and selling things, so I decided to switch my medium of choice to ceramics and it's been going strong ever since! To accommodate a wider range of creations beyond jewellery, I changed the name from Lithops Jewellery to Lithops Studio. 
WHAT DOES THE BRAND NAME "LITHOPS" MEAN?
Lithops are actually a type of succulent plant, they look like tiny butts sticking out of the soil and I was fascinated by them at a point in time. There isn't a poetic reason why I chose Lithops as my brand name, it was something that tickled me at the time and it just kind of stuck.
WHEN DID YOU ARRIVE AT YOUR CURRENT STYLE?
I don't even really know how to define my style so I get puzzled when people ask me if I can make something for them, but in my "usual style". I've had people describe my work as being simple and at the same time raw. I guess I do focus on keeping things simple and always have since I started Lithops Studio in 2016.
HAS YOUR STYLE OF CERAMIC ART EVOLVED SINCE THEN?
Most of my work has revolved around nature and animals since the start, but I feel like I've reined in my designs quite a bit. I've been making more work that resonates with me, even if it isn't the trendiest or most eye catching, to close the disconnect so that I can continue to love what I do and attract people who relate to it.
At the beginning, you just try and experiment with everything until you hopefully land in a space with a comfortable balance. You also learn what works and what doesn't work for you. It's a constant exploration.
Aside from that, I've also been designing more functional pieces such as incense dishes, planters, jewellery bowls and so on to feed my desire to create items for people to use in their daily lives. It always gives me a deep sense of satisfaction seeing people use or display my creations in their homes. 
WHEN ASKED BY SOMEONE YOU ARE MEETING FOR THE FIRST TIME, HOW DO YOU DESCRIBE YOUR CREATIONS?
I feel like this is something I always struggle with. Usually after a meagre attempt to describe what I make, probably something like "I make ceramics, small things, jewellery, dishes, vases and everything in between".
I usually just end up showing them my Instagram account. A picture speaks a thousand words so a whole grid speaks more? I make such a wide range of things it's hard to describe! So it's better to just show them. 
WHAT MOTIVATED YOU TO START THE BUSINESS?
I started Lithops Studio with the goal of opening an Etsy store and selling my work worldwide. Making a living for myself doing something I love is quite wonderful, no? The joy for me is a lot in the process of creating the work but I also need to earn my keep, so it's a blessing that people are interested to buy my creations. Otherwise, I would just be a sad person surrounded by a lot of ceramic works. Thankfully, I'm now a contented person surrounded by a moderate amount of ceramic works.
Things started off slow but social media definitely helped get things rolling. It allowed people who enjoy my work to find me, regardless of what country they were in. I was also lucky to have been featured by Etsy on their blog which helped kick-start my journey and helped put my then Etsy shop in the spotlight—I have since left Etsy to sell through my own website. Some larger accounts also picked up on my work and shared them on their profile, all these little features helped get things going. 
I AM ASSUMING LITHOPS IS YOUR FULL-TIME ENDEAVOUR. WAS IT A DIFFICULT OR SCARY DECISION TO BECOME A FULLTIME CRAFTSPERSON?
Lithops Studio is my full-time endeavour, but I have part time endeavours too. I help my partner with some marketing work and also help out my friends with projects where my skillsets allow, like basic photography. It keeps things interesting and gives me a break from ceramic work, especially when my hands are worn out.
I didn't really have any other job before Lithops Studio, so it wasn't scary in the sense that I'd left a stable full-time income to pursue the precarious life as a craftsperson. The fear for me began when my hands started hurting more and more and I was worried there'd come a day I wouldn't be able to work with ceramics anymore. That's still something I'm working to improve.
Physiotherapy sessions have helped me figure out the root of some of my issues and with that, we've been able to prescribe specific exercises and good work practises to help alleviate some of the aches and pains. There's also the recurring fear that one day no one likes my work anymore. But I figured I shouldn't let that weigh over me. Until that day, if it comes, I'll just keep chugging along. I make it a point to develop other skillsets aside from ceramics and to take control of my finances, so I won't have to worry so much if I have to change course.
I'M GOING TO ASK A VERY ASIAN QUESTION, BUT WHAT DO YOUR PARENTS THINK OF YOUR WORK?
Well, I only have one Asian parent since my parents are separated and thankfully my mother has always been very supportive of my endeavours. She actually helps with quite a bit of the behind-the-scenes work. She helps me fold boxes, cut bubble wrap and so on in her free time. When I used to do pop-ups, she'd make time to be there to help me in any way she can. She does have some apprehension about me making ceramics my career and might prefer me to be doing something else, but she's never imposed it on me.
Growing up she has always encouraged my siblings and I to join her during her work meetings so we can be exposed to different worlds and get an understanding of how certain things work. But she has always let us find our own way. She celebrates my milestones and I'm sure this article will be promptly forwarded to all extended family and friends once released.
She's also concerned about my health since my hands are always in some kind of pain, and she feels that this isn't a long-term solution, which is a valid point and something I've thought about myself. But ultimately, she's supportive and enjoys the work I create! 
YOU HAVE A REALLY LARGE FOLLOWING ON SOCIAL MEDIA. HOW IMPORTANT IS INSTAGRAM IN MARKETING YOUR WORK?
I think Instagram is the most important marketing channel I have. Especially since I currently sell my work via my own website instead of a marketplace like Etsy, I need to direct all of my own traffic.
I also have a mailing list, but Instagram is still the main channel for reaching people. It gives me a place to share more than just my work. From there, people can learn about the challenges I face, the thought process behind a piece of work, and it also allows me to listen and learn from customers and potential customers. Instagram is a documentation of the journey you're on and people from all corners of the world who resonate with what you share can come on board.
Without Instagram, I highly doubt I'd have been able to connect with the bulk of the people who currently enjoy my work, so I'm really thankful for social media in that aspect. It has also helped me connect with other local makers and some fun collaborations have spawned from there!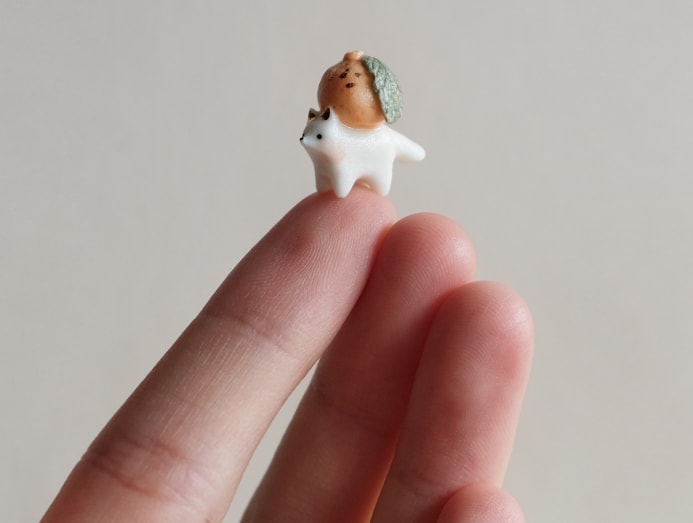 DO YOU HAVE A CORE TYPE OF CUSTOMER OR ARE THEY QUITE VARIED?
I believe they are quite varied. It's hard for me to ascertain a lot about my customers since I sell my work online and I seldom do pop-ups, but I have a feeling, just a little feeling, that most of my customers are more reserved. Something about the muted and quiet nature of my work might draw in a certain psychographic of people. But that's all speculation of course! The customers I've interacted with are all different in their own way.
I also have to say, I think a lot of my customers are really patient and understanding people. In all my years running this small business I have not had anyone really berate me over a delayed parcel. Most angry emails I get are actually from people who didn't manage to purchase my work so on one hand I feel bad that they are upset with me but on the other I'm also thankful they enjoy my work enough to be upset that they didn't manage to get what they wanted.
During the onset of COVID-19, the shipping delays were quite extreme. Some parcels took as long as 3 months to arrive. I was so worried my customers would start getting impatient and so I tried my best to constantly share shipping updates whenever I could. However, not only did I not get any angry emails, I got emails from customers telling me not to worry and that they are patiently awaiting their parcels. That made my day, my week, my month! I don't know why that made me so happy, but it really did. I even caught myself smiling some days later just thinking about it. 
WHAT IS THE BEST PART ABOUT WHAT YOU DO?
I love the freedom I get. I'm free to explore different things, when and how I want. I love that I can work from home and have time to spend with my family. I set my own pace and even though most times I don't know when to stop, even when I should, I'm learning that rest is a productive activity and is very much necessary. 
AND WHAT IS THE HARDEST?
The hardest part I think is striking a balance. In the aspect of crafting, as an example, I guess I have a knack for sculpting small delicate things, and that's what I think a lot of my customers like, but what I'm personally drawn to might be rustic forms and organic finishes.
To strike that balance, I might design a piece that combines the two components into one object. It's sometimes scary to put out work that you really love but isn't what you normally create. You're fearful that what resonates with you doesn't resonate with others.
But I've found that it's not key to resonate with the masses, instead it's more important to speak to a niche group of people who enjoy the way your specific brain works. I'm constantly adjusting the scales, sometimes it's a little more of this and sometimes it's a little more of that.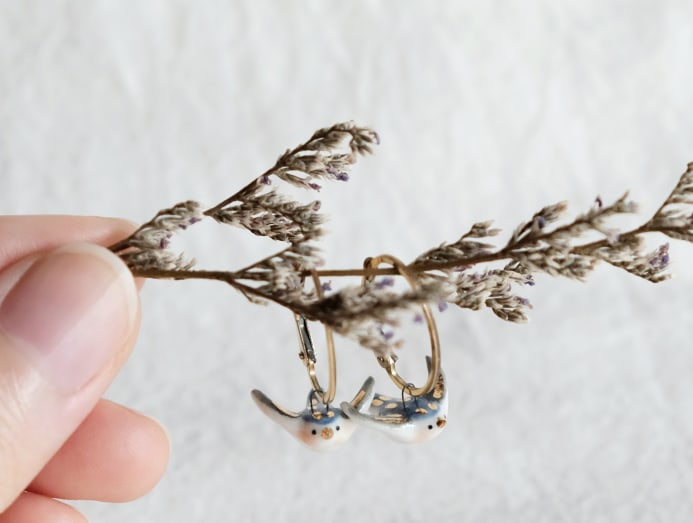 WHAT IS THE BIGGEST MISCONCEPTION ABOUT YOU AND YOUR CRAFT?
I guess sometimes people don't fully understand my craft. But I understand it is difficult for people to relate to what I'm doing as it isn't the most conventional line of work.
On another note, people who know of me via Instagram might think I'm a very chill and peaceful person. I am, to a certain extent, quite chill and thankfully the nature of my work allows me to be so but in other aspects of my life I can actually be quite easily stressed. I can be really socially awkward which in turn makes me nervous when I need to enter into social situations that are out of my comfort zone. Definitely something I need to work on.
I think a lot of people also believe working with ceramics is a very peaceful and relaxing craft. It can be but I know everyone who works with ceramics is familiar with the frustration of things cracking or having large batches of work failing. Working with ceramics is in part scientific – there are many factors to take note of such as drying times, firing temperatures, firing speeds, glaze and clay combinations, and so much more. Turning a wet mound of clay into something glass-like through firing it in a kiln – in between those 2 states so many things can go wrong. We've faced so many disappointments that we're good at letting go of the frustration and moving forward after a deep breath. 
WHAT DO YOU HOPE TO COMMUNICATE THROUGH YOUR ART WORKS?
I've always hoped that my creations would evoke a sense of peace and quiet in the people who encounter them. I sometimes receive messages from people that the work I share brings joy to their day and that always makes me happy.
WHAT IS YOUR CREATIVE PROCESS LIKE? HOW DO YOU CONCEPTUALISE NEW DESIGNS?
Nowadays. I tend to sketch the ideas that pop up in my head so I can look back on them when I need to. Not all of them get made, but going through them definitely helps when I'm in a creative slump. It also helps me visualise things better and sort out proportions before translating them to clay.
Most of the times though, I usually just sit at my desk and play. I don't really have a fixed system or a method of conceptualising new designs. Inspiration can come at strange times, like during a steamboat dinner. I take all the bits and bobs that come up and incorporate them into my work.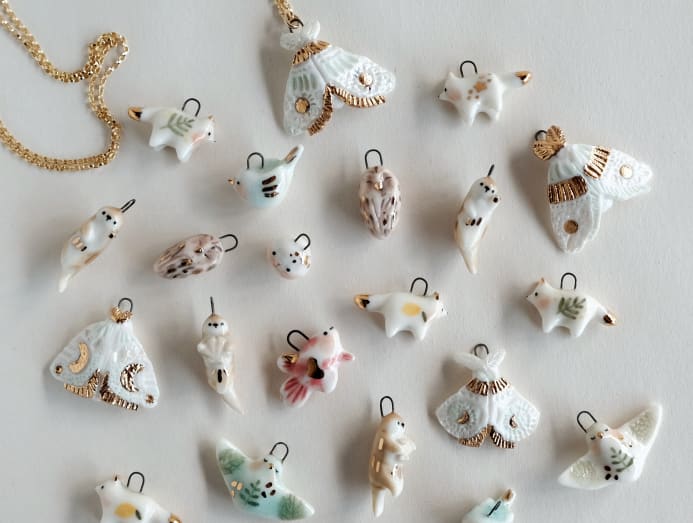 HAS THE PANDEMIC AFFECTED YOUR BUSINESS? 
Since my shop is online, I wasn't affected the same way as people who had physical locations that required foot traffic. The one impact would be the increase in shipping times and costs. Also, when the pandemic first hit, there were a lot of destinations worldwide that suspended shipping, but thankfully that has eased up quite a bit.
I was quite worried at the onset of the pandemic. I knew what I made was not a necessity and some people might be a little more cash-tight or simply have more important places to direct their attention. But to my surprise, my sales were still good during my releases. I found out from some of my customers that it was exactly because things were so down that they wanted to treat themselves to something that brought them joy. I'm thankful they allowed my work to do just that for them.
WHAT'S THE VISION FOR LITHOPS?
As long as my work continues to bring joy to others and myself, I'm more than pleased. There isn't a grand vision, I just want my work to grow with me at each stage of my life. I'm not sure what's to come and how things will change but I'll just let that move as it will organically and hopefully, I'll be able to connect with people who relate to that.