Good game: Fairmont Singapore and Razer introduce 'luxury gaming' suites
Three of Fairmont Singapore's suites have been revamped into distinctive gaming rooms with equipment and gaming furniture from Razer.
When gaming is mentioned, you'll likely think of elaborate gaming set-ups from which you and your friends can cheer – or jeer, sometimes – at one another while racking up high scores. Alternatively, you might imagine cosying up in front of a TV console at home to test your bonds with family or friends, or even throwing yourself into the communal experience of local area network (LAN) parties.
However, luxury hotel Fairmont Singapore and gamer-centric electronics company Razer are gearing up to change that, unveiling a brand-new collaboration at a media preview on May 17. According to a joint statement by both companies, the "luxury gaming" experience is the first of its kind in the world.
As part of their goal to combine "the sensational world of gaming with luxury hospitality", three of Fairmont Singapore's suites have been revamped into distinctive gaming rooms with equipment and gaming furniture from Razer.
The Razer Gamer & Streamer Suite, Razer Console Lounge and Razer Mercury Suite were splashed black with green and white detailing, indicative of Razer's branding. Alongside gaming experiences in the latter two suites, the companies also teased a menu which was "specifically designed with gamers in mind", including sandwiches and miniature charcuterie and cheese plates that guests could feast upon.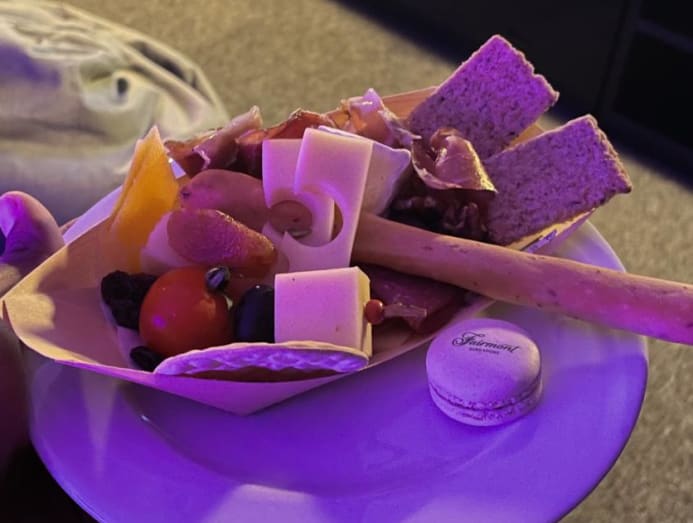 While the suites can only be booked for two- or four-hour blocks, doing so comes with perks including a 10 per cent discount for overnight stays at Fairmont Singapore and in-house food and beverage establishments Prego, Anti:dote, House of WÈI and Mikuni.
The gaming suites will be available for booking from May 18 and open to the public on May 24, remaining available until April next year.
Here's more on what you can expect from each suite.
Razer Gamer & Streamer Suite
An almost-faithful recreation of old-school LAN cafe seating with 10 "battle stations", one of the standout features in this suite is the green LED strips lining the all-black gaming booths and wall-mounted television screens, making it a "definitively-Razer gaming den" for the most hardcore players. The suite additionally comes with a streaming booth, which has broadcast equipment from Razer (ring light included, of course) to allow gamers to livestream onto the television screens or Twitch, the online gaming community platform. 
Capacity: 11 people, with at least six people required to make a booking.
Price: S$240 to S$415 for two hours, S$320 to S$670 for four hours (depending on group size), excluding taxes and service charges.
Razer Console Lounge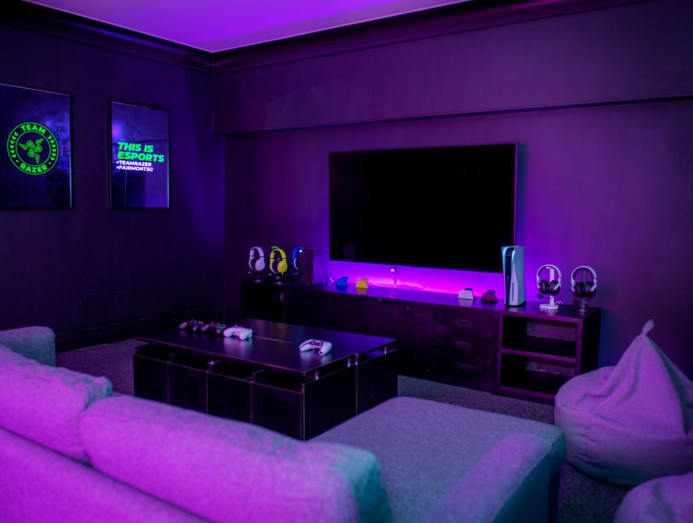 This suite caters to more casual and intimate gaming sessions with Xbox and PlayStation 5 consoles with Razer's Wolverine V2 Chroma controllers, as well as a plush sofa and beanbags. While the games available may encourage some friendly competition, they lean towards being more laid-back, such that anyone can come together to play without a steep learning curve required to enjoy the experience.
Capacity: Six people.
Price: S$180 for two hours, S$320 for four hours, excluding taxes and service charges.
Razer Mercury Suite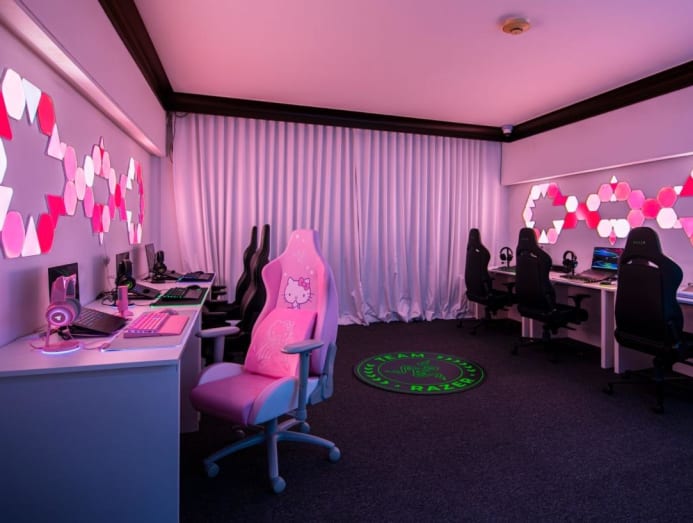 Guests who wish to let their competitive side out with friends may consider paying this suite a visit instead. Set up with a three-versus-three configuration, it makes for less casual but nonetheless cosy sessions, that allows more experienced gamers to play their preferred games. One of the six gaming stations is also decked out in pink with the limited-edition Hello Kitty and Friends version of Razer's Iskur chair and cat-eared headphones – all for one lucky player in the group.
Capacity: Six people.
Price: S$240 for two hours, S$420 for four hours, excluding taxes and service charges.
At the preview, Fairmont Singapore and Swissotel the Stamford's senior director of marketing Julia Lim spoke of the hotel's constant enthusiasm to collaborate with brands – which include Disney and Hello Kitty – to provide a one-of-a-kind stay for guests. Additionally, Fairmont Singapore had hosted the One E-sports Dota 2 Singapore Major in March 2021.
Fairmont Singapore's managing director Marcus Hanna told CNA Lifestyle that the luxury gaming suites came about as the hotel "recognises the growing pervasiveness of the [gaming] industry and the huge potential of e-sports and gaming as a whole". On the hotel's role in the collaboration, he added: "It also reflects our continued focus and commitment towards bringing unique experiences that appeal to different passions and ages."
Razer's senior manager of Global E-sports Fernando Loureiro addressed the growing mainstream popularity of e-sports and gaming culture in the wake of the COVID-19 pandemic, which informed their collaboration.