Inflation woes? We crowdsourced 9 grocery-shopping tips from aunties
Feeling the pinch? Here's a list of simple hacks when you're out shopping for essentials. (You might also want to think twice about heading to the supermarket when you're feeling hungry.)
With core inflation soaring to a near 10-year high in January, everyone is in a frenzy of scrimping and saving. For millennials (like this writer), a whole generation of digital natives, this means cashbacks, rebates, and discount pages telling us when Haagen-Dazs pints would be on discount again. 
But what about the older generation? Having watched HDB flats go from S$30,000 to S$500,000, they must have been there and done that many times over with nuggets of wisdom to impart. 
I speak with, ahem, the Chief Financial Officer of my own household – my mother – and her mahjong kakis to learn how the ubiquitous "aunty spirit" can help us adapt and survive this bout of inflation.
1. BE SELECTIVE ABOUT WHAT YOU BUY AT SUPERMARKETS 
It is public knowledge that wet markets offer better prices, but for which product categories are cost savings most significant? 
For leafy vegetables used in Asian cuisine, the price difference tends to be marginal. However, the same cannot be said for meats. Before deciding on where to shop, it helps to "right-size" the quality you need based on their preparation methods.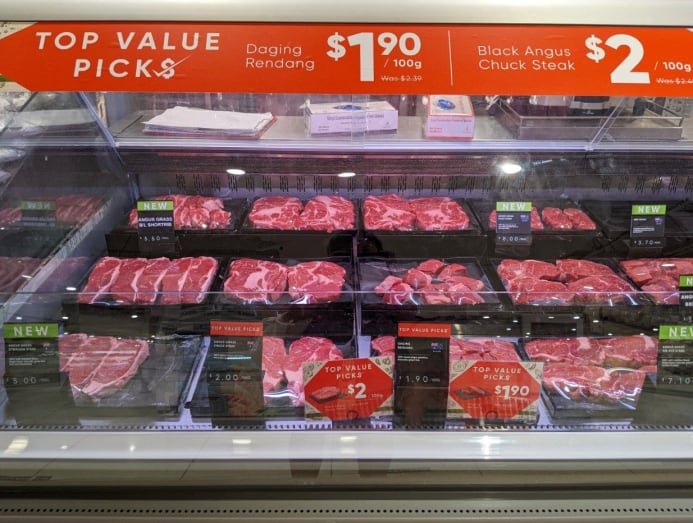 If you are looking to flavour a broth, the cuts wet markets offer may suffice. But if you are making a ribeye steak, that would justify paying a premium for gourmet options at stores like Cold Storage. Even then, it pays to have the butcher recommend affordable alternatives that are similar in taste and texture. 
2. VISIT THE WET MARKET AFTER 11AM 
The early bird catches the worm, but we have good news for late risers, too. Just as supermarkets sell sushi platters and roast meats at a discount after 8pm, wet markets also have an unofficial clearance hour. 
While you should not arrive at the market at 11am expecting the cream of the crop, leftover goods have merits when you can afford a slight dip in quality. After all, you may not need the freshest head of cabbage for making kimchi or the crispest spinach for a vegetable smoothie. 
When life gives you ripe bananas, channel your pandemic baker from 2020 and make banana bread. 
3. OPT FOR IN-SEASON IMPORTS FROM LOCAL OR NEIGHBOURING COUNTRIES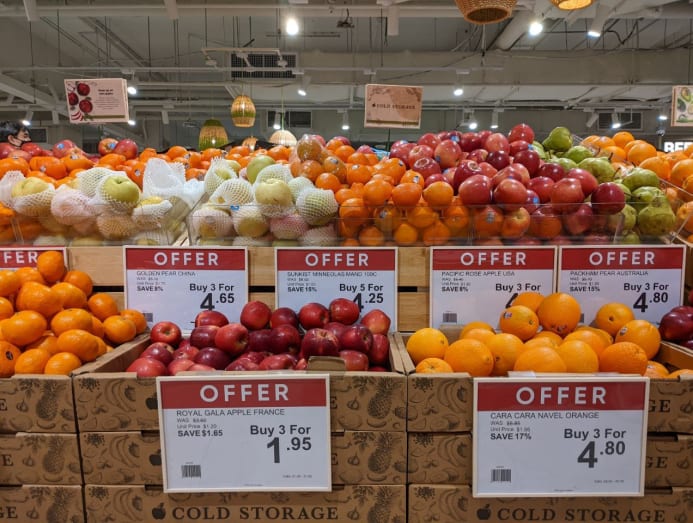 Some fruits and vegetables grow all year round, but seasonal ones fluctuate in prices depending on their demand and supply. Most people don't think much of these cycles, save for the annual durian fiesta between June and September.
Buying in-season produce is the most economical. You may not be able to stockpile these perishables for when prices peak, but you can get creative and substitute ingredients you frequently use with in-season ones. Produce sourced locally or from our neighbouring countries also removes freight costs from the equation and helps you stay cost-efficient over time. 
4. USE YOUR S$100 CDC VOUCHERS AT HEARTLAND STORES 
If you frequent supermarkets in shopping malls, it is about time to show grocery stores in residential estates some love. Apart from the popular Sheng Siong supermarket, other retailers include Giant, Shop N Save, Prime Supermarket, U Stars Supermarket and HAO Mart. 
Since real estate costs less in these locations, you have a better shot at saving money and using your S$100 CDC voucher. 
5. CHECK OUT DISCOUNT STORES FOR TOILETRIES
HDB towns are also home to a treasure trove of personal care stores selling heavily discounted toiletries. Why does my make-up remover cost nearly half its usual price at Venus Beauty? I have no idea, but it's been a decade and I still can't tell the difference from its "full-priced" counterpart.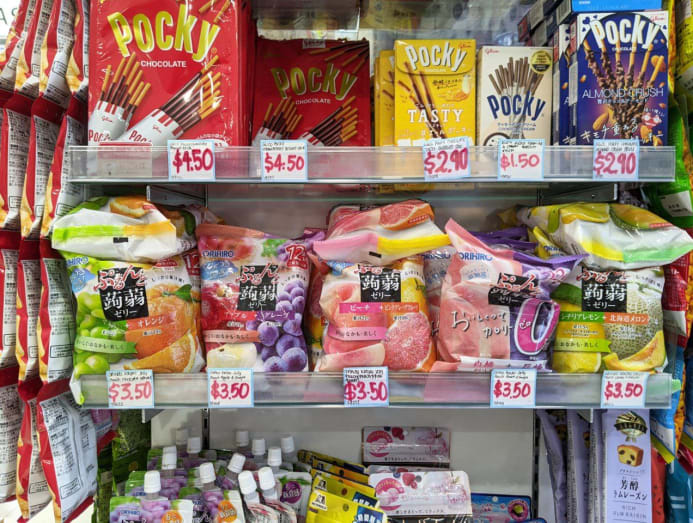 (If you're in luck, you may even find popular Japanese snacks that cost less than they do at Don Don Donki)
Other value stores include Swanston, Beauty Language, myCK and Value Dollar shop, which is holding a "fire sale" everlastingly. 
6. BUY FROM WHOLESALERS WHEN HOSTING LARGE GROUPS
Now that COVID-19 measures have eased, steamboat gatherings and popiah parties are finally on the horizon again. Shopping at wholesalers lets you cut out significant middlemen costs. Their industrial locations are not the most accessible, but a trip there might be worthwhile if you are buying in large quantities. 
Looking for fresh sashimi or caviar to complete that seafood platter? Fassler Gourmet Pte Ltd in Woodlands lets you keep it fancy without splurging. Some retailers offer home delivery too. QB Food, for example, delivers chilled and frozen meats to the doorstep for your next grill out. 
7. CHOOSE PRODUCTS WITH LITTLE PACKAGING
Cleaning liquids that come in refill packets instead of bottles are friendlier to both your wallet and the planet, but add another step to the process. Fun-sized snacks may be easier to munch on and carry around, but there is money to be saved by portioning a large pack using Tupperware or Ziploc bags.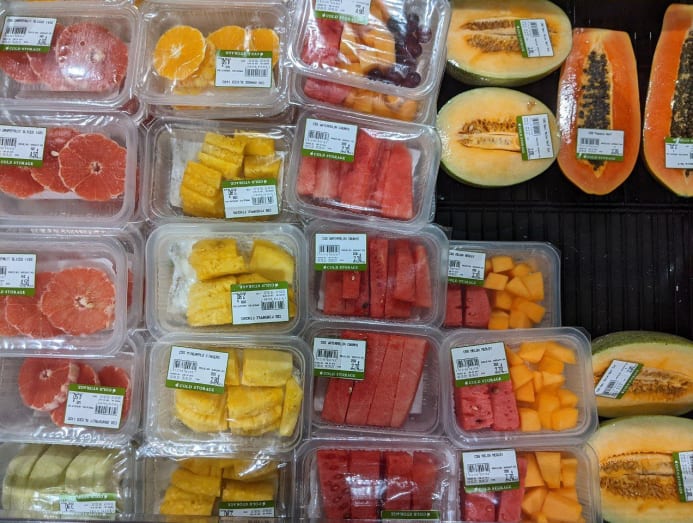 This is the same "convenience premium" supermarkets charge for cut fruits that have been nicely plated and cling-wrapped. The trade-off between price and convenience is tempting, and sometimes it takes a price hike for us to discern between a need and want. 
8. LOOK OUT FOR THE "REDUCED TO CLEAR" SECTION
The shelves between supermarket aisles are easily overlooked, but they are often stocked with discounted products that are expiring in the next month. Snacks make up a large percentage of this "reduced to clear" haul, but if your family is anything like mine, wiping junk food out with urgency is no problem at all.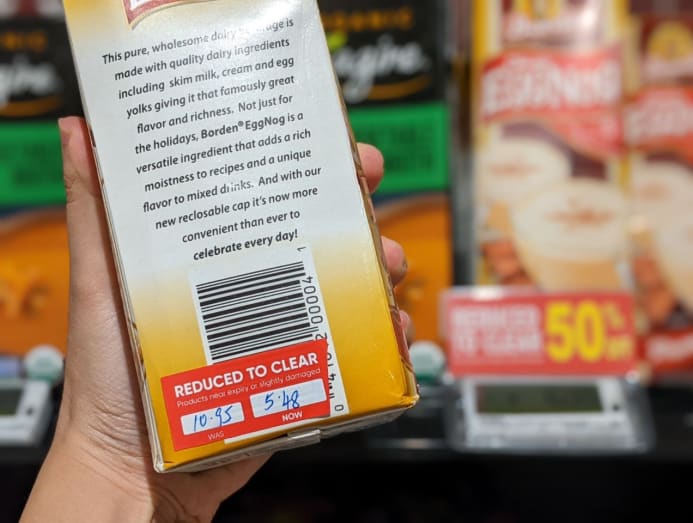 "Reduced to clear" sections have also been spotted at retailers such as Marks & Spencer and MUJI. Now you know where to go to stock up your pantry.
9. BE OPEN TO TRYING HOUSE BRANDS
House brands used to be considered second-best, but customer reviews on social media have catapulted some of them to fame. The Truffle Potato Chips by Meadows, for example, saw a loyal fan base hopping from one Cold Storage outlet to another in search of its fast-vanishing stock. The best thing? It costs only a dollar.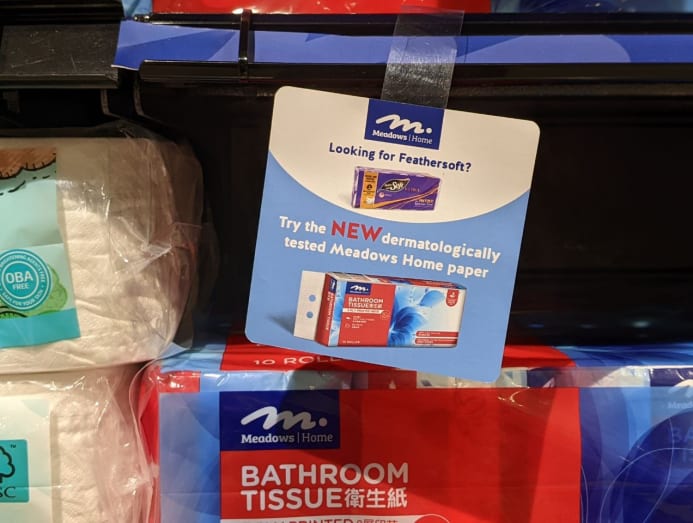 In February this year, NTUC Fairprice announced that supermarkets and hypermarkets will offer an additional 5 per cent discount on house brand products every Friday. Now that's another reason for TGIF.
GROCERY TIPS FROM EXPERTS 
To learn how we can stretch our dollar further, Talking Point host Steve Chia recently spoke to experts on optimal grocery shopping and storage practices.
Ada Wong, a consumer behaviour expert at SUSS, said you can start by treating a trip to the supermarket as a mission instead of a leisure shopping experience. Make a shopping list and avoid aisles that don't carry what you need.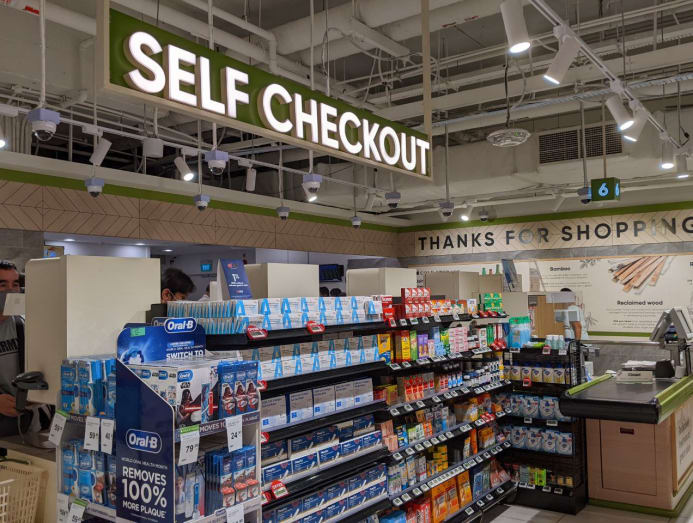 Going shopping on an empty stomach? You may want to think twice. Studies have shown that hungry shoppers spend 60 per cent more and that using the self-checkout counters reduce impulse purchases by 32 per cent. 
Buying in bulk quantities is economical. But without proper storage, you could end up incurring more cost when excess food goes bad and ends up in the bin. 
Issachar Lee, a culinary studies trainer at SHATEC, recommended freezing foods in small batches so they last longer and not washing fruits and vegetables lest they grow mouldy and have shorter lifespans. Ready-to-eat food should be stored at the back of the fridge while raw meats and fish are to be stashed at the bottom.