First look: Japanese home furnishings giant Nitori is now in Singapore
Japan's largest furniture and home furnishings retailer officially opens its first store here on Mar 31. CNA Lifestyle had an exclusive walk-through on what to expect.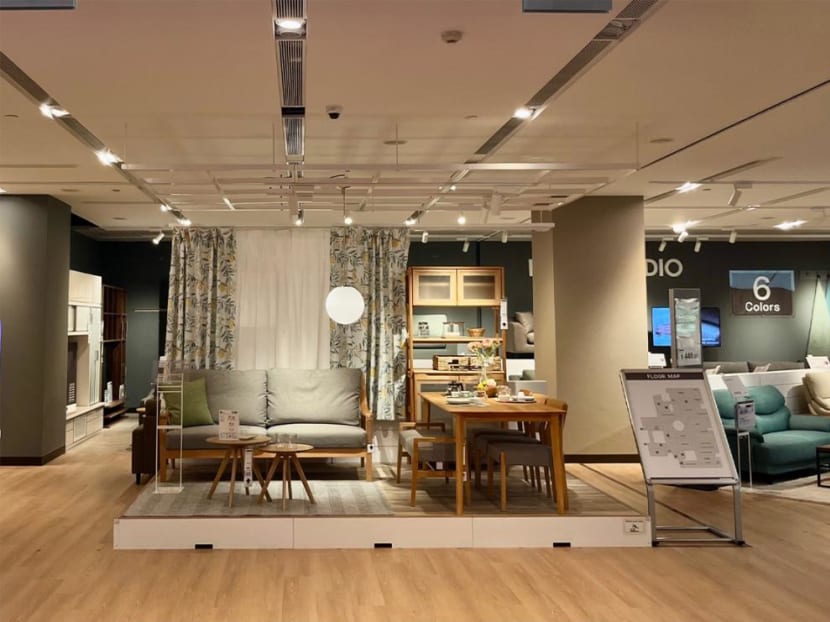 Singaporeans can't get enough of all things Japanese, whether it's holidays, food, Muji, Uniqlo, Daiso or Don Don Donki.
Well, the newest word to add to your "Nippon Lifestyle" lexicon is Nitori.
Established in 1967, it's Japan's largest furniture and home furnishing retailer, with 692 stores in Japan, and 90 more in China, Taiwan, United States and Malaysia. Its Kuala Lumpur outpost in Lalaport Mall opened earlier this year, with plenty more planned across the Causeway.
The rest of Southeast Asia aren't far behind, including its Singapore flagship at Orchard Road, which opens to the public on Thursday (Mar 31) – the first of 10 stores they plan to open within the next five years.
3 NITORI PRODUCTS IN A JAPANESE HOME
"Everyone in Japan knows Nitori," explained Soichi Oda, Nitori's executive officer and head of ASEAN, as he took CNA Lifestyle on an exclusive walk-through of the store, which occupies the entire fourth floor at COURTS Nojima The Heeren.
"Most Japanese homes contain at least three Nitori products, whether it's a cup or furniture. Parents buy our baby bedding for their newborns, and our study desks and chairs when their kids start elementary school," he said.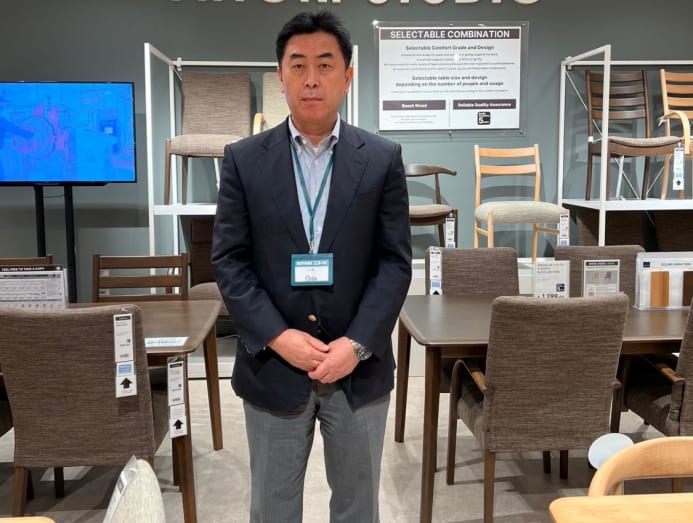 "When young adults move out of their parents' to a bigger city for university or their first job, our kitchen, bedroom and living room 'starter packs' provide the basics for solo living. Empty nesters wanting to turn their kids' former bedrooms into a study come for desks and office chairs."
The high-ceilinged, invitingly-lit 31,360 sq ft flagship is a homebody's dream, whether you have an overflow of stuff to stash, want to zhush up your interiors, or have an entire new abode to fill —there's a free interior design service in-store.
Like most large furniture stores, apartment and room mockups provide inspiration, and separate sections are dedicated to sofas, mattresses, bed frames, home office furniture and kitchen cabinet sets.
What jumps out immediately is that most Nitori furniture features understatedly organic Japandi styling, a soft neutral nature-inspired palette (nary a primary colour or neon hue), affordable price points, and petite dimensions big on practicality.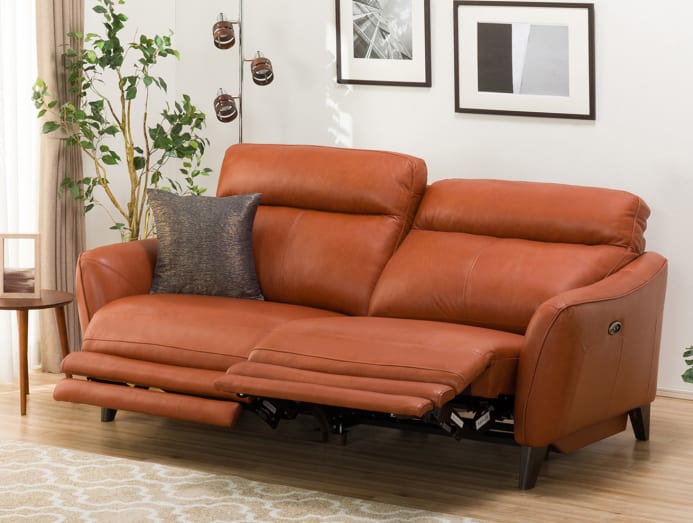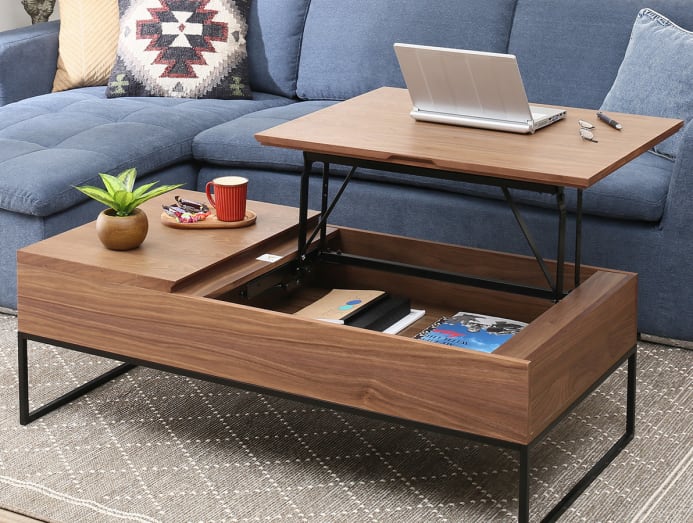 Dining tables are 5cm to 6cm lower than standard European ones, and narrower too – for example, the S$449 six-seater Lorraine5H is 180cm long, but just 80 cm deep.
By incorporating vertical storage, the industrial-chic S$279 Lavoro 93 desk takes up a surprisingly small footprint; the S$449 L-shape desk folds in on itself like a Swiss army knife.
The sofas sit more upright and shallow; this not only saves space but provides better back support. Some are ready-made, while others can be customised with your preferred choice of fabric or leather.
"Our furniture is designed for Asian builds while bearing in mind that homes and household sizes are getting smaller," Oda explained. "Some people say our furniture seems too small at first encounter, but end up realising they feel more comfortable in it."
30 DIFFERENT TYPES OF PILLOWS
The freestanding kitchen cabinets are just 48 cm deep, but come with a key design detail only an Asian designer would have thought of – an open-air cubby for storing a rice cooker. Soft-closing drawer and cabinet hinges, usually considered a luxurious and expensive add-on, are standard issue here.
There are seemingly endless rows of shelves stocked neatly with kitchenware, glassware, home storage and organisation products, home scents, clocks, curtains, towels, decor items, and, get this – a mindboggling 30 different types of pillows.
It speaks of that very earnest Japanese tendency towards detail-orientation and problem-solving.
"The basic question we ask ourselves is: 'What's uncomfortable in life, and how do we help improve it?'," Oda said. "Many customers complain that it's extremely difficult to find a comfortable pillow, so we provide many options."
Think two aisles' worth, featuring poly-fill, memory foam, honeycombed latex, feathers, buckwheat, even hollow plastic tubes. Priced from S$7.90 to S$89.90, these cater variously to side/back/front/hot sleepers, snorers, or those who dream of hotel-style comfort. There's even a weird-looking P-shaped pillow-bolster hybrid, and a cool-to-the-touch bouncy one baptised Mochi Mochi, after the Japanese glutinous rice cake.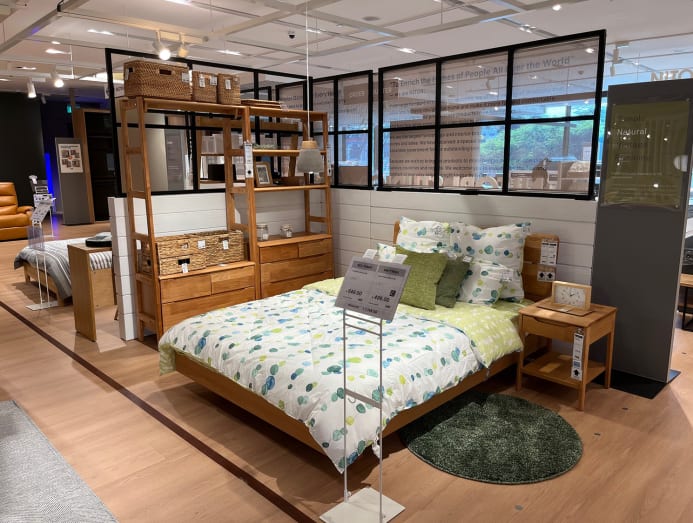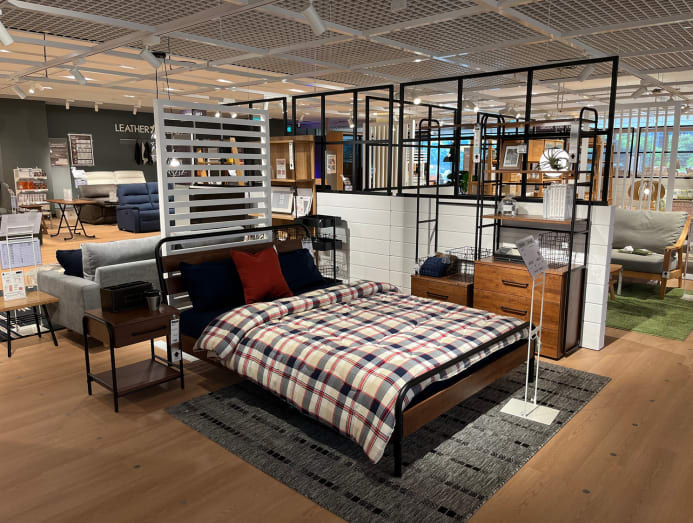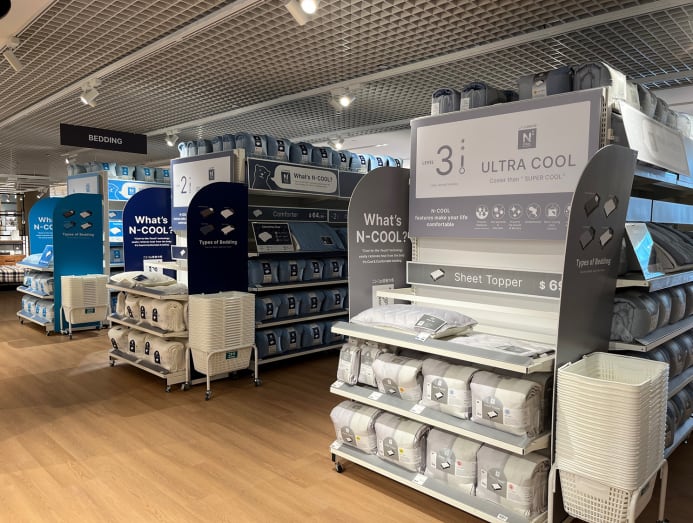 Close by is a single bed with a dispenser for disposable pillow cases, so you can experiment before committing.
Indeed, sleep seems to be a big thing here. The bedding selection is even more comprehensive, showcasing the N-Cool range of pillow toppers, cases, sheets, mattress protectors, comforters and quilt covers offering three levels of coolness, with antibacterial, humidity control and odour-blocking properties to boot; Oda, who considers N-Cool one of his two favourite Nitori products (the other being the electric recliner sofa in brown leather), expects it to do well here due to Singapore's tropical climate.
(For the record, they have an N-Warm range as well, which won't be stocked in Southeast Asia as no one needs to feel warmer in the tropics. Similarly, Nitori's line of small appliances such as rice cookers, microwave ovens and vacuum cleaners, will not be available here.)
THEY VISITED MALAYSIAN FAMILIES FOR RESEARCH
Another thing Nitori takes very seriously is R&D. It manages all aspects of the business from product planning, design, manufacturing, distribution and sales of over 90 per cent of its products.
Most Nitori items are market-tested via focus groups or customer surveys. Anything that receives less than an 80 per cent approval rating gets canned. It has an app for employees to suggest new products, as well as internal competitions with cash prizes to reward the best ideas.
Close attention is paid to social media to monitor what's trending. To keep things affordable, almost 60 per cent of the household items are made in China, while its N-cool fabrics, dining furniture and kitchenware are made in Vietnam. Many of its wood items come from Thailand, while sofas are made in Malaysia.
How they manage to produce S$12.90 feather pillows? "We consistently monitor price trends for feathers, and whenever the market hits a low, we buy in bulk and stockpile," Oda explained.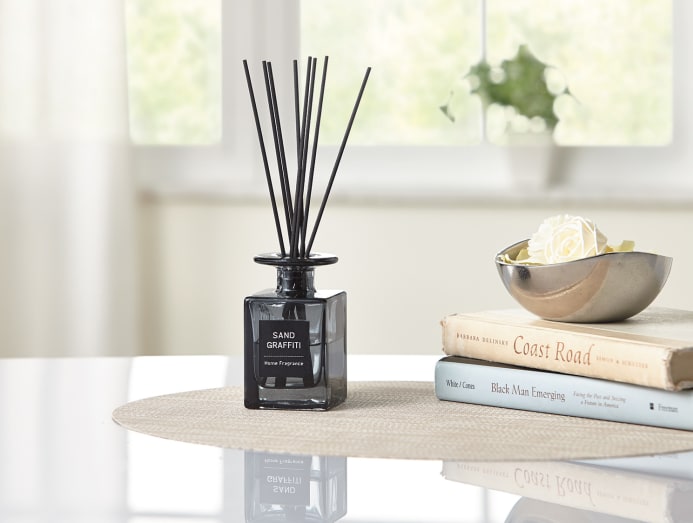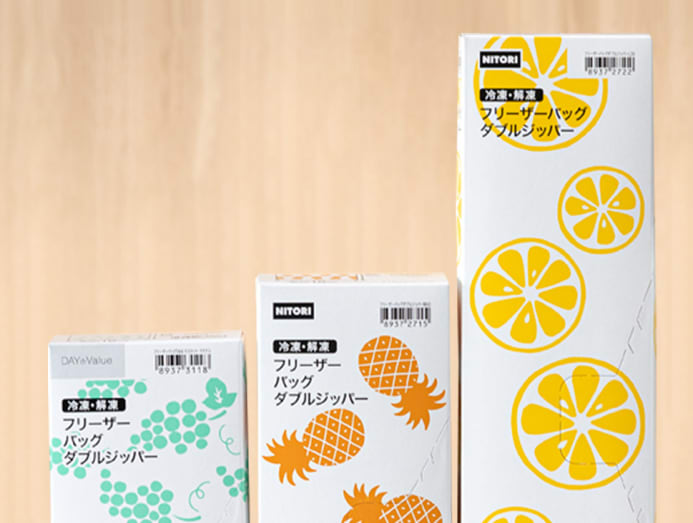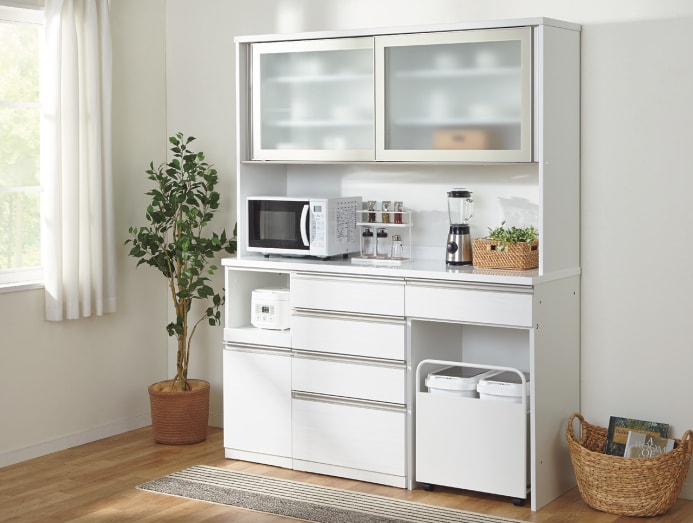 Before launching in Malaysia, Nitori staff visited eight Malaysian families living in terrace houses and condominiums, measuring everything from ceiling heights to kitchen sizes, and observing details such as how often and what they cooked, what pieces of furniture they owned, what colours they liked, and even whether they used "room shoes", slippers specifically for wearing indoors.
"This information helped us decide what the Southeast Asian market wants," Oda explained, adding: "Even then, we still get things wrong sometimes – we didn't think Malaysians would buy much kitchenware as they eat out so much; we didn't stock many room shoes, and we thought queen-sized beds would do well. But in reality, kitchenware, room shoes and single beds sold out!"
SINGAPOREANS VS JAPANESE
Because "Singaporeans own more shoes and clothing than the average Japanese", Oda expects Nitori's home storage and organisation products to sell well. As such, this section is 150 per cent bigger than in the average Nitori store in Japan.
He's obviously proud of company's proprietary technology, pointing out items such as the traditional-looking ceramic plates, cups and bowls glazed in beautiful deep green, blue and yellow hues. "Pick it up and touch it," he urged. "We managed to create our own kind of ceramic that's thinner, lighter, and dishwasher- and microwave-safe".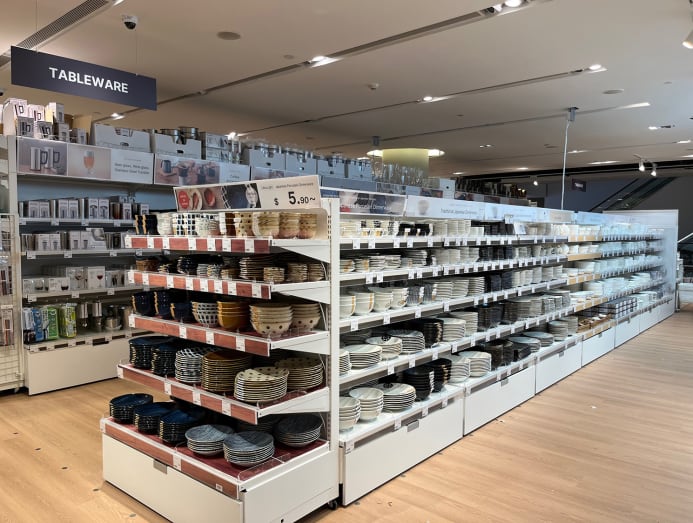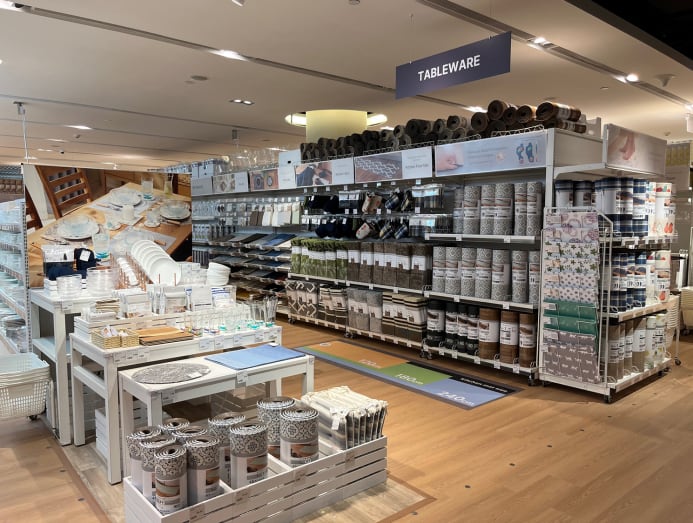 A display shows an elegant bentwood tray (S$23.90) tilted at an alarming angle, with a glass resolutely perched atop, to demonstrate of the tray's non-slip properties.
Aside from ready-made curtains, you can also order custom-tailored ones – what's impressive is that the day curtains feature benefits such as UV protection, heat reduction, opacity, and even dust-proofness.
A spray bottle placed near a selection of diatomite bath mats (S$15.90 to S$23.90) lets you test out the product's miraculous moisture-absorption properties.
A flat screen TV near the knockdown furniture section plays video demos of N-Click on a loop – the proprietary system claims to allow one to assemble a chest of drawers in 10 minutes sans tools and screws – when other DIY furniture usually requires at least an Allen key, screws, and 80 minutes.
"We know Asians don't enjoy DIY as much as Europeans and Americans," Oda explained, adding that because of that, while Nitori charges a delivery fee for purchases, that fee covers free assembly too.
IKEA, MUJI, NITORI?
Of course, we couldn't resist asking him where Nitori sees itself, in comparison with Swedish retail giant Ikea and Zen-minimalistic Muji.
"Ikea is truly a global brand we can learn from; it's more European in terms of style and size and more colourful. While Nitori has a more Japanese aesthetic, like Ikea, we both provide our customers more quality of life. While Muji is Japanese like us, its aesthetic and product range is more narrow, strict and minimalist; Nitori is priced lower then Muji, yet provides more variety and more choice."
As a parting shot, we asked Oda what perfect home should be like. Pausing to reflect, he then replied: "Calm, comfortable and harmonious, where there's good communication between every family member, with space to be alone, and space to be together".
Nitori opens on Mar 31 at COURTS Nojima The Heeren, 260 Orchard Road Level 4. It's open from 11am to 10pm. Their website also carries the full range of products.