Google Maps launches new cycling navigation feature in Singapore – first in Southeast Asia
You now have access to more than 6,800km of cycling trails and biking directions in Singapore.
Been cycling a lot more during the pandemic and feeling the need to explore further than your usual route on weekends? Google Maps has heard you – and has launched a new cycling navigation feature – the first in Southeast Asia.
It covers more than 6,800km of cycling trails and biking directions in Singapore, and is available from Monday (Nov 8) on both desktop and mobile (Android and iOS) platforms.
The new Google Map feature is the result of a "huge spike in searches in Google for cycling routes, with a jump of 75 per cent from 2020, and an increase of 400 per cent from 2019" in Singapore, according to Cordula Oertel, Google's Head of Geo Partnerships, South East Asia.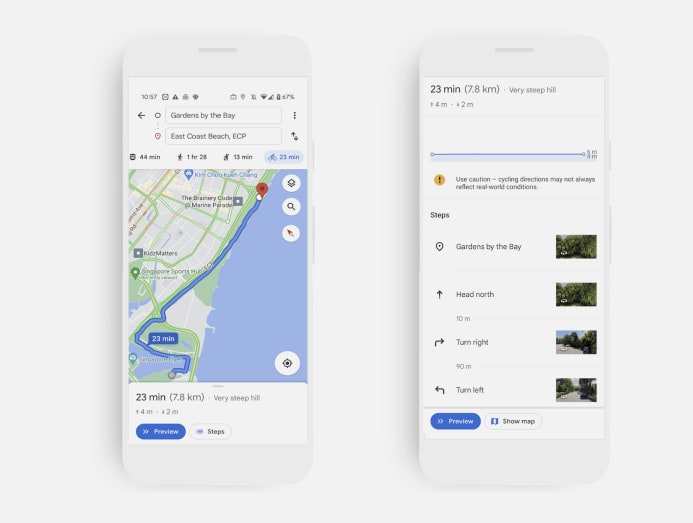 Thanks to around 500km of data provided by the Land Transport Authority (LTA) and the National Parks Board, the new feature includes the following in Singapore:
Step-by-step cycling directions.

An island-wide network of green corridors linking major parks and nature areas.

Dedicated cycling paths and recommended bicycle-friendly roads.
Other than planning routes, cyclists can also track their trip progress with turn-by-turn navigation, receive estimated time of arrival (ETA) updates in real time and find out about the elevation of the route.
What's also useful is that it can help you avoid cycling onto the expressways and tunnels, which is an offence under the Road Traffic Act.  
If you're using a power-assisted bicycle (PABs) or motorised personal mobility device (PMDs), check LTA's website for the rules and regulations.
You can access the feature alongside the existing walking, driving and public transport options on Google Maps.