Meet the taxidermist in Singapore who finds beauty and meaning in dead animals
CNA Lifestyle met up with Black Crow Taxidermy & Art's Vivian Tham, who turned an early fascination with insects into a new passion preserving everything from beetles to even a horse.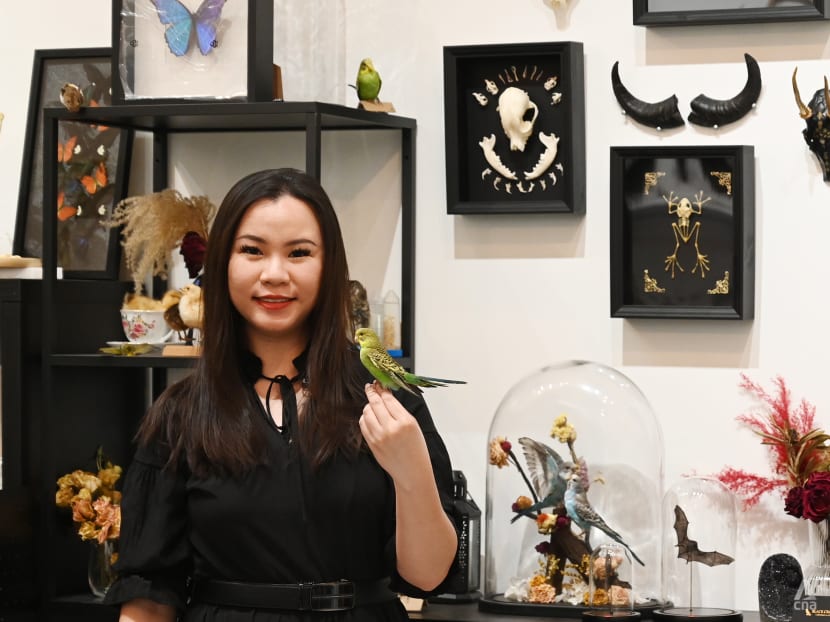 Somewhere in the lively hustle and bustle of Chinatown, in one of Singapore's last few remaining pre-World War II buildings, is a room full of dead animals.
Walk along Pearl's Hill Terrace's seemingly never-ending corridors and you'll come across various creative spaces and start-ups – including a quirky studio with a snake skeleton and a goat's skull on display through the glass door.
Step inside and you'll see many colourful butterflies and beetles all framed up and hanging on the walls. Somewhere, there was also a dead chick sitting in a cup.
"Everything you see here used to be alive," explained the lady who had ushered me into the most unusual shop I've ever been in – a taxidermy studio.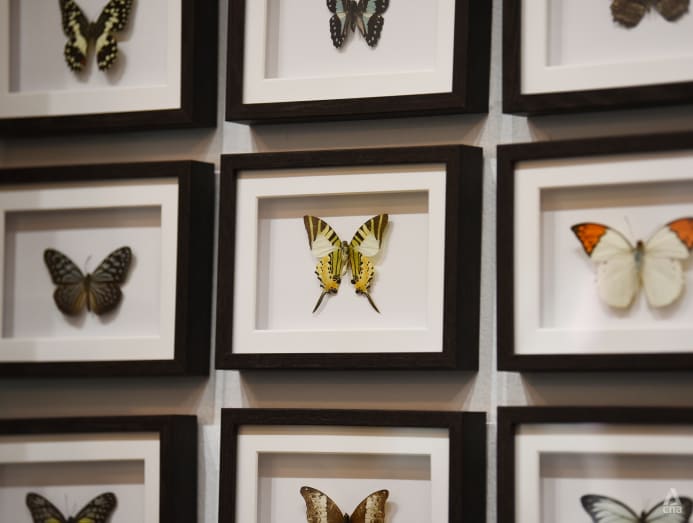 WHAT IS BLACK CROW AND WHO IS BEHIND IT
Vivian Tham runs Black Crow Taxidermy & Art, which may be Singapore's first and only commercial taxidermy studio.
It was founded in September last year by the 28-year-old zoologist, who had turned her fascination with dead animals into an unusual business as a professional taxidermist.
It was a fascination that started at a young age back in Ipoh, Malaysia. Tham recalled how her older brother used to visit a forest near their home to collect dead insects, and he would promptly share his discoveries with her.
The patterns and colouration found on the insects intrigued her so much she eventually decided to take up zoology, where she took it to the next level.
During her time as a zoologist in Sarawak from 2017 to 2019, she worked with many dead animals for biodiversity research. And instead of disposing of the cadavers after her research, Tham decided to clean and prettify these to show the public how beautiful the animals used to be.
Then she decided to pursue taxidermy – the practice of preserving dead wildlife – full-time.
Her first official clients were friends who entrusted their beloved deceased pets to her – and later persuaded her to show off her work on social media.
THE MOVE FROM A HOME-BASED BUSINESS TO A STUDIO
What began as a small home-based business at her HDB flat slowly grew – and with the pandemic in full-swing, she had to make a decision. 
"I wasn't too comfortable having people over at my house everyday especially with COVID-19," she said, which was why she decided to set up Black Crow Taxidermy & Art in Chinatown.
Tham explained she practices five types of preservation at her studio: Dry preservation, chemical preservation, mummification, skeletal articulation, and stuffing.
All the animals she works on are ethically sourced. Besides roadkill, she receives animals from entomologists (those who study insects) and pet owners who want their deceased pets to be taxidermised. Tham even had a client who preserved their dead pet in a freezer for years while seeking an expert like her.
To date, she has worked on around 500 mammals and more than thousands of insects and reptiles, the smallest being an ant and the biggest being a horse. Yes, a horse.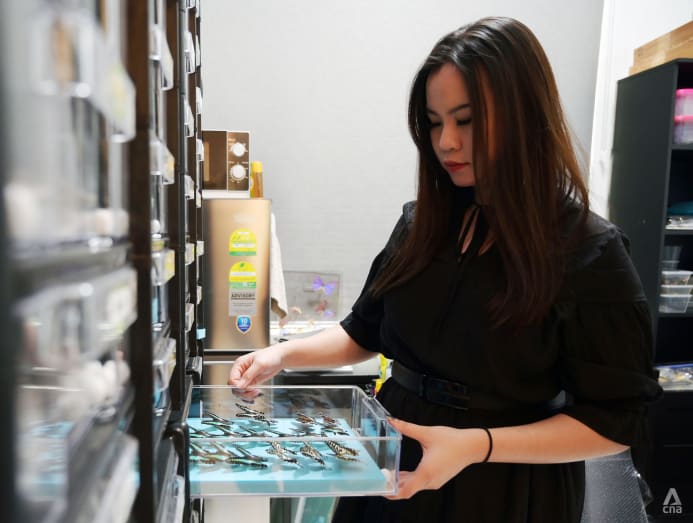 Besides being her office, workstation and a space to display her work, Black Crow Taxidermy & Art is also a space for workshops – and they're usually fully booked.
People from all walks of life attend her workshops, she shared. The youngest participant was a seven-year-old girl who was interested to learn more about butterflies, while the oldest was a 78-year-old man who was keen to decorate his house with more preserved birds.
Some even attend her workshops to assess if they are ready to pursue this line of work or something similar. "One aunty brought her niece to attend my workshop so that she can decide if she really wants to pursue veterinary," Tham recalled, with a laugh.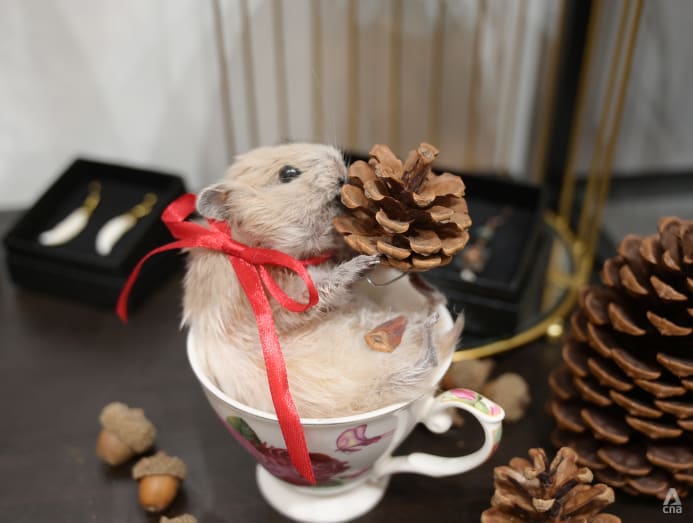 WHAT DOES IT TAKE TO BE A TAXIDERMIST?
Understandably, taxidermy is not for everyone.
"Besides an education in anatomy, you definitely need to have attention to detail, steady hands and a high tolerance for gore to be a taxidermist," Tham explained.
Being meticulous is important as there is very little room for error, she added. "If you have a little nick on the body, you can always stitch it back. But once you mess up the eyes or face, the whole thing is ruined. You also need to be artistic because taxidermy is presenting your work beautifully, you do not want to scare people."
Patience is also an important virtue in taxidermy as the process might take up to months depending on the size and type of animal and the scale of the project. She went on to explain that it can be a waiting game as she ethically sources for animals and waits for them to be donated to her.
"For some commissioned projects, I can only complete them when I have all the animals. Once I receive the animals, I process them and proceed to make the piece."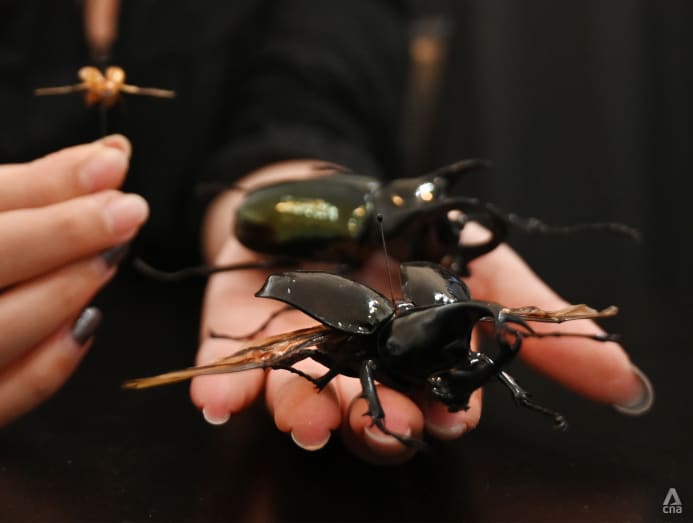 DISPUTING COMMON MISCONCEPTIONS THROUGH TAXIDERMY
While presenting her collection of insects, Tham urged me to touch a horned dung beetle, which was the size of my hand.
"Despite how it looks, this beetle is actually harmless. It does not bite humans as its mouth is so tiny only enough to feed on fruits," she replied, while showing me the beetle's mouth.
Tham went on to explain that many harmless insects have been misjudged because of how they look, and she wishes to debunk this misconception through taxidermy by making beautiful art with insects.
Insect issues are far from the worst misconceptions or challenges she's had to deal with as a taxidermist.
For one, there's the part about how gory and bloody it can get. "There will be excessive blood only when you cut wrongly. People usually think that the deceased animals will give off a stench. But with the right tools and methods, there is no smell," said Tham. True enough, the studio smelled freshly renovated and was actually spotless.
And then, there's the stigma regarding the dead – especially in an Asian setting, she shared.
Her rebuttal has always been that what she does is a mixture of art and science. "This is the same as you see in the museum, this is how specimens are preserved to be studied in the future."
Tham added: "I want people to stop connecting taxidermy to death and ghosts. Instead, I want them to see taxidermy as an art of celebrating the lives of the deceased."
In fact, she views all her projects as a celebration of life – her favourite work is that of a three-day-old puppy, which, to her symbolises innocence and peace.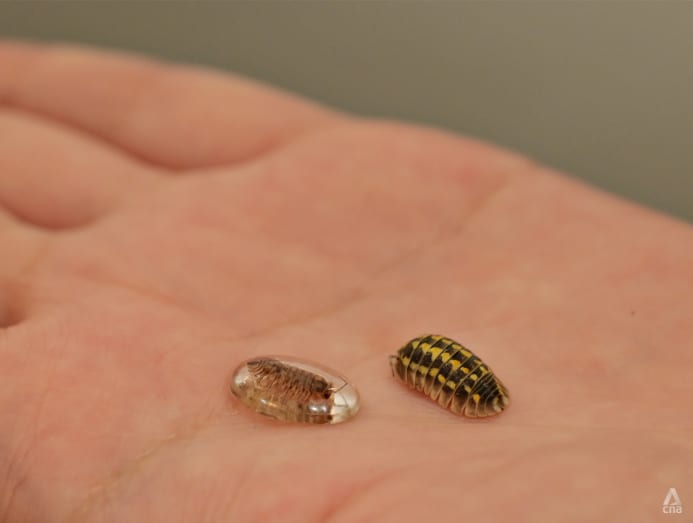 And taxidermy is still teaching Tham new things every day. Recently, she was approached by a group of isopod enthusiasts to perform taxidermy on these types of crustaceans.
It was her first encounter with the specimen. "I hope to hold more workshops and even work with nature society groups to connect with the public to teach them more about wildlife and conservation," she said.
"This leap of faith really did me something good because I learn more and also give back joy to the public, especially pet owners."
Black Crow Taxidermy & Art is located at 195 Pearl's Hill Terrace, #01-10, Singapore 168976.
CNA Lifestyle met Vivian Tham, the person behind Black Crow Taxidermy & Art, the only commercial studio of its kind in Singapore. We find out how she became a taxidermist and what prompted her to take her hobby to the next level.