Ladies and gents, put together your WFH look in just 10 minutes for that Zoom call  
Need to have a face-to-face with your MD via video chat? No problem. Here's your guide to looking professional in 5 easy steps.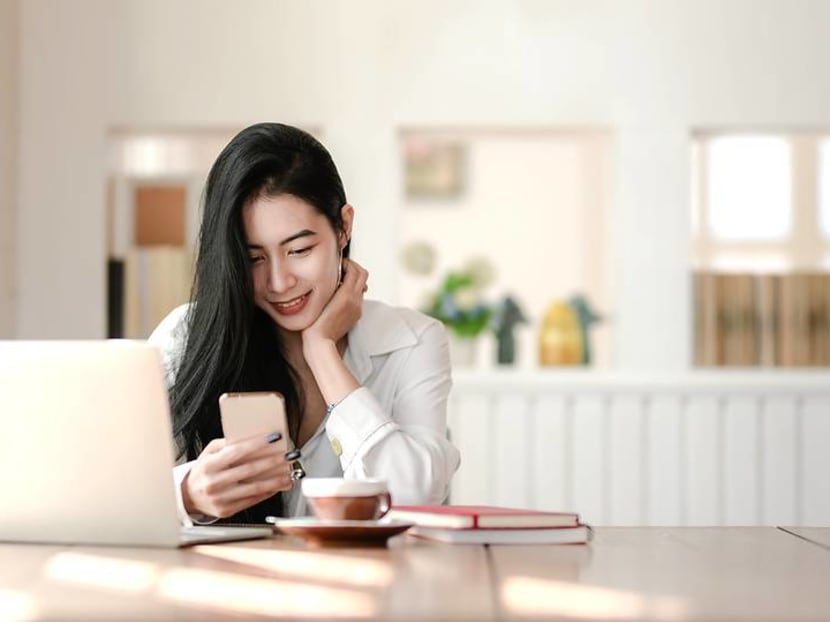 Working from home entails rolling from the bed to your work station, right? 
Well, if your job only requires you to submit work remotely then sure, you can afford to skip the grooming and get straight to work the minute you open your eyes. 
However, if you are expected to take Zoom calls – with video enabled – then you'd do well to look every bit as professional as you normally would at the office. After all, the last thing you want is to have your boss or colleagues think that your lackluster appearance is indicative that you are slacking off at home.
While it is not necessary to spend an excessive amount of time to get ready just to take a 20-minute Zoom or Skype call, it is absolutely possible to look camera-ready in 10 minutes, or under, if you keep these five essential grooming tips in mind.  

LOOK TV-ANCHOR-READY
Take a cue from your favourite TV anchor. Keep the attention on yourself, not on your clothes so pass on fancy details like sparkly sequins, dizzying stripes or dangly details that only serve to distract.
Men can opt for a crisp collar in white or light colours while ladies can consider tops with an interesting neckline in either neutral shades that flatter your complexion or soothing gemstone hues for a hit of colour. 
Flaunting skin when the camera offers such a close-up view is not advisable as sleeveless tops tend to draw attention to the size of the arms and depending on how your laptop is placed, tops with low necklines could make you look like you're not wearing anything. But if you must flash something, keep it subtle by showing off your collar bone.

MAKEUP OR BREAKUP
Why do you need to wear makeup when you're working from home? Think of the actors we watch on screen, they are better understood because we can read their expressions from their defined features. And more importantly, you're going on camera which means that any flaw will be magnified.

But since you're not going high-def or big-screen like Hollywood actors, heavy makeup may make your features look overly dark and therefore smaller and that's not a good look for our low-res webcam. 
You're much better off going light-handed on makeup. First things first, matte down your complexion with blotting paper or mattifying loose powder. To avoid looking washed out, give your brows a bit more oomph by filling in the gaps with powder or pencil. Comb through with (clear or coloured) brow gel for a telegenic 3D finish. 
Your freshly-awoken peepers will benefit from a coat or two of mascara to look immediately more energised. To fake that "I've been up and about" flush, dab some blusher on your cheeks for colour. If lipstick feels too much for a home-setting, a slick of coloured lip balm will suffice.

GET THE SPECS RIGHT
So you woke up too late to work in some light grooming before taking that Zoom call with your MD. What to do? Cheat your way to looking like you've been hard at work way before the call by simply adding a pair of glasses. Think of the pair of glasses as a real-life filter engineered to ace business meetings. Plus glasses have a way of framing one's face to fake a more chiselled appearance. Win-win.

HAIR APPARENT
The biggest giveaway that you just rolled out of bed is the state of your hair. Get rid of unruly flyaway strands by smoothing hair serum or oils over them – avoid the roots and work from mid-length to the ends. Reshape misshapen hair in a snap by pulling hair into a fuss-free ponytail or messy bun. Hair maverick Jeric See of Jeric Salon suggests either side- or middle-parting a long fringe and then holding the style down with hairspray for a quick salon-like fix. Extra marks for effort can come from adding one or two hair slides to hold hair in place.

Guys have it much easier. See suggests taking a small amount of hair clay or wax to run through strands to turn bed hair into a trendy look. 

BELLS AND WHISTLES
Get your mental game into the zone by dressing the way you would when meeting a client face-to-face, even if it's only from the waist-up.

Wear that charm bracelet, lucky necklace or pinkie ring if it is what it takes to give you that extra something to seal the deal. And if you're used to keeping time with a watch, by all means put it on even for a digital meeting. Habits don't have to change just because you're sitting in your home office. Besides you're less likely to lose your accessories now since you're only wearing them at home.