This Singaporean activewear brand makes sportswear that Muslim women want
CNA Lifestyle continues its series on trailblazing Singaporean female entrepreneurs in March. This week, we meet Nawal Alhaddad, who started her own fitness school and GLOWco label.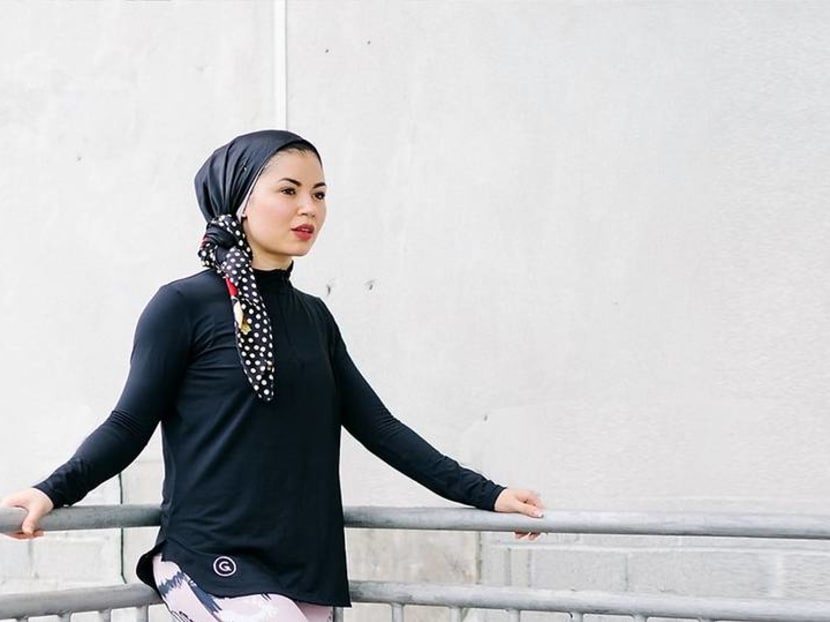 Many of us put on our workout gear without having to give the outfit much thought – unless, of course, you're one of those who owns an entire wardrobe of sports clothes and absolutely needs to look impeccable while pounding the treadmill.
But apart from providing physical appeal, sportswear needs to be functional too – in this respect, there actually is a specific group of women whose unique needs are frequently overlooked.
For Muslim ladies, the desire to maintain an active lifestyle can be challenging – when it comes to finding the right outfit that also checks the modesty box. Something that other women may overlook. But imagine wearing a non-Dry Fit hijab at a Zumba or HIIT class, and we think you can picture quite clearly how warm or unwieldy it can be.
IDENTIFYING A NICHE MARKET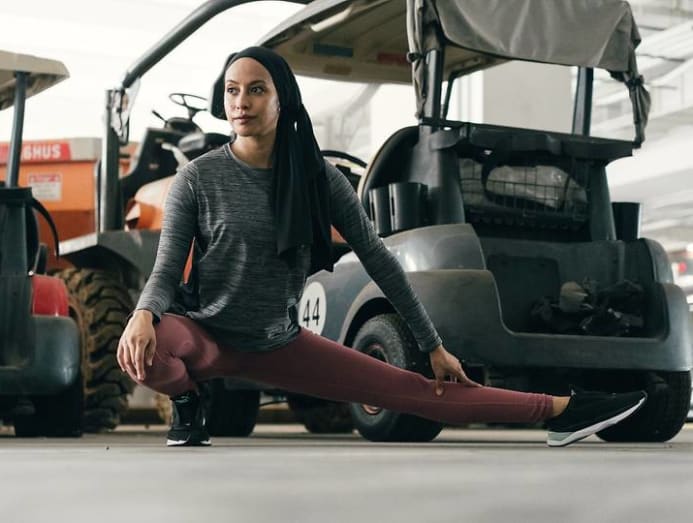 "While teaching physical classes years ago, I noticed some students looked uncomfortable while they were sweating it out. Although they loved exercising, they felt like their performance was limited by what they were wearing," shared Nawal Alhaddad, a fitness instructor who runs her own school, Nawal Haddad Fitness.
"Their traditional hijabs wouldn't stay put and their outfits would feel uncomfortable or ride up constantly – leaving them drenched in sweat, feeling hot and uncomfortable."
I saw it as a gap in the market – [a chance] to create activewear that would not only make them look good, but more importantly, feel good as well.

Her desire to find a way to help them sparked the idea of starting GLOWco, a label that makes modest activewear for Muslim women.
"I saw it as a gap in the market – (a chance) to create activewear that would not only make them look good, but more importantly, feel good as well. I thought that there's no better way to solve the problem than to be the solution," Nawal explained. Being Muslim herself and a fitness instructor, naturally, put her in the perfect position for the job.
IT'S ALL ABOUT PAYING ATTENTION TO NEEDS
She started planning for her activewear business by surveying the people closest to her – family, friends and her students – about the "pain points" of their workout outfits.
"Many of them gave us interesting insights on price, design and availability of choices. We added comfort and functionality, and worked on making them the core features of all of our products. For example, one of the most important factors in choosing a workout top is whether or not it would cover the wearer's bum. It may sound like nothing much – but that was a game changer," said Nawal.
"It took me a year to get ready to launch GLOWco. I was terrified, as we were one of the first in the market and barely had any reference points or competitors at that time."
One of the most important factors in choosing a workout top is whether or not it would cover the wearer's bum.

When selecting sports apparel, it's crucial to get the fit of the garment right. This is, of course, true for anyone who wants the best performance out of their activewear – clothing that's too loose could get in the way of certain movements, while clothing that's too tight is sure to be uncomfortable. For Muslim women, however, the fit is of utmost importance – it cannot be tight-fitting for obvious reasons.
"The clothes need to feel secure (enough for sports), without 'exposing' too much of the body. What is deemed perfect will vary from person to person, but our customers generally look for long-sleeved tops that are long enough to cover their bums, and are, at the same time, functional enough for any type of exercise or sport," explained Nawal.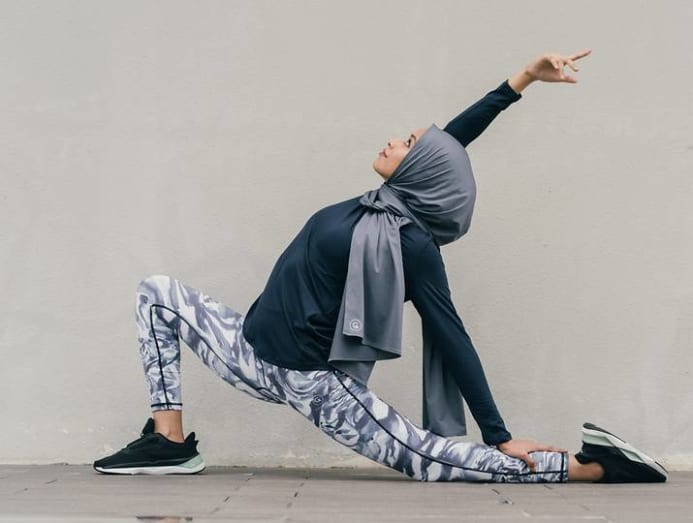 She also tries to include an element of fun into her collections, via a variety of colours and prints, and make them as affordable as possible, without compromising quality.
On top of these qualities, much of GLOWco's activewear is available in a wider range of sizes (from size S to 3XL) than you'd typically find at mainstream labels – which helps make exercise accessible to more women. 
The label also sells sports hijabs produced with lightweight, stretchable and breathable material that makes it much more comfortable to wear while doing sports in warm climates.
Nawal personally feels that, for quite some time, the narrative with regards to Muslim women has always been centred around an image of them being oppressed – and it's time to change that.
"We've turned that narrative on its head to showcase the true meaning of being a modest, active Muslim woman – we can be anyone we want to be, whether it's someone who stands out from the crowd, or someone who perfectly blends into society," she said. 
"It was very important to us to be able to showcase empowered Muslim women through our photo shoots and in our community, which is why we've made it a point to feature at least one customer a month on our Instagram feed," she added, expressing her happiness at being able to play a part in female empowerment and helping the world better understand what it means to be a modern Muslim woman.
GOING FROM SCIENCE TO FITNESS
The 31-year-old began her entrepreneurial journey when she started her fitness school eight years ago.
"What I studied back then couldn't be further from what I do now. I was a biomedical student, and had an immense love for anything science. I graduated and was employed in research on cancer stem cells. I tried to stay positive, but being in the lab doing routine work didn't feel like me at all," she recalled.
"I shifted gears soon after, and was on a whole new path – I started giving ladies-only fitness classes. From the day I stepped into a fitness studio, the dream grew even bigger. I gave myself a year to pursue it, and was determined to give it my all and turn this endeavour into something successful."
She then started GLOWco in 2018 – specifically with Muslim women in mind – to support her students and help them solve their clothing troubles with regards to workout gear. Surprisingly, women of other ethnicities were drawn to the label, and in particular to its in-house printed sports tights, which, in Nawal's own words, "look like a lot of fun to exercise in".
"We gained a lot of support from the get-go, which really motivated us to continue working to be better for the community. Because GLOWco is one of the first of its kind in Singapore, we were also blessed to have merchants who were willing to come on board as part of our marketplace," she said.
"They took a chance on us, believed in the brand and helped us in so many ways. Their support kept us going and allowed us to strive for more, with a collective goal of bettering the lives of active muslimahs in Singapore. We hope to be able to grow our audience even bigger within the next few years. After all, community matters most to us."
Women of other ethnicities were drawn to the label.

GLOWco started as an e-commerce store, but has since expanded with a physical shop at T-Space in Tampines. Nawal is also looking forward to the opening of her own studio this July, where her fitness school (which is currently operating out of shared rental spaces) will be housed.
This constitutes a personal achievement in many ways. "It has always been a dream of mine to open a hybrid space – an apparel store and a dance studio. I've always envisioned a hub or a safe space for women to be empowered among the presence of other women, or that's just an escape from the daily hustle and bustle of life. I wanted to create an environment where women could come together, get healthy and feed off each other's energy," she explained.
BALANCING WORK WITH LIFE
In terms of work, Nawal makes it a point to be on the ground and present alongside her team. Besides making executive and "sometimes not-so-fun" decisions for the company, she also enjoys being part of the creative process. 
"At GLOWco, we are a team of four – we've got our designer, merchandiser, marketer and myself. It's a fun work environment and I take pride in giving my team the creative freedom to explore new ways of growing the brand," she said.
Despite all that, the best job in life – in her opinion – is right at home. As a mother to a four-year-old and one-year-old, she deals with the typical challenges that juggling children with work brings but also finds strength from it. 
"Raising and moulding a tiny person from scratch empowers me. I found it hard to create that balance when the brand was growing, so I got the kids involved! I brought them to the office from time to time. While doing that, I escaped mum guilt, while they have an amazing time seeing how the real world works," she shared.
On the key things she took away from the career she built in the past eight years: "I learnt that it's okay not to have it all together. Making mistakes, learning and rediscovering yourself through your challenges help you grow. And I have grown a lot these last few years. Celebrate the little moments too – we often forget that. That's where the the real magic is at."
GLOWco is available at https://www.glowco.shop/​​​​​​​