How Skin Inc's Sabrina Tan put Singapore on the global beauty map
In the month of May, CNA Lifestyle speaks to successful working mothers who make it look all too easy. This 46-year-old pioneer entrepreneur's customised skincare first caught the eye of Sephora and, later, the world.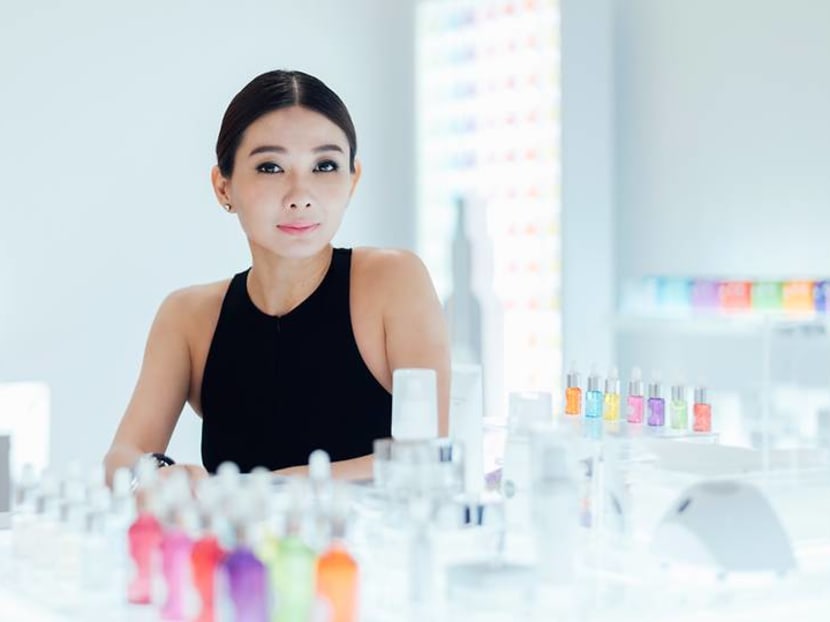 Few skincare brands make it as fuss-free as Skin Inc for an individual to build a personalised beauty regimen. To create a customised serum that contains a range of active ingredients to suit one's specific needs and skin issues, all that's needed is for the user to answer a short online questionnaire before a recommendation is churned out.
"Customisation didn't exist when we started the business," said founder 46-year-old Sabrina Tan, who invested S$1 million of her own money to launch Skin Inc in 2008.
"By launching the world's first supplement bar and customised cocktail serum with the ability to fit up to 10 active ingredients for a personalised touch, we set the bar for innovation in one of the most competitive categories in beauty."
In 2014, when Skin Inc went on to launch the Optimizer Voyage Tri-Light LED device – one of the first home beauty devices available in the market – it caught the attention of the CEO of beauty superstore Sephora.
Customisation didn't exist when we started the business.
As a result, Skin Inc went on to launch in Sephora USA and Southeast Asia. This coup by the then practically unknown brand has arguably paved the way for subsequent Singapore-based beauty businesses to make inroads into the notoriously competitive global cosmetics and beauty market.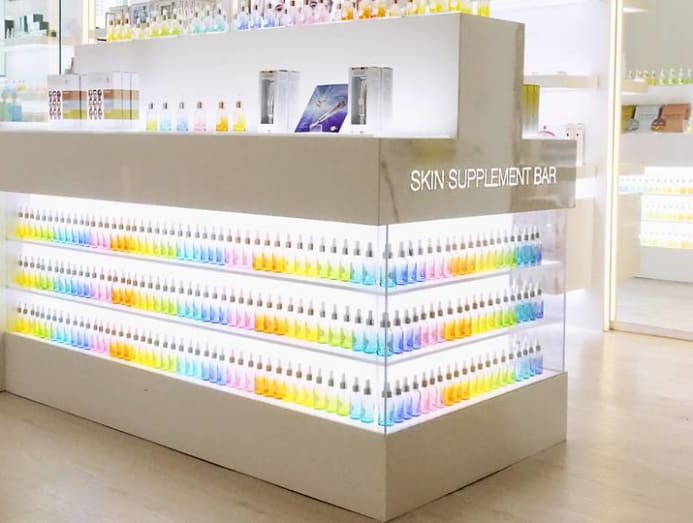 Since then, the brand has launched over 60 data-driven formulations, devices and timely innovations inspired by the needs of its customers, like the recently launched maskliner, which helps to prevent maskne caused by extended hours of mask-wearing.
Skin Inc has also won over 140 beauty awards and is now distributed across more than 78 cities globally.
In January, Skin Inc announced that it had raised S$10 million from Singapore-based investment fund Mistletoe, which is owned by serial entrepreneur and tech investor Taizo Son and other existing investors. The funds will be used to drive the brand's tech-led innovation in big data and artificial intelligence as well as for its e-commerce and omni-channel expansion.
"One of my biggest successes is being able to consistently innovate, which is hard to sustain. We are able to do so because we are a digital first and data-driven brand that listens to our consumers' needs. Our objective has always been to introduce innovations as a solution to consumers' concerns," said Tan.
Customers' voices and concerns are captured via the brand's Skin ID check and other internal data sources and are then used by its research and development labs to identify gaps in the market quickly. The brains that comprise its scientific team include Dr Shekhar Mitra, who was previously the senior vice president of research and development at Procter & Gamble, and Dr Donald L Bisset, author of over 60 published technical manuscripts and the inventor of over 30 US patents with 32 years of skincare research experience at Procter & Gamble.
One of my biggest successes is being able to consistently innovate, which is hard to sustain.
This nimbleness, which the company has built into its DNA over the years, was put to the test over the past year during the pandemic, which Tan considers one of the most challenging moments of her career.
"We do not know how long COVID-19 will last and there is always a high level of uncertainty during these unprecedented times. We had to be even more agile and adapted to react within very short timelines which has become the new normal way of conducting business," said Tan.
By tapping into their database of a million profiles for consumer insights, the team quickly gathered information on what were the rising skin concerns and frustrations of the community. "COVID-ready innovations were brainstormed and developed as soon as we understood the needs of consumers," she said.
In 2020, the brand launched six "COVID-ready" innovations, including the maskliner Serum Glow Filter, a skincare makeup product which helps one achieve a filtered selfie-ready complexion in real life, and the Refresh & Nourish Hand Serum Duo, a dual pump sanitiser and serum in one.
"That being said, we still made sure that all of these new innovations are aligned to our core of customisation," said Tan. For example, the maskliner can be used with its My Daily Dose of Armour serum for additional protection to strengthen the skin's barrier while the Hand Serum Duo can be used with the brand's popular Optimizer Voyage device.
Perfection is counter-productive. This is even more valid in the new normal – go for impact instead.
Consequently, Skin Inc recorded a 400 per cent growth year-on-year during a time when most other brick-and-mortar stores were struggling to stay afloat, said Tan.
For her the key to staying balanced and sane amid the chaos of work is to focus on making an impact. "I don't sweat the small stuff. I empower and delegate my team to do their best job, coaching and guiding them along, rather than doing it myself," said Tan, who calls this a "radical candour leadership style".
To make time for her son and daughter, she makes it a point to reach home by 7pm so that she can fit in quality bonding with them. Then after 10pm, it is back to work and making calls for the boundary-breaking business woman.
Her advice to young women who are progressing in their careers is to know the "why" – their purpose – in what they are doing.
"It is important to connect with that driving force every step of the way.  If you keep thinking there is something else you'd rather be doing, then chances are you're in the wrong profession. Once you've figured out the 'why', commit to it and everything else that comes along with it," said Tan.
The retail business, which is notoriously cutthroat, requires a laser focus on the entrepreneur's part, she added. "Know who you serve and why you serve them – when you make decisions, you should be centred on this. If you do it for the money or other reasons, you will lose focus and eventually fail."
Most of all, she exhorts women to take a step back and to view the larger picture. "Perfection is counter-productive. This is even more valid in the new normal – go for impact instead. It's important to pay attention but it is energy-depleting when you're sweating the details."