How to have fun with traditional attire using modern prints and colours
Events company manager Haslinah Hasim enjoys her abayas and skirts but wants to liven up her wardrobe. Time for CNA Lifestyle's Style Switch makeover.
Haslinah Hasim is the very picture of a modern Muslim woman: Confident and strong.
A senior manager in an events and exhibitions company, Lynn, as her friends call her, came back several months ago after being based in the Middle East for seven years, working in Dubai and Bahrain.
Events company manager Haslinda Hasim enjoys her abayas and skirts. But this "black, blue, brown kind of person" wants to liven up her wardrobe. CNA Lifestyle shows her how it's done.
One of the many perks she enjoyed while working in Dubai, she recalled, was "the luxury of having my own transportation – my car was my walking wardrobe! I had abayas, heels, safety boots and what-not in there to get from one setting to another."
These days, Lynn's re-adjusting to the Singapore way of life – and its ultra humid and hot weather. Which means she's also finding out that she needs to be more flexible and mobile when it comes to choosing her outfits for work.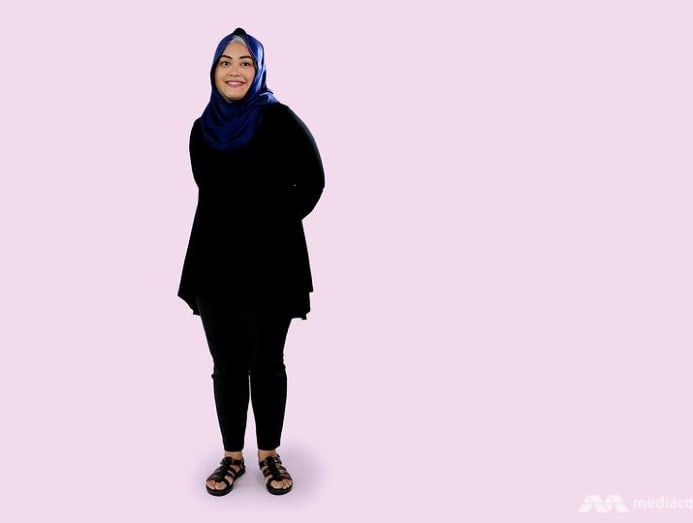 While Lynn still enjoys wearing her abayas and skirts, she's also looking for a new look that affords her the freedom of movement and flexibility, while being easy-care.
"I usually have to run after the bus in the mornings but running in abayas is not proper," she said. "I have to be demure. To me, when you wear an abaya, it makes you feel like a woman, it makes you feel elegant, be it for just a normal social context or a formal setting. Once you put it on, the brain goes like, 'Okay, you need to be demure and elegant'."
Her job easily takes her from meetings to an exhibition construction site in a day. "I'm more dressed up when it comes to meetings," she said, adding that she favours simple outfits in dark colours. "If I'm onsite, I wear mostly sportswear, which is less of a hassle because I need to put on a hard hat, safety boots and a vest."
Her go-to outfits comprise A-cut long skirts and flared tops and bottoms, worn with a tudung. Though black is her preferred colour for work, she wears some blues and greens during the weekend.
It was her friend Andy who convinced her to sign up for the Style Switch makeover because, "he got bored with me wearing black and jeans most of the time in Dubai," she said. "He felt I needed to learn new hijab styles and change my wardrobe to suit local trends more," she said.
At the same time, she's personally keen to learn more about styling to fend off the fashion police. "I've always been a black, blue, brown kind of person, so I'd like to learn how to mix colours and prints. I'd like to have more colour in my life," she added.
Enter style expert Yang Derong, who plans to give Lynn a more modern Muslim wardrobe.
"I want it to look not so traditional, yet still conforming to Lynn's religion and tradition," he said, adding: "She's truly a modern Muslim girl and willing to try new things. And she's in event management, which is a perfect job for you to wear what you want."
Derong first dressed Lynn in a sporty ensemble, pairing stretchy pants with a lightweight parka. He also picked out a lively blue and white patterned headscarf to complete the look.
"This is a great outfit, especially for times when I need to just grab and go," said Lynn. "It works well for onsite inspections which require me to be in personal protective equipment (PPE), meaning I need to be wearing my hard hat, safety vest and safety shoes. This look really fits nicely into the on-site activity I need to do."
Lynn's favourite outfit is a long shirt-dress of clashing black and white prints, which she wears over a long black T-shirt and leggings. Derong then pushed the envelope with a striking red turban in place of a headscarf, matched with a shiny red handbag.
"This outfit really teaches me how to mix prints, which is something that I have never done in my whole life. The turban is also something I've never tried."
The shirt-dress was a big hit with her. "It's very comfortable because of the baggy cut – it's perfect for the office as well as a night out with friends," she said, adding that she enjoyed how red was used for a touch of boldness.
For the final outfit, Derong offered a departure from Lynn's usual silhouette: A black polka-dot dress with a waistline, worn over tights and classy pumps. "It's tailored, not her usual kaftan-type dress or baju," he said of the dress.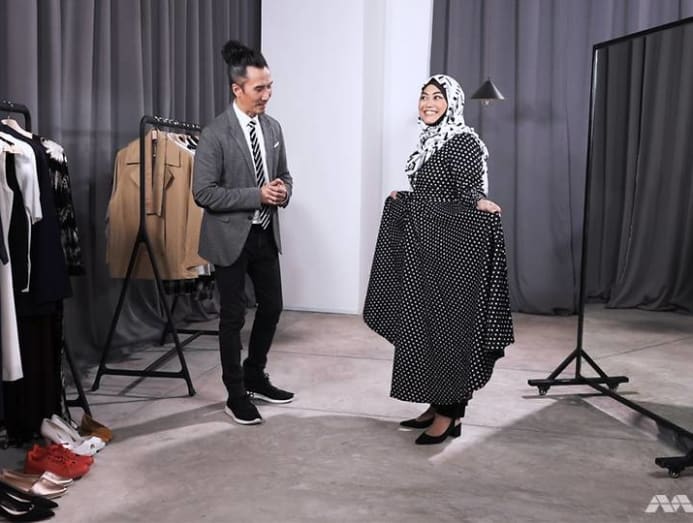 This choice wasn't as much of a natural fit for Lynn, though. "I love the fact that the bottom of this reminds me of my abaya days in Dubai. However, the material is a bit thick so it doesn't really suit my daily routine," she explained. "It could be something I wear to attend a function in a hotel."

The capsule collection of prints and colours, as well as different styles of headscarves, was a way of rethinking Muslim dressing, said Derong.
While Muslim women must be covered up, there's a lot of room for creativity and style when one plays with prints, he said. "Lynn has good dress sense. She says that people tell her not to wear prints, but I say wear it! She looks confident and happy in the outfits we picked for her – they work well on her."