Want to enjoy Breakfast at Tiffany's? Now you can at ION Orchard
From now till Sep 3, Tiffany & Co. is collaborating with homegrown Tiong Bahru Bakery in a week-long 'takeover' for the launch of the Paper Flowers fine jewellery collection.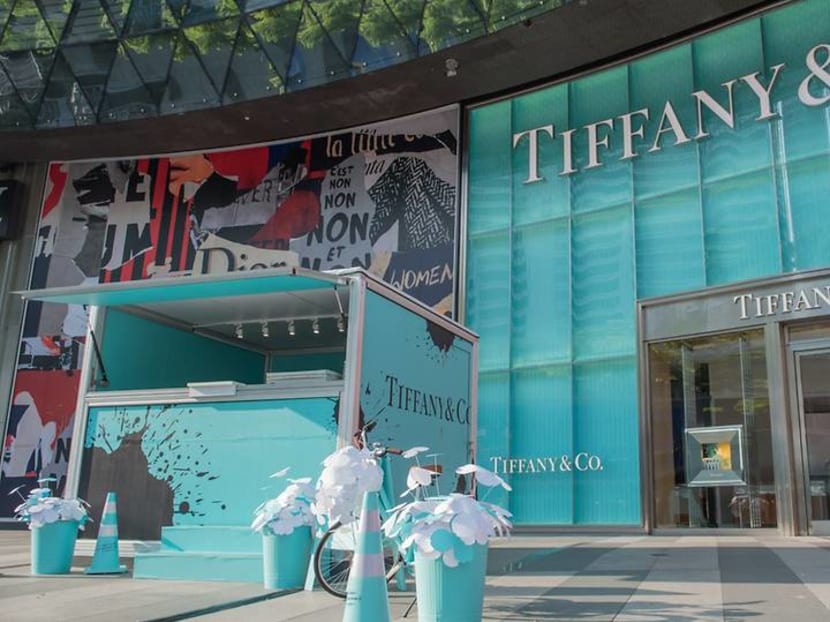 In the current Tiffany & Co. campaign, actress/model Elle Fanning walks up to a Tiffany window to admire its contents while sipping from a coffee cup.
The scene is a nod to the opening sequence of the 1961 classic Breakfast at Tiffany's, except Fanning, unlike the film's protagonist Audrey Hepburn, is not munching on a croissant.
However, thanks to a week-long collaboration between the American jeweller and homegrown French café chain Tiong Bahru Bakery, visitors can recreate their very own Breakfast at Tiffany's moment, complete with croissant and all.
From Aug 27 to Sep 3, 10am to 2pm, a coffee cart outside Tiffany's ION Orchard boutique will serve complimentary coffee and croissants.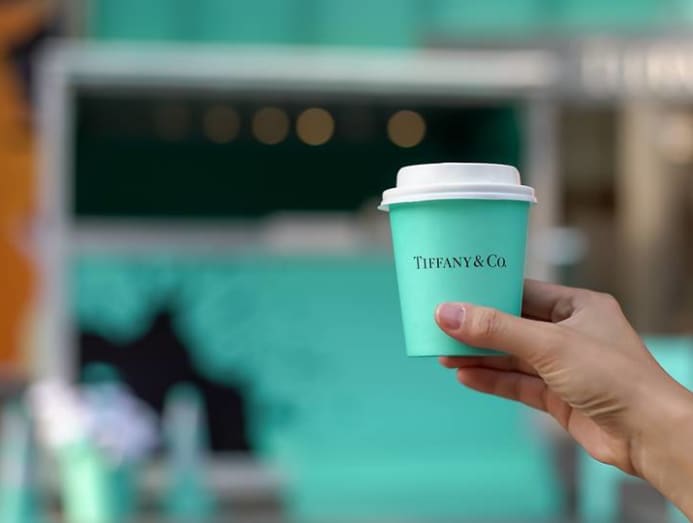 All visitors have to do is post a photo of the coffee cart with the hashtags #tiffanypaperflowers and #tiongbahrubakery to enjoy the refreshments.
Besides the cart and cups being rendered in Tiffany's signature Robin's egg blue, the collaboration also features classic references to New York City, including bodegas filled with buckets of paper flowers, paperboy bicycles and Tiffany Blue traffic cones.
Visitors can also venture to the café's original location on Eng Hoon Street, Tiong Bahru, to enjoy the coffee and croissants. A similar setup or 'takeover' was unveiled to the media at 9am on Monday (Aug 27).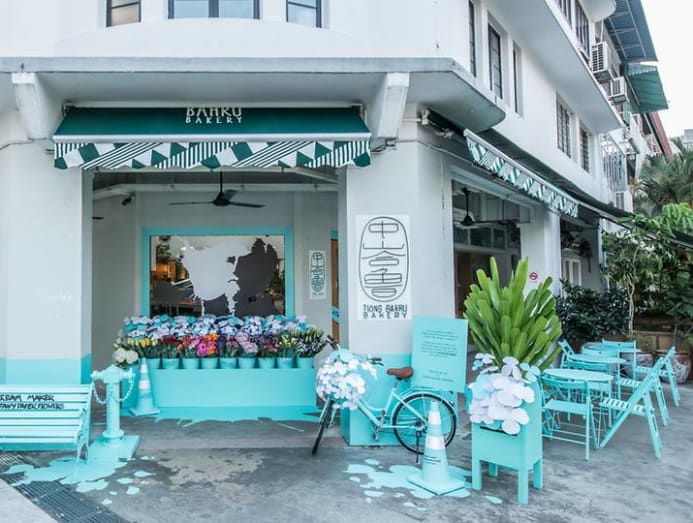 The publicity stunt was conceived to celebrate the launch of the Tiffany Paper Flowers collection on Sep 1.
According to a Tiffany spokesperson, the New York launch in May 2018 witnessed a similar stunt.
"We had coffee carts, takeovers in the subway, bodegas and all things New York," the spokesperson told CNA Lifestyle. "When we wanted to launch in Singapore, we don't have bodegas like we do in New York, and the subway in New York is very different from our Singapore subway.
"(So we thought of doing) a takeover of a neighbourhood, and what's a more famous neighbourhood than Tiong Bahru? And the most famous thing in Tiong Bahru is Tiong Bahru Bakery. By combining our famous Breakfast at Tiffany's with the famous coffee and croissants from Tiong Bahru Bakery, we thought we had a real winner."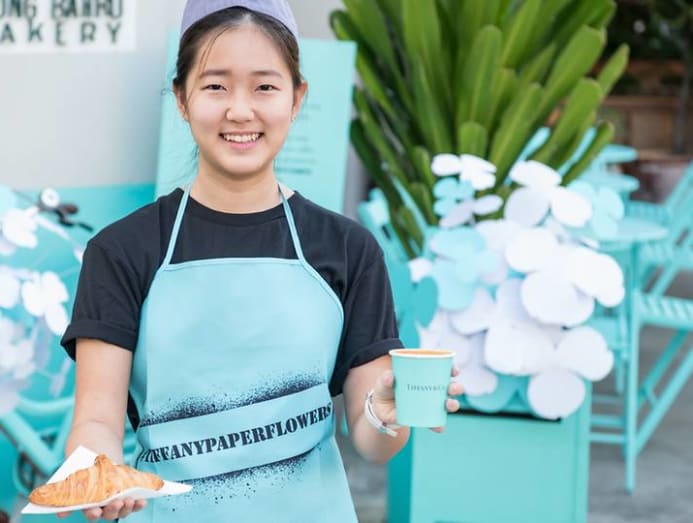 The fine jewellery collection, which includes bracelets, earrings, necklaces, pendants and rings, marks the design debut of Tiffany's Chief Artistic Director Reed Krakoff. It is also the brand's first fine jewellery collection since 2009's Tiffany Keys.
Krakoff was appointed to the post in Feb 2017. The former President and Executive Creative Director of Coach is known for his Midas touch. Revenues of the American fashion label increased from US$500 million (S$682 million) to US$5 billion during his 16-year tenure.
In line with Krakoff's ethos of everyday luxury, the pieces are meant for daily use, not just for special occasions.
Inspiration for Krakoff's design came from simple arts and crafts projects in which flower petals are cut from paper and pinned together.
Fashioned from platinum, the asymmetrical floral motifs are embellished with white pavé diamonds. On some pieces, they are accentuated by splashes of blue tanzanite or yellow diamonds.
Available at all the brand's points-of-sale in Singapore – including ION Orchard, Ngee Ann City, Marina Bay Sands and Changi Airport – the collection is priced from S$4,100 for a pendant to S$565,000 for a necklace.
But only ION Orchard will have the coffee cart "because the location of ION right on Orchard Road at the corner is so iconic," the spokesperson explained.
Tiffany also more than welcomes visitors who come dressed as Hepburn's iconic character Holly Golightly.
"We're not asking anyone to dress up," said the spokesperson. "But there are always great fans of the movie who love to get in character. So we welcome them to come down to either location to get a coffee and croissant, and of course to post on Instagram."