5 of Bali's best babi guling restaurants for the island's famous spit-roasted pork dish
CNA Lifestyle's May Seah dedicated her trip to Bali to pigging out on crispy crackling, tender pork and hearty soup.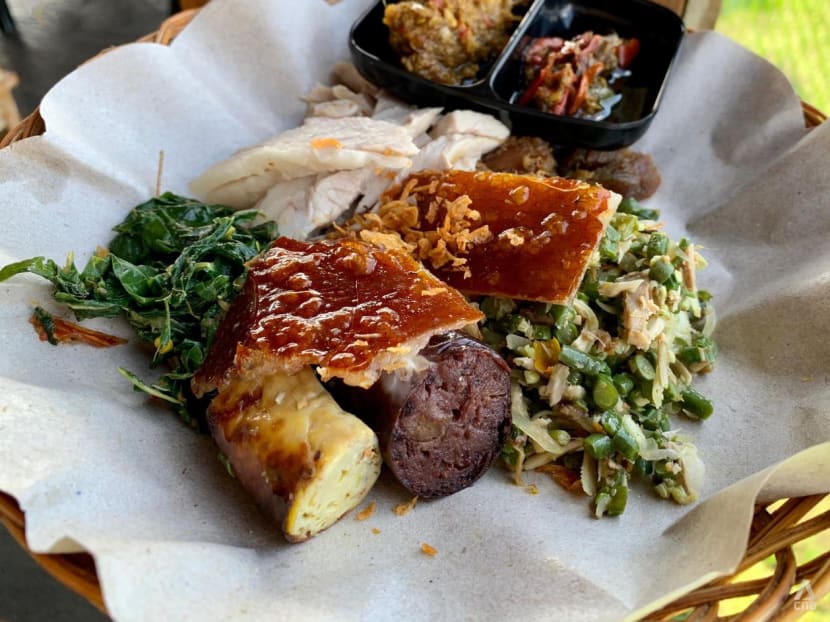 Along with what appeared to be half of Singapore, I was in Bali recently on holiday. But I had a specific mission: To eat all the babi guling I possibly could.
Babi guling, or chunks of spit-roasted pork and crackling served with rice, soup and vegetable mixtures known as lawar, is one of the culturally unique dishes on the predominantly Hindu Indonesian island.
To cook the pork, a whole pig is stuffed with a mixture of onions, chillies, turmeric, ginger and spices before being suspended over a wood fire and rotated by hand, the word "guling" meaning to turn in a circular motion.
It's said that babi guling originated as a meal of kings in Bali's cultural heart, Ubud. And among the Balinese people today, it's still a dish associated with celebrations and community, shared with family and friends on occasions like religious festivals or the birth of a baby, for example.
Of course, there are restaurants all over Bali dedicated to serving up their renditions of babi guling, or "bigul", as it's affectionately nicknamed. Go in, order the "special" – the same thing everyone else is having – and you're set for a delicious porkathon.
As I learned from the locals, the dish varies across the island. For instance, there are as many versions of lawar as there are regions in Bali – up north in the town of Singaraja, for example, they mix pig's blood into it. They also use black pigs that have less fat.
As for individual restaurants, some might serve urutan or blood sausage with their dish, perhaps; while others, catering mainly to tourists, might leave offal off the menu. And one restaurant might serve a very traditional soup of jukut ares or banana stem, while another might instead offer a more internationally accessible broth of carrot and onion.
But there is one thing that everyone agrees on: The skin of the pig, roasted to a shiny glaze, must be so earth-shatteringly crisp that the Balinese even have an onomatopoeic name for the sound produced when you bite into it: "Kriuk".
One local demonstrated a way of producing ideal "kriuk": Pour a bottle of Coca-Cola over the pig before roasting it. Probably not a traditional method, but, you know, whatever works.
A hot tip: It's easy to think of babi guling as a lunch dish, but if you want to get the fullest experience, get to the restaurant early. That's when the meat is still warm, the crackling is still crisp and you'll be able to appreciate the dish with its best face forward.
WARUNG BABI GULING PANDE EGI
This was the place most commonly recommended by locals, and really, it's not hard to see why. Firstly, it's destination dining – you drive out to an area far from the madding crowd, in Gianyar, near Ubud; you eat in an airy, beautifully designed two-storey building; and you get to enjoy a rice field view, to boot.
And then, the food. The crackling had a glorious crunch; you get two kinds of sausage, blood sausage and egg sausage; and the sambals were absolutely delicious, with a good kick of heat.
Perhaps most distinctly, the meat didn't come smothered in the usual spice mixture, which meant its natural, fresh porkiness shone through.
Banjar Pande, Beng, Gianyar, Bali 80513.
WARUNG BABI GULING PUTRA CELAGI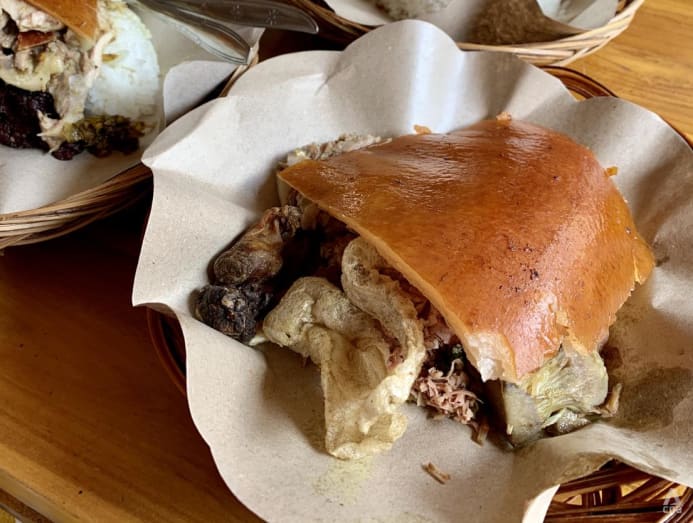 Okay, I have to confess: I'm not sure what we thought we ordered at this restaurant in Gianyar. But we somehow got two versions of the dish. One came in a beautifully arranged stack: Lawar, blood sausage, egg sausage and meat layered against a heap of rice, crowned with crackling on the top. And one came with a mammoth piece of crackling – we're talking XXL – that obscured everything under it, with just a few bits of rind and sausage peeking out from underneath, and a separate serving of rice.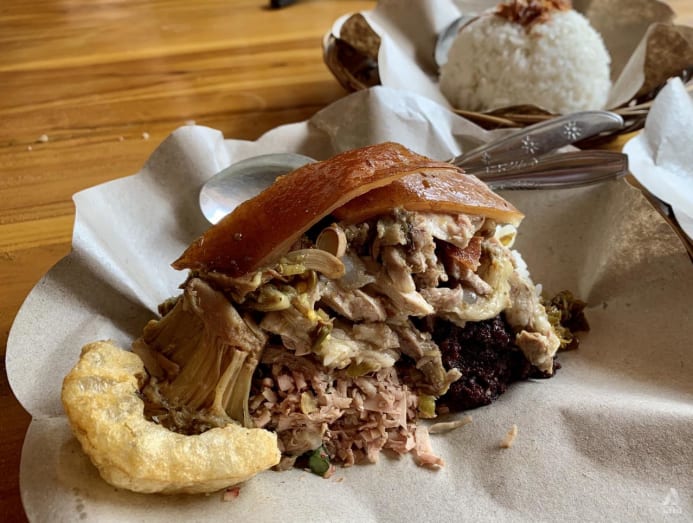 From what I gathered from talking with locals, Putra Celagi probably offers one of the most authentically traditional babi gulings. The aromas of the herbs and spices are almost in-your-face. And there's a generous helping of lawar.
The blood sausage here was particularly unforgettable: It doesn't come in a casing. Instead, the minced liver mixed with pig's blood is served in chunks, making for a soft texture without crunch. This means it's absolutely heavenly when eaten mixed into the rice. Mmm.
Jl Desa Apuan No. 87, Bangli, Bali 80661.
BABI GULING PAYANGAN BUK ARI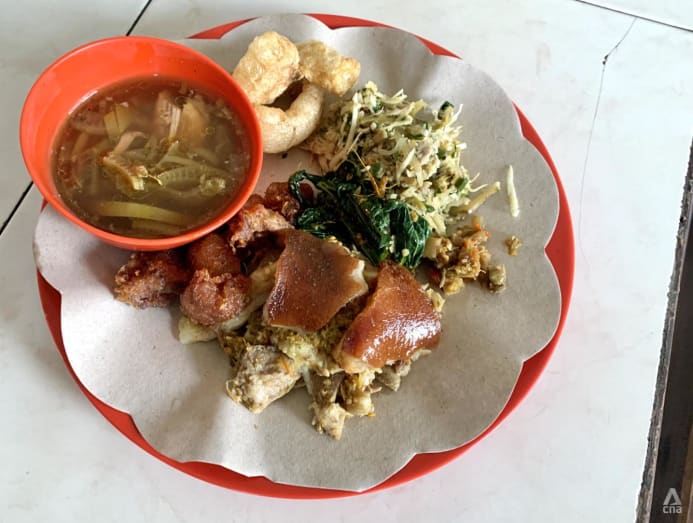 Another tasty babi guling, this warung in Ubud stood out for the soup of beautiful banana stems – crunchy, savoury and very traditional. The soup is made by salting and boiling the white insides of the fronds of the banana plant before cooking with pork ribs. Served hot, it's the perfect accompaniment to rice.
The plate of pork and rice was heavy on the veggies – there were servings of a few different kinds of vegetable dishes, if I recall correctly – so if you like your greens, this is the place to be.
One other thing that was special here was the spicier-than-most sambal. Shiok.
F7GH+Q47, Jl Raya Teges, Peliatan, Bali 80571.
WARUNG BABI GULING PAK MALEN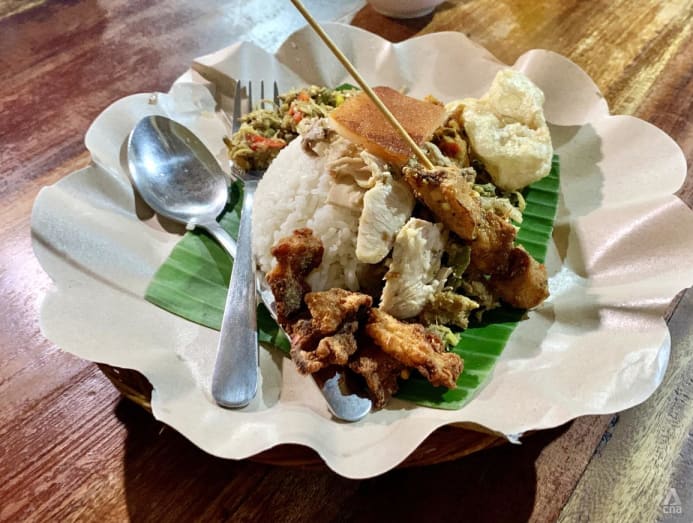 Quite a few Singapore friends recommended Pak Malen, located in Seminyak. And again, the reason became quite apparent.
This babi guling probably has flavours closest to what the Singaporean palate is used to finding appealing: Less pungency of spices, familiar-tasting sambal and liberally seasoned pork and lawar. It also comes with a stick of satay, which is always fun.
The piece of crisp skin you get here is teeny tiny, but happily, it did produce a "kriuk". All in all, a very yummy meal.
Jalan Sunset Road No. 554, Seminyak, Kuta, Bali 80361.
WARUNG BABI GULING IBU OKA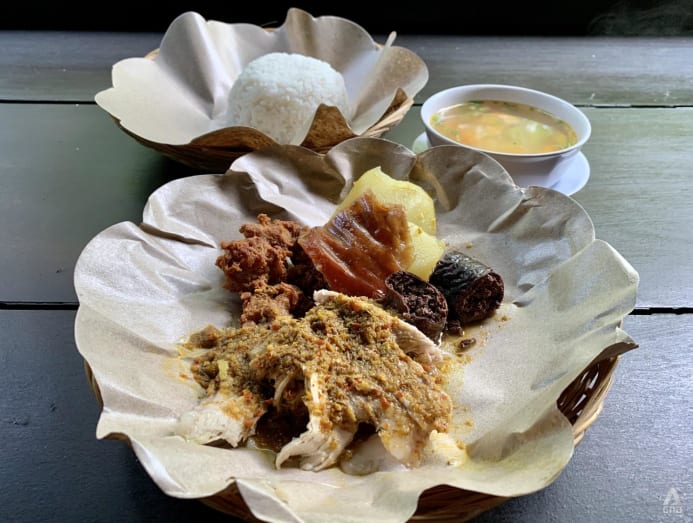 Ibu Oka in Ubud is one of the most well known places among tourists, not least because Anthony Bourdain once famously paid it a visit. They have three locations around Ubud, with the pigs probably cooked in a central kitchen. Practically every Google search for babi guling turns this place up, so naturally, you'll want to know: Is the hype real?
I'd say, think of this as a nice, safe, entry-level babi guling. It comes minus the lawar, the vegetable mixture that can come across as bland and herbaceous to non-locals; and instead features chunks of boiled chayote. And the carrot and onion soup is in no way traditional, although it was very enjoyable and served piping hot.
While the pork and its mixture of spices and aromatics was tasty, and the blood sausage was well seasoned, the pork skin, alas, produced no crunch when I bit into it. Don't they know that kriuk is life?
Various locations in Ubud.