After 2 difficult pandemic years, I found closure – and rediscovered bliss – in New Zealand
CNA Lifestyle's Hidayah Salamat travels to New Zealand, where dramatic landscapes and "the Maori way" help her answer the existential question that has plagued many in the pandemic: What makes you happy?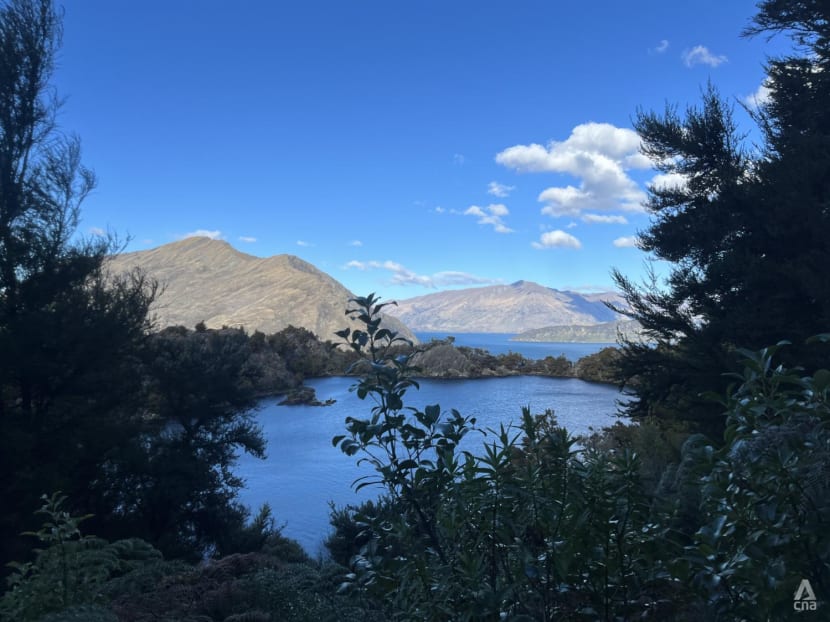 I remember that day vividly. It was in the early months of the pandemic and my therapist had just asked me what seemed like a simple, innocuous question: "What makes you happy?" 
I'm hardly ever speechless, but we sat silently in that darkened room for several minutes as I racked my brain for an answer. 
Eventually, I burst into tears. 
As a journalist, finding answers is core to my work. But how does one begin to seek clarity on such a question? 
One day, earlier this year, a clue arrived in the form of a text message from an editor: "Want to go to New Zealand?"
I'd never been to New Zealand and as a hardcore "city girl" never thought to put it on my travel bucket list but I'd heard that it was a good place for "healing".
Besides, a 10-day trip across the home of the emotionally charged "haka" sounded like it had the potential for answers.
THE MAORI WELCOME  
We landed in Auckland, in the North Island region of New Zealand, on a chilly night in May. 
Our group – seven including four journalists – was greeted by our guides from TIME Unlimited, Ceillhe and Kristie, sisters of part Maori (pronounced "mouldy", they suggested) and part Irish heritage.
There was a round of "kia ora", which can be loosely translated to "have a healthy life" and can be used in place of "hello", "thank you" and "goodbye". It's a delightful phrase to learn and say. You say it fast – as if it were one word – and have the option of rolling the "r" if that's what you like. 
Because the phrase is so versatile, we would find ourselves in a constant exchange of verbal blessings with each other and with others. It put me in a good mood and, strangely enough, made me feel healthy.
Was this happiness? It was too early to draw any conclusions. But as I tucked myself into the king-sized bed at the cushy new Park Hyatt Auckland hotel that night, I thought it felt pretty close. 
The next morning, a few of us were treated to what's probably the best welcome to New Zealand for newbies: The All Blacks Experience. 
If, like me, you've been sleeping on rugby or New Zealand, the 45-minute guided tour will wake you right up. It's no museum; there are competitive field strategy games, and an arcade-like interactive zone where you can test out your kicking, catching, line out and accuracy skills.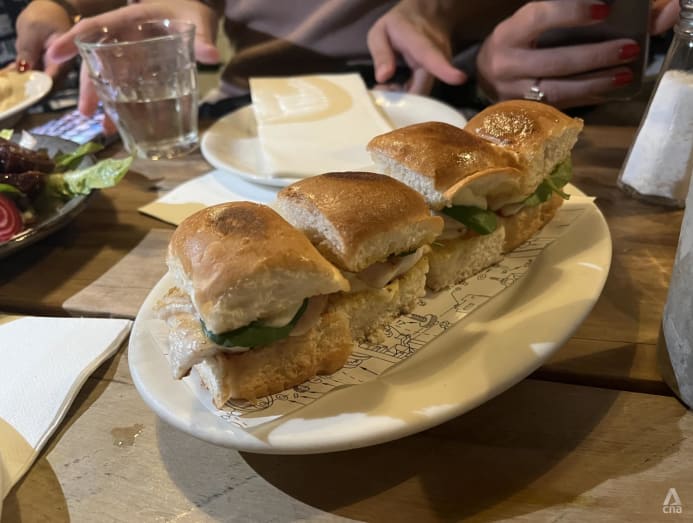 My favourite was when we simulated a team walk-out into a room with a four-metre high screen that played a video of the rugby field plus thousands and thousands of screaming spectators. Then, standing in a row as an opponent team would, we watched a life-size version of the All Blacks doing the aforementioned "haka", the Maori ceremonial war dance. 
Our first full day out ended on a high at Depot, a restaurant by Kiwi chef Al Brown – a name I'd not heard before but I will now never forget. Dinner was like a Madonna greatest hits album; every dish tasted both familiar and fresh, and made us dance a little on our high stools. Depot, I later read, reflects Brown's attitude towards food: "In season, beautifully cooked, to be enjoyed with friends." Another clue to my question.
After two days in Auckland, we went on a four-hour drive to the subtropical Northland region. 
As we settled into our van, which our guides had thoughtfully equipped with blankets, water, snacks and ponchos, Ceillhe turned to us from her seat beside designated driver Kristi, and asked us to introduce ourselves. 
I always dread this bit. Introductions tend to just be an excuse to recite our LinkedIn profiles. But I was in for a surprise. 
Places and activities in Auckland:
All Blacks Experience: 88 Federal St, SkyCity Entertainment Precinct, Auckland CBD
Arataki Visitor Centre: 300 Scenic Drive, Oratia, Waitakere
Depot: 86 Federal St, Auckland 1010
Park Hyatt: 99 Halsey St, Auckland CBD
"Tell us your name, why you are here and the piece of land or body of water you feel you belong to or associate with the most," Ceillhe said. 
I learned later this was the Maoris' special way of connecting with the world around them – a concept called "tikanga", loosely translated as "truth" or "fairness".
Among its customs is the "manakitanga", which involves extending loving acts of assistance and encouragement to others, including strangers. Another custom is "kaitiakitanga", which places its people as guardians of the sea, land and sky. Finally, there's "kotahitanga", which refers to the oneness of humanity. Simply put, Maoris identify all people as their people and so, there are no strangers.
I didn't realise it then, but this particular round of introductions would form the foundation of our group's dynamics for the rest of our trip. Because instead of hearing about each other's jobs and how well we did in school, we were learning each other's heritage and emotional language. In other words, we were learning how to treat each other like family.
I was convinced this had a lot to do with happiness; I made a mental note to socialise more (and socialise better) when I got home.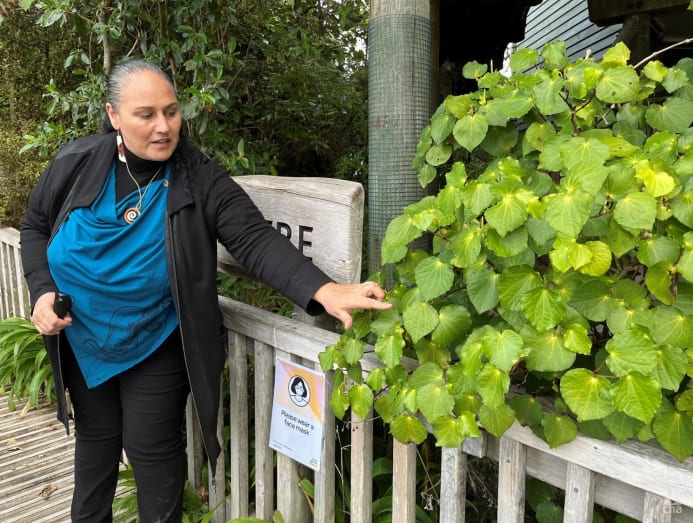 After years of getting lost in the labyrinth of city life, I was now yearning for the rugged natural beauty New Zealand is famed for. Thirty minutes into our drive, I got my wish.
The landscape outside of my window had turned from brush to lush, signalling we were now in the Waitakere Ranges. We stopped at the Arataki Visitor Centre, the gateway to the ranges, where visitors could learn more about the surrounding rainforest.
Hiking the forest trails – which spanned more than 250km – was not part of our itinerary, but we got a preview as Ceillhe took us on a brief walk just along the perimeter of the centre. Here I learned that much of New Zealand's native bush is medicinal; the flax or harakeke can be used to treat wounds and broken bones, the kawakawa is said to have more than 20 medicinal uses and the manuka tree is of course prized for its honey.
New Zealand is indeed healing, I would later conclude, and in more ways than one.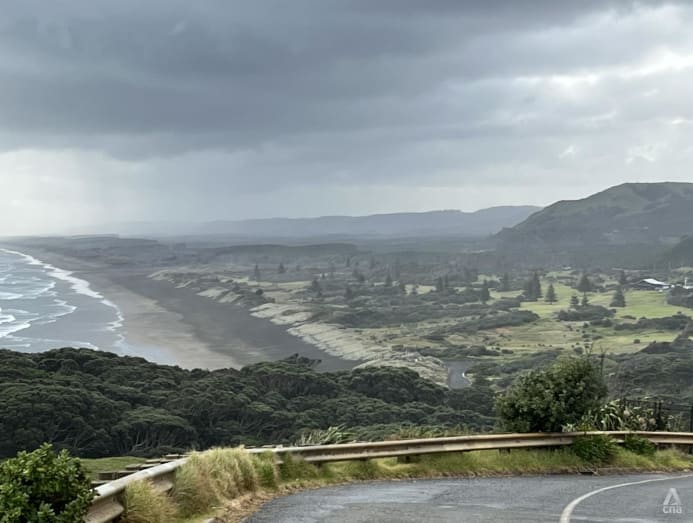 Several hours later, we crossed into Northland. First on the list: Muriwai Regional Park. 
In the gloom of rain, the landscape looked like the evil sister of the Great Ocean Road in Australia. From our lookout point on the side of a winding road, I could see the grey ocean on the left, surf breaking upon the black-sand beach, its foam spreading out like marbling on a cut of beef. On the right, a woodhill forest stretched out farther than my eyes could see. All of it was being watched over by a blanket of dark, almost-black clouds. 
If it wasn't for a single paraglider surreptitiously floating over the water, it would've been a scene right out of The Lord Of The Rings, which was famously shot in New Zealand.
The next day, we immersed ourselves in Maori culture – first with a brief Footprints of Waipoua tour, which took us to see the largest known living kauri (pronounced "cody") tree in New Zealand, standing more than 50m tall and 16m wide in the heart of the Waipoua Forest.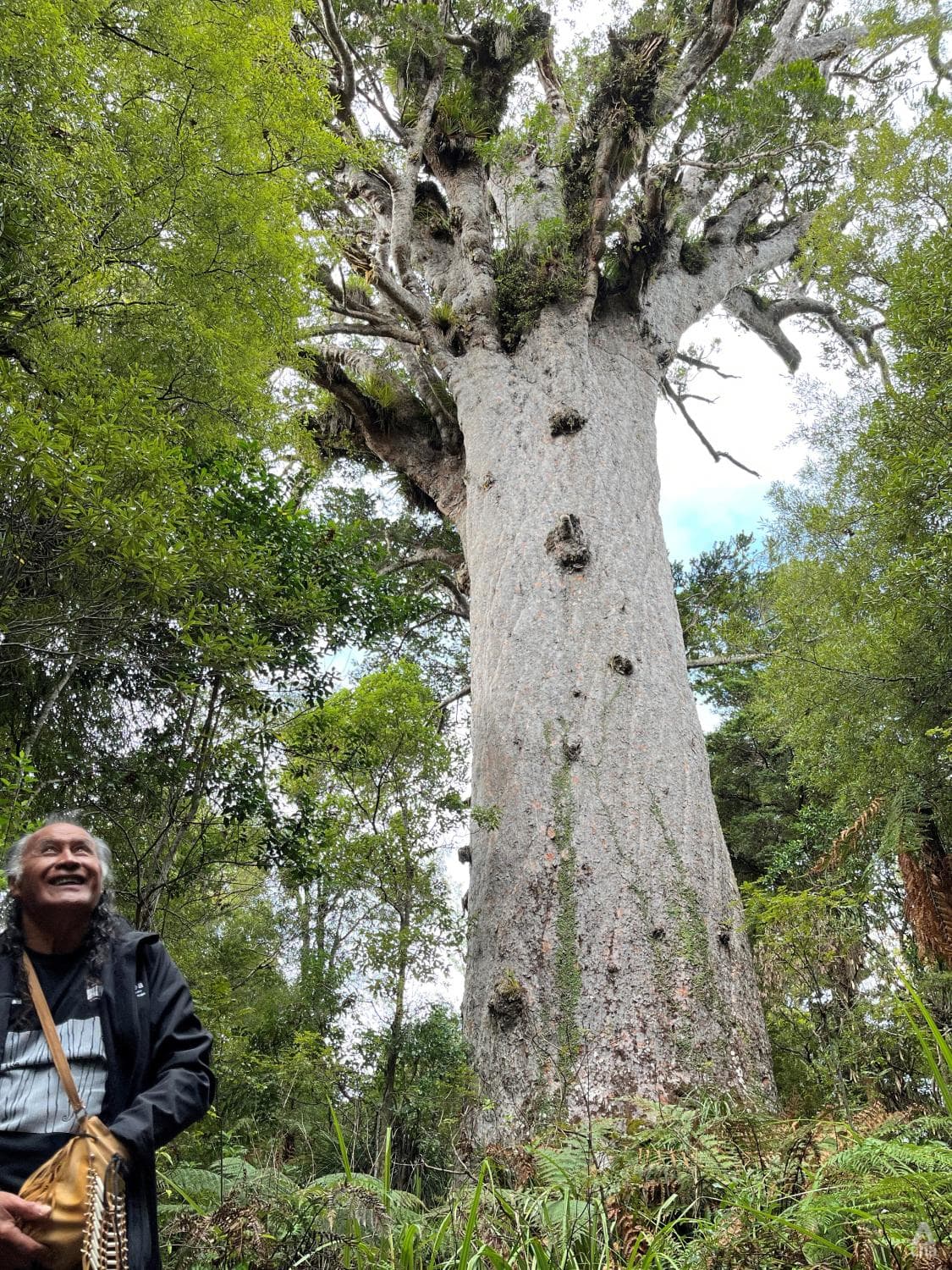 Our guide, Bill, with his aged long hair and wise eyes, is well-known in these parts, carrying with him a wealth of mythological stories about the indigenous people's relationship and devotion to the trees, which he has used to entertain visiting families for years. Bill also has a haunting voice, which he engaged in a Maori serenade of the millennia-old tree (named Tane Mahuta for the Maori god of forests and birds).
There are not many things I can think of more romantic than the Maoris' love for nature and their ancestors. Later, we experienced Manea Footprints of Kupe, which tells New Zealand's mythological origin story through an interactive showcase of art, artefacts and performance. Here, we learned about Kupe, the legendary explorer said to be the first human to discover New Zealand. Unexpectedly, the 4D theatre experience at the end of the tour left me in tears (of laughter).
CNA Lifestyle's Hidayah Salamat got a taste of the best of New Zealand and rediscovered bliss through its energising sights and culture.
THE GREAT EXHALE
On our fourth day, we took a commercial flight to South Island, specifically Queenstown. 
I napped for most of the flight and woke up in time to hear a father telling his children: "You see the stream there? You see where it's headed – through that valley? That's where we're going to land."
I rubbed the sleep out of my eyes and squinted out the window.
Places and activities in North Island:
It was like descending into a fairytale. As the plane began to duck underneath the clouds, barren, snow-sprinkled mountains gave way to greener pastures and a body of water that crept through valleys and around little islands, "shining shimmering splendid" in the rose glow of the sunset. 
I felt my heart expand. 
And then, when we landed in Queenstown and were led to a pier a short drive from the airport, my heart dropped. 
There, bobbing innocently on the icy-blue water of Shotover River (the body of water I saw earlier that was decidedly less serene-looking now), was a KJet boat.
I'd read that at "insane speeds of up to 95km/h", KJet boats were "the fastest and meanest jet boats in town". I'd also read that as a treat, you could get a couple of 360-degree spins in the water. 
I've only been on a rollercoaster once, and when that ride ended and everyone started to get off, I was still frozen in my seat, screaming.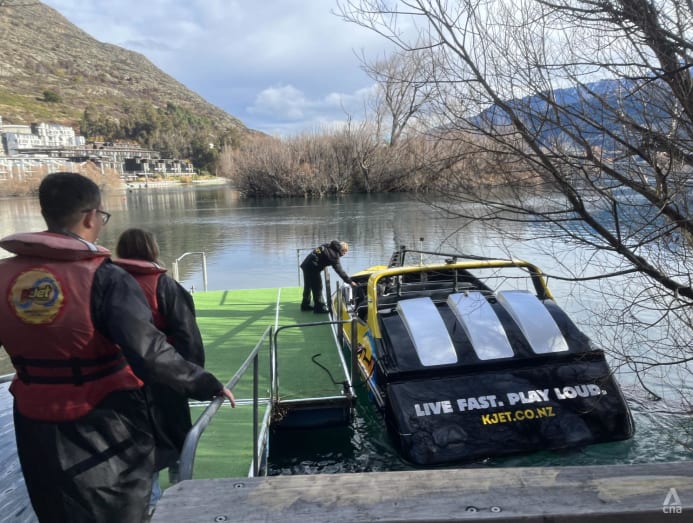 I was terrified. But I got in the boat because what else was I going to do – swim to the hotel? 
And alright, it was not as bad as I thought it would be – definitely nothing close to a viking ship or rollercoaster – and it was even fun. The 360-degree turns were swift and short, and would've gotten us soaking wet if it weren't for the fact we were all wrapped up like loaded garbage bags.
I even found myself saying: "More! More!" I think this was what my therapist meant when she suggested "pleasing your inner child". 
Our boat ride ended with a slow cruise towards The Rees Hotel, a luxury accommodation on the edge of Lake Wakatipu that's said to be popular among celebrities. 
Uniformed staff were standing on the pier, ready to greet us and take us to our rooms, which already had our luggage. 
The property was so large – 60 hotel rooms, 90 apartments and five private three-bedroom villas – that they had to take us to the hotel lobby in a van. 
At the lobby, a man welcomed us and offered to take questions, but we had none – or at least none of us could think of any because we were distracted by the view.
It was a perfect vignette. The lobby was dimly lit, drawing our eyes to the light from the floor-to-ceiling windows, through which we could see the vast lake and in the horizon, the Southern Alps, dotted with what I imagined were private holiday homes.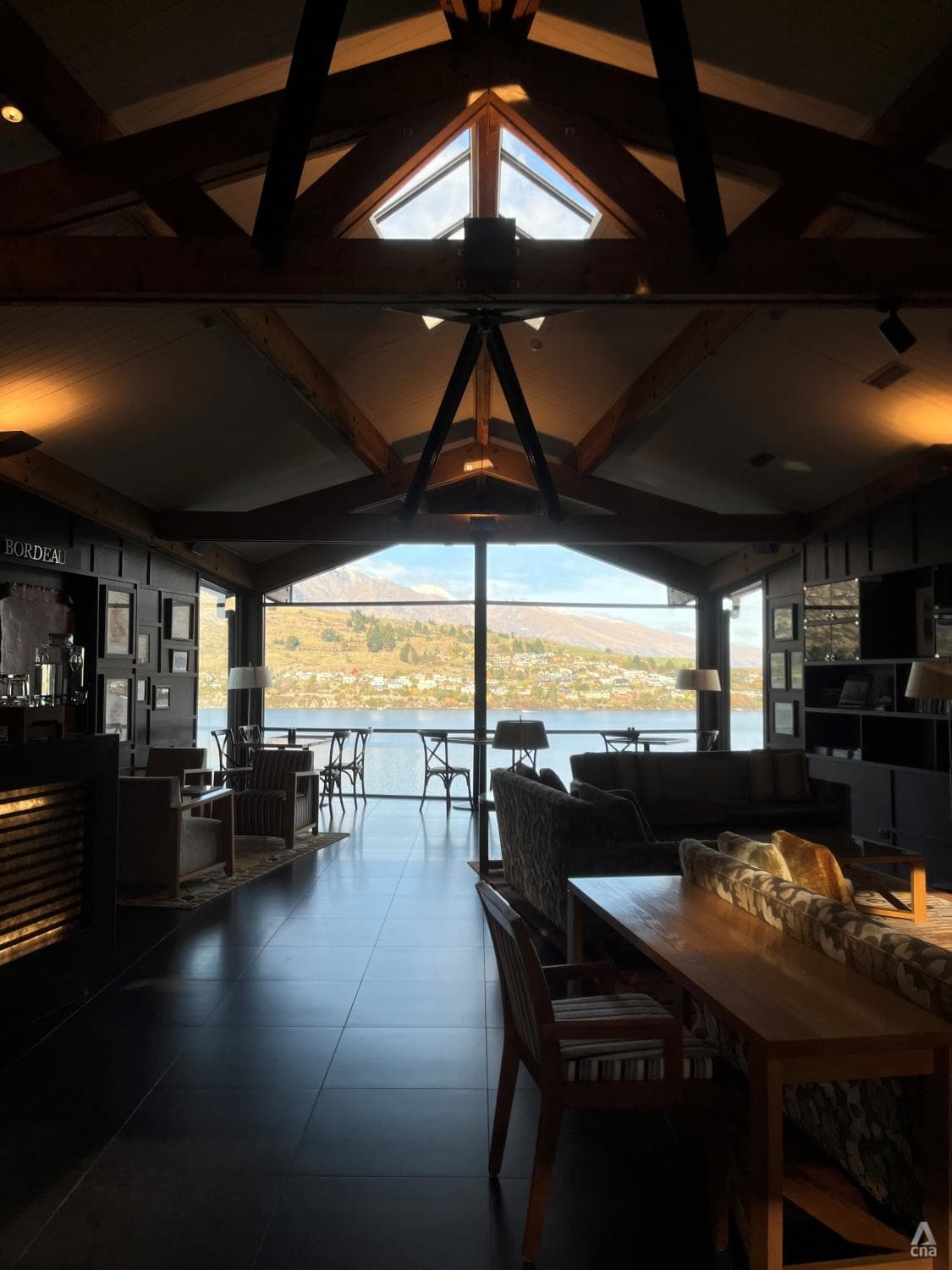 When I got to my room, which had stairs that took me to the mezzanine level where my bed was, I saw with delight that there were windows that stretched from end to end. Here I could drink in that same scenery more completely and at leisure. 
By now I knew I was no longer a city girl. Perhaps it was all those months trying to make the best of the view of the multi-storey carpark from my home in Singapore, but I suddenly found so much comfort, hope and even thrill in the idea of being amongst nature's gentle giants. 
As part of the Queenstown leg, we visited the Onsen Hot Pools retreat and day spa, where you got a gorgeous view of the landscape beyond Shotover River as you soaked for an hour in 38 degree Celsius pure mountain water. 
I thought by now I'd be a little less awed by the view, but no – the mountains continued to inspire, and my tub buddy Veronica and I spent our sunset soak eating ice-cream and talking about our dreams.
THOUGHTS AND PRAYERS
We took a "scenic flight" via the family-owned Air Milford to Wanaka, an alpine resort town also in South Island and one of the final stops of our trip. 
The plane was only big enough to accommodate a group slightly bigger than ours and as we climbed in, I couldn't help but think back to one of my favourite movies, La Bamba. 
Thankfully, the flight was brief and peaceful, and once I got over my anxiety, I was able to pretend for a while that I was Cher on an Asia-Pacific tour. 
If pretending you're someone else every once in a while makes you happy, definitely book a private flight. You could even pretend you're a giant, which is very easy when you've got an extraordinarily close-up view of the clouds kissing the mountain peaks. 
I'm easily tickled so the first thing I noticed about Wanaka was how a lot of businesses had names like Aspiring Jewellers and Aspiring Pharmacy.
Places and activities in South Island:
"Why are they all 'aspiring'? They've not made it yet?" I asked Mark, our local Tourism New Zealand guide, expecting a groan.
But Mark, whom I have to place on record is an incredibly nice person, laughed and explained: "They're named after Mount Aspiring. That's the attraction around here."
I noted how, when you're looking for it, even something as plain as a shop name can be a lesson in positive psychology: Even if you think you're not "there" yet, you can absolutely start a business. Or be a mountain.
The next morning, we climbed into a boat that would take us across Lake Wanaka to one of its four islands, Mou Waho, which is a conservation reserve housing the largest living population of the flightless weka bird in New Zealand. 
Our guide and skipper for the day was Chris, a portly man with a chevron moustache, who reminded me of Harry Potter's uncle Vernon but turned out to be very nice.
About 10 minutes in, the water grew choppy and started tossing our boat about like a sack of potatoes. And it didn't stop. As you know by now, I'm really not a fan of rollercoasters. I started to taste my breakfast at the back of my throat. 
But just then, someone shouted: "Rainbow!"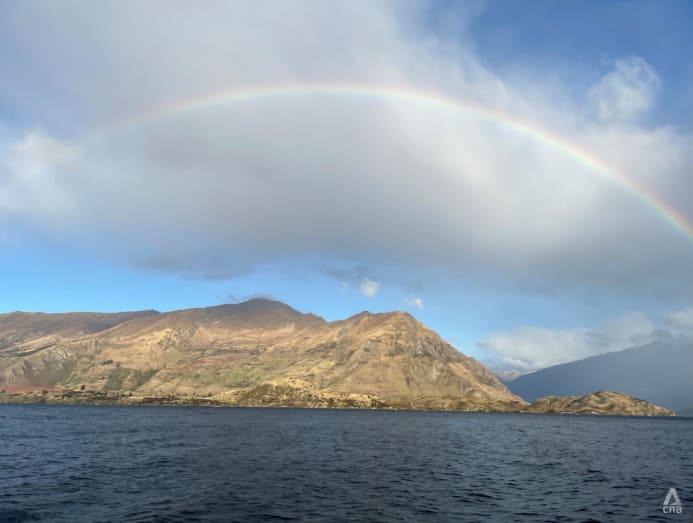 We turned to our left and there it was – a massive rainbow, sprung over the peaks and the valleys. I had never seen a rainbow from end to end before. 
Just as we were pulling out our phones to take photos, another rainbow appeared.
Double rainbows are formed when the sunlight is reflected twice through a single raindrop, which technically means they're the same rainbow. But to the naked eye (and easy mind), there were two rainbows.
We fell silent. It felt like a spiritual moment. And not just for me. 
A fellow journalist, Denise, suddenly turned to me to ask: "Does your religion talk about the significance of rainbows?"
"I don't think so, but I said a prayer anyway," I told her.
"It's like God is saying: 'Here are some rainbows, one for each bad year you had. It will all be okay'," she suggested. 
After a rocky 40-minute ride, during which everyone miraculously kept their food in, we arrived at Mou Waho.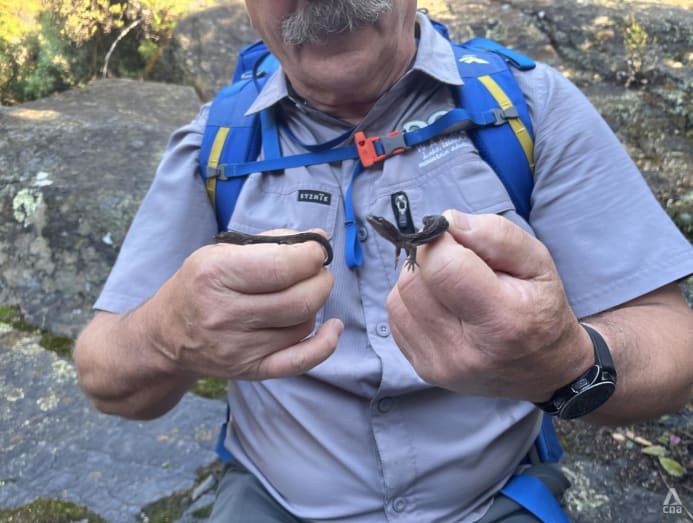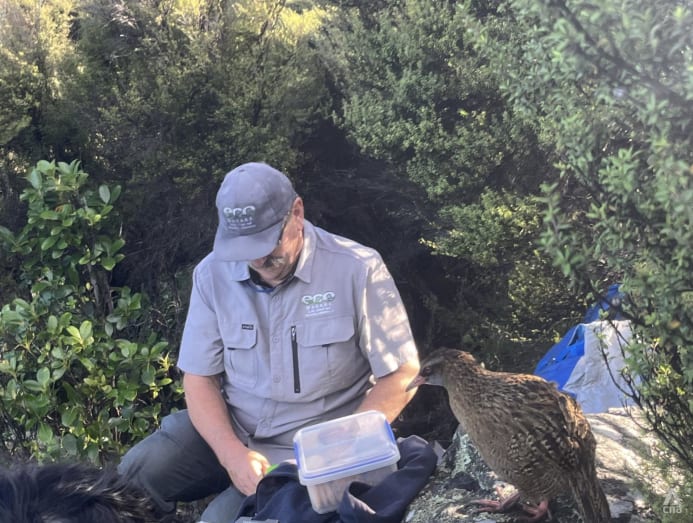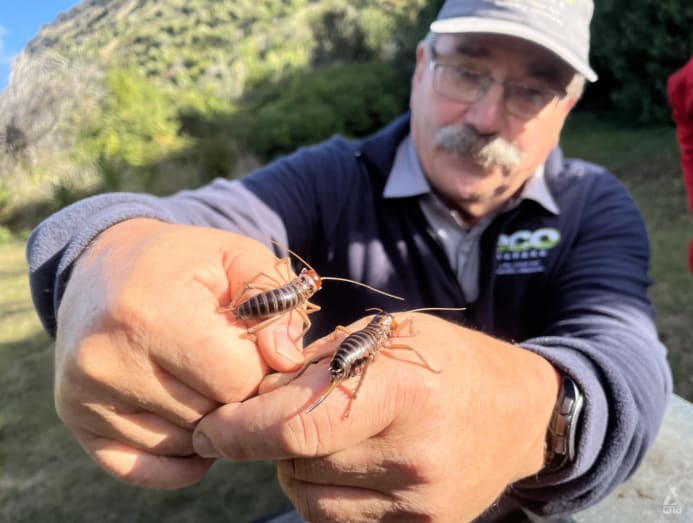 Here, in the heart of Lake Wanaka, we witnessed "kaikiakitanga" in action. 
Coming from land-scarce but skyscraper-rich Singapore, where sustainability is more a buzzword than a lifestyle, most of us were unfamiliar with the actual objectives of conservation. 
But during our one-hour trek up to Tyrwhitt Peak with Chris, who had a knack for communicating with the bellbirds and could hold on to a Southern Alps gecko in his bare hand even as it was chewing on his finger, we gained a deeper understanding of the concept. 
For 16 years, Chris and his team at Eco Wanaka Adventures have dutifully helped to keep Mou Waho from predators like rats and stoats, so native birds like the weka, bellbird, fantail bird and wood pigeon can thrive. Unfortunately, these birds pose a threat to the weta – giant insects that can only be found in New Zealand and whose origin dates back to before the dinosaur age – so they have also built "motels" all around the island to protect them.
What was most touching, however, was Chris' relationship with the resident buff weka, Sally, who kept popping in and out as if to eavesdrop or check on Chris – like a jealous girlfriend. 
After a slippery climb, we reached the viewing point for the island's main attraction, Arethusa Pool. Here, we finally settled down for tea, which Chris prepared while Sally watched over him. 
As the group tried to digest how Arethusa Pool was a lake on an island on a lake, I watched Chris take selfies with Sally like they were at her graduation and had the opportunity once again to reflect on the question I'd been carrying with me all throughout the trip. 
What makes me happy? 
As it turned out, many things do – from feeling belonged and eating fresh food to Mother Nature's ability to shrink our problems almost to nothing. 
But the biggest lesson I learned was to accept and be okay with the fact that the universe, God or whoever you believe runs this thing, is bigger than anything you can control. The only way through is to plan less and keep an open mind, and for goodness' sake get out more. 
When you plan your next vacation, set an intention to travel out of the pandemic. By now, I'm of course biased, but go to New Zealand.
With a place like this, every day has the potential to be the climax of your trip. 
CNA Lifestyle was in New Zealand at the invitation of Tourism New Zealand.