Stranded in Ecuador: How a Singaporean couple slowly found their way home
The Galapagos Islands was on Michelle Tan and her husband's bucket list. They never imagined there would be a bigger (and difficult) experience because of border closures. Here's her story as told to CNA Lifestyle.
When we booked our trip in mid-February, South America was one of the safest places in the world because the virus hadn't reached there.
During that time, trips to the Galapagos Islands were heavily discounted because the Chinese had been cancelling their travels. The situation seemed under control in Singapore and elsewhere, so we figured it was safe to go.
The Galapagos had always been on our bucket list, but it's expensive. Eugene and I are both in our fifties and we thought, this is the trip we've been waiting for all our lives. It was the right season to go, too, since the seas are calm and there's no rain during this time of year.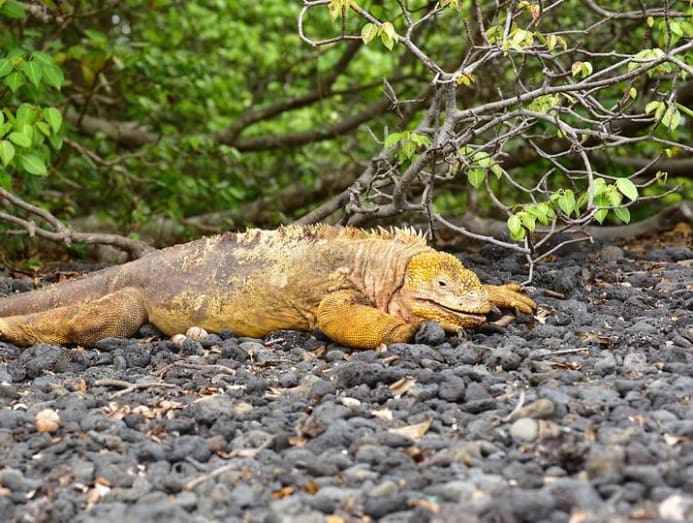 So, we left Singapore on Mar 3. We never thought that the situation would turn into a pandemic. We arrived in Quito, the capital of Ecuador a day later and then made our way to Santa Cruz the next day, from which our cruise around the Galapagos would leave. This island-hopping tour stretched over eight days and seven nights, and we stayed on a small cruise boat along with 12 other tourists.
EIGHT DAYS IN PARADISE
The Galapagos is made up of about a dozen islands. Only three are inhabited by humans and the rest are national parks or nature reserves. Every day we would transfer from the ship to a small boat that took us on land excursions with a guide.
Each island has volcanos and is covered in massive lava fields. We saw rocks blanketed with marine iguanas that look like mini godzillas, we snorkelled with penguins and sea lions, and we trekked across the lava fields, which was quite gruelling.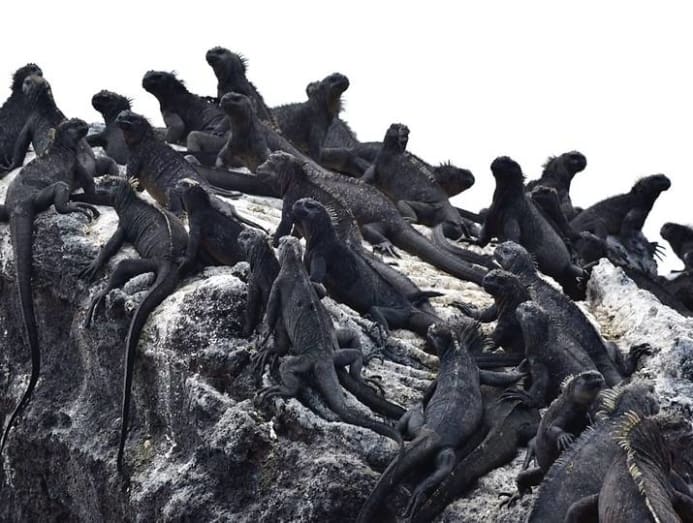 The food on the cruise was great – there were very fresh fish and prawns, and they served things like sushi and local Ecuadorian cuisine. We had a wonderful time, oblivious to what was happening in the rest of the world because we had no Internet connection.
Eight days later, when we returned to the main town of Santa Cruz, we found out that the virus had turned into a pandemic. We'd booked another scuba diving cruise after this one, as well as a land tour, both of which were cancelled. At that time, the Galapagos was virus-free, but the Ecuadorian government had shut their borders and were eager to get all the tourists out of the country.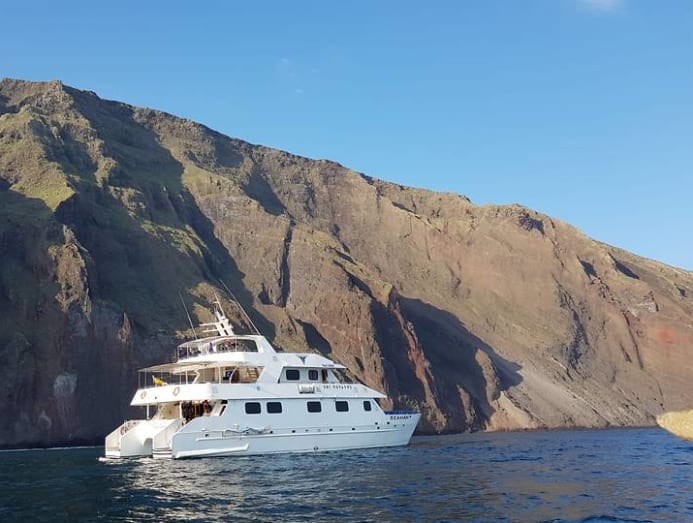 THE MADNESS BEGINS
That's when the chaos started. We went to the airport to see how we could get out, but were told that we had to go to San Cristobal because our flight had been booked out of there (that's where our cancelled scuba diving cruise would have ended). 
We made our way to San Cristobal by ferry, where we had an outbound flight booked for Mar 23. We managed to change that flight to the 18th but the day before, we got news that the last flights out of the Galapagos were leaving that day. That's when we thought, die lah...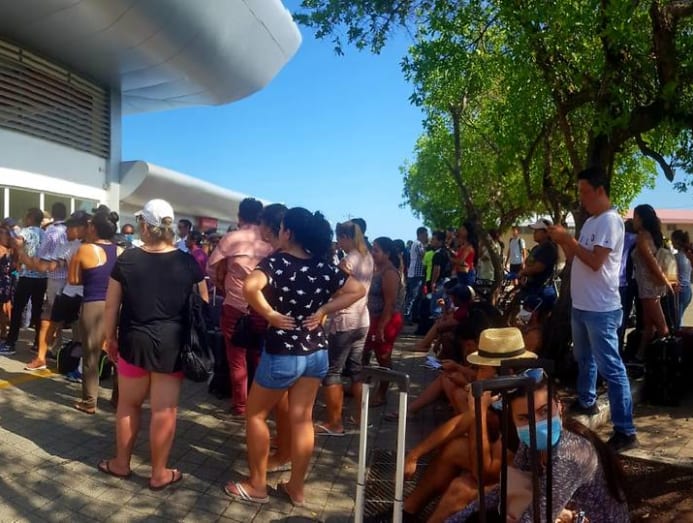 We went immediately to the airport and it was just chaos because everyone was trying to leave, but only people with tickets could leave. There was a lot of shouting and stomping of feet, and in our case, cutting of queues.
We'd been at the top of a waiting list for a flight out and had been waiting all day. Then this local woman comes in front of us and buys seven tickets and that's it, we were done. No tickets for us!
Over the next few days, we went to and from the airport four more times, each time because we were told that there would be a flight leaving the next day. But there never was.
Things became more organised as the days passed. The municipal government set up a WhatsApp group for tourists which gave us updates on flights and the number and nationalities of tourists that remained so that, for example, the Germans could rally their embassy to help get them out of there.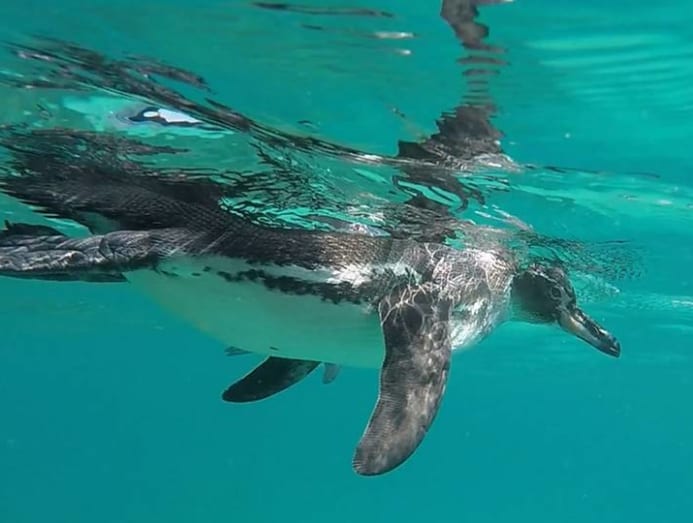 Another chat group was set up by tourists for European Union citizens and they were kind enough to let us join it because we were the only two Singaporeans around. Through these chats we received updates on what the municipal government was doing and how they were helping to get tourists out of the province.
STUCK IN SAN CRISTOBAL
Before we left Singapore, we'd e-registered with the Ministry of Foreign Affairs, so the consulate in Brazil contacted us. But it was difficult for them to do anything for us since they were quite far away. Whatever news they could give us, we could get quicker since we were there on the ground.
In any case, by this time, we figured we'd be stuck in San Cristobal for at least a fortnight, so we talked to the hostel we were staying at and they were kind enough to give us a discount on our room rates. Hotels there only accept cash, and we could only draw US$100 (S$145) a day from the ATMs, with expensive fees.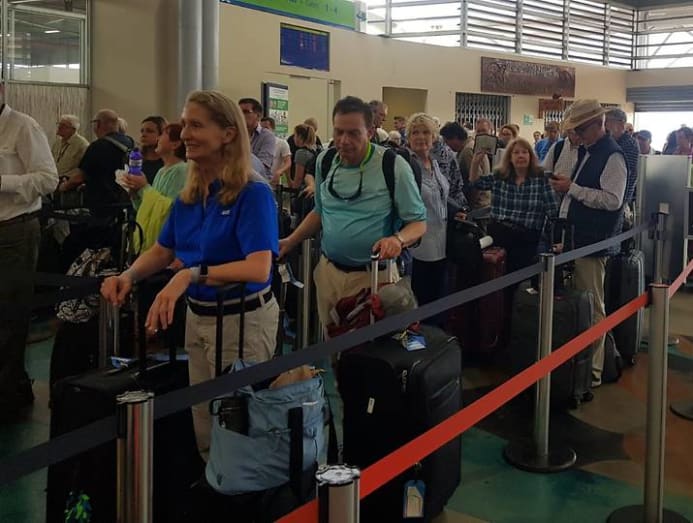 All notifications and updates were made via WhatsApp messaging, so we learnt to be very alert to messages because the phone would never ring. On Mar 20, we received a message at 2pm, telling us to go to the mayor's office for a pre-flight medical check at 3pm.
Once we got there, we filled up a form which they would later email to the mainland; without it, no one is allowed to get on a flight. We were like, 'Okay, okay, we will do whatever you want'.
The check was thorough – they took our temperature, examined our throats and the doctor listened carefully to our breathing through a stethoscope to make sure we didn't have breathing problems. Then we were made to sign a declaration form to say that we didn't suffer from specific symptoms.
QUITO TO AMSTERDAM -- HOPEFULLY
That night, at 4am, we received a text message telling us to head to the airport by 7am to get on a 10am flight to Quito. It's a good thing we woke up to the notification. If we'd missed that message, God knows how long we would have waited to get out of San Cristobal after that.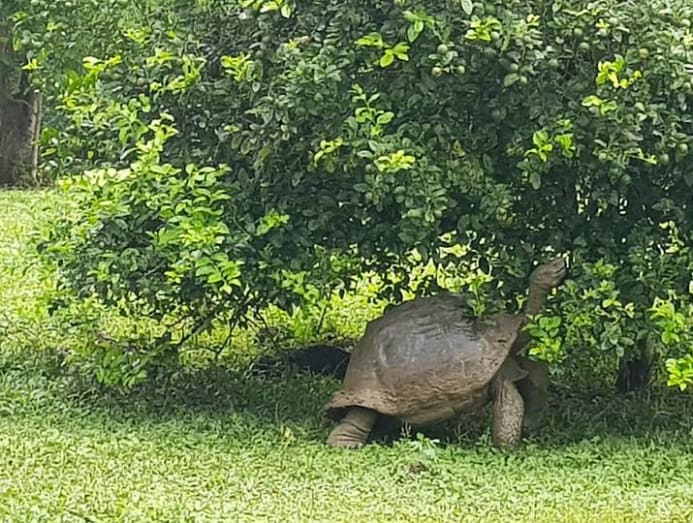 It turns out the government had arranged two "humanitarian" flights, which got us out of the island for free. To our horror, when we got to the airport, we found out that we were on separate planes at different times. But I asked the staff nicely if they would let us get on the same flight, and they said okay.
Our mission, now that we had made it to the capital city of Quito, was to get air tickets out of there to Amsterdam, where our KLM flight home had been booked for Mar 23. We'd met a Dutchman on our trip, who had returned to Holland and was kind enough to help us re-book our Quito-to-Amsterdam tickets from there. Thank goodness for him because in Ecuador, the entire system had collapsed from the sheer number of people trying to get in touch with the airlines.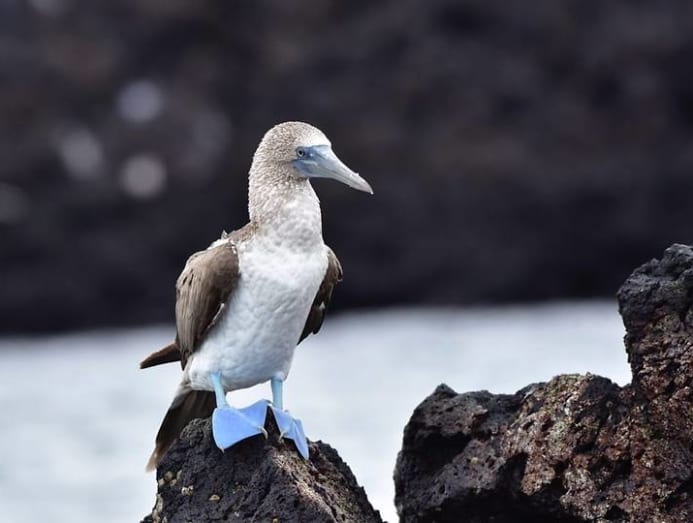 No one picked up the phones, the recorded messages you get are in Spanish so we couldn't understand them anyway, and whenever we tried to book a flight online, we'd get a message at the paywall to call the airline's hotline, which, of course, was unmanned. The flight schedule showed that there are no flights coming in or out for weeks.
Our friend eventually managed to get us waitlisted on a flight out of Quito on Mar 23 at 5.30pm. By this time, we could be optimistic because now we knew how the system works. We knew the best positions to stand and wait at so that we could be kiasu and cheong once the counter opened. We only worried when the counter staff told us that the priority for KLM was to get Europeans out of Quito, which meant we were low on the list.
A GUIDE WHO WAS BEYOND HELPFUL
In the meantime, our guide, with whom we'd booked a tour of the Andes (which was also cancelled), helped us use the money from the cancellations to book our hotels and all the other stuff. She was beyond helpful.
She knew that we were tired from our many trips to the airport so she put us up at this lovely hacienda not far from the airport. It was like paradise after all the hostels we'd stayed in throughout our trip. It had a mini botanic garden where we could go birdwatching (my husband and I are wildlife enthusiasts), so when we were not camped out at the airport, we would go back to that and the view of volcanos and snow-capped mountains in the distance.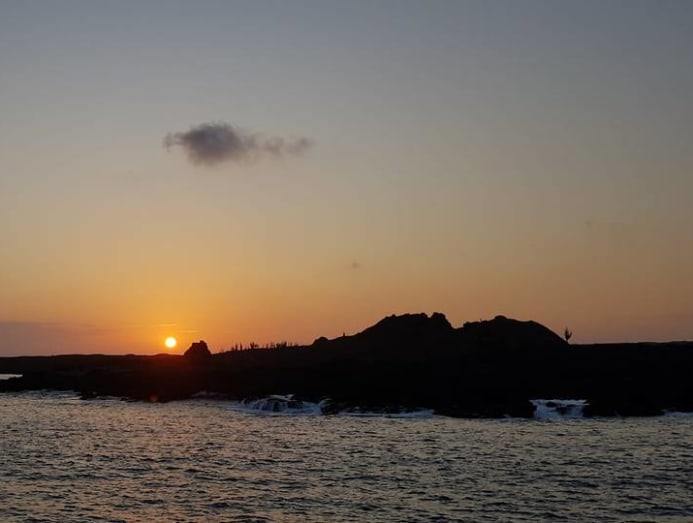 Throughout our time in the Galapagos and Ecuador, we felt very safe. When we were there, the Galapagos was virus-free and in the capital, people were very good about following the rules and sanitising their hands, et cetera.
Considering the circumstances, everyone in Ecuador behaved so well. We didn't shake hands, we "shook" feet. As in, we'd hit our shoes together rather than hug, and we'd wish each other the best. Every day we saw the same faces, all of us trying to get home, and there was that bonding in adversity and unity in diversity. There was a lot of camaraderie, everyone trying to help one another as best they could. Tourists in Quito would keep in touch with the tourists still stranded in the Galapagos and give them tips about getting flights out and what to look out for.
Monday night (Mar 23), we finally got on the flight out from Quito to Amsterdam, which means we'll make our flight from Amsterdam back home. What a relief.
We knew this was going to be an unforgettable trip, but we didn't think that it would be unforgettable this way. We had a running joke between the people on our cruise that this experience is like Survivor Galapagos and Survivor Ecuador — whoever gets off the island last wins! I guess we won.
Next adventure: Self-quarantine.
(Editor's note: As of Mar 23, the coronavirus pandemic has reached the Galapagos Islands.)