Dermal fillers and blindness: What causes it? Can it be reversed? What are the signs that something is wrong?
What causes the blindness in the first place? And should you cancel your next appointment to safeguard yourself?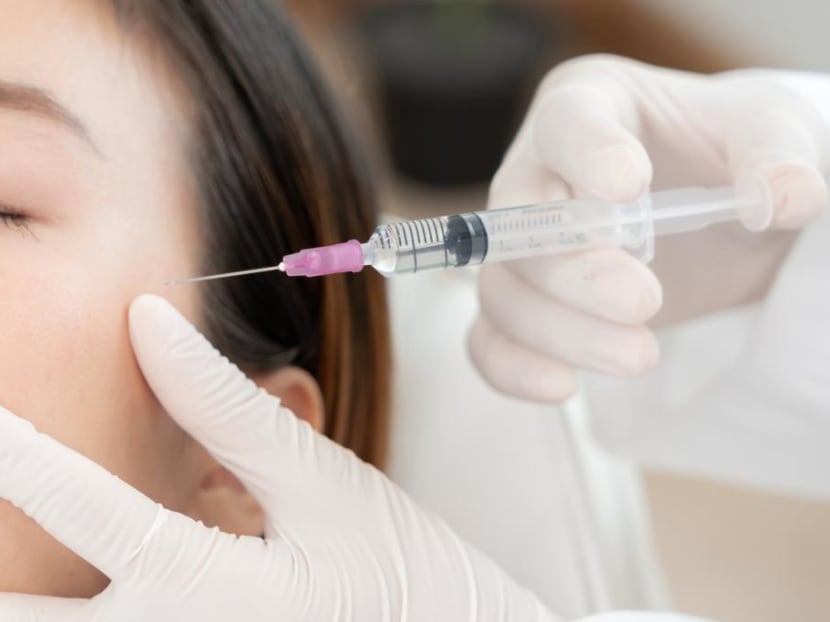 What most people want out of dermal fillers is a fresher, more youthful mien – minus the need to go under the knife. A few strategically placed and minute injections of the gel-like substance under the skin may reduce the appearance of wrinkles, lift droopy eyelids and plump up facial volume loss caused by ageing.
These minimally invasive jabs are also preferable to plastic surgery to raise the nose bridge and reshape the chin to create a coveted nose profile and V-shaped face.
But for a woman in Singapore, this commonly administered treatment at aesthetic clinics caused her to lose her eyesight. The incident happened in July and investigation by the Health Sciences Authority (HSA) is underway to ascertain whether batch-related defects may have affected product safety or quality in the dermal fillers that she was injected with.
Was the woman's misfortune a stroke of bad luck? What are the chances of it happening to you? Should you cancel your next appointment? Here's what the experts say.
HOW DO FILLERS CAUSE BLINDNESS? AND HOW LIKELY IS IT TO HAPPEN TO ME?
According to the HSA, dermal fillers carry a known risk for causing blood vessel blockages that result in blindness.
These blockages occur when filler material is accidentally injected into an artery, creating a blood clot or what is medically known as a filler embolus ("emboli" in plural form), explained dermatologist Dr Eileen Tan from Eileen Tan Skin Clinic & Associates at Mount Elizabeth Novena Hospital.
"The injection force must be greater than the systolic blood pressure (the pressure in the arteries when the heart beats) to push the resulting filler embolus to another distant anatomic location," she said.
BLOOD VESSELS, VEINS, ARTERIES – WHAT'S THE DIFFERENCE?
The word "vessel" refers to any tube that blood flows through. Arteries are what carry blood away from the heart to the rest of the body, while veins push blood back to the heart.
Filler emboli spell bad news in the blood vessels as they obstruct nutrients and oxygen from reaching the affected organ – a condition known as intravascular occlusion – thus, causing the organ to die.
If the embolus ends up in an artery leading to the skin, signs of the blockage can include bruising and redness around the injection site, and ultimately, irreversible skin death if action isn't taken in time. If the embolus is found in an artery feeding the retina, the cell death or necrosis that occurs can lead to blindness.
However, this phenomenon is "extremely rare", said Dr Tan. She cited a study published in The Journal of Clinical And Aesthetic Dermatology, which found that less than 0.05 per cent of all cosmetic injections reviewed resulted in vascular occlusion.
Senior consultant Dr Yvonne Chung, who heads Singapore National Eye Centre's (SNEC) Oculoplastic Department, also reiterated that blindness caused by dermal fillers "happens infrequently". She noted that severe complications that involve blindness and facial necrosis account for fewer than five cases over the past 10 years at SNEC.
"Fillers and injectables have been used by practitioners for many years with proven efficacy," she said.
WHAT ARE DERMAL FILLERS MADE OF IN THE FIRST PLACE?
Dermal fillers can be categorised into hyaluronic acid (HA) fillers and non-HA fillers, according to the US Food and Drug Administration (FDA).
If you're an afficionado of skincare products, you would already have heard of HA in moisturisers and serums. It is naturally produced by your body to keep skin and joints hydrated. When injected under the skin, HA molecules attract water to where they are to plump up the area.
On the other hand, non-HA fillers can contain materials such as calcium hydroxylapatite (a major component of bone), poly-L-lactic acid (PLLA, a biodegradable material made from lactic acid) or the FDA-unapproved polymethylmethacrylate (PMMA), which consists of tiny, plastic beads suspended in a bovine collagen solution.
Regardless of materials, except for PMMA, dermal fillers are temporary and will be absorbed and broken down by the body over time.
WHAT DO MOST PEOPLE OPT FOR?
According to Dr Tan, HA fillers are the most widely used for a few reasons. First, they offer versatility and last about six to 24 months, depending on the weight and size of the HA molecules used. Bigger and denser HA molecules create thicker gels that are better suited for large areas such as the cheeks or for propping up tissues such as the nose bridge. Thinner gels are apt for plumping up delicate regions such as the lips and eye areas.
Second, HA fillers have an "antidote" that allows doctors to reverse their effects, said Dr Tan. "There is an enzyme, hyaluronidase, that can digest the filler material if anything goes wrong.
"In addition to hyaluronidase, other emergency measures such as a warm compress and aspirin should be instituted as soon as possible. Topical nitroglycerin paste can also relax the blood vessels and increase blood circulation," said Dr Tan.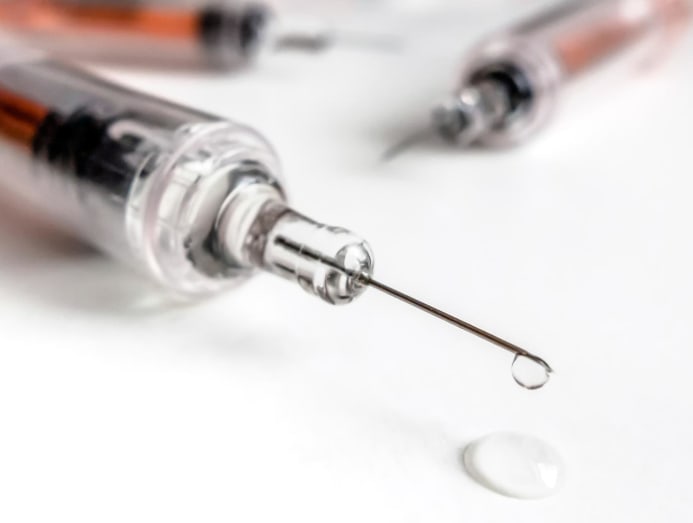 WHICH TYPE OF FILLER WAS INVOLVED IN THE CASE?
The case involved AestheFill, a brand that uses a non-HA filler with poly-D-L-lactic acid (PDLLA) as its main ingredient. Like the aforementioned PLLA, both PLLA and PDLLA can stimulate collagen production in skin when injected and are derived from lactic acid.
But there are some differences. PDLLA appears to kick into gear much quicker than PLLA, according to this study, by providing collagen with porous microspheres that act as scaffolding to grow.
Furthermore, PLLA was first approved for use in dermal fillers in Europe in 1999, whereas PDLLA was available for the same purpose in South Korea in 2014. In Singapore, AestheFill was approved by the HSA for use in Oct 2021.
When compared to HA fillers, PDLLA's effects can last more than 24 months.
However, unlike HA fillers, the effects of PDLLA cannot be reversed, said Dr Tan. The reversing hyaluronidase is also not effective on other non-HA fillers including calcium hydroxylapatite, PLLA and PMMA.
CAN YOU GO BLIND FROM BOTOX, TOO?
Botox is a neuromuscular toxin that relaxes or paralyses the muscular contractions that cause wrinkles. The excessive use of Botox may cause droopy lids due to the over-paralysis of the eyelid muscles but it doesn't cause blindness, said Dr Yvonne Chung from Singapore National Eye Centre.
WHAT ARE THE SIGNS THAT SOMETHING IS WRONG AND CAN IT BE REVERSED?
A Taiwanese woman had also gone through the same ordeal in 2017. Local news reported that while receiving HA filler injections in her forehead, she "suddenly suffered severe pain" as if "lightning had flashed before her eyes". She couldn't see out of her left eye the next morning and despite three months of follow-up treatment, she was declared blind in her left eye.
"Some signs of serious complications may include sudden blurred vision or visual loss," said Dr Chung, adding that a sudden eyelid droop, facial pain or double vision are also signs to look out for. "However, the more common side effects of post-filler injections include bruising, swelling and mild discomfort."
She stressed the importance of "early detection of the complication" and "quick referral so that timely management may be instituted to avoid long-term complications". "Reversibility depends on a few factors: Time of presentation, type of injectable used, site of vessel blockage and extent of vessel blockage."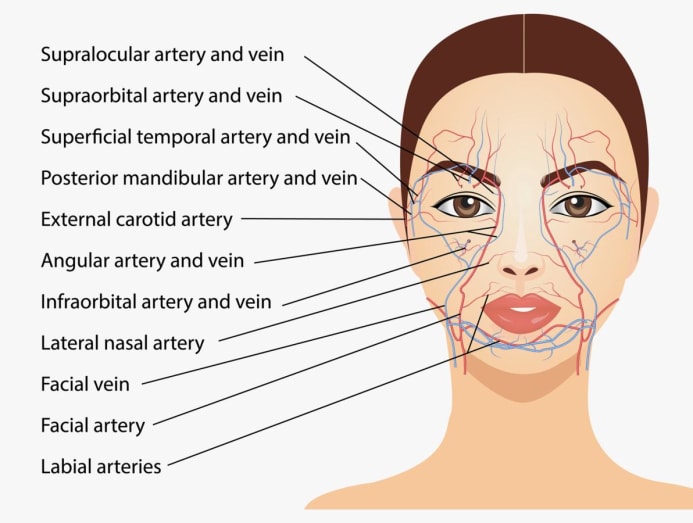 SHOULD I AVOID GETTING FILLERS NEAR MY EYES?
"Good knowledge of facial vascular is important for all practitioners," said Dr Chung. "The eye socket region and eyelids have multiple blood vessels that may be inadvertently blocked during filler injections.
Dr Tan cautioned that there are some areas that are considered "danger zones" such as the glabella region (consists of the forehead, between the eyebrows and above the nose) and periorbital region (the areas surrounding the eyes). "The injector needs to have a thorough understanding of facial anatomy and has experience in performing filler injection."
Dr Chung added that "with frequent injections of facial fillers, one does carry a higher risk of having complications". "But this goes the same for any procedure, not just filler injections. Even with seasoned practitioners, complications may happen."