Where does hair grow the fastest or slowest – on your head or body?
CNA Lifestyle asks the experts some hair-raising scientific questions you've always thought about. Like 'Why do old people have bushy eyebrows?' and 'how long can armpit hair grow?'
Regretted the time you got a fringe to look like Zooey Deschanel and ended up more like Helga Pataki from Hey Arnold? Or conversely, what about that time you had a few sessions of IPL hair removal treatment and still came out looking like Cousin It?
We've all had our moments when we wished our hair grew back faster or not at all. Unfortunately, hair growth is a very fickle thing – depending on where it is on your body and even your age and gender. 
To get into the, ahem, root of the matter, CNA Lifestyle asked some hair experts some hair-raising questions you might be curious about.
WHAT'S THE DIFFERENCE BETWEEN HAIR ON YOUR HEAD AND EVERYWHERE ELSE?
First up, all hair grows at an average rate of about 0.3mm a day, said Dr Calvin Chan from Calvin Chan Aesthetic & Laser Clinic. The difference between head and body hair is the duration of their growth.
Hair on the underarms, legs and pubic areas stops growing after three to six months. And even if you've never shaved at all, there's a limit to the length, ranging from 2.7cm to 5.4cm long.
Meanwhile, the hair on your head continues to grow for much longer – two to six years – before stopping, said Dr Eileen Tan, a dermatologist from Eileen Tan Skin Clinic & Associates at Mount Elizabeth Novena Hospital.
WHY DOES YOUR FRINGE SEEM TO GROW OUT SLOWER (OR FASTER) THAN OTHER PARTS OF YOUR HEAD?
It might just be psychological or visual trickery. If you're growing out your fringe, it may appear to lengthen slower than you wish. Conversely, if you find it a chore to trim your fringe every so often, it "may seem to grow faster because you are paying close attention to its growth", said Dr Chan.
But no amount of wishing will change the fact that hair grows at the same average rate of barely 1cm a month, regardless of whether it's at the front, back or side of your head. That said, he pointed out that every follicle grows independently.
"It's affected by factors ranging from genetics to hair type, and hormones to mechanical actions like tugging and physical stress."
And as for the idea that trimming hair actually encourages faster hair growth, Dr Tan said you should forget about that technique. It'll remove the dry, brittle hair ends and reduce hair breakages but that's about it, she said.
CAN HAIR GROW FASTER OR THICKER ON ONE SIDE?
The jury is still out on this one but some believe that this has to do with you favouring your dominant hand and arm for your daily activities. And because one side of your body gets more movement and exercise, the circulation may be more robust. For instance, if you're right-handed, the hair growth in your right armpit may be faster and thicker than the left.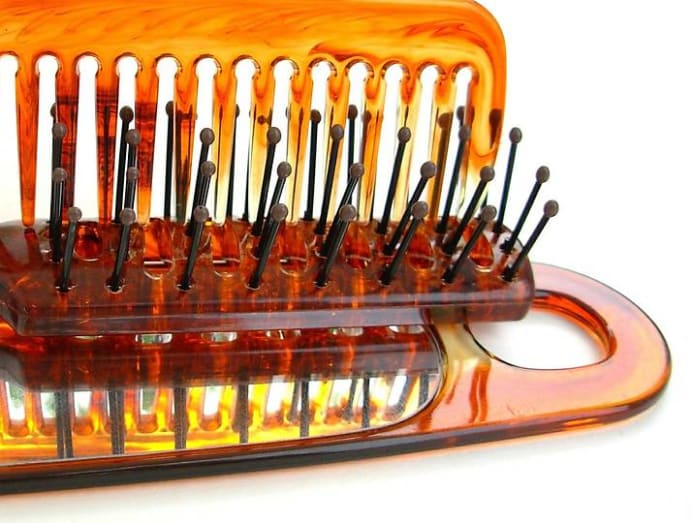 But Dr Tan said: "There is no scientific evidence that I could find in medical literature to prove that hair on the dominant side grows faster and in greater number. I have not observed this phenomenon in my patients either so far."

Your fringe may seem to grow faster because you are paying close attention to its growth.

On the contrary, if you notice hair on one side of your head getting thinner or breaking, you might be brushing or combing that side a little too hard with your dominant hand, especially when you're just out of the shower. "When damp hair is combed, it stretches and is unable to snap back into shape like a rubber band, thereby breaking," said Dr Chan.
His tip: Let hair air-dry naturally. If you must comb it when it's wet, use a smooth, wide-toothed comb to lessen tugging.
IS IT TRUE HAIR GROWS FASTER IF YOU'RE MALE AND UNDER 30?
"The rate of hair growth is probably a result of evolution and genetic make-up," said Dr Tan. "Stem cells, which developed from the embryonic stage, will orchestrate the cellular cycle and turn-over time."
On average, "people lose around 50 to 100 hairs from their body every day as part of the normal hair growth cycle," she added.
However, there are some factors that may speed things up a bit, according to London's The Trichological Society. For instance, men's hair – both on the body and head – grow faster than women's. Your age also plays a part; hair grows fastest between the ages of 15 and 30, before slowing down or even stopping growth altogether.

WHY DO OLD PEOPLE SEEM TO HAVE LONGER, BUSHY EYEBROWS?
Older men and women do not necessarily grow longer eyebrows. It's actually more about their skin than hair growth, said Dr Baiju Gohil, a US board-certified surgeon from Robotic Hair Restoration Long Island. "As we age, skin sags and loses its fullness, making the eyebrow hairs appear longer, even though they are the same length".
Having said that, hair also grows differently as we age, he added. "The keratin within each hair is not arranged as precisely as we get older, allowing keratin fibres to bend more easily than they used to. These more flexible hairs are not aligned with the others anymore in their usual eyebrow formation, and become more visibly apparent."
Furthermore, your hair becomes more sensitive to hormonal changes, especially testosterone, as you age. "After menopause, oestrogen levels in women decrease, and the influence of naturally occurring testosterone in females is not counteracted, which may lead to more pronounced eyebrow hair," said Dr Gohil.