This mumpreneur got through a teen pregnancy and job rejections – she's now designed a hands-free breast pump
Mother-of-four Stacy Chow understands just how stressful breastfeeding can be. She tells CNA Women how her own search for a wearable breast pump led her to design her own, and how she found purpose in helping new mums in every aspect of their breastfeeding journey.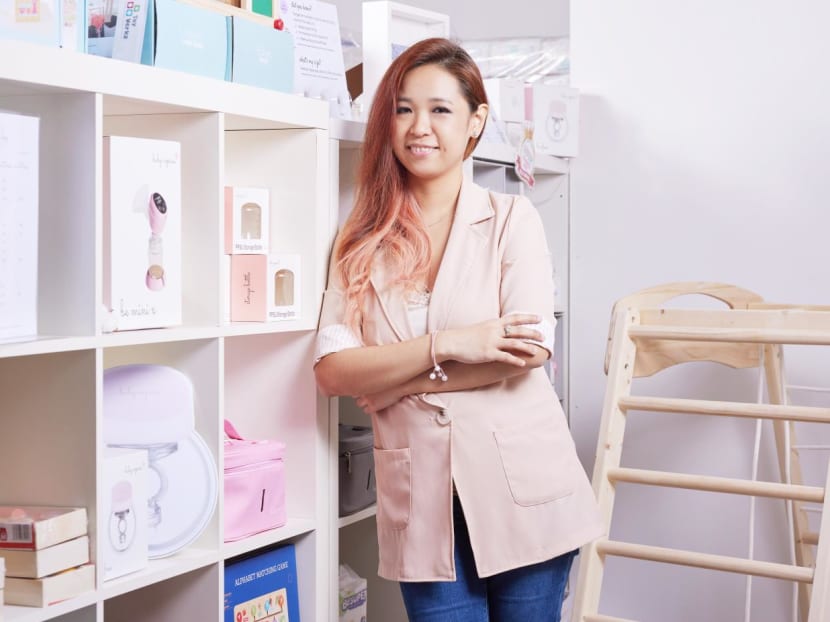 When Stacy Chow was pregnant with her fourth child in 2019, she was determined to find a job to contribute to the family's finances. She had stopped work after having her second child to care for her kids, and previous job searches had been unsuccessful. For a period of time, Chow was a home baker and a stay-at-home mum selling miscellaneous products to supplement the family's income. 
In order to prepare for her return to the workplace, she began searching for a breast pump to express milk for her baby while at work. But the ones available on the market were not only costly, they were also inconvenient to use, the 34-year-old said. 
Chow explained that she had breastfed her two oldest kids for only a short time because her job as a salesperson then made it challenging to continue nursing. She had to juggle meeting potential customers with expressing breast milk and storing it while on-the-go. 
Back then, I even had three jobs at one point to earn more just so I could give my son a better future.
Moreover, the breast pumps then were big and heavy, with tubes everywhere. You had to look for an electrical outlet and stay put while you were expressing, she told CNA Women. Hands-free breast pumps were beyond her budget – these were imported from the US or UK and cost more than S$1,000.
DECIDING TO DESIGN HER OWN BREAST PUMP
That search for a breast pump evolved into something else. Chow had an idea to develop a breast pump that was both affordable and user-friendly, so she studied what was on the market, figured out the tech behind them, and then searched for factories that could turn her design into reality.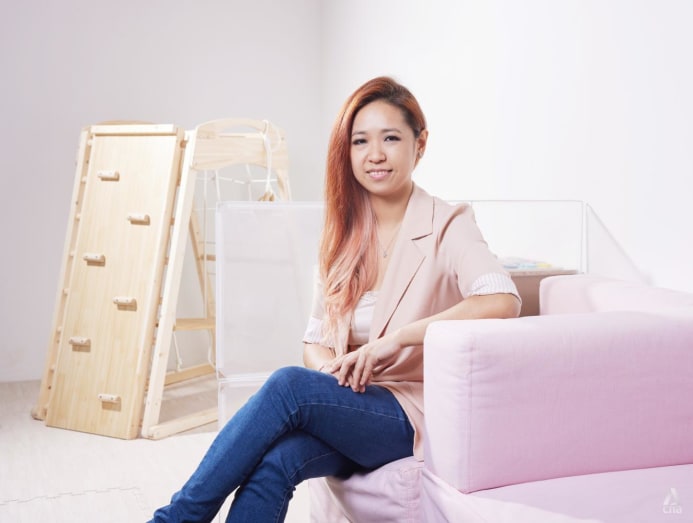 "We found companies that were already in the midst of inventing wearable breast pumps, so we worked with a factory and gave them feedback on the considerations that mummies should have," said Chow. The factory she found in China helped to modify and improve on her design, which eventually became the Be Mini, a portable breast pump.
Chow then launched her online business, Baby Express, in August 2019, to sell the Be Mini. Priced at S$89.90, sales grew quickly through word of mouth and referrals, and within a few months, she went from selling just two units a week to 20. Chow also expanded the business to include other products such as baby teethers and travel pouches. 
As much as we are selling a product, we like to emphasise to mummies that not being able to breastfeed is not a problem at all.
Her second breast pump, Be Free, a hands-free design, was launched in 2020. This one, priced at S$99.90, can be tucked into the bra so mums can express milk discreetly, whether at their office desk or on the go. It's discreet enough that it isn't noticeable under loose-fitting clothes.
Chow is now preparing to launch her latest design, the Be Nude (S$97.90), which is similar in design to a breast shield and allows for even more discreet pumping. It's now open for pre-order and stocks are expected to arrive in the first week of October.
PROVIDING ROUND-THE-CLOCK ACCESS FOR NEW MUMS TO GET HELP
These days, Chow's focus is on helping mums on their breastfeeding journey. But there was a time when she was the one who needed support. 
Chow was just 17 and still in school when she got pregnant. She decided to keep the baby and raise the child as a single mum. After her son was born, she was able to work full-time thanks to her supportive parents and godparents, who stepped in to help with child-minding.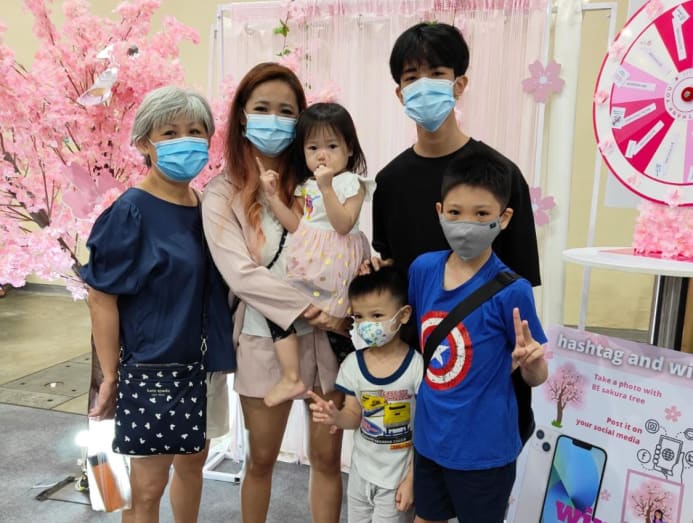 "Back then, I even had three jobs at one point to earn more just so I could give my son a better future," she said. Chow met her husband three years after her son was born, and has three children with him. 
That ease of support from others is what drives Chow's philosophy for her business today. She is passionate about providing mothers – especially first-time mums – easy access to help, especially those who are struggling to breastfeed and express milk for their newborns.
"We understand the situation and provide a hotline where mothers can just text us and we'll explain to them how it works," she explained. Mums ask questions about how to clean the breast pump, how often to express milk or what food to avoid while breastfeeding.
Chow herself, with the help of colleagues who are mothers themselves, attend to the questions. As much as she can, Chow personally replies to messages.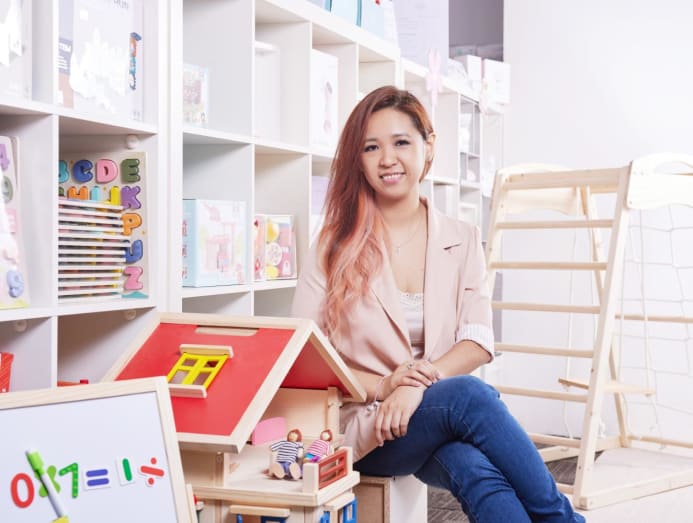 "We are replying to messages into the wee hours – including helping mothers who are pumping between 1am to 4am. That's the crucial pumping time," she said.
It's tiring, to say the least, but what has kept her going are the women she has helped. "Because of our assistance, we've got mums who manage to breastfeed up to six months and to a year, which is extremely rewarding," Chow said.
EXPANDING HER TEAM AND GROWING THE BUSINESS
In the beginning, Chow invested S$2,000 into research and development, which allowed her to make a small batch of breast pumps. She asked her friends to test them and gathered their feedback.
She told CNA Women that whatever she made at the start was pumped back into the business to manufacture more breast pumps. To keep her costs low, she packed and posted orders herself, and also built the website from scratch.  
Sales grew so much that in late 2019, Chow asked her best friend to take charge of marketing in the company. And business hasn't let up three years on, even with the COVID-19 pandemic.  
In fact, Chow said there was an increase in sales during the pandemic, with their round-the-clock helpline proving helpful to mothers. The company now sells more than 500 breast pumps a week and there are plans to expand into Southeast Asia in the last quarter of the year, including Malaysia, Indonesia, Thailand and Vietnam.
This year, Chow also started attending courses to become a certified lactation consultant and postpartum doula, to ensure that she has the skills and knowledge to help mums correctly.  
"We don't pressure the mothers to pump. As much as we are selling a product, we like to emphasise to mummies that not being able to breastfeed is not a problem at all. We want to tell mothers that there's a community here who can help each other – there's no shame in saying you can't breastfeed," she said.
CNA Women is a section on CNA Lifestyle that seeks to inform, empower and inspire the modern woman. If you have women-related news, issues and ideas to share with us, email CNAWomen [at] mediacorp.com.sg.