CNA Leadership Summit 2022: Speakers call on women to aspire to become leaders
Effecting change requires a mindset shift among women and within companies, as well as strong mentorship and role models, said leaders at the summit.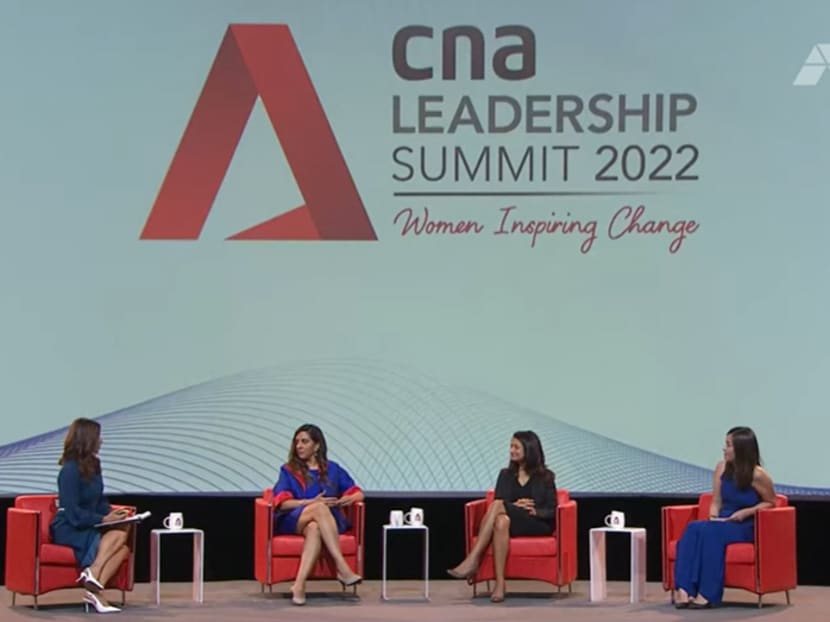 This year's CNA Leadership Summit saw women leaders in various industries calling on their peers to step out of their comfort zone and into leadership roles within their companies. 
The summit, held on Tuesday (Mar 8) – International Women's Day – was themed "women inspiring change", with Minister for Communications and Information Josephine Teo as guest-of-honour.
Speaking to CNA938 presenter and host of the women's programme The XX Files Yasmin Jonkers, Mrs Teo said there has been a "tremendous amount of progress" in terms of opportunities in Singapore, but "still a lot of room for improvement".
"It's not uncommon these days in every occupation to see women … but as the years pass and as we go further up the ladder, and when you look into the C-suites and if you look into the boardroom, the numbers are still relatively small; they can be better," said Mrs Teo.
"I'm quietly hopeful that in my lifetime, we will be able to see, even at the highest echelons, much more equal representation of men and women," she added. 
Also speaking on Tuesday was Jane Sun, CEO of online travel agency Trip.com. 
Sun, who is one of the most renowned faces for tech in China and consistently listed as one of Fortune's Top 50 Most Powerful Women in Business in recent years, said women have many strengths that they should take advantage of. 
"Males and females bring different strengths. Females are very good with putting themselves in other people's shoes, very good with communication, very good with team building and are very willing to make personal sacrifices for the best interest of the team," she told CNA presenter Julie Yoo. 
She said women are also "good with empathy" and that these are all "very good traits", but women could benefit from trusting their own decisions and to be as confident of these decisions as their male counterparts. 
As CEO of a company with 40,000 employees, more than half of them women, Sun urged women to encourage each other to "push themselves out of their comfort zone". 
There have been many instances when she would see male directors asking for a promotion or a salary increase, but fewer women do so, she said. 
"A lot of times I have to ask the female leaders to come to my office (so I can) personally encourage them to go through the promotion (process)," said Sun, adding that many women insist on waiting a few more years.
"As a working mother, I totally understand how much they're taking on, but if you have done a tremendous job, you deserve a promotion," she said. 
Maria Ressa, CEO of media company Rappler and Nobel Peace Prize laureate, also spoke about empathy.
As a veteran journalist, she said, she had been trained to view masculinity as strength and to adopt it for her own benefit. For example, she shared how many years ago, a superior had asked her to "go drink some brandy" to deepen her voice. 
"You realise everyone has stereotypes of strength. But the real strength comes from within … We need the empathy that women bring in," said Ressa. 
"We need to reassess what strength means at a time when lies and bombastic statements are crowding out our humanity. We have to go back to that because that is how we will get through this time," she added.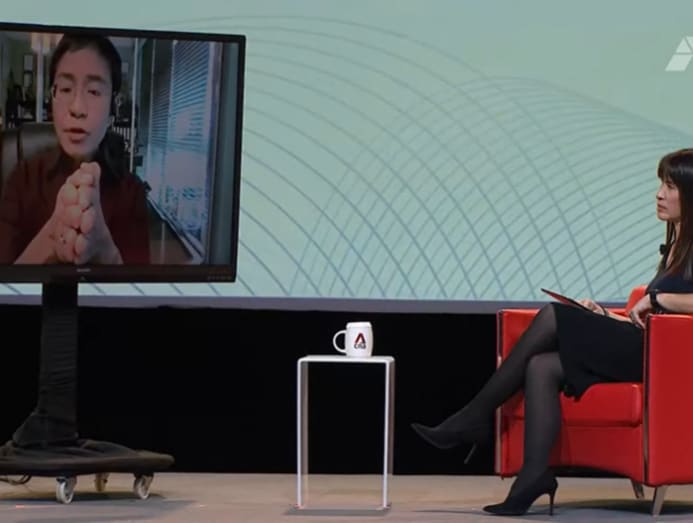 In a panel discussion, speakers Sapna Chadha, Vice President of Marketing for Google Southeast Asia and India, together with Tay Hwee Leng, Head of Business Strategy, Risk & Governance, RBC, and Ritu Chandy, Head of BMW Group Financial Services Region Asia-Pacific, also spoke about what was required from companies to ensure a conducive environment for more women to penetrate the boardroom and beyond.
When it comes to encouraging women to not only enter industries like STEM but also thrive in them, there has to be a "mindset shift", said Chandy, which can be supported with "strong engagement from mentors".
"There is a relatively reasonable proportion of women that actually enter fields like engineering or IT. It's post joining the workforce, post potentially taking maternity leave … usually the pyramid gets narrower and narrower the higher you go up the pyramid.
"That's what we really need to address here. For me, it's got to be about setting those intentions, ensuring we have the right role models with the right conditioning, so we're able to break those unconditional biases in those conversations in the boardroom," said Chandy. 
Missed the summit? Watch the replay:
CNA Women is a section on CNA Lifestyle that seeks to inform, empower and inspire the modern woman. If you have women-related news, issues and ideas to share with us, email CNAWomen [at] mediacorp.com.sg.