'Isolation freed me': How COVID-19 drove this entrepreneur to advocate for mental health
When you go into isolation, whether at home or at a facility, you're helping protect others from disease. What people forget is that you also need to take care of yourself, says Bella Khaja.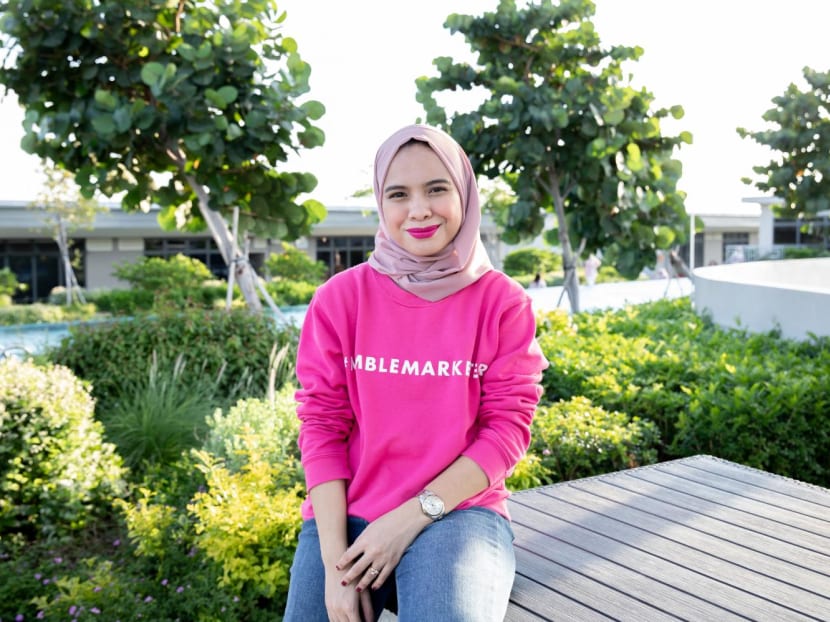 As the owner of a marketing agency and digital academy, 35-year-old Bella Khaja was already struggling to ride the rapidly turning tides of the pandemic. Clients were scarce and any group workshops she managed to book often had to be suspended or moved online practically overnight due to restrictions.
Then, she was served a quarantine order (QO).
Bella was conducting a training session at a school when a member of her staff was notified that she was in the KTV COVID-19 cluster. 
The cluster was first discovered in July, sparking a probe into KTV lounges that were operating as food and beverage outlets. The cluster was closed on Sep 8 after 28 straight days of no new cases. 
"I was told she was in the cluster and had to be sent home immediately," Bella told CNA Women in a virtual interview. "I had been in close contact with my staff and now I found myself in a room full of children. I was thinking, 'what does this mean for the children?'
"There was a lot of anxiety. It caused a big ruckus."
Bella said before experiencing a quarantine order personally, she didn't really understand what it meant.  
"Despite knowing about COVID-19 for two years now, I don't think we have understood what really goes into a quarantine order. At first I thought, 'What's so difficult about being isolated?'" 
The first thing she struggled with was the dearth of useful and practical information. Despite thousands now having served quarantine due to the pandemic, Bella said research on what to expect turned up empty. At the time she could only find one article about quarantine orders and it hardly addressed her questions.
"Even the related hashtags on Instagram had only food flatlays.
"Some people might think of it as a staycation, as a break, and they might bring things to get rid of boredom. Their priority is to get rid of boredom," she said. 
What she wished someone had told her to bring were things like health supplements and socks.
"When you're in an airconditioned room for long periods of time, you're going to fall sick," she said and that was what happened about 10 days into her quarantine at the Furama RiverFront hotel. 
Bella developed a flu and was transferred to a COVID-19 facility in Changi, where she was told her quarantine period could be extended. 
Bella had been counting the days to her exit swab, which if negative, would've allowed her release. The thought that she would be further removed from the world terrified her.
"I had a meltdown when I heard that," she said.  
"THE FEELING OF BEING TRULY ALONE"
Bella said the biggest thing she wished she had been prepared for was loneliness. 
"The impact of isolation is the feeling of being truly alone," she said.
Even speaking to her husband and other family members on video calls was "not that helpful". 
"I was serving quarantine during Hari Raya Haji and seeing my family members only reminded me that I was so far away," Bella said. 
That, and the lack of information and community around the issue, led Bella to begin logging her experiences on Instagram, where she drew the attention of others serving their quarantine order or had family members who were. 
Each day, she posted Instagram Stories to give her followers a glimpse of life in quarantine, update on her progress, and to share her thoughts and emotions. 
Through Bella's recordings, followers heard the multiple announcements residents received daily on the hotel's public address system, saw how her meals were placed under a chair outside her room for her collection each day and watched her create alternative food options using a steamer her neighbour had gifted.
Bella also went on hour-long Instagram Live videos with friends who interviewed her on her experience and discussed ways to make quarantine more bearable. 
These videos continued even after Bella's quarantine period was over, but evolved into interviews with others who had their own "stories of resilience" to share.  
In these sharings, Bella said she strove to represent "what QO is really like by not painting a beautiful picture of it".
It comforted her in her loneliness and gave her a sense of purpose.  
"A girl thanked me because now she knew what her dad, who was serving QO at the same hotel, was eating because he didn't tell her," said Bella. 
One video, in which she warned people against falling sick during QO, hit 138,000 views, said Bella. 
"That's just mad. But because I was crying in that video and I felt so sad watching it, I eventually deleted it. I couldn't stomach watching myself at my lowest point.
"I'm Type A and I've never really had a weak moment. QO made me vulnerable," she said. 
Through her advocacy work, Bella made many friends. Predictably, she also received some negative responses.
"I experienced gaslighting. Someone (from a neighbouring country) messaged me to tell me I should be thankful to even have a bed. She said … they didn't have it easy," Bella told CNA Women.
A lot of people don't like to talk about negativity. I don't like to either, but the reality is that I'm a human being and this is what being human means.
"Even though I wasn't being indulgent, it was still offensive to others. I felt I shouldn't be attacked for sharing, but I also realised different people have different pressure points and that I had to be contextual with what I posted. The pandemic has exposed us to different stressors."
Bella began to make it a point to frame certain situations to be more compassionate towards others, but continued to share. 
"A lot of people don't like to talk about negativity. I don't like to either, but the reality is that I'm a human being and this is what being human means."
"QUARANTINE IS NOT A STAYCATION"
As the sole director of her company, Bella is responsible for the wellbeing and productivity of her team, and oversees all client projects. 
Being placed in quarantine put her in a spiral of guilt and anxiety. 
"I was honestly afraid of losing my jobs … I know there are people who use this time of isolation to get to know themselves better or even get away from problems. They use this isolation as a runaway tool. 
"But I wasn't running away from anything. I was used to my routines," said Bella. 
Sticking to her work routine, especially, proved almost impossible, thanks to environmental factors such as spotty Wi-Fi and constant interruptions due to medical checks and inspections.
"If you're in quarantine, I think you should be given 14 days of leave to focus on yourself. You can't possibly be working full-on. There will be knocks on your door, there will be medical checks … so you have to be clear with your boss and colleagues – you're not going to be 100 per cent yourself," she said, adding that this also applies to those isolating themselves at home.
For business owners, who "still have to work", the reality is that some clients "may not be sympathetic to the cause – to them it's business as usual".  
But something had to give and so she put some work on hold, even if it came at a cost.   
"I took three weeks post-quarantine to just get back in the zone. And until today, I'm still picking up the pieces," said Bella. 
Today, Bella continues to receive direct messages on social media from people who want to share their experiences with quarantine, home recovery and the COVID-19 situation in general.
"Some people's stories are just so sad. One piece of advice for those who know others who are going through quarantine: Be empathetic. Those in quarantine are not on staycation – they are going through a very difficult time. 
"Our society needs to be more forgiving. We are so demanding … Everyone is going through something. I think we need to be more considerate of their issues."
In the current COVID-19 climate, her company continues to be challenged to live up to its name – Nimble Marketing Consultancy – but the new Bella is making slower, more measured moves, even going back to school in a way, having signed up for former Girlboss and Nasty Gal founder Sophia Amoruso's eight-week entrepreneurship course.
From being a well-known "hustler" within her own circles, Bella said she now advocates for "taking a pause" and herself moves at a slower pace, at work and at home.
"Even as a business owner, you don't have to hustle every day. It's okay if you're not okay. To be a better business owner and a better leader, you have to take better care of yourself.
"QO freed me from hustler mode. Ironically, isolation freed me."
CNA Women is a section on CNA Lifestyle that seeks to inform, empower and inspire the modern woman. If you have women-related news, issues and ideas to share with us, email CNAWomen [at] mediacorp.com.sg.