Creative Capital: The Singapore duo who wants to dress women charting their own paths
Joanna Lim and Joanne Quak of B-NARY are carving their own niches in the fashion industry themselves, all while working full-time jobs, among other commitments.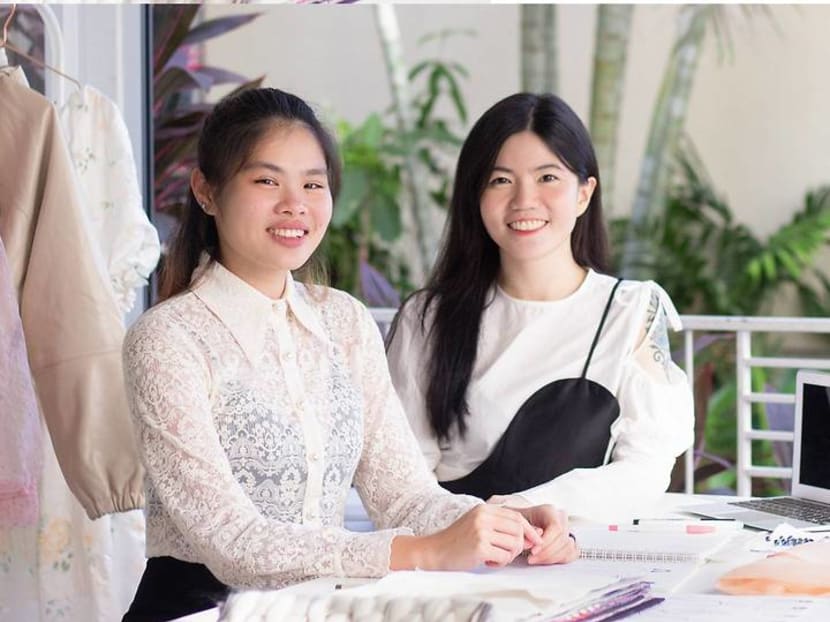 I am always impressed by individuals who run businesses and hold down full-time jobs at the same time. For some of them, there's not much of a choice; you need to bring home a salary while also funding your aspirations.
It is admirable that after clocking in a full day of work – instead of hanging out with friends or lying on the couch and Netflix-ing – these go-getters have the the energy, drive and commitment to make their dreams tangible.

Joanne Quak (JQ) and Joanna Lim (JL) are such examples. They met at the Lasalle College of the Arts while studying for their degrees in fashion design and textiles. Both decided to do something together, so after graduating in 2017, they launched the women's fashion label B-NARY (also known as B1NARY) in late 2019 – all while holding down respective full-time jobs.

WHAT WERE YOUR INITIAL THOUGHTS OF EACH OTHER? 

JL: We met in 2015 during Year 2 at Lasalle. I remember Joanne was so quiet when I first met her in the studio.

JQ: I bet Joanna does not think I am quiet now! I always thought that she was really smart and knew what she wanted. She came across as a very decisive individual, which I liked and appreciated.

JL: We actually complement each other, even though we are very different individuals. I guess that's because our characters gel. We can joke and be serious about things at the same time.

I GET THE SENSE THAT BOTH OF YOU WEAR A NUMBER OF HATS. ASIDE FROM B-NARY, WHAT ARE YOUR OTHER JOBS?

JL: My commitments are leasing assistance at Gaw Capital, and business development at Shopavision (a live-stream shopping app). I am also the founder and designer for my other fashion label, JOANNALSM. 
I guess I am just putting myself out there to understand how to run a business. On top of all of that, I am also involved in some freelance work. Ultimately, the main goal is to create art, wearable art. We are even brewing some possible exhibitions.

JQ: Currently, I work for Love, Bonito as their sourcing and production manager. It is a role that keeps me inspired and I am excited to see how I will be able to contribute to the growth of a local brand.

HOW DO YOU JUGGLE THE TIME FOR B-NARY AND YOUR OTHER PROFESSIONAL COMMITMENTS?

JQ: Plan ahead, plan well. Always set your priorities right and be realistic that you cannot achieve everything at the same time.

JL: Having discipline and good time management skills. I obsessively plan my day-to-day schedule. If you were to see my Google calendar, it's always fully packed. I just have to follow what I have planned. But at the same time, I do set aside "me" time.

WHEN DID YOU START DISCUSSING WORKING TOGETHER ON B-NARY?

JL: We started discussing about it in 2017, during our third year at school. But it only officially started at the end of 2019 with our first collection. 
It kind of dragged along because of our other work commitments, but we were always talking about doing something together even before we graduated.

HOW LONG DOES IT TAKE TO GO FROM INITIAL CONCEPT TO ACTUAL LAUNCH?

JQ: Developing the initial concepts is usually quite quick as we take inspiration from lifestyle patterns that we observe in our own lives. 
However, bringing our concept to life involves drawing up numerous print sketches, working on design details, experimenting on garment silhouettes, and then, the actual production. That usually takes us around six to nine months. 

HAS THE BRAND'S CONCEPT CHANGED ALONG THE WAY OR HAS IT STAYED TRUE TO YOUR INITIAL IDEAS?

JQ: It has definitely changed. Maybe because I keep changing as the years go by (laughs). We've gone through multiple brand name and concept changes.

WHAT DOES THE NAME B-NARY MEAN? HOW DID YOU ARRIVE ON THE BRAND NAME?

JL: B-Nary or B1NARY to us means the balance of two different parts. Both of us have very different personalities and styles, and even very different skill sets. Yet, we have come together to create the balance that we want to define our brand. If you think coming up with a name is easy, think twice!

WHO DOES WHAT FOR B-NARY? HOW DO YOU JUGGLE THE RESPONSIBILITIES?

JQ: It's a 100-per-cent collaborative effort; we don't split hairs here. But what we focus on relates to our respective profession. While we enjoy designing the collection together, I focus a lot more on the sourcing and production aspects.

JL: I definitely focus more on the business side of the company, finding more ways to put the brand out there, and liaising with different vendors and companies.

WHO IS THE B-NARY WOMAN? WHO ARE YOU DESIGNING FOR?

JQ: When we started out, I knew that our brand would be representing different types of women in Singapore. It doesn't always have to be the feminine OL (office lady), you know. I would like the B-NARY customer to be someone who isn't necessarily regular, someone who is passionate about forging her own path.

JL: We want to reinvent and define style for the women who lives in a fast-paced society.

IF YOU HAD TO PICK A HERO PRODUCT, WHAT WOULD IT BE?

JL: Most of our tops are hero products. We have the Egle lapel collar shirt that is designed with a textured, dot organza fabric, and embellished with gold buttons. We also have the Nadja knit top with a toga cut-out, which is designed as a versatile piece. 
Most of B-NARY's garments are versatile and easy to pair with each other or with other clothes. Our tops could easily be worn with a pencil skirt or pants for a more corporate look, or a mini, flirty skirt or shorts for a casual look.

WHAT MAKES B-NARY SPECIAL?

JQ: We dare to make unusual design choices.

JL: Definitely the style. Also, the versatility and functionality. We love a good, basic outfit that can still be stylish at the same time. When we design, we don't do so based on the spring, summer, fall or winter season. We design with our consumers in mind. 
Ultimately, we wanted to create something that either of us would want to wear because who can better represent the brand than us? So while designing for our consumers, we also see ourselves as customers. B-Nary is something that we can really relate to.

I do think that you should wear and buy items that you love and want. You don't have to follow the mass market. Just be you. And if that means supporting local independent labels, that's great.

SPEAKING OF LOCAL BRANDS, HOW SUPPORTIVE ARE LOCAL CUSTOMERS?

JQ: Personally, I feel that local customers are eager to support local brands. But I don't expect people to buy from us because of that. I would expect them to behave just like any consumer would, choosing and buying a product that they love or can relate to. 

JL: It takes a while for local customers to opt for more unique and indie brands as compared to fast fashion labels but they are warming up to local brands and talents. 
There are more and more talented designers out there who want to make a statement for themselves – and I think it's brave. Not many would have the courage to choose creating their own fashion labels over a full-time, stable job. 
IS HAVING YOUR OWN BUSINESS SOMETHING YOU HAVE BOTH WANTED SINCE YOUNG?

JQ: No. I wanted to be a forensic investigator!

JL: It's funny that we recently found out that we both had an interest in the forensic field; I wanted to be a forensic pathologist, or a heart or brain surgeon. I love science, I love biology and chemistry. I can still remember the periodic table and the elements' proton numbers! 
It was in junior college when I decided that, "Yeah, I want to have my own business one day". I don't necessarily want to work for people in the long run. For exposure, sure. But in the long run, I do wish that some day, I will have my own atelier. I think that would be a huge achievement for me.

WHAT IS THE HARDEST THING ABOUT BEING AN ENTREPRENEUR THAT NO ONE TOLD YOU ABOUT?

JQ: Handling finances and taxes. They don't teach enough of that in school.

JL: Definitely finances. I'm good with numbers and Excel, but I think this is at another level.

WHO OR WHAT INSPIRES YOU?

JQ: Rei Kawakubo and my parents. Rei Kawakubo is such a radical, fearless designer. I hope to gain enough confidence to be as fearless someday. 
As for my parents, I guess I come from a pretty hippie household, which is rare in Singapore. And it definitely shaped and inspired who I am today.

JL: If you are talking about fashion designers, I would say Alexander McQueen. His attitude towards fashion, his dramatic designs and presentations of fashion shows are so raw and powerful. It's the story behind each collection that speaks to me. 
He has proven time and time again that there is no limit when it comes to art and fashion. You can literally transform anything into fashion. 
It's because of his concepts and meaning behind each collection that direct me to create every collection with a story. I don't exactly want to follow the season or the trend. I create a collection based on what's going on, and I believe we, as designers, are the one who can set the trend.

ANY EXCITING PLANS FOR THE REST OF THE YEAR THAT YOU CAN SHARE?

JL: We are looking into sustainability and expanding our assortment into unisex and menswear. We will also be working with a charity or NGO through which we can give back to society and to those in need. This could take a while to formalise, so it may end up launching in 2022.