She had two brain aneurysms and a stroke in a year: One woman's journey to recovery
Having to relearn simple things like walking, reading and making a cup of coffee showed entrepreneur and communications specialist Dominique Low that she is stronger than she had thought.
Sitting across from Dominique Low, you would never suspect that little more than a year ago, she was fighting for her life in the intensive care unit (ICU) of Tan Tock Seng Hospital.
To this day, the founder of Wanderlust Brand Communications has little recollection of what happened that fateful day in August 2020.
"I was in the bathroom and one of my cats had followed me in. The next thing I knew, I saw stars and collapsed onto the floor. And when I came to, it was to my cat's yelping. I recall it being really loud and he was jumping on me, so I think he knew something was wrong," the 49-year-old recounted.
Somehow, Low managed to open the bathroom door, where her partner saw that she had a huge bump on her head where she hit the floor.
"I managed to look in the mirror and realised that my arms kept shaking and I was still seeing stars, so he rushed me to the hospital, which turned to be an extremely good thing."
Even Low's partner, 47-year-old Greg Rawson, who co-owns the consultancy, had no idea how bad the situation was as she was still able to ask questions and give instructions during the car ride.
A RUPTURED BRAIN ANEURYSM
At the hospital, Low was sent for a CT scan and the doctors told Rawson that Low had a ruptured brain aneurysm – and that it would have to be treated immediately.
An aneurysm is a bulge in the blood vessel that can result from a weak blood vessel wall. This causes pressure to build up as blood passes through, causing the vessel to expand outwards like a balloon.
The heart and brain are the most common places for it to occur. In the brain, it can cause bleeding that can lead to haemorrhagic stroke, or worse, death.
Low was then whisked into surgery. Upon cutting into the area, the doctor found another aneurysm, just next to the one that had ruptured, which hadn't come up in the scan.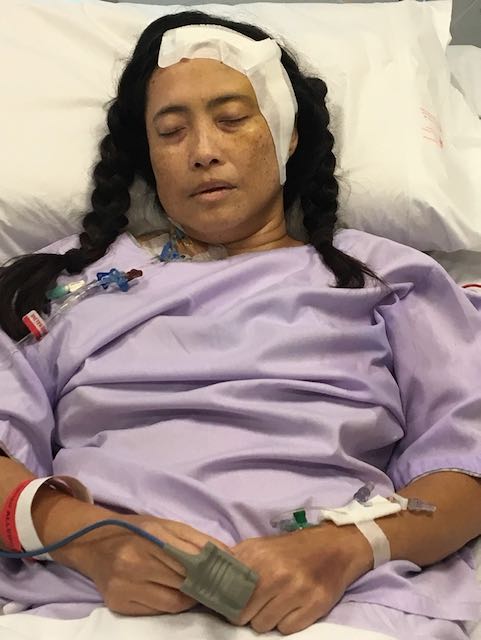 The surgery took six hours, and for it, Low said that they had to shave her hair and cut through a muscle membrane to get to the aneurysm.
"The muscle membrane is elastic, so after they cut through it, it kind of collapsed," Low explained as she showed me the slight depression near her temple.
Once out of the operating theatre and in the ICU, Low said she was doing fine at first, although she doesn't remember much of her days there.
"I think I was only consciously present in the later part of my recovery, but in-between, I was definitely in and out," she said.
A SUDDEN STROKE WHILE IN ICU
But one week after the surgery, Low found herself back in the operating theatre fighting for her life once more.
"One of the side effects of any brain surgery is that the patient could suffer from a haemorrhagic stroke (where blood from an artery begins to bleed into the brain after a blood vessel bursts)."
The result: The left side of Low's face started to droop. Low said she was fortunate because the nurses checked on her hourly and caught the stroke in time, and were able to rush her back into the operating theatre.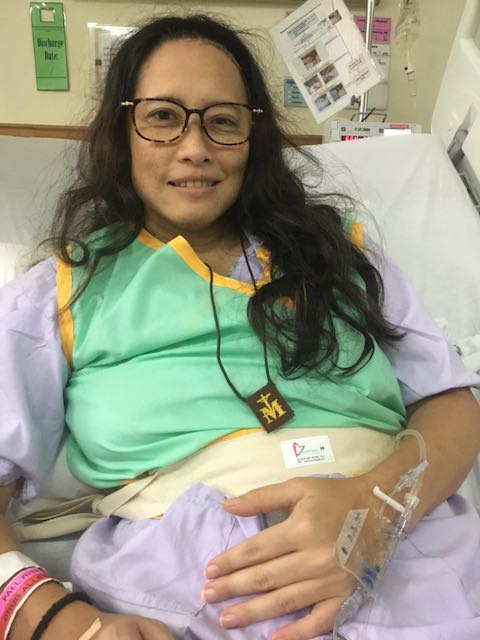 "My doctor managed to pump some medication directly into my brain to stop the stroke.
But the downside was that things became challenging for Low again. "I had heard that patients who have had brain aneurysms but didn't get haemorrhagic strokes would have a slightly better recovery process."
THE REAL RECOVERY PROCESS
After a month in the hospital, Low was moved to Thye Hua Kwan Hospital in Ang Mo Kio for her rehabilitation and recovery.
And she had her work cut out for her.
The combination of two brain aneurysms and a stroke had left her unable to function as she had done before.
"Because of the stroke, my right leg couldn't move properly so I couldn't walk normally. And on my left side, I was unable to balance well. So I couldn't even take a step. I always felt like I was going to fall," she recalled.
To help her get back on her feet, literally, Low had a busy schedule at the rehabilitation centre. "I had to do different kinds of physical therapy, which included walking and going up and down steps. I had to do simple Pilates or yoga exercises that I followed on-screen. I also had to work on my coordination through ball throwing exercises, and there were mental exercises that involved matching type games on the iPad.
"The one thing I remembered most clearly during my time was that I was very tired."
Through it all, Low said that even though the nurses, doctors and even Rawson would tell her what she had gone through, she never fully understood it, until one day, when one of the doctors came in to check on her.
"She was telling me what had happened and then all of a sudden, I understood, and I went quiet. It's funny because it was not like people were trying to hide the situation from me, but I guess I didn't understand the significance till that day."
"I STILL DON'T KNOW WHY IT HAPPENED"
Low said she hasn't been able to figure out why the brain aneurysms happened, although her doctor told her that stress can play a big part, and that women tend to have a higher risk of getting it.
"I run my own company, and I remember I was juggling a few projects back then, and also taking care of some new businesses that were coming in. But I wouldn't say I was overly stressed, so I'm not really sure how it all happened."
The avid adventure sports enthusiast suspects that her less than healthy lifestyle – going to bed in the early hours of the morning after rushing to meet deadlines – her constant indulgence in desserts and an increasingly sedentary lifestyle because of the pandemic, might have contributed to it.
"I used to go on mountaineering expeditions – I've been up Mount Kilimanjaro in Africa, Mount Kinabalu in Malaysia and even to Everest base camp. We've been taught to believe that if you lead a healthy-ish and somewhat active lifestyle, something like this wouldn't happen to you. But it can."
She said the saddest part of the whole experience is that she's now unable to do anymore expeditions. Her doctor has advised her against it as it's unclear how her brain will be affected by high altitudes of 2,000m and above.
"My doctor said no high-elevation trekking for now," she said, explaining that another brain aneurysm could happen. "Although, I can get on a plane and fly."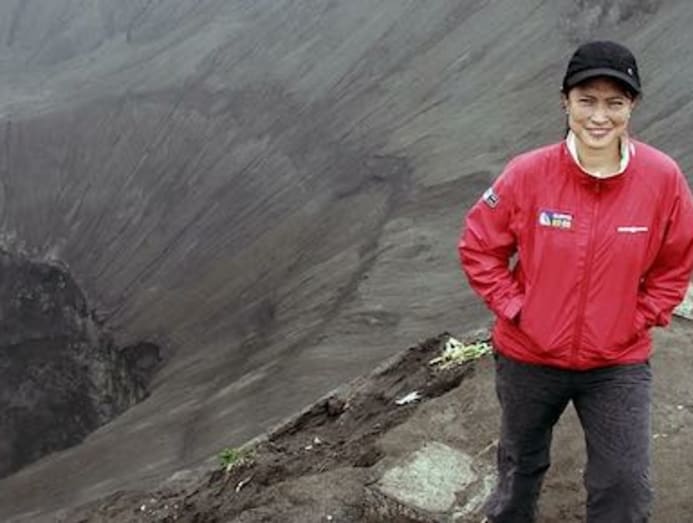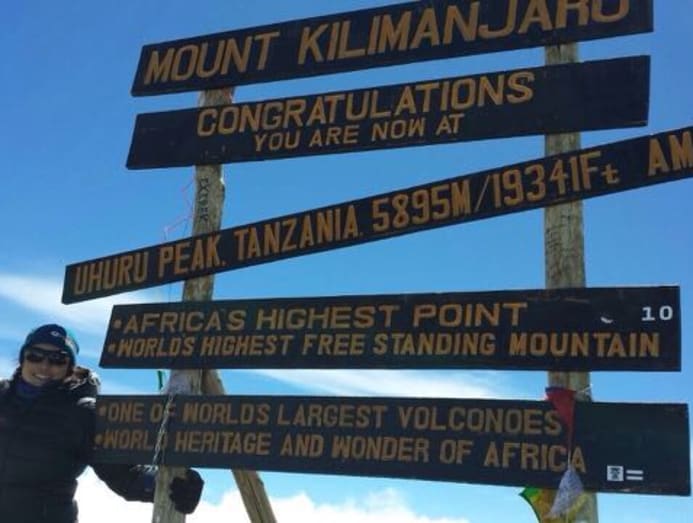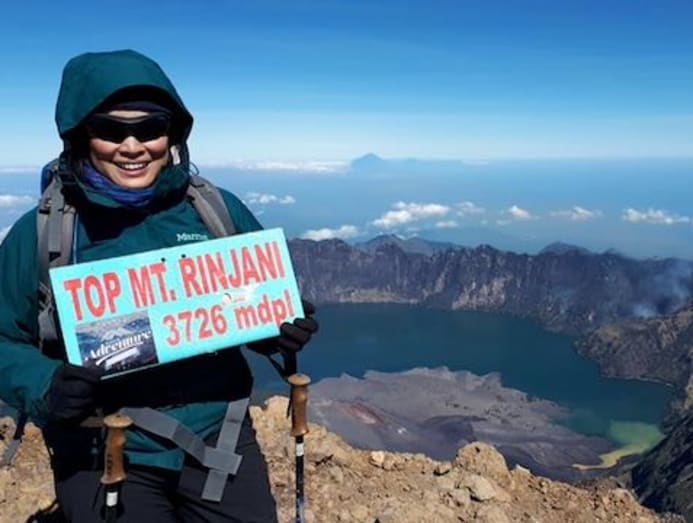 SUPPORT FROM FRIENDS AROUND THE WORLD
Besides the doctors and therapists, Low also credits her support system of friends for helping her to pull through.
"One of my friends started a group chat, and every now and then, Greg would send updates to them. I can't recall how many people there were in the chat, but I know that there were folks from all over, from school friends to business friends and even former colleagues.
"I was really touched when I read their messages. I didn't know so many people cared."
Low also shared that she had friends visiting her from November 2020, when she felt ready to receive guests, and that "the visits really boosted my morale".
Some friends also started fundraising campaigns to help with living expenses because Low and Rawson could not work as much.
WORKING HARD ON HER RECOVERY
Low's true and steady champion throughout has been her partner of 10 years, Rawson.
"I keep forgetting that he was also stressed by what had happened. To be honest, I'm not sure if I could do as good a job as he did if the roles were reversed."
Rawson played the role of caregiver, coach, teacher and parent during Low's year of recovery.
"He would write out daily schedules and I would have to follow them. The doctors and therapists would set me assignments, and he made sure that I followed them."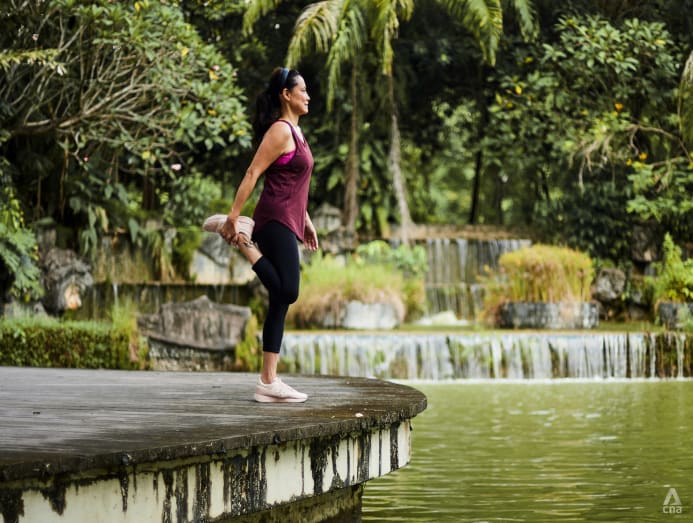 These included daily walks at the sky garden where they stay, reading and mental exercises.
According to Low, Rawson even wrote stories for her to read along, with 10 questions she had to answer about it. "These stories had dates and numbers and details that I had to remember because it was supposed to help with my short-term memory; it was so tricky."
Low said her short-term memory and vocabulary were affected after the incident, especially during the early months of her recovery, where she struggled even to remember how to construct a simple sentence.
In the beginning, everything was difficult. I was really worried how I would recover and when I would recover because I didn't know how long it would take.
"For instance, if I wanted Greg to move a cushion on the sofa, I was unable to find the words to describe it or the action. I would go, 'You see that thing, you need to push it' instead."
Even reading was difficult. "I could make out the words, like how to pronounce them, but I couldn't make out what they meant, so I had to read them a few times to be able to understand what the sentence meant."
It was these little things that Low said made her worry initially because she wondered when she would fully recover.
"In the beginning, everything was difficult. I was really worried how I would recover and when I would recover because I didn't know how long it would take.
"Unlike a physical injury, like breaking an ankle (which coincidentally Low did in 2018 while she was climbing Mount Rinjani in Indonesia) where you can see how it is healing; when it is something like the brain, you have no clue how it's doing."
I could make out the words, like how to pronounce them, but I couldn't make out what they meant
And you know what they say about things happening in threes? Low almost suffered yet another setback earlier in 2021, when her doctor found excess liquid building up inside her brain, which is another side effect of brain surgery.
"He gave me a month to try to reduce the amount of liquid, because if it didn't, I would have to undergo another surgery where he would have to put a shunt inside, which would be connected to my stomach. And I thought, 'Oh my god, I don't want to go through all that'."
I hope with time, I'll get back to the person I was.
Low was told there were things she could do. "He told me to keep my circulation going, which meant I had to keep active. So I focused on that. I went for walks every day from my place in Toa Payoh to MacRitchie Reservoir, I did Pilates workouts at home, and thankfully, it all helped."
Her efforts paid off because by the end of the month when she went back for her follow-up, the amount of liquid had reduced.
GETTING THE ALL-CLEAR ON HER HEALTH
To check that she had fully recovered, Low had to undergo a four-hour face-to-face test with a clinical psychologist to assess if her cognitive abilities had returned to her pre-aneurysm days.
"It's a test that will be on your record because it is evidence that your brain is functioning normally, or as normally as it had.
"And here's the scary part, you can only take this test one time."
Low explained that it was mainly IQ-related, and included puzzles, drawings, arithmetic and even listening comprehension.
The good news: Low passed.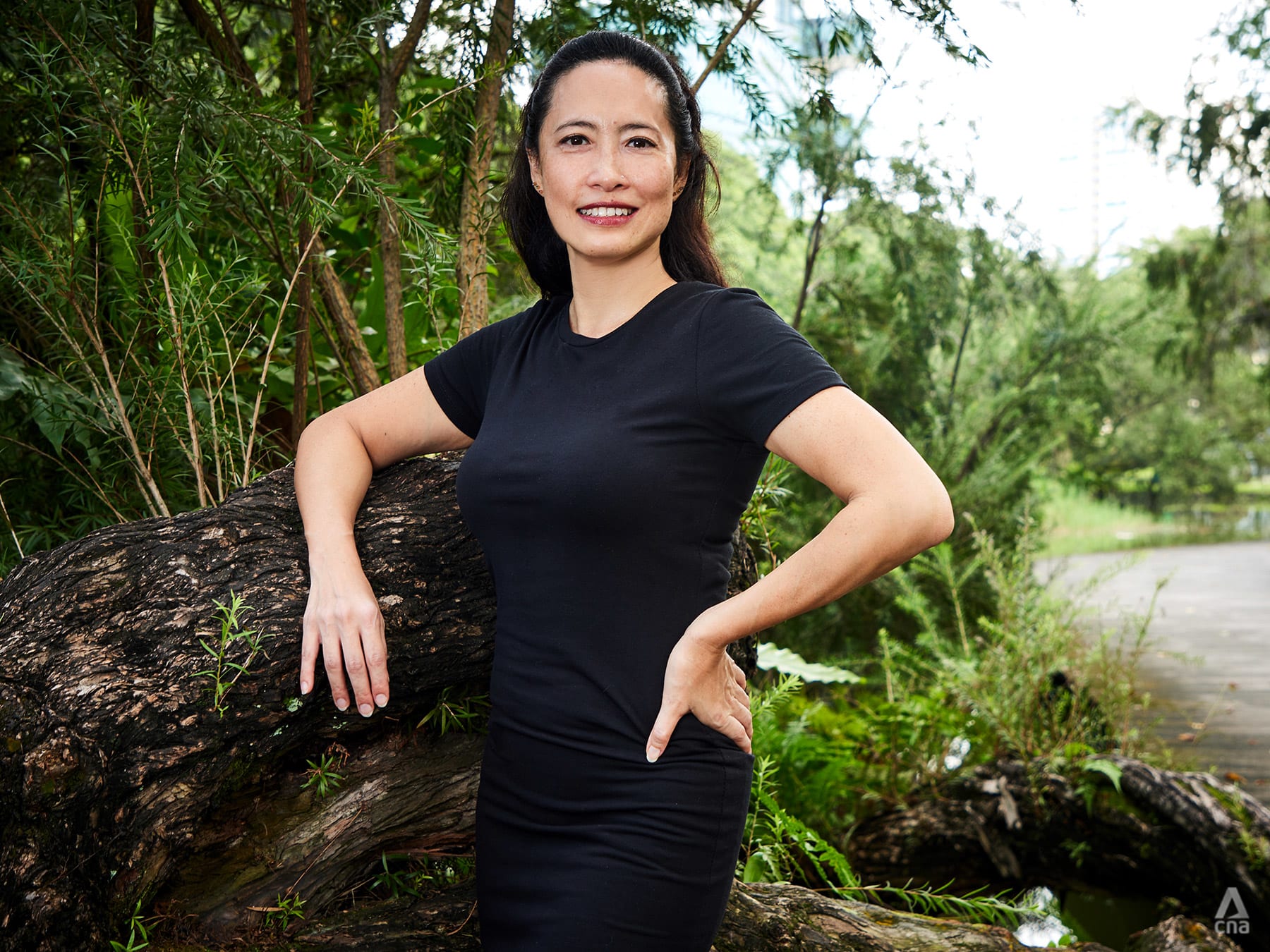 "Generally, the doctors say that I'm fully functional, about 98 per cent back to my pre-incident self. That missing 2 per cent, I can feel it. But I hope with time, I'll get back to the person I was.
"This brain aneurysm, it's a mystery. You don't know when it's coming. I've heard that some people try to prepare themselves for it by going for scans, so if there's one coming up, they can get it treated. But how many of us would do that?"
Today, Low is back in the swing of things. For Christmas last year, she even cooked a dish and baked two cakes – although she said she had trouble following the recipe because she kept forgetting the steps.
"I would look at what needed to be done, then forget it the moment I stepped away. So I had to keep going back to check the recipes, but I did it. It took two days but I pushed through," Low declared proudly.
She's even started work again at her brand agency. In March, she embarked on her first project after her incident, with a digital marketing agency, helping with their brand and content strategies. Only one person on the team knew what she had gone through.
"It was a good exercise for me. I found that my brain was working a little differently from before, and that it took me longer to get to where I wanted to go, like when I was doing certain tasks, so I had to get used to that and slowly refine my methods over the months."
You push through and do your best, whatever the outcome might be.
Asked if there were moments during her recovery journey that she felt like giving up, Low said the thought never crossed her mind.
She credits her strong "can do" attitude for this. "I've always tried to be more of a 'can do' person. And sometimes, I do fail, but it's okay because it's still an experience. You push through and do you best, whatever the outcome might be."
What is her biggest takeaway from all this?
"I felt really stupid in the beginning. I had to try to remember the simplest things, like how to make a cup of coffee. It was not difficult, but I realised that things that used to come so naturally, required more effort now.
"But that said, I'm grateful for all the good things that have happened. Despite this incident, I feel more positive, and choose to focus on what I have instead of what I don't have. I also focused on my recovery, what I went through and that I survived. I'm still shocked and amazed.
"It also made me realise not to take things for granted, and to make more of an effort to keep in touch with my loved ones. And if there is an opportunity to care for someone, I should reach out more."
CNA Women is a section on CNA Lifestyle that seeks to inform, empower and inspire the modern woman. If you have women-related news, issues and ideas to share with us, email CNAWomen [at] mediacorp.com.sg.