Singapore's first female commander of an RSAF fighter squadron hopes women pilots will soon become commonplace
The commanding officer of the F-16s flying at this year's National Day Parade tells CNA Women what it's like to be a female career soldier and why she wants to see more women in the cockpit.
There's something about having a pilot in your midst that makes you sit up straight. It's the universal allure of flying. It's also Top Gun, Pearl Harbor and Independence Day. 
And when you get to talk to the person who commands the fighter jet squadron responsible for the collective oohs and aahs at the National Day Parade, it's a red-letter day. 
This year, for the first time, the commander of the F-16 squadron is a woman. 
On Aug 9, Senior Lieutenant-Colonel Lee Mei Yi will lead the "Salute to the Nation" bomb burst at the Marina Bay floating platform. Everyone will see them – in person and on the small screen. Among them: Young women. 
Lee understands the significance of being the first woman to take on her role. 
Despite gender not being a factor when it comes to becoming a fighter pilot, women candidates remain few and far between. 
"By sharing my story, I hope to help other women see that this is a possible path to aspire to, (that they can have a place) in the military or some other traditionally male-dominated industry," the 37-year-old told CNA Women. 
STORY OF A "HEADSTRONG" GIRL
Growing up, Lee's parents would describe her as "stubborn and hot-tempered" but she thought of herself more as "headstrong". 
"I liked challenges. I liked doing things that were different … I always knew I wanted to study overseas because I wanted to see outside of Singapore and broaden my perspectives," she said. 
At the same time, Lee was drawn to the idea of giving back to the country, having had what she described as a "stable" family life. 
It helped that she was surrounded by role models.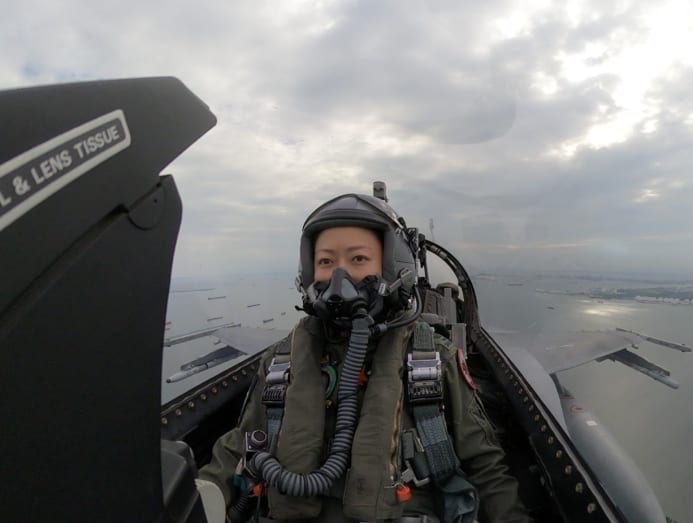 "Many of my seniors at Raffles Girls' School joined the service. I would see them at career fairs and they would tell me about their work, and I found it very interesting and meaningful," she said.
Lee would go on to join the canoeing team in her junior college, where she met more like-minded friends. 
When she finished school, she and several other canoeing teammates went together for interviews to sign on for the military. Two of them successfully qualified for basic military training. 
There, she met former RSAF helicopter pilot Poh Li San, now a Sembawang GRC Member of Parliament and vice-president at the Changi Airport Group.
"My all-women platoon was helping out at an SAF marathon when she introduced herself to us. It was my first time meeting a female pilot and I was very impressed. It allowed me to see what was possible," said Lee. 
After the training, only Lee decided to stay in the military. She received the SAF Merit Scholarship for Women and flew to Chicago, where she completed a degree in International Studies.  
By now, it was quite clear that she would choose the life of a pilot.
"I couldn't swim well so the Navy was out and while I was drawn to the physical aspect of being in the army, it was flying that attracted me most," said Lee.
"I wasn't sure (that I would qualify) at first because my eyesight was bad – I had myopia – but luckily I was allowed to undergo corrective eye surgery," she added. 
We had to ask: Did Top Gun or any other movie have a part to play in her decision?
"Actually, the show I was obsessed with at the time was Buffy The Vampire Slayer. It has nothing to do with flying but it has a strong female character. To some extent, that show made me determined to go on a different career path," she said. 
MISSION POSSIBLE
Efforts to put on a good show at the NDP have been "progressive", said Lee. 
"At the beginning, we were deciding the profiles (what spectators would refer to as 'stunts') to make sure they met the objectives for the mission. Then, we worked in smaller components to test out the profiles – for example, the separation of the aircraft – to see what the effects are like from the ground.  
"From there, we practise the simulation multiple times. We work towards achieving the (perfect) synchronicity for those who are mirror images for each other … and practise flying in close proximity to show our discipline in getting into position," she said.
Lee's job as commanding officer is to make sure the squadron performs to the requirements. Each practice, for example, is a test of conducting the profile's manoeuvres within safety margins.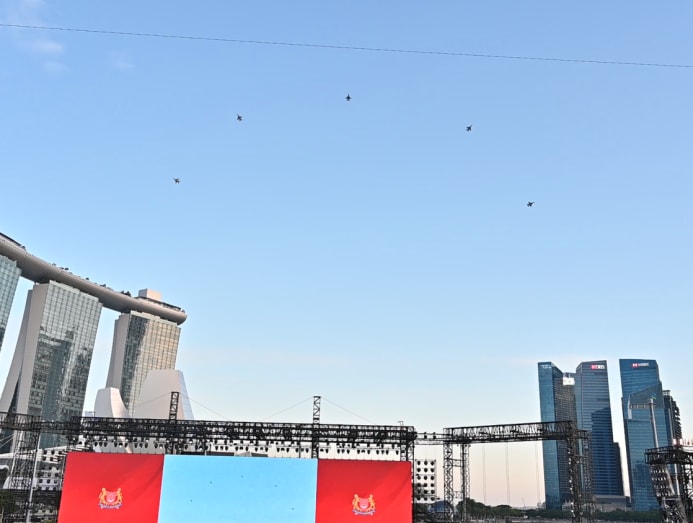 "You have a vision for them and you have to communicate that. You set milestones for them to achieve. People in the fighter squadron are usually high-performing. They're self-motivated by nature. If you just explain to them the intent of doing something, it's easy for them to get the job done without much nagging at all," she revealed. 
Gender is not a factor when it comes to leadership in the military, Lee told CNA Women.
Among the qualities she deems important are resilience, the wisdom to prepare for the unexpected and of course, a deep knowledge of the profiles involved in a particular mission. 
Regardless, there is "a need for a community within which women as a minority can voice our concerns", said Lee. 
The community comes in the form of the Servicewomen Network, which held its first event last year. At the virtual event, servicewomen raise and discuss gender-related issues that are later surfaced with the SAF Women Outreach Office, where initiatives can be formulated for them. 
As of this year, the SAF has more than 1,600 uniformed servicewomen who make up about 8 per cent of its regulars. Since 2015, more than 500 women have also been trained and deployed in different roles as volunteers in the SAF Volunteer Corps. 
Lee said: "My hope is that females are so commonplace in the pilot vocation that there's no need (to declare anyone the first to do something). It'll be nothing to shout about."
CNA Women is a section on CNA Lifestyle that seeks to inform, empower and inspire the modern woman. If you have women-related news, issues and ideas to share with us, email CNAWomen [at] mediacorp.com.sg.