Live your best life: Netflix K-drama Mine shows women how to deal with injustice
The 16-parter goes beyond the lives of its super-wealthy characters to give you lessons ranging from overcoming prejudice to bullying and finding your true calling.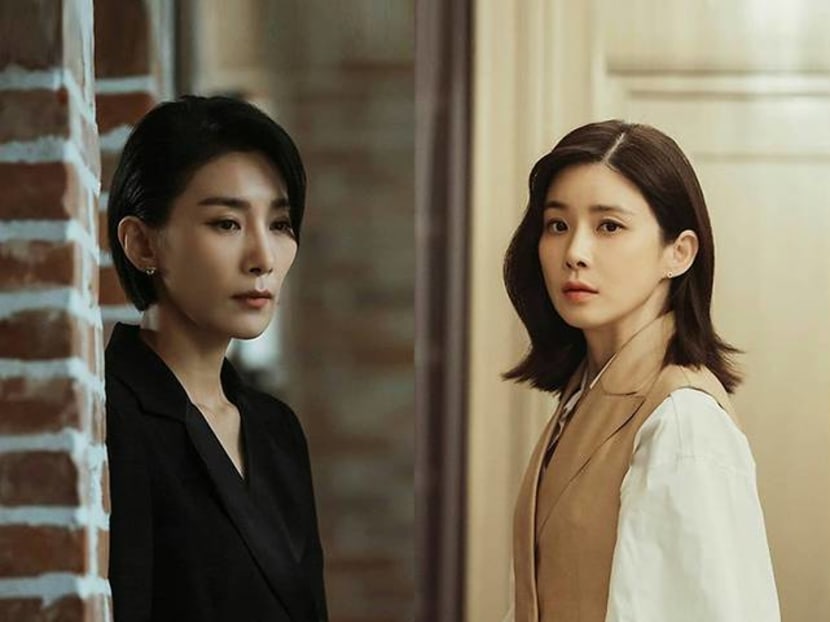 What could I possibly glean from watching a fictional drama about an uber-rich family? And a K-drama at that. Would I be watching scene after scene of betrayal and anger in the name of power, fame and money?
The Netflix series starring Kim Seo-hyung, Lee Bo-young and Ok Ja-yeon was the top TV show in Singapore in June, according to data streaming site Flix Patrol. It also stayed on Netflix's own Top 10 in Singapore Today list for several weeks last month. 
The show was a hit in South Korea, too, reeling in about 1.8 million views per episode, with the finale on Jun 27 breaking Mine's previous rating records.
So what is it about the South Korean melodrama that made it such an addictive watch?
First, it was unlike anything I'd expected from a family drama. I saw the resilience of mothers who put up and acted against injustice to raise a child. I saw women overcoming the impossible and coming together to tackle prejudice. Most of all, I saw how contagious being fearless could be. 
A few episodes in, I was cheering for the characters while hanging tight to my seat. 
The drama follows the lives of three women living inside the mansion of the conglomerate Han family: Two daughters-in-law and a mysterious tutor. 
Kim Seo-hyung plays the first daughter-in-law Jung Seo-hyun, who stays rational when it comes to dealing with family matters. Lee Bo-young plays second daughter-in-law Seo Hi-soo, who raises stepson Ha-joon like her own. 
Ok Ja-yeon plays Ha-joon's birth mother Kang Ja-kyung, who upends the lives of the family by disguising as his tutor, with the intent of reclaiming her son.
Watching Mine, it wasn't the over-the-top luxurious lives of the characters that got me hooked. While all those beautiful outfits from Dior, Hermes, Prada and more were a joy to see, people simply don't drink water drawn from Antarctic glaciers or need a golf cart to take them around the house.
Rather, it was the strength, resolve and determination of the three female characters in fighting injustice that kept me following each episode. In spite of their wealth, these women were relatable and inspiring.
Here are five life lessons Singapore women can learn from Mine to help us deal with difficult situations in our lives. Warning: Spoilers ahead. 
1. WHEN YOU NEED TO CLIMB OVER A HIGH WALL IN YOUR LIFE
From leaving a toxic relationship to speaking out about harassment, we need someone by our side. 
One of the most compelling scenes in Mine was the built-up stress and pain that a pregnant Seo faced while discovering the secrets in the family. 
It resulted in her suffering a miscarriage at home. In response, first daughter-in-law Jung rushes to her side, crying silently with her and holding her tightly, instantly changing the tone of their previously-at-odds relationship.
The scene was heart-wrenching yet uplifting, seeing Jung sharing in her sister-in-law's loss and grief, offering a listening ear and supporting her.
While recovering from the miscarriage, Seo also told Jung that she had made up her mind to leave the mansion and raise her stepson Ha-joon on her own. She was resolute in her decision despite knowing that she needed to "find a way to climb through the high wall surrounding this place".
"I will help you do that by your side, and tell you how you can do that," said Jung. 
With trauma hits close to home, we need our tribe – the women in our lives – to tide us through the painful moments.  
2. WHEN YOU NEED TO IRON OUT CHALLENGING DIFFERENCES
Whether it's letting go of your own wants for your child's happiness or drumming up the courage to forgive a wrongdoing, openness and honesty are crucial to mending a broken relationship. 
The miscarriage led to Seo and tutor Kang developing a special bond and working through their differences, with the common goal of protecting Ha-joon from his wayward father.  
"You don't have anyone right now. And you don't want anyone to see you like this. You can't even tell your mother or visit her. So let me take care of you," said Kang. 
Another relatable example: When Jung asks the young master (not her biological son) what made him happy. "I don't think I've ever asked you what makes you truly happy, and what you want to do with your life. I know it's late, but what makes you happy?"
What we can learn here: Listening to someone else's perspective should take priority before you assume what they want.
3. WHEN YOU NEED TO TELL SOMEONE WHAT SHE NEEDS TO HEAR
…but not what she wants to hear. 
It takes a special kind of boldness and courage to let someone know that they're in the wrong – and it's usually family and close friends that that privilege falls upon.  
Seo, usually the "bad cop" in the family, tries her best to help everyone understand the consequences of their actions and to take ownership of their mistakes. In one situation, she suggests that Han Jin-hee, the only daughter of the family, get counselling for her anger issues, which she benefits from.   
If you want to find the best version of yourself, those close friends and loved ones who are willing to talk through your blindspots are definitely worth keeping. 
4. WHEN YOU WANT TO STAND UP TO BULLIES
We can't help but wish we could own Seo's badassery when it comes to confronting a bully.
Instead of telling her stepson to ignore the thoughtless comments made by his classmates about his "actress mum" who isn't his biological mother, she tackles the problem by confronting the classmate's parent. "What kind of mum leads the son to the wrong path?" asked Seo.
5. WHEN YOU FEEL LIKE YOU ARE LOSING YOURSELF
It's easy to lose oneself especially during major life transitions such as marriage or a career change. 
Seo had to make the intentional effort to remain true to herself and not lose her identity after her marriage. "People treat me and my accomplishments like they were nothing after marrying him," said Seo, referring to how she was a reputable actress before getting married.