National athlete Shanti Pereira reveals toughest period in her career and how she bounced back
The 26-year-old gets candid about an injury that she described as "one of the hardest things" she experienced in the new episode of R U Okay? with Class 95 DJ Jean Danker.
She's on top of the world, with a well-earned title as Asia's top woman sprinter. In 2023 alone, Shanti Pereira, 26, has broken both her own personal records and national records multiple times.
In the process, she became the first Singaporean woman to win both the 100m and 200m race at the same SEA Games, set a SEA Games record for the 200m, and won double gold at the Asian Athletics Championships, after coming up top in the 100m and 200m race.
But of course, such achievements don't come easy.
In a recent episode of Class 95 DJ Jean Danker's podcast, R U Okay?, Shanti shared more about why "2018, right up to early 2022" was a really tough period for her and how she picked herself up from there.
Shanti spoke about how her relationship with her coach, whom she views as a father, also helped her in her journey to become a better sprinter.
Speaking about how she approaches training sessions and setbacks when racing, Shanti said: "It takes me (a) really, really long to come out of a bad race or training session."
The sprinter is currently in Budapest to compete in the World Athletics Championships.
She went on to add that training overseas and seeing how other athletes are the same with these bad races or days really helped her adjust her perspective.
"I kind of realised that it's not just me that has bad days, it's all of us. It sucks to see but it happens to everyone and there's really nothing much you can do about what's happened in the past," she said.
And in the same vein, that is how she managed to pick herself up from a slump she went through in 2018.
In 2018, Shanti suffered a "grade 2 hamstring strain" that put her out of commission for a month. The injury, which resurfaced again right after she got back on the tracks, meant she would not be at her best at the Asian Games that year.
"I was on the Sports Excellence Scholarship since 2016 but my goal for that scholarship was to potentially medal at that Asian Games in 2018," she said, adding that there was just not enough time for her to prepare and get herself back into tip-top condition for the games.
"I lost the (Sports Excellence) scholarship 'cause I didn't hit the goal. It was just a very difficult time for me," Shanti shared.
At that time, Shanti was a second year student pursuing accountancy at the Singapore Management University (SMU). She was also a recipient of the university's Yip Pin Xiu Scholarship. The scholarship meant that Shanti would receive a full waiver of tuition fees for four years, as well as an allowance of up to S$12,000.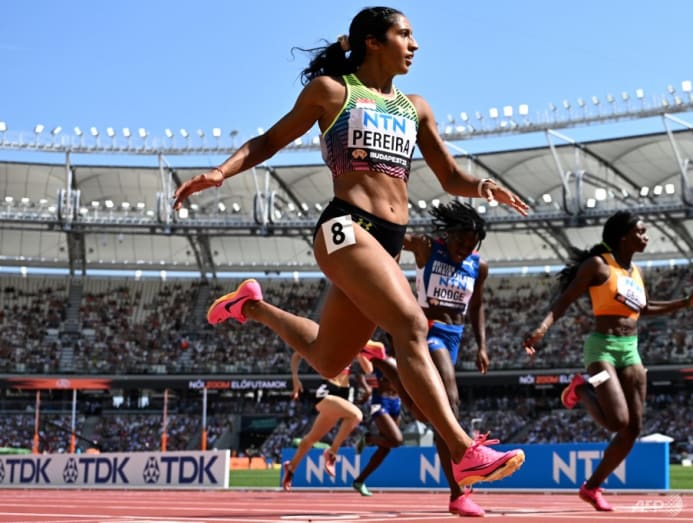 "I had a minimum GPA to keep but I couldn't hit it, so I lost that scholarship as well (after losing the Sports Excellence Scholarship). It happened within a week of each other and was one of the hardest things I had to go through," Shanti said.
She went on to share that after the final decision regarding her scholarships was conveyed to her through a face-to-face meeting, she all but ran from the room, in an attempt to hide the tears that were already coming out.
"I just went to my car and bawled my eyes out," Shanti said.
That period between 2018 and early 2022 was particularly tough for Shanti who shared that she went through an "identity crisis" as she wasn't doing well in track then and was also struggling with the realisation that she was not interested in pursuing a career in accountancy.
But thankfully, she managed to overcome this slump, going on to achieve stellar results in track and field in 2023 and hopefully, for many more years to come.
This story was originally published in 8Days.