'Are you a beer girl?': Meet Singapore's first and only certified female brewmaster
RedDot BrewHouse's Crystalla Huang shares what it was like falling in love with beer – and how she's challenging stereotypes in a man's world.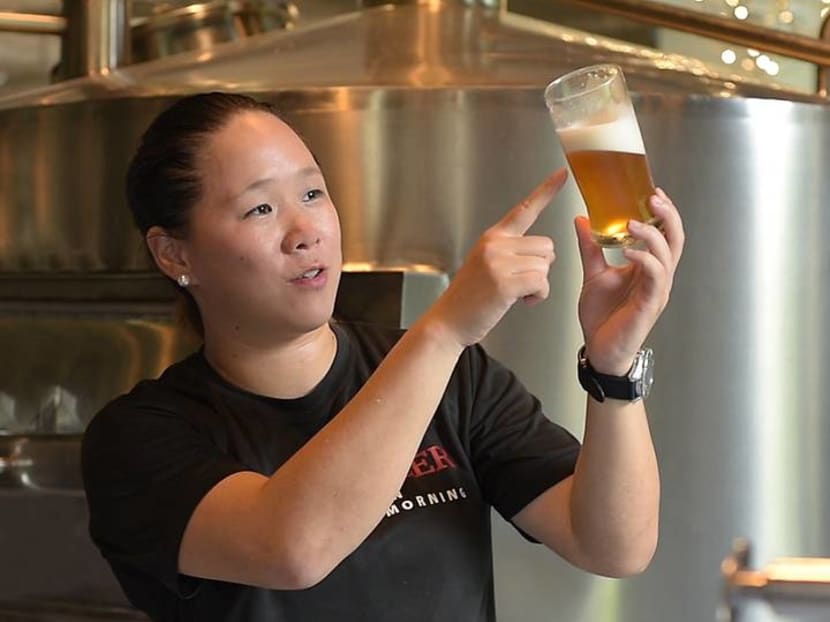 She may be Singapore's first and only certified female beer brewmaster, but Crystalla Huang is always prepared for the inevitable question.
"You're just selling beer or are you actually making beer?"
RedDot BrewHouse's Crystalla Huang shares what it was like falling in love with beer – and how she's challenging stereotypes in a man's world.
"In the alcohol industry, women are pretty much channelled into sales roles or become beer promo girls in exhibitions and conventions.  Hence, the first impression that most customers have is that I am trying to sell them beer," the 29-year-old told CNA Lifestyle.
"They are not entirely wrong!" she added with a laugh.

Indeed Huang, who oversees the Singapore operations at RedDot BrewHouse at Dempsey is in the business of trying to sell beer to people – in a manner of speaking.

She's the brewmaster of the establishment, which is owned by her father Ernest Ng, a self-trained brewer and home brewer since 1997.
"When I tell them (the customers) that I am a brewer, they would look surprised or some even are sceptical," she shared. "Of course, many think that I brew coffee when I say I work as a brewer!"
Huang joined the family business six years ago after she finished brewing school in Berlin, Germany.
"One would need to go through a brewing university to receive certification," she explained. "I received mine from VLB Berlin. There are many homebrewers or people who just brew without an education."
Huang, who has a Bachelor in Culinary Arts from the Culinary Institute of America, is officially Singapore's first and only female certified brewmaster, among roughly 15 other brewmasters here.
Being a brewer, much less a female one, isn't exactly a conventional career path. And it all came about for Huang when she was, in her own words, "a nosy, boisterous kid of seven years old".
"My dad was home brewing in our backyard then. I was just poking my nose in everything, from using a pasta machine to mill to throwing grains into a pot," she shared.
"When I finished O-levels at 16, RedDot BrewHouse opened its doors. I was roped in to help with the brewing. I fell in love again with the heat, pace, creativity and science of fermentation. From then on, I channelled my education path towards brewing."
But being one of the few women in a male-dominated industry surely comes with its set of challenges. Like, say, the literal heavy-lifting – a typical bag of grains/malt weigh around 25kg while a keg of beer weighs around 42 kg.
According to Huang, each time they brew, they use about 200kg grain. 
"Brewing is a physically demanding job and, naturally, some women would shun this job because of this," she said. "To deal with this requirement, I try to stay physically fit and strong by doing a lot of sports to develop the fitness level needed to do this work."
And how often does "mansplaining" come into the picture?
"Only in the past, when I was younger and more inexperienced," said Huang. "But I think the alcohol industry is to be blamed for this. Young female sales ambassadors and sexily dressed promo girls are used to fuel the alcohol industry at large."
She admitted that that when she was younger, she was "a greenhorn" and "asked stupid questions".
"So being mansplained was common until I gained enough experience and knowledge to talk sense. Over time, people learnt to respect me.  But I think it is like that in any workplace. Nothing unusual."
Huang believes that in the end, it is "knowledge" that will be best used to overcome gender bias.
"I do admit, women have it slightly harder, especially in very technical-dominated and male-dominated fields. We just have to try harder to prove ourselves," she said.
Like debunking the misconceptions of being a female brewmaster.
Some of those she has faced thus far? She brews coffee. Or that she's a bartender.
"Or that I am just lucky or I am a lazy second-generation brewer from a brewing family," she revealed. "Some even think I do not know how to brew. They think that I have hired a score of professional male brewers working behind me to ensure quality RedDot beer."

But this hasn't stopped Huang – and it shouldn't either if other women are looking to join the industry.
Her words of advice? For women to see the job and profession for what it is.
"Do not put your gender bias on it or give excuses like women should not carry heavy things or that the job is too dirty for me or the guys can do it," she said.
"Do what your male counterparts do, put your head down, roll up your sleeves and just work. Have an open mind; believe in yourself that you can do it and do not be upset with anyone who doubts you. Be humble to learn even from even harsh words. And don't carry emotional baggage."
When it comes to women flourishing in typically male-skewed industries, perhaps Huang best sums it up: "Women in the work force is a force not to be trifled with. After all, there is a reason why almost all hurricanes are named after females."