Tokyo Olympics: All the women athletes from Team Singapore to cheer on
Here's who to look out for when the Games start on Friday (Jul 23), from those making their Games debut to the hot favourites vying for a medal and the ones competing for the last time.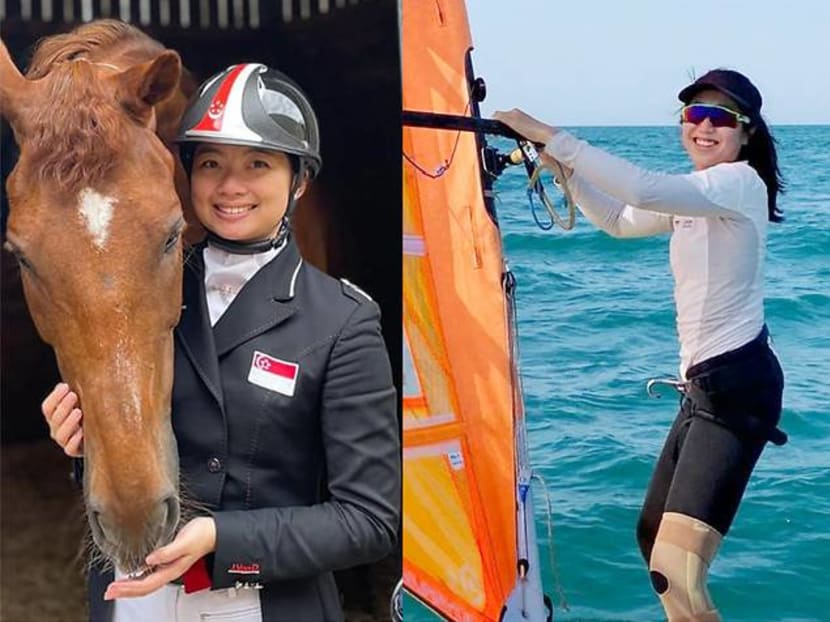 The women athletes of Team Singapore are slaying it. For one, they outnumber the men – 17 women versus six men from the 23-strong team. And while we're cheering on every Singapore athlete, we're also inspired by these women's stories.
Their stories are compelling enough that you'll want to take note of their competition schedule so you can cheer them on during their events.
One has an autoimmune disease, another fell just before a competition and had to be wheelchaired to each race; one had three operations on her wrist, while another is a frontliner who took no-pay leave for more than a year to train for the Olympics, before it was postponed due to the pandemic.
So who are these women? Here's a quick rundown. Go, Singapore!
ADELE TAN, 22: SHOOTING
"It is only the beginning, because I will be up against the world's best of the best and I have to be prepared to face even tougher obstacles."
Tan nailed her spot to represent Singapore in the Women's 10m Air Rifle event after she clinched gold and set a new national record of 632.5 points at the H&N Cup 2020 in Munich, in January last year. (The record was recently eclipsed by her younger sister, Fernel, who scored 634 earlier this year at the Singapore Shooting Association Shoot.)
AMANDA NG, 27: WINDSURFING
"I realised that this is really possible, there's still enough races to fight back."
Ng had quite a rollercoaster ride while qualifying for the Olympics this year. Just 24 hours before her big race at the Mussanah Open Championship in Oman in April, which would have determined her spot at the Tokyo Olympics, she slipped and fell.
She refused to give up, even though she had to be wheeled to each race. She eventually won the competition, earning her the golden ticket to Tokyo.

AMITA BERTHIER, 21: FENCING
"My first thought was: 'Thank you daddy'."
Berthier is the first Singaporean to qualify for the Olympics in the foil event through an Olympic qualification tournament.
Dedicating these Games to her father, who died in a workplace accident five years ago, the fencer fought hard for her spot, defeating her opponent in the finals of the women's foil event at the Asia-Oceania Olympic Qualification Tournament in Tashkent, Uzbekistan, in April.
CAROLINE CHEW, 29: DRESSAGE
"It's still really surreal, this opportunity came up really unexpectedly."
They say a dog is a man's best friend, but in Chew's case, her horse Tribiani is hers.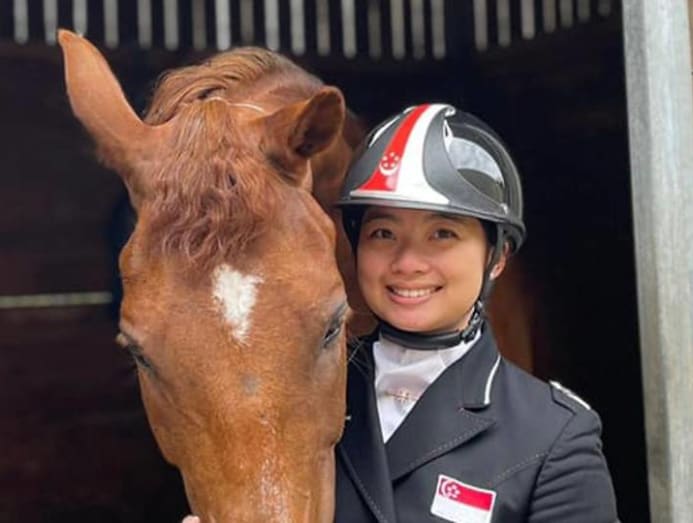 A last-minute withdrawal by a New Zealand rider gave the Singaporean equestrian a chance to earn her Olympics spot at the Dressage Grand Prix in Le Mans in France, in April. Her score locked in a personal best of 69.674, which well surpassed the requirement of 66 for Olympics qualification.
Chew is the first Singaporean to compete in this event for the Olympics.

CHANTAL LIEW, 23: MARATHON SWIMMING
"There was always that thought in my head like: 'Okay, if I don't make the Olympics, then I really have wasted this entire year of my life doing nothing when I could have started work.'"
Liew is the first Singaporean to qualify for Marathon Swimming at the Olympics.
An acquaintance asked the former SEA Games swimmer: "What are you doing with your life?", when she was juggling her undergraduate studies, internship and training last year.
The 23-year-old, who happens to share the same birthday as Singapore, was pursuing a Bachelor's degree in Communications and New Media at the National University of Singapore, said the comment motivated her to work extra hard.
She finished 29th in the 10km race in Setubal, Portugal, in June, making her the third highest Asian finisher behind Japanese swimmers Yumi Kida and Minami Niikura, who placed 12th and 19th respectively. But as the host country, Japan already had a spot for the open water event, allowing Liew her spot.
FENG TIAN WEI, 34: TABLE TENNIS
"The title is not important to me, it's not something that I focus on. I have many beautiful experiences competing, these experiences are very fulfilling and very precious to me."
This Olympian needs no introduction. She made headlines in the 2008 Beijing Olympics when the Singapore women's team won a silver medal, making it the nation's second-ever Olympics medal.
In the 2012 London Olympics, Feng brought home a bronze medal for the women's single Table Tennis event, making her the second Singaporean to win an individual medal since 1960; weightlifter Tan Howe Liang was the first, with his silver medal for lightweight weightlifting in Rome, Italy.
FREIDA LIM, 23: DIVING
Lim is the first female diver – and the second diver – to represent Singapore at the Olympics.
The former competitive swimmer was diagnosed with Grave's disease, an autoimmune disorder, when she was 13. In the disease, the immune system attacks the thyroid, causing an overproduction of thyroid hormones. It can result in weight loss and irregular heartbeat, among other symptoms.
Lim made the switch to diving after her condition stabilised with medication two years later.
In May, the national diver earned her spot at the Olympics when she placed 15th in the Women's 10m platform semi-final at the FINA Diving World Cup in Tokyo.
JOAN POH, 30: ROWING
"Rowing is indeed my passion."
Poh won her Tokyo spot after placing 12th at the Asia and Oceania qualification regatta.
At the beginning of 2019, Poh took 16 months of no-pay leave from her job as a staff nurse at Tan Tock Seng hospital to train overseas. She returned to work when the pandemic struck in April 2020, working eight- to 10-hour shifts while keeping up with a training schedule of at least 20 hours a week. 
KIMBERLY LIM, 25, AND CECILIA LOW, 30: SAILING
The national sailing duo will make their Olympic debut in the women's 49erFX sailing event. The pair secured a spot for Singapore with their performance at the Hyundai 49er, 49erFX, and Nacra 17 World Championships in Auckland in December 2019. 
KIRIA TIKANAH ABDUL RAHMAN, 20: FENCING
Kiria is the second Singaporean fencer to qualify for the Olympics, together with teammate Amita Berthier, who is the first. Both women are making their Olympics debut.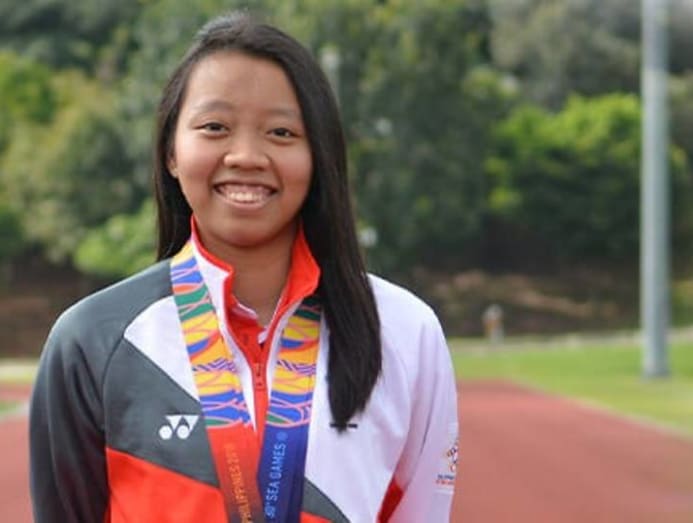 The 20-year-old's journey is a real-life David and Goliath story. The young athlete is ranked 207th in the world, but that didn't stop her from winning against opponents of higher ranking at the Asia-Oceania Olympic Qualification Tournament in Tashkent, Uzbekistan, in April. She eventually won her event, which qualified her for the Olympics. She will be representing Singapore in the women's individual epee.

LIN YE, 25: TABLE TENNIS
It is always exciting when fresh blood joins the national team. Making her Olympics debut alongside her more experienced team mates, the paddler is said to be the athlete to watch. Ellen Lee, president of the Singapore Table Tennis Association said Lin has made significant progress over the last few months.
Lin will be playing in the women's team with Feng Tian Wei and Yu Meng Yu.
QUAH TING WEN, 29: SWIMMING
"I am proud to be able to wear the flag and represent my country in Japan and will do my best to make everyone proud."
Quah is no stranger to the Olympics as she represents Singapore for the third time. The national swimmer earned her universality place when she became the highest-ranked athlete set by FINA, the international federation for water sports, in June. Her points were taken from the 50m and 100m freestyle events.
The six-time national record holder said that training for the Olympics had been challenging due to the delay, but she was excited to "wear the flag" and just keep swimming.
SHANTI PEREIRA, 25: TRACK AND FIELD
Veronica Shanti Pereira is making her Olympic debut and will be the only athletics athlete for the Republic in the Tokyo Olympics.
She holds the national records in the Women's 100m and 200m events and was selected by sports governing body World Athletes (WA) for her universality place at the Games. According to WA's Olympic qualification system, National Olympic Committees with no qualified athlete or team are able to send their best ranked athlete for one event.
This would be the biggest race for the SEA Games 2015 gold medalist, as her last high-level meet was the 2019 SEA Games in the Philippines.
TAN SZE EN, 21: GYMNASTICS
"Coming back from injury takes a long time. But if you're just patient and you trust the process you'll eventually get back to where you were".
This will be Tan's first Olympics and she is the second Singaporean female gymnast to qualify for an Olympic games, after Lim Heem Wei did so back in 2012.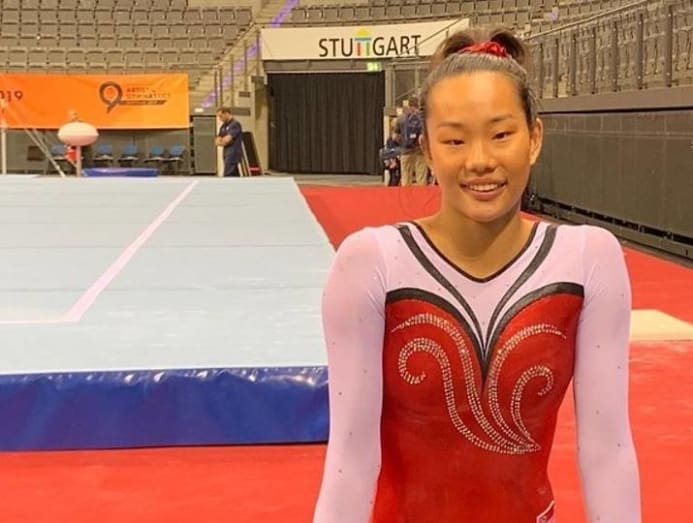 Tan was just six years old when she started gymnastics and the journey hasn't exactly been smooth. She has suffered from injuries to her foot (a heel fracture in 2017), shoulder (a torn rotator cuff in 2018), her knee (a partial tear of the lateral collateral ligament in 2019), and wrist (three consecutive surgeries in 2020).
And she's made it to the Tokyo Olympics in spite of them all – sheer grit.

YEO JIA MIN, 22: BADMINTON
Yeo was part of the women's national team that won bronze at the SEA Games in 2015, 2017 and 2019 but is only making her Olympics debut this year.
She is ranked 17th in the Badminton World Federation's road to Tokyo rankings and is one to watch – coach Kelvin Ho has said she is "able to match the speed of the top players".
YU MENGYU, 32: TABLE TENNIS
Yu, who made her Olympics debut in 2016 in Rio de Janeiro, defeated World No 11 Miu Hirano in the semi-finals of the Women Table Tennis Contender Doha tournament for the spot.
A week later, her chronic back injury flared up, resulting in her withdrawing from her next tournament. She even had to be wheeled at the airport. Despite that, she's determined to give her best, even more so as she has hinted that this may be her last Olympics. She is considering contributing to the team in other roles after this.
Yu is also one of the flag-bearers at the Olympics opening ceremony, together with shuttler Loh Kean Yew.
​​​​​​​
Catch the Olympics Games Tokyo 2020 LIVE with 14 dedicated channels on meWATCH. Sign in now at mewatch.sg/tokyo2020 and get into the action with Mediacorp, Singapore's Olympics Network.

CNA Women is a new section on CNA Lifestyle that seeks to inform, empower and inspire the modern woman. If you have women-related news, issues and ideas to share with us, email CNAWomen [at] mediacorp.com.sg.