5 things to know about this iconic luxury handbag you should invest in
With supple leather, modern architectural lines and a distinct silhouette, Louis Vuitton's Capucines bag embodies many of the hallmarks of the luxury label. CNA Lifestyle tells you what makes it stand out. 
In partnership with Louis Vuitton.
You already know of Louis Vuitton's trunk-inspired Petite Malle handbag with its signature monogram motif. Now, pen in the Capucines handbag to your lexicon of LV must-haves.
Launched in 2013, this feminine style has already secured its place among the French brand's pantheon of iconic designs – and for good reason. With plush, supple leather providing a tactile contrast to the bold architectural trapezoid silhouette of the Capucines, this bag is as much a delight to hold as it is to behold.
Just like how Louis Vuitton builds trunks to accompany the most discerning travellers on their adventures, the versatile Capucines, which comes in a variety of sizes, colours and materials, is designed to be the modern woman's companion as she goes about her day, no matter her personal style.
No wonder even though the bag is but eight years old, the modern icon has already been spotted on the arms of many of the most influential women around the world, from supermodel Gigi Hadid to Princess Charlene of Monaco.
Here are five things to know about the LV Capucines.
1. LV'S HERITAGE IS WOVEN INTO THE BAG   
Named for the first Louis Vuitton store in rue Neuve-des-Capucines in Paris, the bag pays homage to the stylish power women of this neighbourhood, just a stone's throw from the swanky Place Vendome, one of the world's most exclusive addresses.
For those in the know, the details of the bag also reveal little tales of the brand's storied heritage.
For instance, its engraved rivets are a nod to the Maison's famous trunks.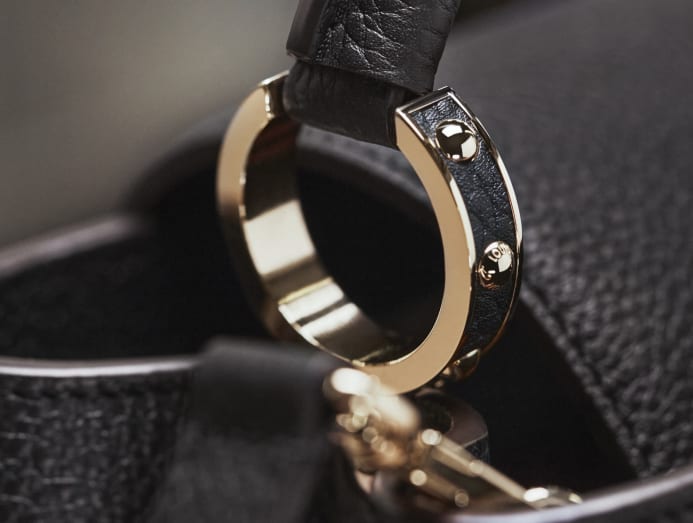 At the same time, the outline of the quatrefoil clover petal in the cut-out flap mirrors its iconic monogram flower. The flower itself is inspired by the four-leaf clover which was a lucky charm beloved by the founder's mother. Consider it a not-so-secret talisman for the modern woman.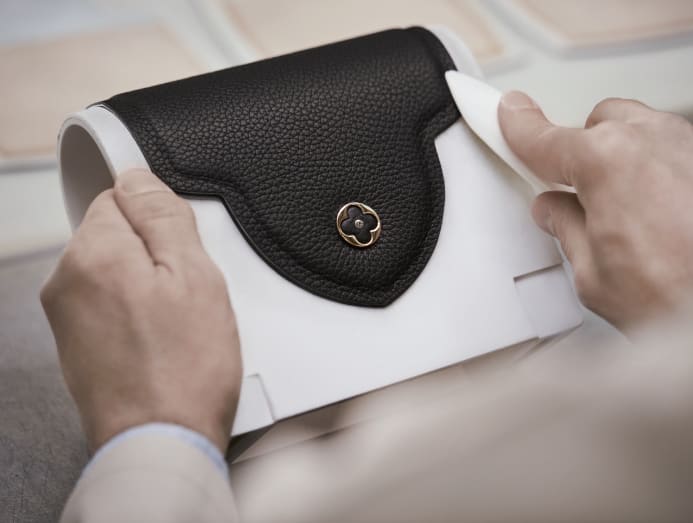 2. IT TAKES 250 INDIVIDUAL STEPS TO MAKE A BAG  
The clean, elegant design belies the complexity of its creation – it takes 250 individual handcrafted steps to build each bag, in a showcase of Louis Vuitton's legendary savoir faire.
Starting with the leather, only the highest grade taurillon calf leather of a thickness between 2mm and 2.4mm is used for a plush touch.
A leather specialist examines, weighs and even caresses the leather to ensure the grain of the hide is even, the fibres intact and the texture is smooth and velvety.
The LV logo is another detail worth admiring. Sheathed in calf leather, the initials are inserted into claws that are set into the grain of the leather, a complex and delicate process that few Maisons are able to execute to perfection.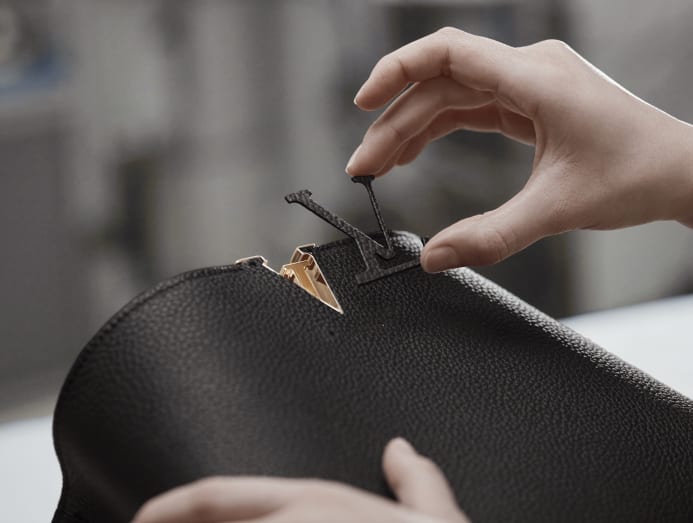 3. IT REQUIRES PRECISION SEWING TO PUT TOGETHER
Take a closer look at the bag – some of the stitches are so tiny, they might very well be invisible, especially around the interior snap hook and closure tab, which snakes between edges and rivets
And to create the distinctive structure of the Capucines, a highly experienced artisan uses the saddle stitch technique in a freehand style which requires precision down to 1mm, a process which requires absolute mastery of this skill.
Even the edging of the leather, which is meant to protect, define and highlight its colour, is carefully executed. Done by hand, the edging requires four layers to be hand-painted one at a time, with each air-dried and then heated to 46 degrees Celsius to create the perfect finish.
4. THERE'S A CAPUCINES BAG FOR EVERY AESTHETIC 
When it comes to versatility, the Capucines is probably one of the most chameleon-like luxury bags currently available in the market.
The top handle bag comes in three sizes, MM (31.5cm x 20cm x 11cm), BB (27cm x 18cm x 9cm) and Mini (21cm x 14cm x 8cm), and some versions include a removable shoulder strap to allow the wearer to change up the ways of carrying it and transition easily from casual to formal settings.
But that is not all. Every season, there are new iterations of the bag in a wide variety of colourways which range from the most popular hues of the moment to vibrant tri-coloured styles with pops of colour accents.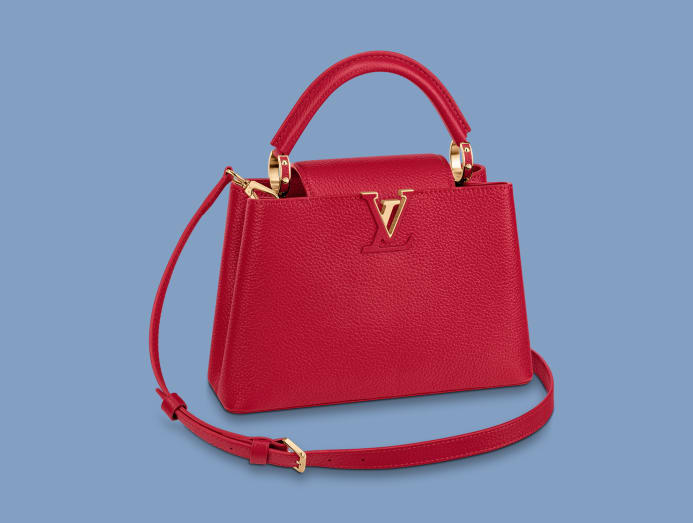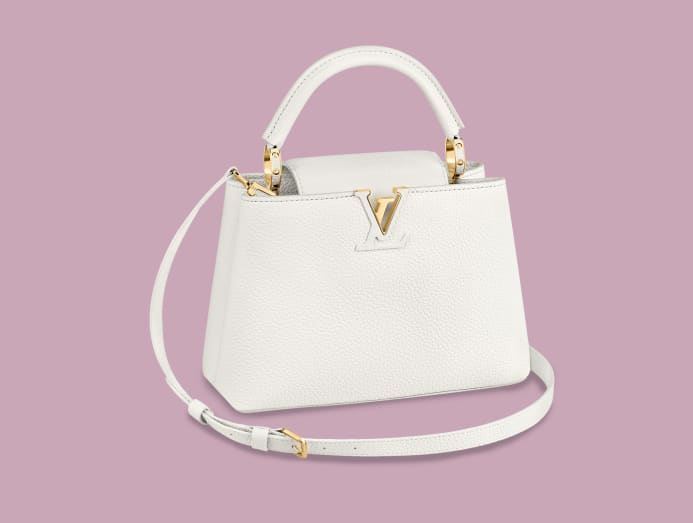 There are also styles that creatively incorporate mixed materials such as tweed, sequins, fabric, plexiglass and even one with a chic python top handle.
In other words, there is bound to be a design to suit every style preference, whether you would like to lend a touch of glamour to a street-style outfit a la actress Sophie Turner, dress up a casual outfit like actress Emma Stone, make a statement with your arm candy the way Jessica Chastain does it or everything else in between, really.
5. THE BAGS ARE A "CANVAS" FOR CONTEMPORARY ARTISTS  
ArtyCapucines, a creative project launched in 2019 by the Maison, follows in the spirit of its acclaimed artistic collaborations with famous artists including Stephen Sprouse, Takashi Murakami and Yayoi Kusama.
Through this initiative, a selection of the world's top contemporary artists is given carte blanche to re-imagine the iconic Capucines according to their vision.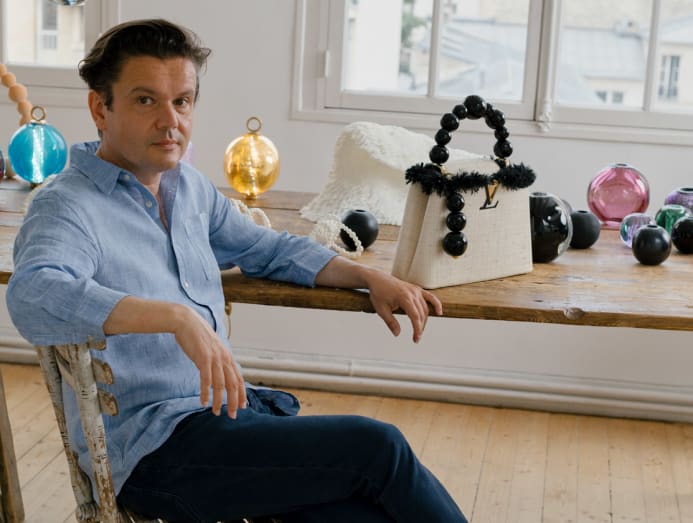 There have since been two ArtyCapucines collections featuring luminaries including French artist Jean-Michel Othoniel and Beijing-based Liu Wei.
As this is an ongoing collaboration, keep your eyes peeled as these limited-edition pieces are in high demand by fashionistas and art collectors alike.
CNA Women is a section on CNA Lifestyle that seeks to inform, empower and inspire the modern woman. If you have women-related news, issues and ideas to share with us, email CNAWomen [at] mediacorp.com.sg.