Gender equality at work: What Singapore companies are doing for women
Is my manager biased against me? Will I still get that long overdue promotion if I get pregnant? From job openings to moving up in your career, here's what to look for when it comes to equal opportunities in the workplace.
A colleague shared that when she was pregnant with her last child while at her former company, she debated how to tell her supervisor. It wasn't a question of when to let her know but the best way to break the news. 
She already had a few children and the "unspoken expectation" from her boss, she said, was that there would be no more pregnancies. There wasn't time to strategise her announcement as she would soon need to go on long medical leave because of her pregnancy nausea, which tended to be severe.
So she booked an early morning meeting with her boss and said: "I have something to tell you. I'm pregnant. Again." She was so overwhelmed with guilt that she broke down and cried.
On the surface, the supervisor was understanding. "She told me not to worry and that the team would manage things as they came. But I was taken aback when she said that, she thought that after my last pregnancy, I had 'done something about it'." Her boss was referring to contraception.
That's just one of many stories you hear whenever women gather to talk about work and motherhood. Being afraid to share pregnancy news with employers is not unheard of in Singapore.
And it's not just the guilt of "letting your team down" because of your increased absences, from monthly check-ups to maternity leave. It's also the worry that you are doing your career some serious damage just by being pregnant, and let's not talk about being away from work for four months after you give birth.  
In a recent podcast by content platform Clarity, where three local radio deejays discuss women-related issues, such as the fear of being pregnant and having children, Mediacorp's 987FM presenter Natasha Faisal said: "It gets scary for me to have kids because does it mean I can't progress as a DJ?" 
She was referring to her personal experience with a former supervisor who "sat her down" before her wedding and asked her to hold off pregnancy for the first two years of her marriage. 
It's not just pregnancy and the pressure that women feel to delay having children if they want to progress in their careers. It's also about being able to enjoy equal opportunities for career advancement, and being valued equally to their male counterparts.
WHAT DOES A GENDER-INCLUSIVE WORKPLACE LOOK LIKE?
Time and time again, you hear women bemoaning the fact that leadership positions in their companies tend to be filled by men and that women's voices are not heard enough in policy-making. 
A gender-inclusive workplace is one that offers, among other things, equal opportunities in areas like job roles, where promotions are based on merit and where platforms exist to help encourage a diversity of voices. 
The Ministry of Manpower, in its first nationwide study on the gender pay gap, said that women earned 6 per cent less in 2018 compared to a male counterpart holding the same job in the same industry, and who had the same academic background and age. 
Highlighting a woman's caregiving responsibilities at home as a key contributing factor to the pay gap, President Halimah Yacob said at the opening address of the Institute of Policy Studies Women's Conference on Jun 3: "The need to take time off work leads to lags in work experience and career progression, and consequently earnings. Employers and family members therefore need to be more understanding and encouraging by giving them greater support."
When it comes to identifying "attractive" workplaces, most people are drawn to benefits ranging from comprehensive health insurance coverage to generous compensation packages. 
Additionally, women also appreciate a family-friendly work culture that allows for flexi-work when needed, as well as awareness by line managers of unconscious biases in the workplace.
Chee Su Eing, who was recently appointed as the first female president of non-profit Design Business Chamber Singapore in its 36-year-history, told CNA Lifestyle that she saw an opportunity to build a more flexible and empathetic workplace for her all-women secretariat. 
The mother of three wants to nurture a culture where women have equal opportunity to achieve their long-term potential in their career and still make a meaningful contribution at home.
Here are some areas that point to a company's gender-inclusive policies.  
IT EMPHASISES TRAINING AND MENTORSHIP 
A company that makes upskilling its employees a priority, along with having a nurturing culture that focuses on mentorship would benefit women. 
For example, telecommunications behemoth Telstra is prioritising gender-inclusive initiatives through its Brilliant Connected Women committee that acts as a forum for women employees to connect, build relationships and gain mentoring opportunities for career progression. 
Mentorship programmes at consumer goods giant the Procter & Gamble (P&G) Singapore office involve men as allies to remove bias and help women progress in their careers.
At financial tech company Revolut, its Head of Engagement and Executive Assistance Hannah Francis shared that some upskilling programmes the company has organised include an introduction to programming language Python and raising the awareness of imposter syndrome.
The company is also finalising its targets and a roadmap to increase the percentage of women in its leadership roles, Francis added, including exploring external partnerships and networks to provide mentoring for its women employees, as well as for the wider tech industry.
IT PROVIDES A SAFE ENVIRONMENT FOR WOMEN TO SPEAK OUT 
Women are too hard on themselves, said Joan Chan, Head of People Capability Delivery at Standard Chartered Singapore.
Chan, who coaches employees at the bank as well as in her personal capacity, told CNA Lifestyle about women employees who "felt discriminated against" when they came back from maternity leave or a long-term illness. 
They grew worried when their line managers did not assign them more work, although it was because the supervisors themselves had wanted to give these women more time with their newborns.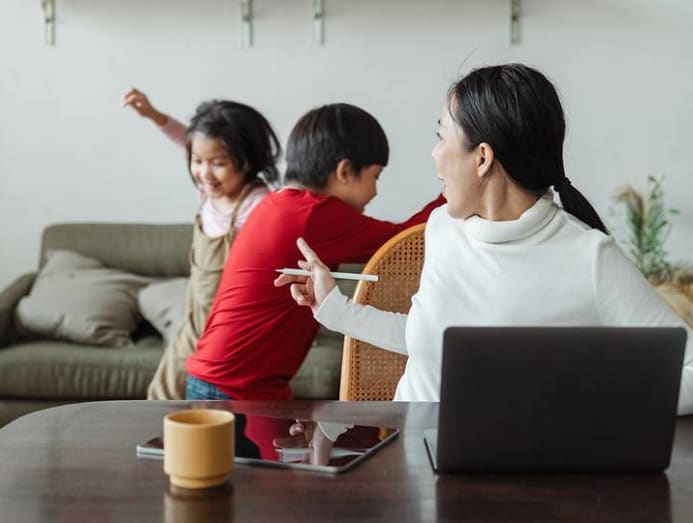 According to Chan, having open communication with your line manager may help to remove pre-conceived perspectives that may not be true. Being positive is also beneficial – believe that there are good intentions behind every behaviour, Chan said. 
"Women do not want their employers to have the misconception that being pregnant means it would affect our work capabilities," shared Rena Teng, Head of Strategic & Corporate Communication, Standard Chartered Bank, Singapore and ASEAN & South Asia.
She told CNA Lifestyle: "I remember working the hardest when I was pregnant only because I didn't want my team members to think that I was holding them back."
Charlotte Thng, who heads the bank's human resources department, said that line managers, called People Leaders, are encouraged to go for an inclusive leadership programme that equips them with skills to recognise unconscious bias and how to mitigate its effect on employees. Over 94 per cent of its leaders globally have gone through the training.
Geraldine Kor, Managing Director of South Asia and Country Managing Director Singapore at Telstra, said one of the ways her company fosters diversity of thought is to encourage and challenge employees to express alternative viewpoints.  
"Irrespective of gender, we also recognise the importance of creating a safe and conducive environment to empower our employees to freely voice their opinions and challenge stereotypes," Kor added.
IT IS SERIOUS ABOUT RETAINING TALENT FOR THE LONG-TERM 
Standard Chartered Singapore launched a campaign in June aimed at creating greater awareness when it comes to mitigating unconscious biases, especially in hiring and talent development. 
"Overcoming biases is not a one-time awareness exercise. It's an ongoing journey and all of us need to continue to work at it," says Standard Chartered Singapore's Thng. 
To ensure gender diversity, Revolut undertook an inclusive-recruitment audit in the first half of 2021, focusing on director level positions and above. It included looking at how the company screened resumes for executive roles to avoid generating biases against women applicants, as well as finding innovative ways to attract more women to apply for such jobs. 
The company is also doing a full review of its global parental leave policies this year, Francis added. "We want to invest in the long-term careers of our female employees," she said.
IT ALLOWS PARENTS TO SHARE THE WORKLOAD
Yein Mei, a mother of two who joined tech giant Facebook late last year as a programs manager, shared in an article by Facebook Careers that she found support as a working parent during COVID-19. As part of its culture of empowerment, the company allowed her to work with flexibility, manage her own time, and be strategic about how to prioritise her work. 
P&G has also put new family-friendly policies in place. Starting in January, secondary caregivers such as fathers can take up to eight weeks of shared parental leave over a period of 18 months. 
Standard Chartered Bank too, takes pride in its family-friendly culture. Female employees are entitled to 20 weeks of fully-paid maternity or adoption leave, regardless of length of service. Currently, only four weeks of paid adoption leave is mandated by the Ministry of Manpower. 
Since 2019, British beverage company Diageo too, has provided progressive parental leave packages that apply to its Singapore office, offering 26 weeks of paid leave, regardless of the parent's gender or status as a primary or secondary carer. 
IT IS INTENTIONAL IN MAKING SURE WOMEN CAN BE IN LEADERSHIP ROLES
Companies that commit to having a balanced gender ratio in leadership and management roles appear to perform better. A 2018 McKinsey & Company report titled Delivering through Diversity, showed that such companies were 21 per cent more likely to have higher profitability.
Across the offices in the Middle East, Africa and Asia Pacific, as well as Singapore, P&G wants to have 50 per cent of its management teams filled by women by 2022. As of May this year, they have attained 48 per cent. 
Similarly, Diageo is on track to hit its global target of having 50 per cent of its leadership roles filled by women, including in Singapore. It achieved a rate of 30 per cent in 2020. 
Ensuring equal opportunities also starts when new staff are recruited. Revolut says its women employees already make up half of their new hires in Singapore while 60 per cent of the leadership team are women. 
But there are challenges in hiring women for more advanced roles in the financial tech company. "At entry level we're glad that women aren't far off when we recruit young engineers, designers, and data scientists. But like many tech companies, there are far fewer as you go up the levels," shared Francis.
To ensure more women are represented at every level of the business, especially in leadership roles, the company is hoping to be more flexible in the recruiting process, such as allowing remote working for roles that are open globally. 
Editor's Note: This story has been edited to reflect clarifications from P&G on their leave policies.