Thai artisans revive old crafts to weave new fashion and stories for modern market
A rural community in northeastern Thailand tells stories of nature and its local way of life through unique handicrafts and slow fashion.
PHU PHAN, Thailand: Drawing was a matter of secrecy for Tavee Meboot when she was a little girl. The more she drew, the more money her father had to fork out to buy new notebooks.
Her family could not afford to keep doing that. So the young Tavee used each notebook sparingly and kept her art secret or until she ran out of pages for her childhood imagination.
"I liked drawing but we were poor. Each time I needed a new notebook, my dad would ask 'Why do you buy it so often?'. The notebook was actually for art assignments from school," Tavee, now 43, reminisced with a smile.
"I sneakily used it for my own drawings."
Tavee's love for art was tucked away in her heart. She grew into a farmer in her hometown of Sakon Nakhon, northeastern Thailand. Her life revolves around the seasons on the Phu Phan mountains, her paddy fields, cassava farm and rubber plantation.
A few years ago, a motorbike accident kept her immobile for months. That was when she got to know Bhukram - a clothing brand from her small village of Nang Toeng.
Over the past seven years, Bhukram has revived the disappearing art of cotton weaving in the community. Its artisans are local villagers who grow, weave and dye cotton by hand. With needles and threads, they then tell the story of local livelihoods through intricate embroidery that has given Bhukram its unique character.
This is a creation of Pilan 'Meaw' Thaisuang, a Thai historian who is passionate about nature and the traditional way of life on the hills of Phu Phan. 
Meaw grew up in Nang Toeng, where generations of residents have lived a simple life close to nature. Her childhood was shaped by the richness of the forest, where children played and looked for food with their parents.
"I love this place very much," said Meaw, who had left home to pursue a university degree and work in Bangkok, 600 km away, for ten years. 
"I always wanted to come home after finishing my education. I wanted to come back to do something and stay with my parents."
Behind her, different kinds of cotton garments fill a new studio. The two-storey wooden building is a place where artisans meet to discuss designs and submit their work for review. The space also functions as a shop and is open to the public every Saturday.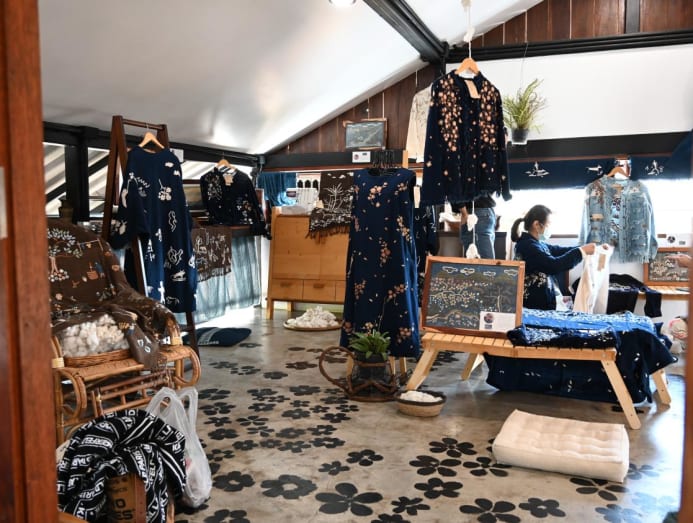 Initially, Meaw worked as a historian in Bangkok with architects and communities. Her love for local fabrics and history, and longing for nature back home made her study the past of Nang Toeng village. 
She discovered that cotton used to be grown along the farmland and harvested for weaving simple garments. It was then handspun into yarn and soaked in natural blue dye from the local indigo plant.
Then Bhukram was born. Meaw left her regular job for an uncertain career path in the village. Little by little, she worked with local women to breathe new life into the old artform, infusing it with hand embroidery that depicts their livelihoods and the nature around them.
Colourful flowers and trees, streams, farms and paddy fields make up the designs of Bhukram's products. They range from scarves to jackets, dresses and shirts - all made from cotton by hand.
Each of them is unique with its own embroidery design that is only produced once to reflect the artisan's perception of the surroundings. Prices start from about US$45 for a scarf but can go beyond US$500 for a dress.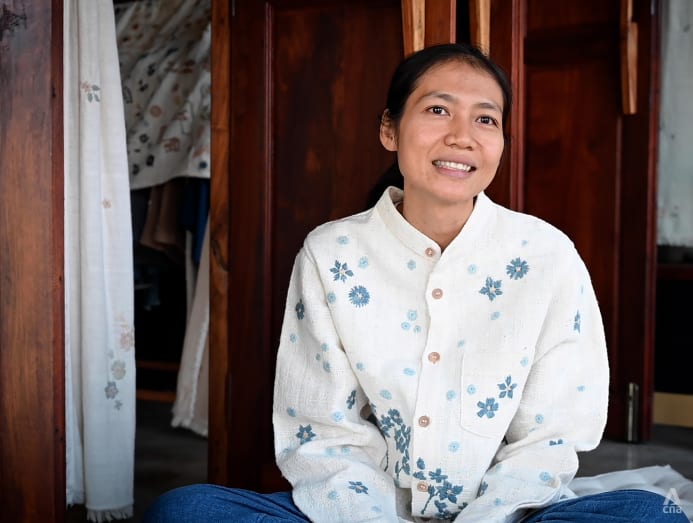 "I'm thankful to Meaw for giving me an opportunity to work like this," said Tavee, who embroiders garments for Bhukram when she is not working on farm chores.
"This is what I wanted to do when I was little."
To her left, an indigo-dyed cotton jacket shows a beautiful scene of a season change, when flowers bloom on Phu Phan and turn its hills into a colourful palette of red, pink and white. Some of them have fallen into a stream, where white storks search for fish among groups of rocks.
The embroidery was inspired by a car ride up the Phu Phan mountains, when her eyes were amazed by the vivid display of colours, and her favourite place at the foot of a hill where her grandmother used to take her to look for mushrooms.
"WE DON'T HAVE TO WAIT FOR THE MEN"
In the village of Nang Toeng, 45 embroiderers work with Bhukram. They are relatives, neighbours and friends who mainly farm for a living.
Embroidery is usually done when they are free and each piece can take weeks or months to complete. 
The artisans are paid when they submit their work. The amount varies according to the intricacy and quality of the needlework.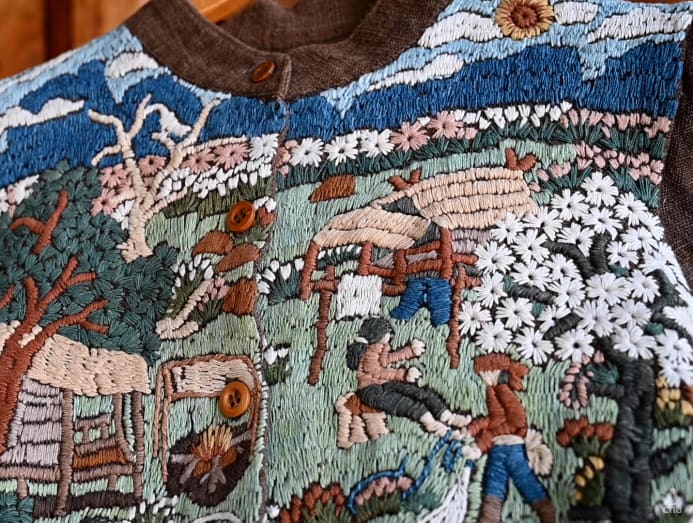 For local women, this is a source of additional income for their families - one that does not require them to change their way of life.
"The income may not be regular like US$600-900 every month and there is no overtime. But by working from home and doing embroidery, I can sweep the floor, look after my child and my dogs, water my plants, tidy up my house and cook. My work stays with me," Tavee told CNA.
Many people her age had to leave home to find jobs in Bangkok, she said, "but I don't need to do that".
Gradually, extra income from the commercial handicraft production has improved the life of many women in Nang Toeng. 
Besides being able to support their families, they also feel a sense of pride and appreciate their financial independence. Being able to earn also means more bargaining power in family discussions and for stay-at-home mothers, the ability to stand on their own feet.
"When my child asks me for money, the money comes from me - his mother," Tavee said. 
"We don't have to wait for the men."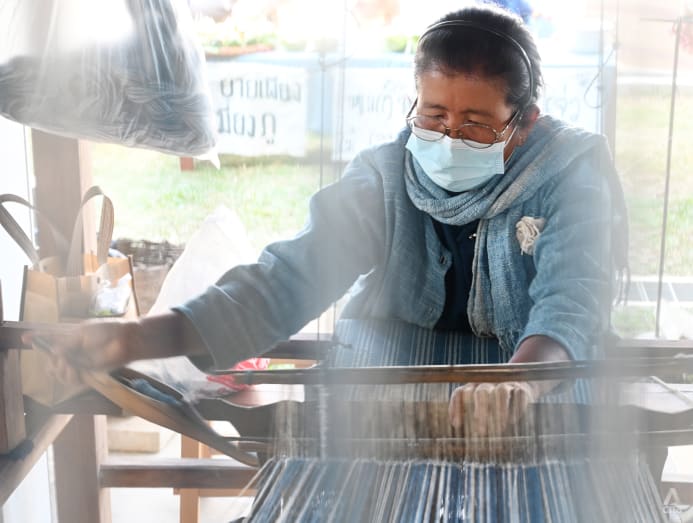 Before the opening of the studio, Bhukram operated almost exclusively online through its Facebook page, which now has more than 33,000 followers.
Each collection contains a limited number of items. They are all unique and come with name tags and photographs of the artisans who created them - weavers, dyers, seamstresses and embroiderers.
A few days before the sale, photos of the garments will be posted online for customers to browse. Most of the products are usually taken within minutes once the sale begins.
Customers who cannot buy in time have to wait for weeks or months before a new collection is launched.
"I'm proud, especially when I receive compliments from customers. I'm even more proud when they want my work," said embroiderer Areena Tabonglek.
Five years ago, she moved to Nang Toeng to take care of her mother. At that time, she had no job and only basic sewing skills. But working with Bhukram has changed that.
"Whenever Meaw posts our work online, I'll keep checking it. When customers comment 'Oh wow! It's so beautiful!' or write 'Reserve'," she said with a broad smile, "I'm proud, so very proud."
"I TRY TO IMITATE NATURE"
Besides operating as a clothing brand, Bhukram also tries to communicate with society about preserving nature and the local way of life. 
According to Meaw, the brand does it through its intricate designs, environmentally-friendly materials from nature and traditional production process that engages people in the community.
"I want people who see our clothes to think 'the forest of Phu Phan is so beautiful and I want to tell others about it'. I want people in Sakon Nakhon to see how others appreciate it and how our brand is trying to talk about it," she told CNA.
The message is also for its artisans - the local residents of Phu Phan. Their job requires them to closely observe the natural surroundings and use them as inspiration to create work.
For embroiderers like Tavee and Areena, they have to come up with their own design once they are assigned a concept for a piece of clothing. It could be a plain dress, jacket or scarf, which still needs to be decorated.
This is their canvas, where they tell a story of their home with needles and threads, feelings and imagination.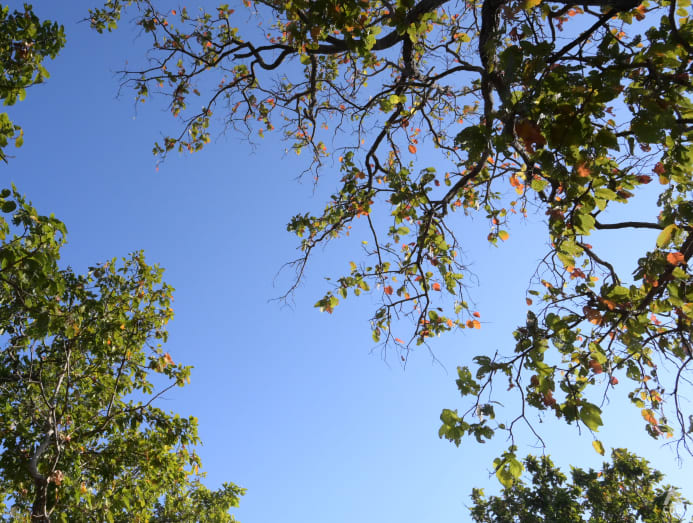 "Whether it would be the forest on the hills, the trees or wild daisies, I now spend more time looking at them. In the past, if I saw a tree, I'd think it could be cut. Now, I've grown to realise it's fertility and if possible, I don't want it to be cut," said Areena.
The wild daisy is her favourite flower because she used to make a crown out of them when she was a little girl. 
Her embroidery may not exactly mirror its shape, she added, but she always tries to replicate its delicate petals and leaves, curves and gentleness when she works.
"I try to imitate nature as much as I can."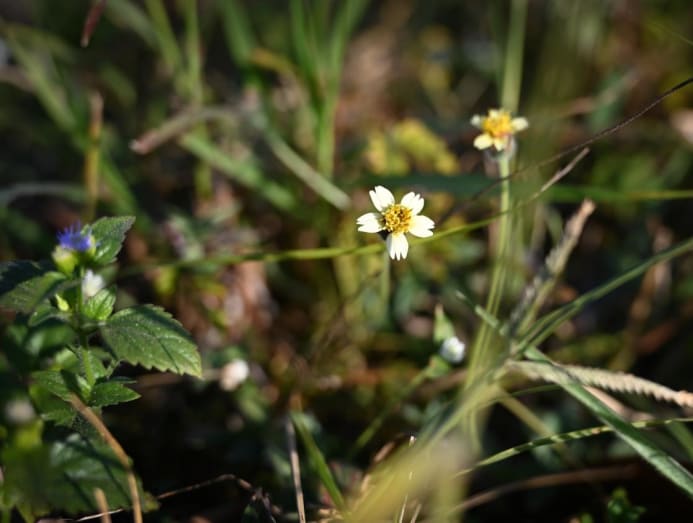 In its early days, Bhukram had about 130 embroiderers. But as the brand grew, the number of its artisans has dropped to 45. 
According to Meaw, every step of the production is time-consuming and requires attention to detail. Not only that, she added, the artisans also need to enjoy translating ideas into designs and keep improving their work.
"So, we only have perfectionists who stayed because they really love it," she said.
GO SLOW
In Thailand, Bhukram is popular among people who value nature-friendly handicrafts, as opposed to fast fashion.
Fast fashion refers to the mass production of inexpensive, trendy garments that are low-quality and disposable. The business model is common in Thailand and often employs low-paid workers.
Each year, various practices in the fashion industry have devastating impacts on the environment.
According to the UN, the equivalent of one garbage truck of textiles is landfilled or burned every second and if nothing changes, "by 2050 the fashion industry will use up a quarter of the world's carbon budget".
"Speed destroys many things," Maew said. "Slowness, on the other hand, destroys the environment less."
For seven years, Bhukram's time-consuming production, limited merchandise and unique designs have continued to attract customers from across the country. Many of them flew or drove for hours to attend the opening of its studio in Nang Toeng village. 
"I'm amazed by their embroidery, which requires a lot of attention and care. Their work isn't produced en masse like other brands," said Nitaya Onhan.
She took a flight from Bangkok to Sakon Nakhon with her friends and drove for an hour to the village so that she could meet the artisans and buy their work.
"There is plenty of apparel with embroidery but for many brands, it doesn't tell a story," said another customer, Chalunthorn Boonwattanaphon. 
"What I really like about Bhukram is their stories, which often have animals like buffaloes and paddy fields. It's like I was transported there and got to share the experience with the embroiderer."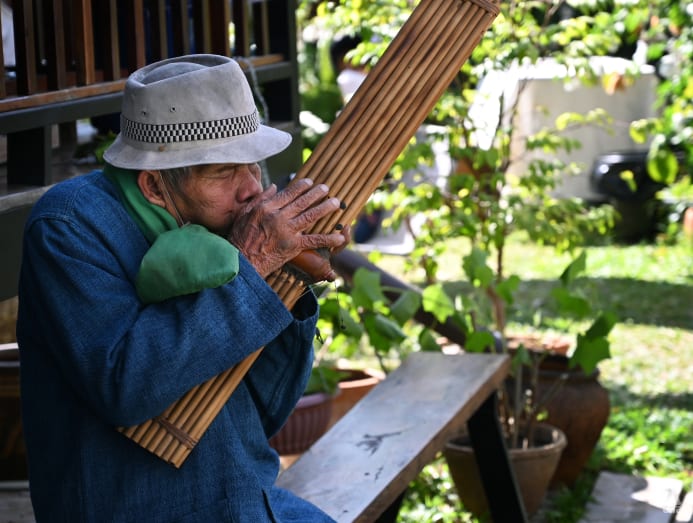 The new studio in Nang Toeng is full of people.
A hum of conversation can be heard on the ground floor, where customers gather around rows and shelves of garments.
Outside, a man in an indigo jacket fills the air with his music from a bamboo mouth organ. Above him, a curtain of raw cotton on white strings flutters in the breeze.
A group of local women sit in a circle on the grass. Their wrinkled hands move with precision as they work with cotton from the fields, turning it into fine threads. 
One day, these thin fibres will turn into clothes and echo the story of nature and the small village where they grew.