Michelin-starred Esora's chef on how Japan's seasons inspire his cuisine: Summer mountain hiking, autumn chestnut roasting
Takeshi Araki is now well settled in at Michelin-starred modern kappo restaurant Esora after a year at the kitchen's helm. The chef with a background in sociology tells us how he's been steering the evolution of the restaurant's cuisine.
If you noticed the trend of the same combination of a few high-end headliner ingredients in many of Singapore's popular Japanese restaurants, you're not alone. Sure, they're inordinately tasty, but I, for one, began to feel like I was constantly being served a Japanese version of "Singapore noodles" – food that's routinely trotted out to please foreign palates.
Esora's head chef Takeshi Araki feels it too, although he expressed it in a much more polite way.
The Hiroshima-born 35-year-old took over the Michelin-starred kitchen a year ago, and while the restaurant has retained its modern kappo style of cuisine, Araki, supported by sous chef Satoshi Nishio, has been guiding the cuisine's evolution towards more traditional Japanese flavours.
 
In the upcoming new Spring menu, for instance, "I am showcasing more traditional Japanese ingredients, some of which may be more obscure to diners here, like sansai (mountain vegetables), rather than just focusing on the popular and well-liked Japanese ingredients," he told CNA Lifestyle.
His goal is a pure one: "I am working towards serving more authentic Japanese dishes, so that I can bring (diners) a higher level of Japanese cultural experience through the cuisine," he said.
Growing up in the Hiroshima countryside, "We learn to embrace the beauty of nature, and are especially sensitive to the seasons, and dream of the shun (seasonal) ingredients that will become available. I look forward to cooking and eating them, be it sansai in spring, ume (plum) pickling in summer, roasting chestnuts in autumn, or indulging in matsuba-gani (snow crab) in winter."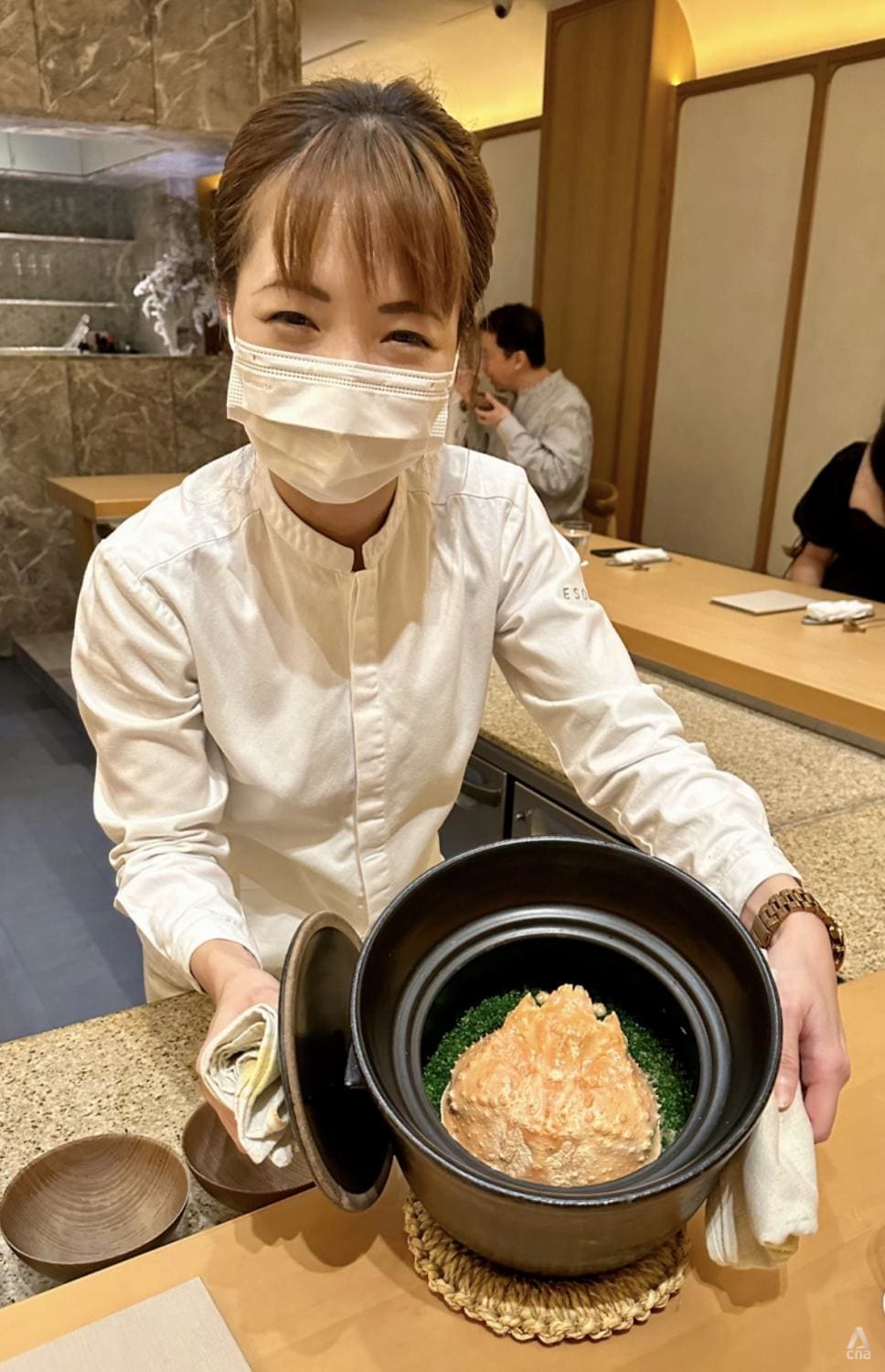 And there's more to it than the food itself – there's also emotion. "I look forward to hanami (flower viewing) in spring, momojigari (autumn leaves viewing) in autumn, mountain hiking and natsu matsuri (festivals) in summer, or enjoying warm nabe (hotpot) in winter.
"All these experiences and many more inspire my menu creation."
On the current Winter menu, for instance, Esora's signature Omi Wagyu dish is presented in a style inspired by one of his winter rituals: Frequenting local inns and eateries in Japan for sukiyaki topped with prized shimonita negi, a type of onion available during the season. Esora guests have their wagyu grilled, sliced and served with a sukiyaki-inspired egg sauce and shimonita negi, finished with a shaving of truffle.
In addition to wine and sake pairings, Esora also offers a painstakingly created tea pairing for a different dimension to the dining experience.
Araki's culinary philosophy has been largely shaped by his four years at three-Michelin-starred Nihonryori RyuGin in Tokyo, where his mentors had "the best knife skills I have ever seen – their delicate touch with the knife was incredible, such that even after the ingredients had been sliced or cut, they still looked 'alive'. 'Till today, I am conscious about how to bring the best out of the ingredients with my knife skills. For example, in summer, the hamo (pike conger) comes into season – and it takes skills and practice to break it down, especially the bones."
In addition, working at French truffle-focused restaurant Margotto e Baciare in Tokyo exposed him to contemporary French cuisine and modern French techniques, which "I incorporate into my cooking to bring the best traditional flavours to the fore."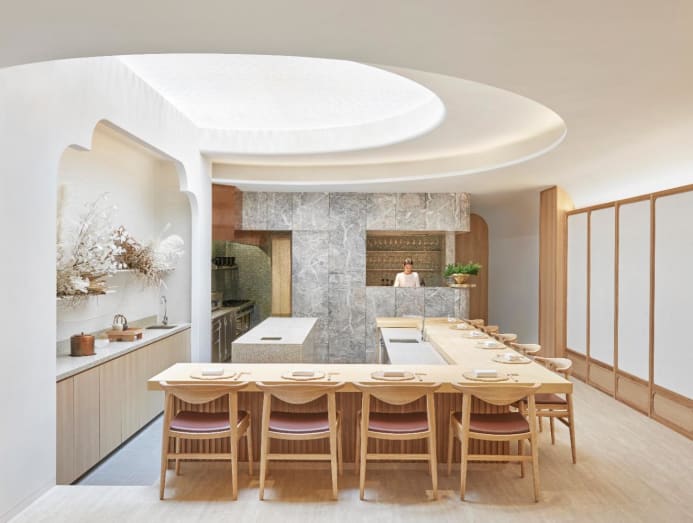 One thing that stands out about Araki is that he spent his formative years studying sociology at a university in Kyoto. So, when he first took over the kitchen a year ago, his first area of focus was to improve the environment and work culture for the restaurant's team.
"I believe in creating a pleasant and positive working environment and establishing a work-life balance," he said, reiterating: "I am conscious about the balance between achieving top accolades and maintaining work-life balance."
Something he'd like to communicate to Singapore diners is that "there is never 'the best season to eat'. Come with an open mind to immerse in each season and enjoy nature's wonders. Embrace the idea of enjoying seasonal shun produce that tastes at its best, rather than only focusing on those few ingredients that are popular and commonly promoted."
After all, "Each season is short and transient, and brings unique and amazing ingredients. For example, in spring, sansai (mountain vegetables) grow wild on the mountains and are foraged, some before the snow melts. They are mostly buds and shoots, and have a distinctive flavour unique to the Spring season."
These are the "special gifts" of nature that are ours to savour and cherish.
Esora is at 15 Mohamed Sultan Road.