How to cook the perfect steak at home and beef up your outdoor barbecue skills
It's all about the right technique, says Desmond Tan, the founder of East Side Butchers, and Fyregrill Store and Academy.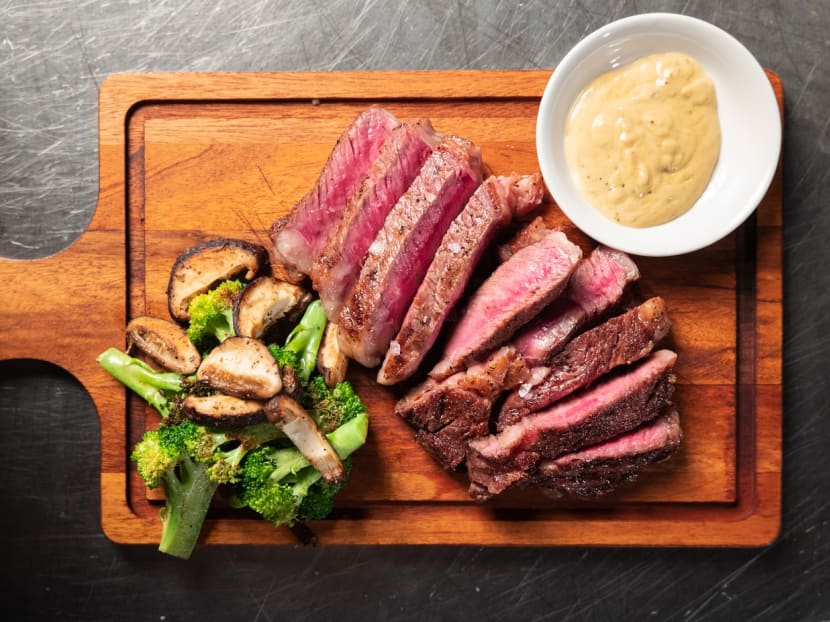 With bigger gatherings among family and friends now commonplace, there is no better time for the major comeback of one of Singapore's favourite pastimes: The outdoor barbecue party.
Whether it's at East Coast Park with your mates or the balcony of your cosy flat with your family, grilling season is an all-year-round affair which Singaporeans take very seriously.
Which is why we thought it best to consult the experts on how to take your barbecue skills to the next level with the right techniques.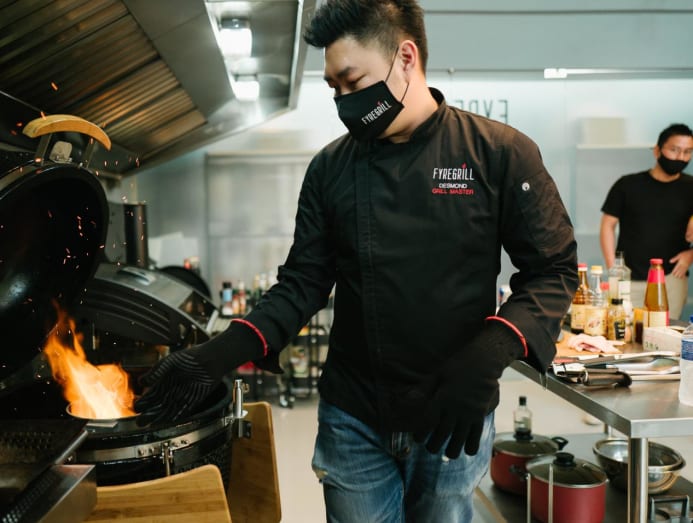 Grill master and chef Desmond Tan, who's the founder of East Side Butchers, and Fyregrill Academy (the only barbecue cooking school in Singapore to offer demo and hands-on classes using a variety of grills and smokers) told CNA Lifestyle that the tips for a perfecting an open-pit barbecue party are fairly simple. (Don't forget to check out the video at the end.)
"One of the first things is choosing what type of charcoal to use," shared Tan. "Using good quality high heat charcoal will compensate for the quick heat loss."
"It's also important to set up your barbecue pit with different heat zones", he added. "Because you want to cook over embers, not flames, so as to prevent food from being burnt on the outside and raw on the inside."
But if you don't have access to a barbecue grill, you can still cook a fantastic steak in your home kitchen without overpowering oil fumes, said Tan.
"Oil fumes are the most commonly cited reason we get when we ask people why they don't cook steaks at home more often," he said. "But first, you have to forget about all those YouTube videos asking you to preheat your pan until  it's smoking hot and beyond as oil vapours will result in oily floors."
Cooking a great steak every time should not be that hard, said Tan, adding that people tend to over-complicate it with a few classic errors.
All set? Here's Tan's cheat sheet for steak greatness:
1. Start with the right cut and a quality piece of meat: 
Choose a suitable steak cut (such as ribeye or striploin) at least an inch to one and a half inches thick. Preferably chilled, rather than frozen (unless it's wagyu as the high fat content is more forgiving). When it comes to cooking red meat, thicker is better. It's easier not to overcook a thicker steak and while you might be able to cook two steaks at once, it can be tricky to have to cook several and have them all ready at the same time. So consider sharing a thicker steak than having a thin steak per person.
2. Allow the steak to sit at room temperature
Let your steak sit at room temperature for about an hour. A room temperature steak will cook more evenly. (And no, you do not need to wash the meat before.). Pat dry before seasoning if necessary.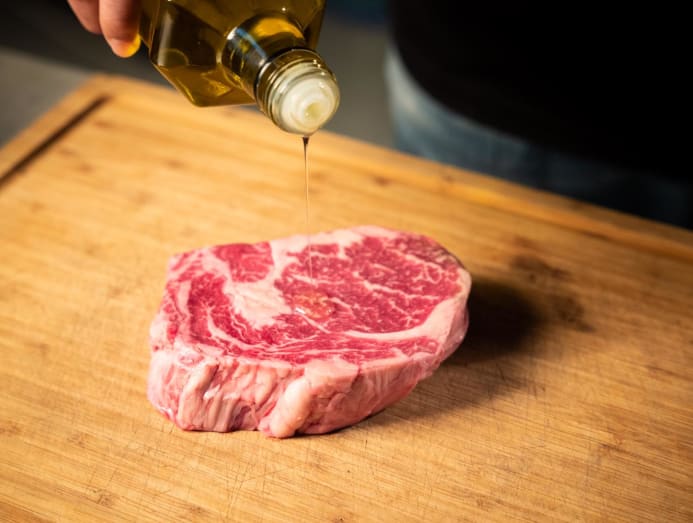 3. Season early or just before cooking
Salting early (at least 45 minutes) allows for the meat to be properly seasoned and for the exterior to dry out, which makes the surface of the steak easier to brown in a pan.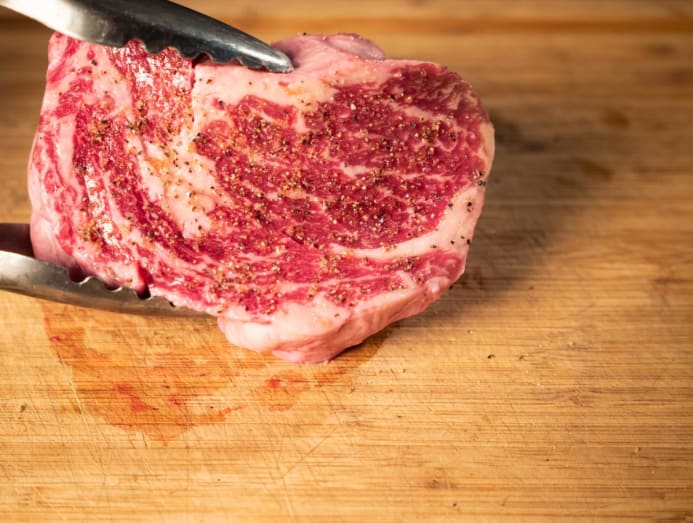 If you can't wait 45 minutes, it's better to season immediately before cooking.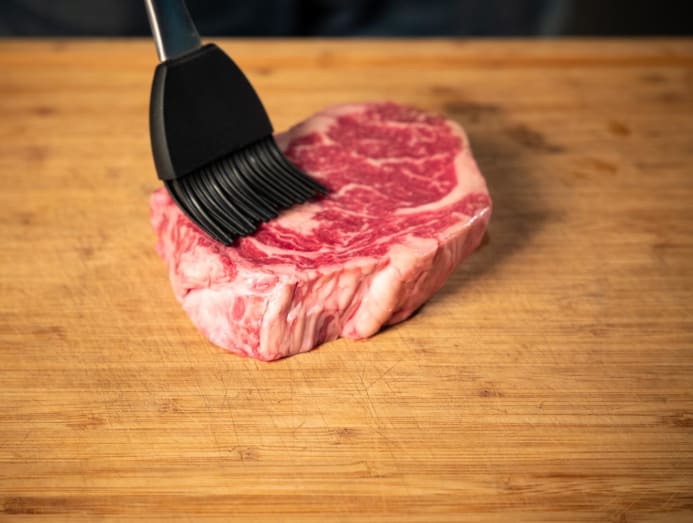 Brush a thin layer of oil and season both sides of the steak and edges with good quality medium grain sea salt and black pepper.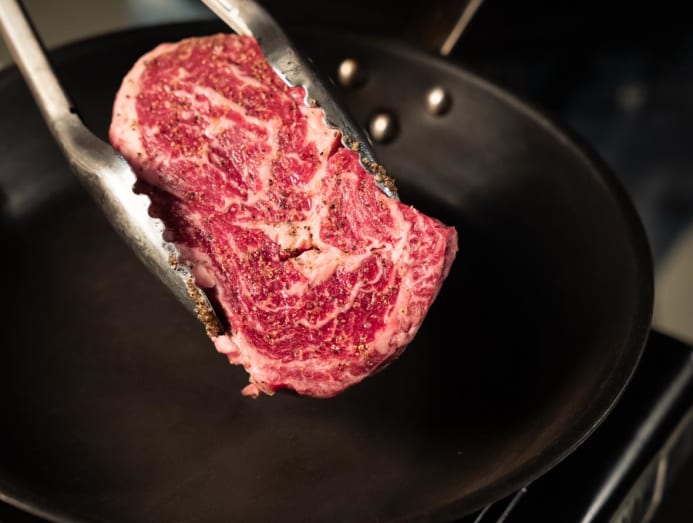 4. Heat a heavy-bottomed pan on moderately high heat
Wait for the pan to heat up adequately before putting in the steak. If the pan is not hot enough, the meat might stick. If there is a lot of rendered fat in the pan during the cook, you can remove some as excess oil will produce oily fumes.
It's also not necessary to baste the steak in butter while cooking. If you like the flavour, you can serve your steak with a slice of compound butter (a stick of butter seasoned with herbs, lemon and garlic or shallots).
5. Allow the steak to build up a crust before moving it
Don't overcrowd the pan. If the temperature drops too much or the moisture doesn't evaporate quickly enough, it is likely to result in a pallid grey looking "boiled" steak.
6. Use a meat thermometer to check the internal temperature
For medium rare doneness, the desired internal temperature is give or take 55 degrees Celsius; for medium is approximately 60 degrees Celsius; medium well is around 65 degrees Celsius and well-done is 70 degrees Celsius. Do take into account the effects of carry over cooking.
As the internal temperature of the steak will rise even after it's removed from the heat source, remove the steak about three to five degrees shy of the desired internal temperature.
7. Let it rest. 
Rest the steak for five to 10 minutes before serving, and voila – the perfect steak. One of the biggest industry secrets is not rushing the steak onto a plate to serve. Letting the steak sit between cooking and serving vastly improves the taste, as it allows the exterior to cool and start to draw the juices more evenly throughout the steak.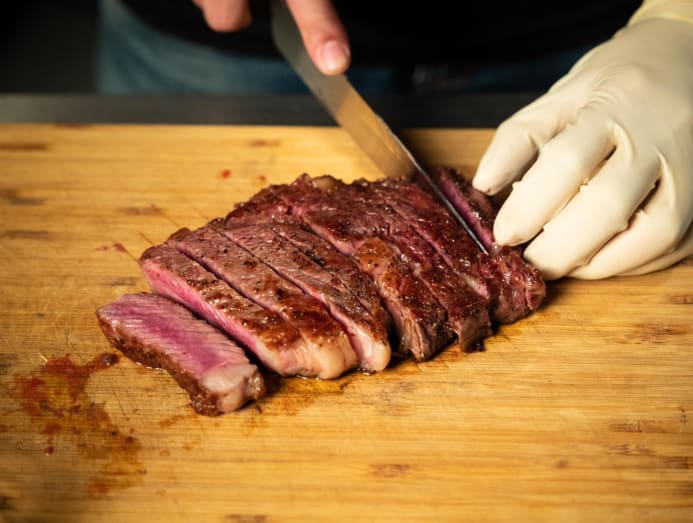 Still not as confident as you would like to be? Fyregril Academy has hands-on steak classes to help master the craft of pan-frying till the steak gets a golden crust while still retaining a juicy pink centre.
Steak It Easy classes by Fyregrill is available at https://eastsidebutchers.com/classes/ for S$90 per person (including the steak!).
Planning an outdoor barbecue with friends and family? What's the best charcoal to use? When do you know it's done? CNA Lifestyle gets a crash course from Chef Desmond Tan of Fyregrill BBQ Store and Academy.