Angelina Jolie reveals how her struggle with PTSD shaped her Eternals character
The Oscar-winning actress who plays the immortal warrior Thena in her first Marvel movie candidly tells CNA Lifestyle how the superhero film can raise discussions about mental health.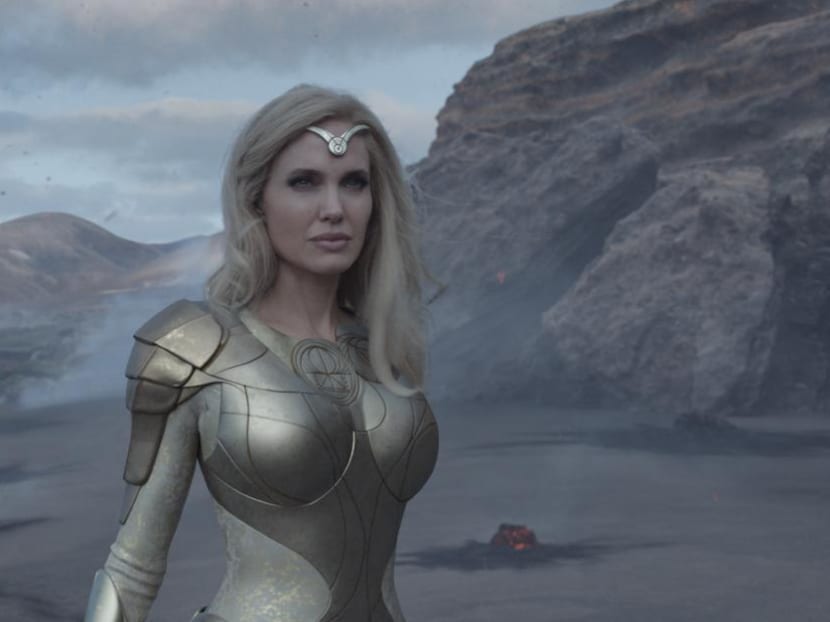 Hollywood superstar Angelina Jolie has never been one to mince words. Whether it's spending the last 20 years campaigning for human rights as a special envoy for the UN High Commissioner for Refugees, or speaking up after several countries banned her latest film Eternals for a same-sex kiss, the Oscar-winner famously never holds back. 
"I'm proud of Marvel for refusing to cut those scenes out. How anybody is angry about it, threatened by it, doesn't approve or appreciate it is ignorant," she recently said in an interview with an Australian news site.
So when Jolie gets frank about her own experience with PTSD (post-traumatic stress disorder) and the importance of normalising mental illness in a film, we sit up and listen.
In the movie, the 46-year-old actress plays Thena, a physically powerful but emotionally vulnerable member of the extraterrestrial Eternals who constantly struggles with her mental health. Exactly how deep did she have to dig into herself to bring her character to life on the big screen?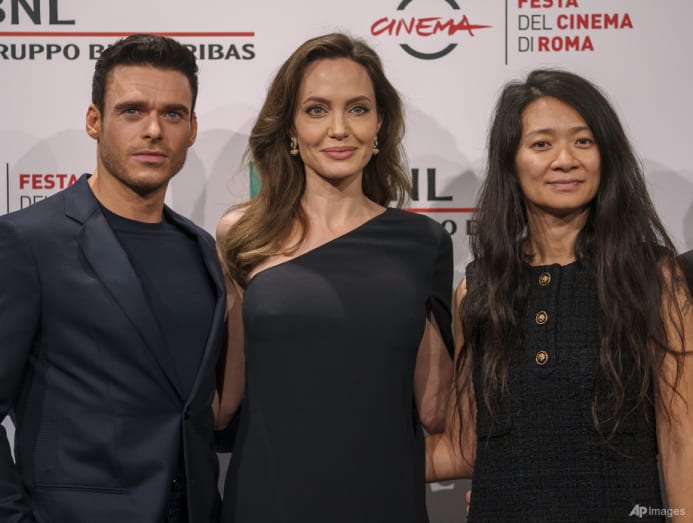 "What's interesting is that Chloe (Zhao, the director of Eternals) casts people who she feels are a bit similar to the characters. And then she actually develops the character with you," Jolie told CNA Lifestyle.
"I had talked to her about experiencing PTSD myself a few years ago and my own fears about not being strong enough to protect those I love," she continued candidly. "And we would have these conversations and then subsequently we would sometimes adjust the dialogue and some of the scenes."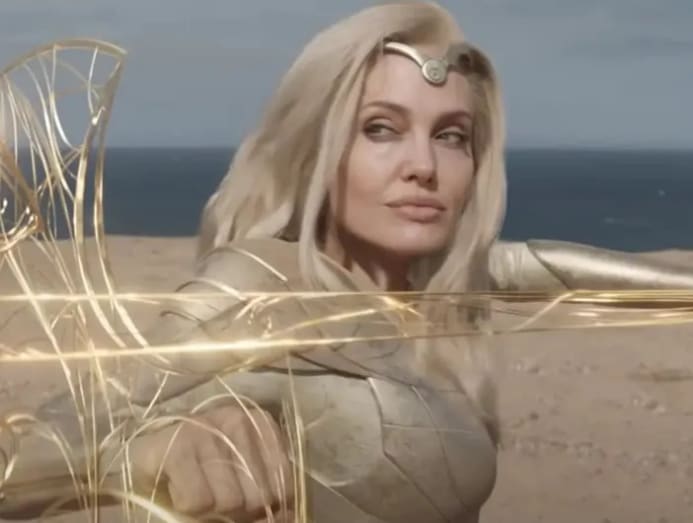 Indeed, one cannot fathom any actor better suited to play Thena.
We pointed out that for genetically superior non-human superheroes, the immortal Eternals come across as some of the most human out of all the famous characters in the Marvel Cinematic Universe (MCU). And that warrior Thena, in particular, seemed to be one character that many people, especially women, can relate to – someone with a strong veneer but is actually grappling with a lot mentally and emotionally that is all within and hidden.
I had talked to Chloe Zhao about experiencing PTSD myself a few years ago and my own fears about not being strong enough to protect those I love.
"I love what you said, because I think that's exactly right," Jolie replied with a smile. "Most people, and many women – we think we're supposed to have it all together and that's what makes us strong. But the truth is, most people are struggling with something – whether it be a trauma or if they don't believe in themselves. So yes, most people. And in fact, that is what makes you strong! It's something you're fighting through."
Eternals' star Angelina Jolie sat down with CNA Lifestyle's Genevieve Loh for a candid chat – and why she really wanted to join the superhero family regardless of how big or small the role was. Plus: Will the Oscar winner finally say yes to directing a movie for the Marvel Cinematic Universe?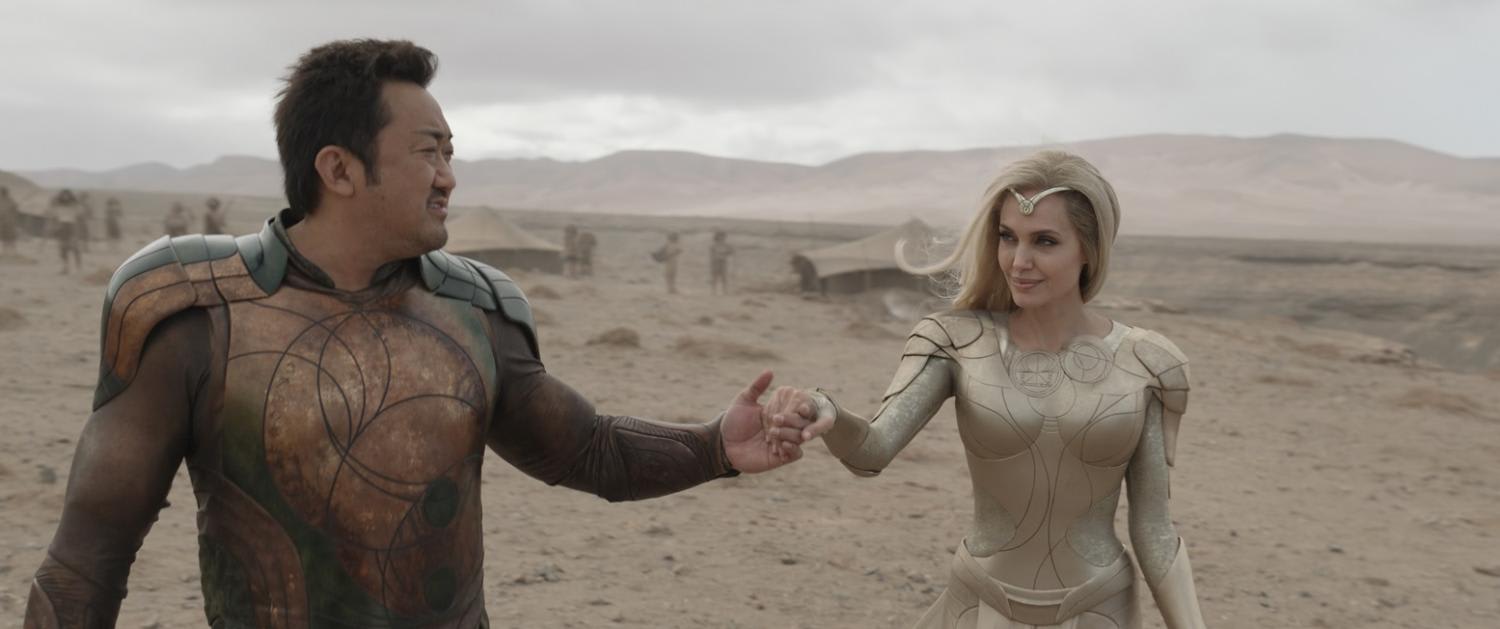 She continued: "Sometimes people who seem broken are actually just very emotional people who have deep feelings and are deeply intelligent, who are just absorbing too much. And they don't know how to process it because they can't shut it out. And yet if they can absorb it, that is what makes them strong. And emotion is what makes a woman very strong. The depth of our feeling is actually our strength. But yes, it's really hard."
Perhaps putting a character like Thena – a superhero wrestling with her feelings and balance of mind – up on the silver screen signals to people everywhere that it's okay not to be ok?  
"That's exactly right," replied the actor-director. "I really hope people see that."
We think we're supposed to have it all together and that's what makes us strong. But the truth is, most people are struggling with something"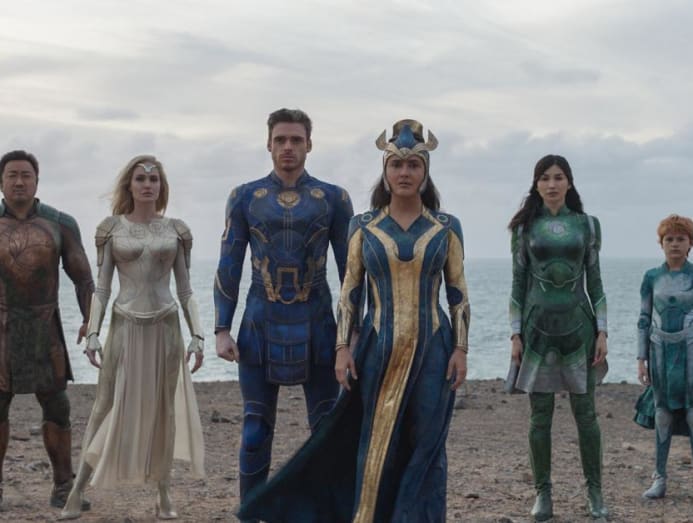 Normalising mental health, via a platform as big as a Marvel movie, is undeniably paramount to Jolie. But it was also the diversity of this Eternals cast – that includes Salma Hayek, Gemma Chan, Kumail Nanjiani, Ma Dong-seok, Richard Madden, Kit Harington and deaf actress Lauren Ridloff – that made her say "yes" to her first Marvel movie.
Eternals' stars Richard Madden, Gemma Chan and Kit Harington along with director Chloe Zhao sat down with CNA Lifestyle's Genevieve Loh to talk about geeking out over Captain America's shield, the art of flying and being inspired by Christopher Nolan's Interstellar and Denis Villeneuve's Dune.
"I was one of the first cast, but they told me what the plan was. They said that this is the family we want to build. And this is what we're committing to as Marvel," she revealed.  "And I said that I don't care how big or small my role is, I just want to be a part of that family and you know, make that the new norm."
Of course, Oscar-winning director Chloe Zhao was also another important aspect for Jolie.
"I knew that she would approach it with the right level of intelligence and nuance. And I think that's what's important about it, too," she said.
"There is so much diversity, but when you watch the film, it's treated as it should be – that it's just simply normal. It's normal that a family and superheroes are of all these different types of people," she said.  "And I think when little kids watch this film, it'll just make them see themselves and they won't even think about how different it is. It'll just feel right."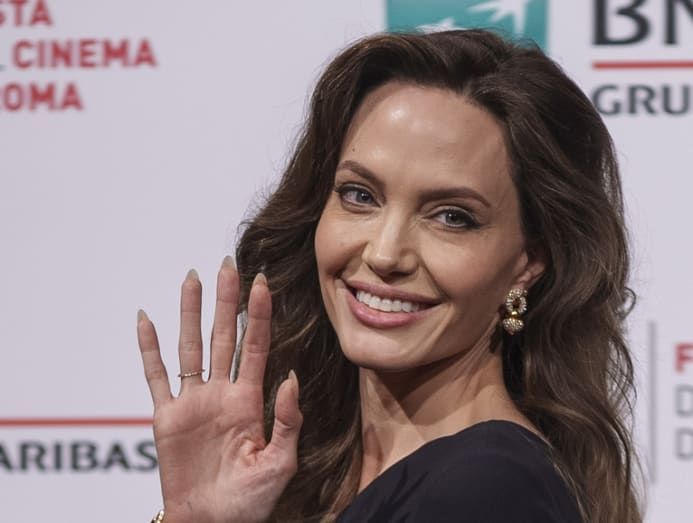 So now that she's finally joined the MCU, will Jolie ever revisit the request for her to go behind the camera and direct a Marvel movie?
"I think they're very hard to do and to direct. My films have usually been about, like, history – most of my films are, you know, historic war films," she said with a laugh. "It'd be quite a challenge. But I'll never say never. I'm not sure yet that I'd be the right person, but never say never."
Eternals is showing in cinemas now.