From Our Backyard: This seasoned home gardener grows her vegetables in repurposed plastic cups
Cindy Tan started with flowering plants but shifted to edible ones during the pandemic – and as her garden grew, she had one trick up her sleeve that involved one humble item found in many homes.
Cindy Tan began gardening a few years ago, starting off with flowering plants. But the COVID-19 pandemic struck, leading to wet market closures and a shortage of fresh produce at supermarkets.
She decided then to concentrate her efforts on growing edible plants instead, so her family could enjoy a certain degree of self-sufficiency and food security.
"I've always dreamt of being able to go to my backyard and gather whatever I want to cook for that day; I want clean and homegrown vegetables for my family," said Tan, who works as a part-time tutor and a freelance trainer at Garden With Purpose, an organisation that conducts organic gardening and lifestyle workshops.
"During the COVID pandemic, I was lucky to be given vegetable seeds for my birthday, from a friend who had received them from the government. That's how my journey into vegetable gardening started. It's also a lovely idea to instil in my girl, eating more greens at home," recalled Tan, who has an 18-year-old daughter.
Growing produce in abundance requires a lot of space, which is something she doesn't have, as her family lives in a small landed property in the eastern part of Singapore. So, she found an innovative way to grow using a humble item found in every home.
"Due to the space constraints, I decided to grow leafy vegetables in plastic cups. I collect the cups whenever I buy soybean milk. You can re-use them, and they can last easily for a year or two," she said.
"Basically, what I do is plant seeds in a soil mix in the cups. I use soldering irons to make holes in the plastic cups, to allow for more drainage and aeration. All you need is just a small table where you can place 16 cups of vegetables. After that, I do some repotting (by moving the seedlings into larger pots, into the ground), and about six weeks later, I am able to harvest."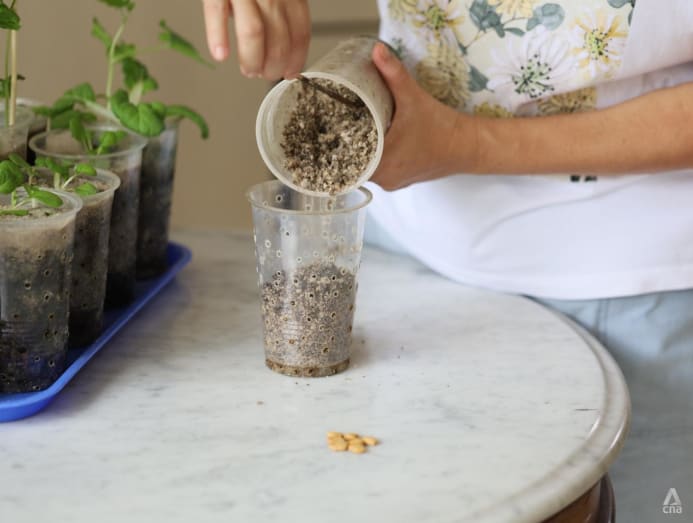 Even though it occupies just a small, rectangular plot of land in her backyard, Tan maximises its use by growing some plants vertically, with the help of trellises. The lush DIY urban farm provides her and her family with a constant supply of fresh fruits, vegetables and herbs.
They get to enjoy mulberries from their mulberry tree – female mulberry trees start producing fruit when they are about three years old.
There are also eggplants or brinjals, which take 100 to 120 days to grow from seed to full maturity.
Her okra or lady's finger plants reach maturity in 50 to 65 days, and go on to produce pods for 10 to 12 weeks. "Homegrown okra is very tender, and it's never very green in colour," she noted.
Her caixin germinates within three to five days, and is ready for harvesting in 30 to 40 days.
As for her long beans, she makes sure not to harvest them all; she leaves some to turn brown on the vine so she has beans with which to grow future crops.
Her favourite plant is the luffa, which she grew from scratch. She repotted the plant into the ground when the seedlings were about 10 to 15cm tall, and protected them from snails and slugs using plastic cups. The plant is now about four months old and "quite gigantic", she said, adding that it's "winding its way around, and climbing onto the railing as well". 
"The luffa that I harvest from my backyard is gorgeous. It's juicy, sweet and not over-ripened, so it's very crunchy when you bite into it. It tastes delicious when cooked," she enthused.
Home gardener Cindy Tan takes us on a quick tour of her vegetable garden and whips up an easy dish made with luffa she harvested right at home.
To prepare a simple luffa and egg dish using the home-grown gourds, she harvests one, uses a peeler to remove the coarse, ridged and dark green exterior skin, and slices the luffa into rounds.
"It's simple to cook. Not many ingredients are needed, just egg, oil, salt and pepper for seasoning," Tan explained.
She quickly fries ginger and garlic in hot oil, adds in the luffa rounds, then mixes in beaten egg, being careful not to overcook everything as the dish is supposed to be more scrambled than an omelette. She then lets the dish simmer gently for a while to allow the excess luffa juices released during cooking, to evaporate.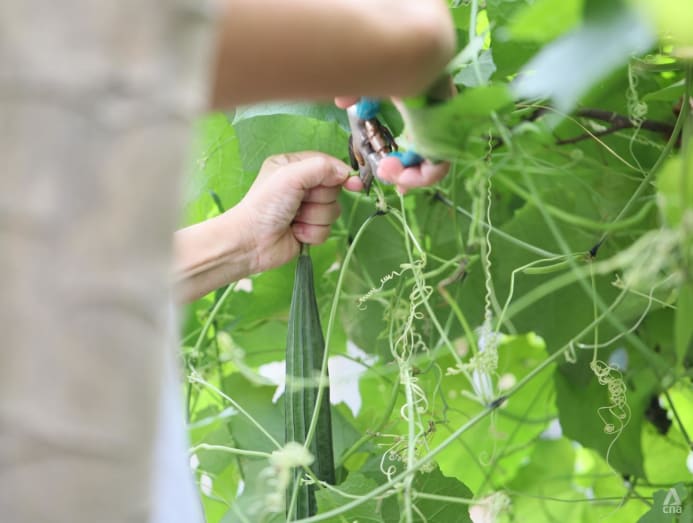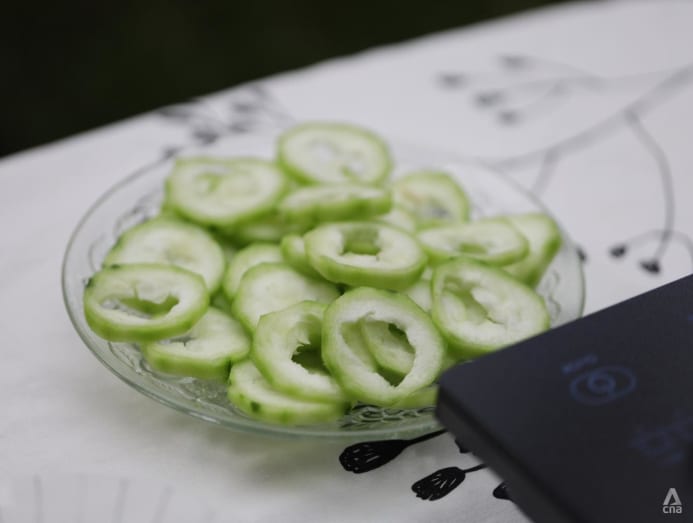 "The feeling of harvesting your own produce is a feeling that I cannot really describe. You'll understand how I feel if you grow your own vegetables at home. It's a wonderful feeling because it's a very fulfilling journey for me. I start to discover what I'm capable of doing and most importantly, my family members support me after seeing all the produce I'm able to bring to the table," she said.
"At the moment, I am unable to grow enough to be completely self-sufficient, but I intend to follow the government's initiative to supply 30 per cent of my family's consumption needs, and hopefully more in the near future," she noted, explaining: "Presently, we have enough harvest to cook for a day or two, so I'm increasing my variety of veggies such as Brazilian spinach, bitter gourd, chye sim, naibai, lettuces, xiao bai cai, sweet potatoes, kang kong, long beans, papaya and herbs such as sweet basil and oregano."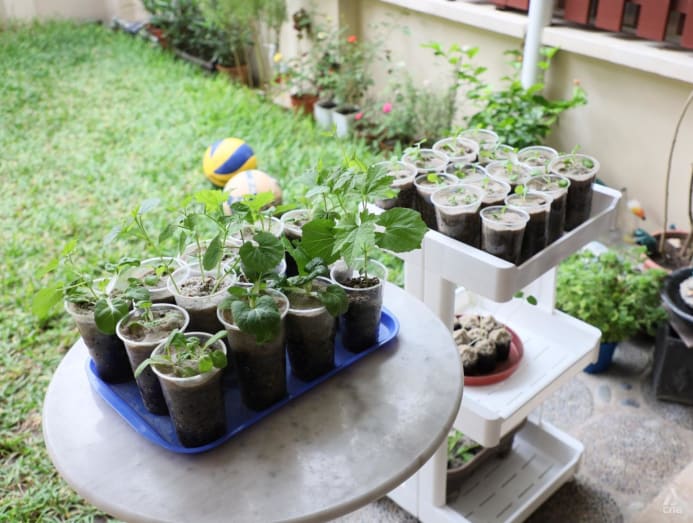 "Homegrown produce is sweet and tender," she said, so much so that friends whom she's shared her bounty and gardening journey with, have also picked up the hobby.
Even nature wants her share. "Hornbills have been helping themselves to our papayas, and we've been attracting bees and other insects as we do not use commercial pesticides," Tan quipped.
"It will be my biggest joy to see people taking up spades to grow their own veggies. This is a more sustainable way of life as it's more environmentally friendly, while allowing us to feed ourselves. Hopefully, my enthusiasm can motivate more friends and loved ones to try their hand at growing veggies," she concluded.