How to deal with eczema: Does skipping seafood help? Are essential oils effective?
Dermatologists answer some common eczema-related questions to better manage the itchiness, redness and flakiness many Singaporeans suffer from.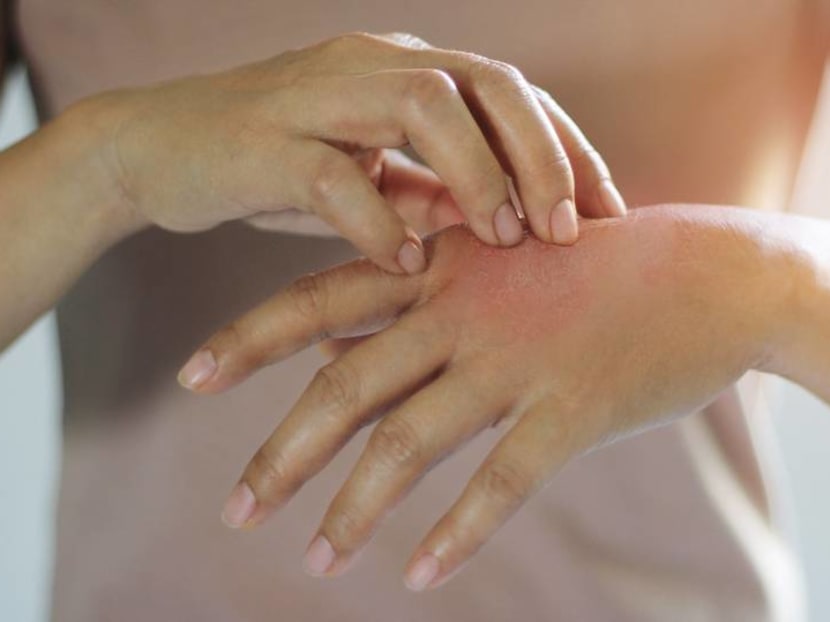 Individuals with eczema will be familiar with the frustrating, recurring situation: Intense itching that compels you to scratch or rub, which leads to the skin becoming darker, thicker, bloody or even pus-filled when infected – if it isn't already looking red and flaky.
To alleviate the itch and skin's inflamed appearance, it is not surprising that besides topical hydrocortisone or steroids, some have turned to alternative treatments or advice, especially if they haven't had much success with conventional medicine.
Patients may even skip the use of steroidal creams as they are under the impression that these creams can thin the skin or create a perpetual reliance on them. Some may believe that a diet overhaul, including giving up dairy, seafood and meat, can help the body get rid of eczema-causing toxins.
While the efficacy of such practices remains to be seen, what is a fact is that many people suffer from eczema in Singapore – about 10 per cent of adults in Singapore, according to Associate Professor Lee Haur Yueh, the head and senior consultant with Singapore General Hospital's Department of Dermatology.
Furthermore, about 11 per cent to 13 per cent of adult eczema cases begin in childhood, said Dr Uma Alagappan, a consultant dermatologist at KK Women's And Children's Hospital.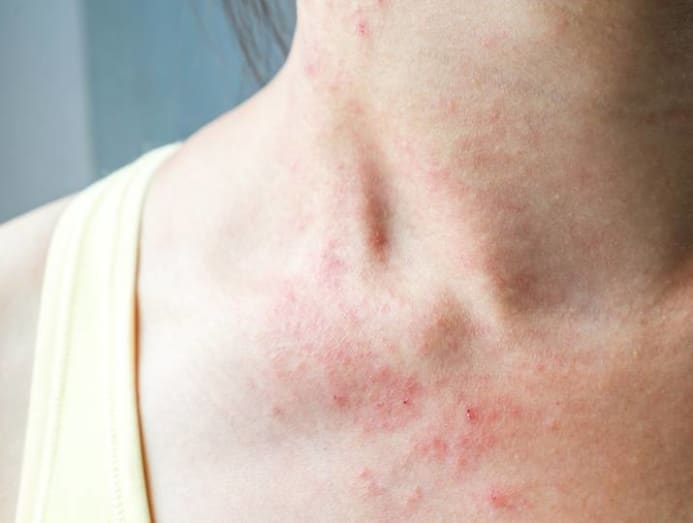 But here's the rub (excuse the pun): Because eczema is so common, it is not surprising for other skin conditions, such as fungal infections and psoriasis, to be mistaken for eczema, said Dr Koh Hong Yi, a consultant dermatologist with Tham Siew Nee Clinic at Gleneagles Medical Centre. "There are also many types of eczema, and there can be differences in their treatment."
And that's where unsubstantiated advice can worsen the skin condition. "There is quite a bit of misinformation with regards to topical treatments, steroids and eczema," said Assoc Prof Lee, who is also the president of the Dermatological Society of Singapore, which recently held a virtual forum to address such concerns. 
Here's a look at what dermatologists say about the common misconceptions on eczema:
MISCONCEPTION #1: SEAFOOD, DAIRY PRODUCTS, MEAT AND ADDITIVES CAN TRIGGER ECZEMA
The good news is, you can have your lobster roll and beef rendang. "Eczema is not due to food allergies," said Assoc Prof Lee. "Eczema is due to inflammation of the skin and a poor skin barrier."
But when it comes to infants, food allergies may come hand in hand with eczema, and it can be triggered by cow's milk, eggs or peanuts, he said. "In adults, food rarely triggers a flare of eczema."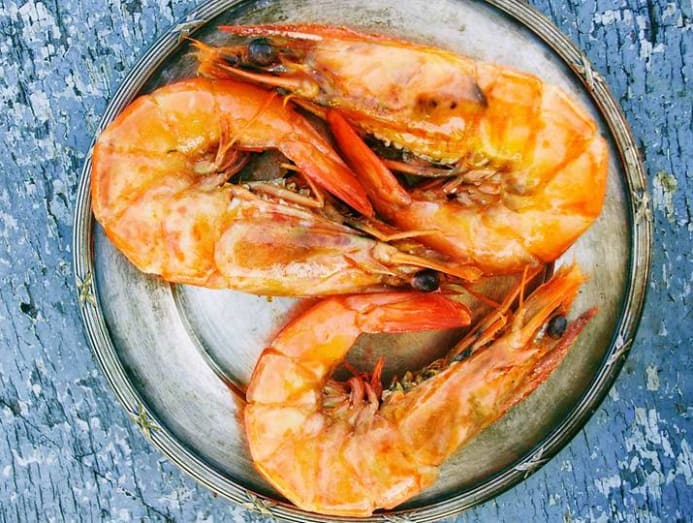 As for the notion that certain food, including chicken, milk and seafood such as prawns, crabs, clams and mussels, contain "hormones" or "toxins" that can trigger eczema, Assoc Prof Lee isn't concerned.
"Although seafood, milk, chicken and peanuts are widely believed by the public to worsen eczema, the scientific basis of such opinions is not clear and a definite link has not been demonstrated."
While it is generally a healthy move to avoid additives such as preservatives and flavourings in your food, Assoc Prof Lee said that the move, in and of itself, is "unlikely to cure eczema".
The recommended duration of use for topical steroids is a few days to two weeks.
MISCONCEPTION #2: ESSENTIAL OILS AS WELL AS HERBAL AND NATUROPATHIC PRODUCTS ARE SAFER TO USE
According to an article on Medical News Today, natural ingredients such as aloe vera and virgin coconut oil may help to manage symptoms such as dry, broken skin, and may "combat inflammation and harmful bacteria to reduce swelling and prevent infection". 
However, they cannot cure eczema.
And sometimes, being "natural" doesn't mean the product is good for your skin or better than conventional medicine, especially if your skin is sensitive and prone to eczema.
"Essential oils in concentrated form, for example, can cause irritation and many of these contain natural fragrances, which can incite allergic skin reaction in sensitive individuals, said Dr Lim Yen Loo, a senior consultant with the National Skin Centre.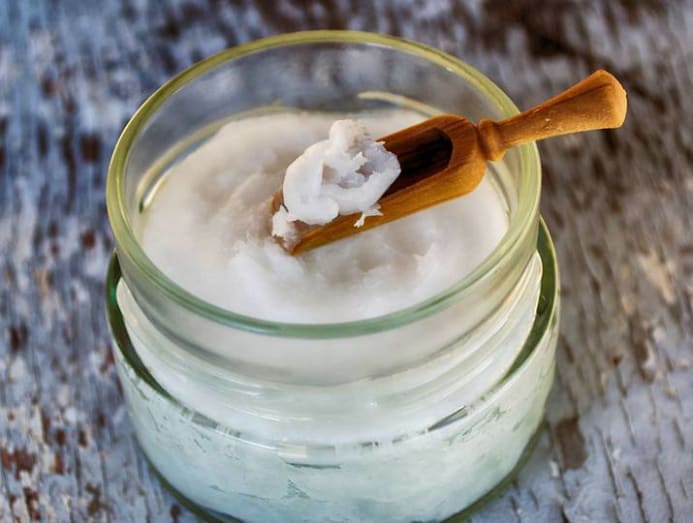 MISCONCEPTION #3: TOPICAL STEROID CREAMS THIN YOUR SKIN SO USE THEM SPARINGLY
There is a reason why your steroid cream is prescribed by the dermatologist: The strength of the steroids is tailored to your needs.
But if you apply less or use the cream infrequently during a flare-up instead of following the doctor's instructions, you may be receiving less than what you need. Worse, you may not see results.
As a rough guide, to cover an area that is the size of two palms, squeeze an amount of steroid cream that covers from your fingertip to the first crease of the finger, recommended Dr Alagappan.
What can also happen is, your dermatologist may be led into thinking that the current steroid dose is not sufficient and increase it when you actually don't need a higher dose, explained Dr Alagappan.
It is also not a good idea to reserve the cream only for a severe episode or in the thick of a flare-up, she added. "Using steroids only during a bad flare-up will mean that the doctor has to prescribe strong topical steroids to control the amount of inflammation," said Dr Alagappan. "It might be wiser to use topical steroids early in the flare-up when the inflammation can be controlled with a lower dose."
As for the skin thinning, it is again tied to the dose as well as the location, said Dr Alagappan. "Thinning of the skin occurs when a strong topical steroid is used on areas with naturally thin skin such as the neck, eyelids, the inside of the elbows and behind the knees for a prolonged period." 
Exactly what is "a prolonged period"? According to Dr Wang Yi Shi, a consultant dermatologist from W Skin And Laser Clinic at Mount Elizabeth Novena Specialist Center, the recommended duration of use is a few days to two weeks. "Using topical steroids this way is generally safe and helps to control eczema," she said.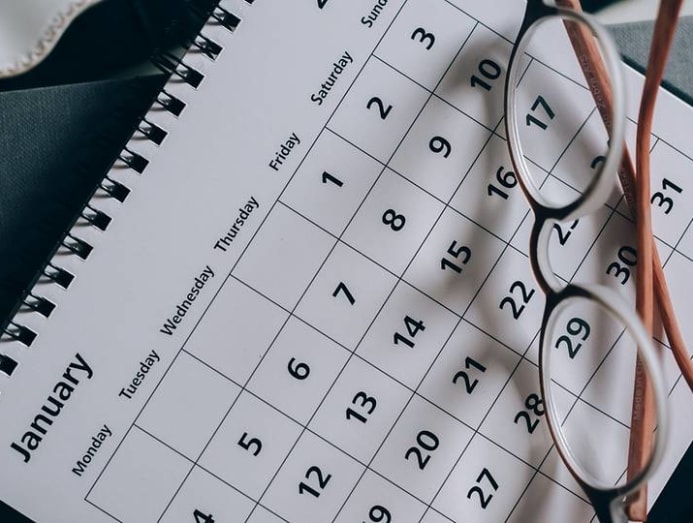 MISCONCEPTION #4: ONCE YOU START ON STEROIDS, YOU NEED INCREASINGLY HIGHER DOSES TO CONTROL YOUR ECZEMA 
"It is not true that using topical steroids will worsen your eczema and that you will need higher doses of steroids," said Dr Wang. "On the contrary, topical steroids, which have an anti-inflammatory effect, will help to relieve itch and redness – the main symptoms of eczema – when it flares up."
The rare topical steroid withdrawal syndrome that you may have heard of is most likely to occur when there is an "inappropriate use of very strong topical steroids over the face and genital region" for longer than "six to 12 months", said Dr Wang.
There are many novel and effective non-steroid treatment options for truly severe eczema cases.
"Sufferers may experience symptoms such as intense redness, a stinging or burning sensation, and pimple-like bumps," she said, which are usually treated by gradually tapering off the use of the topical steroids and putting the patient on alternative anti-inflammatory treatments.
Moreover, out of the seven strengths that topical steroid creams have, only the mild to moderate strengths are commonly prescribed for eczema, said Dr Alagappan. "These, when used judiciously, do not cause any side effects."
If you require stronger doses of steroids to cope with your eczema, see a dermatologist who will then offer steroid-sparing treatments, she said.
MISCONCEPTION #5: TOPICAL STEROIDS HAVE THE SAME SIDE EFFECTS AS STEROID INJECTIONS AND ORAL STEROIDS
This is not true, said Dr Alagappan. "Oral and injection steroids are absorbed into the blood vessels, so they may cause systemic side effects (adversely affecting different organs in the body). However, topical steroids are largely absorbed into the skin, so the side effects, if any, are mostly skin-based."
MISCONCEPTION #6: YOU'RE LIKELY TO BE PUT ON TOPICAL STEROID CREAMS FOR MONTHS
This is actually highly unusual and raises concerns, according to Dr Mark Tang, a consultant dermatologist with The Skin Specialists And Laser Clinic at Mount Alvernia Medical Centre.
"There are many reasons why this might happen. Some possibilities include a misdiagnosis, an infection that is worsening the eczema, a hidden contact allergy or a constant, persistent scratching habit that is preventing the eczema from getting better," he said.
"It is crucial to explore how the topical steroid cream was being used: How much and how frequently was it applied, was it tapered off too early or abruptly, and was the appropriate potency used in the first place?" said Dr Tang.
"It's always useful to seek a second opinion with a dermatologist if there are concerns regarding recalcitrant eczema. There are many novel and effective non-steroid treatment options for truly severe eczema cases," he said.