The army encik who became a TikTok sensation for a workout routine that's inspiring many to get fit
Would Senior Warrant Officer Leong Teng Kee, whose daily long runs and Tabata exercises inspired other #fitspos – and parodies – on TikTok, consider a job in fitness? He sat down with CNA Lifestyle to talk more about his virality and passion for helping others along their fitness journey.
If you were on TikTok around the start of June 2022, there's a good chance you saw a Singapore Armed Forces (SAF) warrant officer – who are commonly addressed as "encik" – sharing his daily workout, which included a "10km run with five sets of Tabata or a 5km run with 10 sets of Tabata". 
The intense routine came from Senior Warrant Officer Leong Teng Kee, whom Power98 DJ Jerald Ko interviewed at the Army Open House. The original video that Ko posted has since gained more than 570,000 views. 
Meanwhile, another 292 videos using SWO Leong's gruff voice have since popped up on the platform, ranging from parody – five sets of "daprata (sic)", anyone? – to others sharing their own workout programmes.
So, how did he feel about achieving viral status?
The 55-year-old, who is Chief Master Trainer at the SAF's Centre Of Excellence For Soldier Performance (CESP), shared more with CNA Lifestyle when we spoke with him. 
In case you were wondering how passionate he is about fitness and his job, he had just completed a 5km run before we met at his home in western Singapore, where a significant amount of space was dedicated to a "mini military museum".
Talking about the video on TikTok, he said: "I'm very happy that I'm able to inspire a lot of people to get fit. A lot of people have shared with me that it inspired them to take on a new fitness routine. 
"At the Army Open House, many pre-enlistees came to ask me for advice on how to prepare for National Service. Some even shared that it inspired them to sign on with the military!"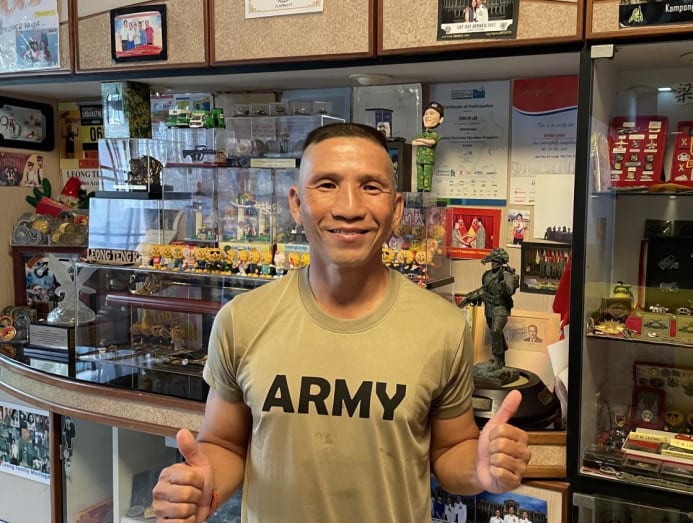 However, SWO Leong doesn't think he can make a large impact on his own. "I would say I'm just doing a small part. If more people do the same thing, we can work towards a stronger and healthier community." 
Asked about how his loved ones reacted to his popularity on social media, he said his wife and daughter were "proud of him for inspiring others". He added that his daughter was the first to show him how much attention his interview had garnered.  
"Her schoolmates, her boyfriend in the army and other friends serving National Service had sent her the TikTok asking: 'Is this your father?'" 
Of course, we had to find out: How on earth did he come up with such a rigorous routine, and one he does daily, at that? 
He said: "It wasn't formed overnight. It came together progressively. On one hand, I just want to keep fit to lead a happy life with my wife and daughter. On the other hand, fitness is part of my job." 
While emotional and mental wellbeing motivates his strict physical fitness regime, he reiterated that it's informed by the SAF's "adopting sports science to improve our present physical fitness training programmes", which included the NS Fitness Improvement Training programme for national servicemen. 
Outside of his full-time job in the military, we found out (once again, through the power of social media) that SWO Leong conducts free exercise classes every weekend for members of the public at the Jurong West Sports Centre. 
So, how did that happen? He shared that it was an organic process. "It started about five and a half years ago when a small group of army regulars and I met for workouts there. Some passersby asked if they could join us and if they could pay us for classes."
However, they declined the money. "We told them they could just join us to have fun, and more importantly, keep fit together." 
He went on to ask his commander at the CESP if he could continue with the classes and got his approval as well. "He said it's good to help promote a healthy lifestyle." 
We were curious as to who joined these classes. SWO Leong pre-emptively responded: "You'd be surprised; the group ranges in age from 13 to 65 years old. All of them can follow my routine and finish 10 sets of Tabata within an hour, which some youngsters can't even do! 
"Some of them have followed us all the way from the beginning, and one tangible difference we can see is that they've grown leaner over time – we get them to take photos each year for comparison – feel more energetic and less breathless on the daily." 
"They've even brought along their sons who're pre-enlistees. There was one who joined us six months before enlisting and only passed his pre-enlistment Individual Physical Proficiency Test (IPPT). After six months, he got Silver for his first IPPT during Basic Military Training (BMT) and for his final IPPT before BMT ended, he eventually got Gold!" 
In addition to building a sense of community with newfound peers, he shared that these sessions have strengthened his marriage – which he gleefully described as "loving" – as well. "I brought my wife in to work out together, and with encouragement from one of my ex-commanders, she became a qualified yoga instructor. 
"Sometimes, she conducts yoga sessions to complement the high-intensity workouts that I conduct, so that participants can stretch and relax." 
SWO Leong mentioned the importance of consistency in fitness routines a few times when he spoke with us, and that's something he's carried over with his exercise group as well. "Every weekend and public holiday, without fail, we'll be there. If it's raining, we move our session to the sheltered area."
We wondered, did he see the possibility of a leap into the fitness industry once his 38-year career with the SAF comes to an end in December 2022? He noted that a lot of people had suggested it to him – understandable, seeing that his passion for fitness is palpable. 
On the contrary, a career in fitness is the last thing SWO Leong wants to look at – and he's already transiting into his post-SAF job, anyway. "If I take on fitness as a permanent job," he explained, "it might diminish my passion for helping others." 
"If I worked in a for-profit fitness company, they would have specific programmes they'd want me to follow and criteria I'll be bound by, which might leave me unable to do more with the knowledge I have to help their clients. 
"I still want to teach for free, so that I can urge myself to learn more to help more people and see how fitness can bring people together such that we develop a national culture of fitness."
Did reading all that have you raring to go for a high-intensity workout? Or are you more antsy about starting your own journey into fitness? Fret not, SWO Leong has some tips for you either way. 
He said: "If you're just starting, I would encourage you to maintain your workout regimen for at least three months – only then can you turn it into a habit. You should listen to your body and move at your own pace and remember to stretch before and after exercise. A lot of people get injured because they don't do that. 
"Working out isn't all there is to health, so you must also balance out your workouts with your nutrition." 
So, how do we know when the exercises we're doing influence our bodies? SWO Leong continued: "What's something you can see? You can take photos of yourself to track your progress as you go." 
"The other thing I tell my workout group is to make sure they feel for themselves. For instance, when you go to the market, you need to buy and carry things and walk up and down stairs.  
"If, after working out for a month, you feel less breathless and more able to carry your groceries without feeling too exhausted, that's also a tangible way to feel your progress."
Editor's Note: SWO Leong recently retired after 38 years of service. Power98 DJ Jerald Ko posted a TikTok tribute on Nov 30 to share that Leong's last day was on Dec 1. You can still join SWO Leong for his weekend early morning workouts at Jurong West ActiveSG sports centre.