Is there a right way to apply sunblock – and other sun-care questions answered
You should be wearing sunscreen on a daily basis, not only when you're out cycling or hiking. But should you use a make-up sponge to ensure even coverage? Do you apply in the direction of your hair growth to minimise clogging your pores?
It is ironic that in sun-drenched Singapore, sunblock use still isn't a regular part of our daily routine. We are often too busy, too lazy or a combination of both to bother. The auntie going about her day would rather shield herself with an umbrella than put on sunblock. The average man's retort to sunblock reminders? "I don't sunburn what", "I'm not going to the beach", "Why do I need to apply?"
Then, there are those who are still stumped by the appropriate amount to use (is it still by the teaspoon or finger length now?). Should you use a make-up sponge for a more even coverage? Is the spray-on version effective? And why can't they make non-greasy sunscreens? Here's what the skin experts say.
THE RECOMMENDED QUANTITY USED TO BE MEASURED IN TEASPOON BUT RECENTLY, WE'VE BEEN SEEING FINGER LENGTHS USED. JUST HOW MUCH SUNSCREEN SHOULD WE BE USING?
Whether it's the number of teaspoon or the length of your finger, it basically is a rough guide to ensure you have 2mg of sunscreen covering each square centimetre of skin, said Dr Lee Mun Heng, the medical director and an aesthetic doctor with Cambridge Medical Group. "The two-finger rule helps serve as a useful visual measure," he said.
That works out to about the following quantities, according to Dr Eileen Tan, the dermatologist from Eileen Tan Skin Clinic & Associates. "The important message is to apply sunscreen evenly and thoroughly, and aim to fully cover the face and body," she said.
Half teaspoon for both the face and neck
1 teaspoon for both upper limbs
2 teaspoons for both lower limbs
1 teaspoon for front of torso
1 teaspoon for back of torso 
However, "most people only end up applying maybe 25 per cent to 50 per cent of what's usually required", said Dr Teo Wan Lin, a dermatologist with TWL Specialist Skin & Laser Centre.
Quantity aside, it's also how long you let the sunscreen "marinate" before exposing yourself to UV. "You'd have to wait about 30 minutes before heading out if you use chemical sunscreens," said Dr Lee. "Physical sunscreens, on the other hand, take effect immediately."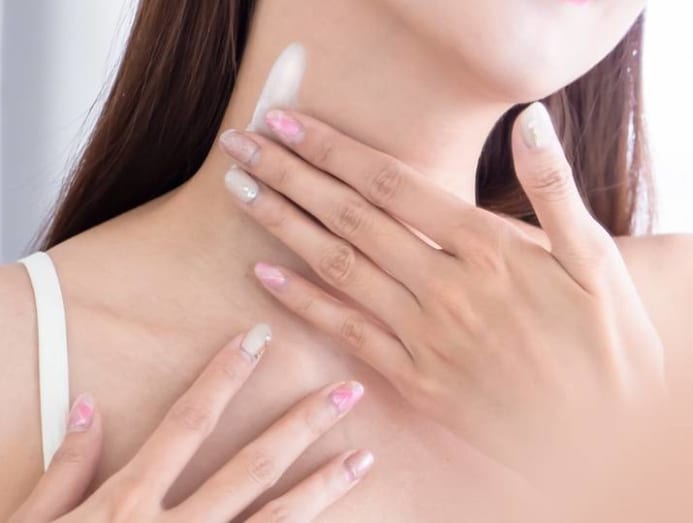 IS THERE A RIGHT WAY OF APPLYING SUNBLOCK?
Apparently, there is. If you have the habit of rubbing sunblock very vigorously onto your skin (because you want to dissipate the sunscreen's white cast), that's not the right way. In studies, it was found that rubbing decreased the sunscreen's SPF by up to 20 per cent, regardless of cream, gel, lotion or spray form, said Dr Teo.
Tugging and stretching your skin too much during application can also create unwanted friction and lead to skin sagging, said Dr Lee.
Instead, advised Dr Teo, you should gently apply in circular motions and, of course, use the right amount to ensure sufficient coverage for each body part.
As for the notion that applying sunscreen in the opposite direction of your hair's growth may clog pores and cause pimples, Dr Teo isn't worried. She explained that most pimples or comedones "do not form on the surface of the skin, but start with an inflammatory process in the deeper layers before they surface". Moreover, most of today's skincare products are non-comedogenic, even the oil-based, water-resistant ones, she said.
But if you are still concerned, there's no harm in giving the water-resistant sunblock a miss and instead, opt for a non-comedogenic one that doesn't leave a thick film on skin, suggested Dr Lee.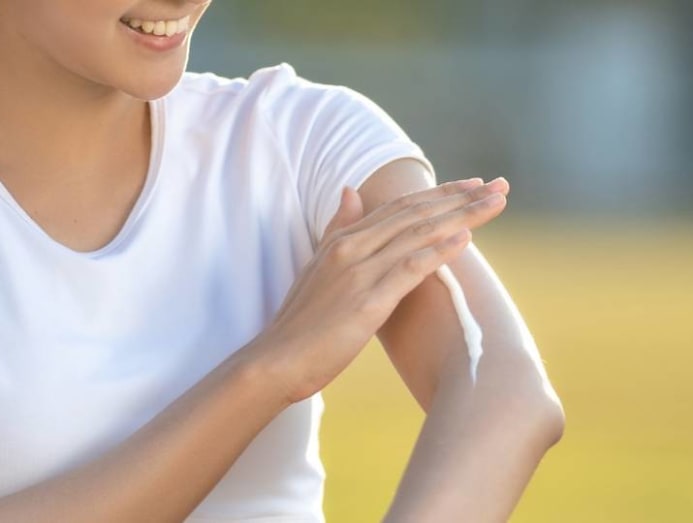 CAN I INCREASE OR PROLONG MY PROTECTION BY APPLYING A THICKER LAYER?
Here's the thing: You can't slap on a thicker layer of sunblock and expect to increase the SPF protection. "Sunscreens function by limiting the amount of UV radiation that can get through to your skin," said Dr Lee. "But applying more can't increase your protection over the highest number of SPF on the bottle. It's best to use a sunscreen with a higher SPF for better protection and apply the recommended amount," he said.
Most people only end up applying maybe 25 per cent to 50 per cent of what's usually required.
Also, a higher SPF doesn't mean you can skip reapplying or take a longer time to reapply, said Dr Tan. "Sunscreen should be reapplied at least every two hours when staying outdoors for a prolonged period, and after swimming, bathing or with heavy perspiration."
Besides, having sunscreen on doesn't make you impervious to UV. You should still try to avoid sun exposure between 10am and 4pm in equatorial climates as much as possible, advised Dr Teo.
DO CREAM SUNBLOCKS OFFER BETTER PROTECTION THAN THE WATERY LOTION OR GEL ONES?
That may be true but not because cream sunblocks are thicker than gels and lotions – it's the amount of oil in them.
"The thing with gels and lotions is that sometimes, the texture does lower the efficacy of a sunscreen itself," said Dr Teo. "This is because certain components that protect against UVA are only stable in an oil formula. So when they are formulated in a gel or lotion formula, they can eventually contribute to a lower overall SPF value".
So yes, you can't do away with oil completely. But the oil-in-water and water-in-oil systems are good compromises. "They are easy to apply and the oil provides UV absorption," said Dr Teo.
Texture is also a factor that influences how much sunscreen we end up applying, she said. "For example, in humid climates like Singapore's, we find that cream or oily versions of sunscreens – which are actually the most effective and most common formulation – tend to get underapplied because it gives the sensation that you're already applying much more than what you're supposed to," she said.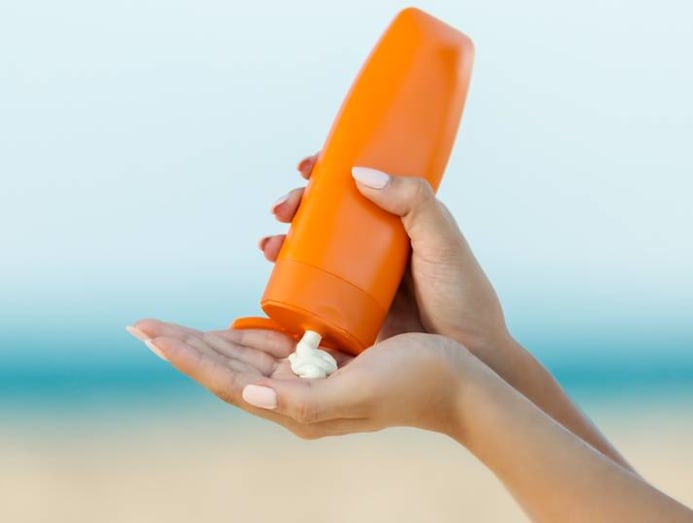 IS THE SPRAY-ON SUNSCREEN ACTUALLY EFFECTIVE?
Sorry to break it to you but the spray-on sunscreen doesn't really cut it. "Sprayable sunblock may not provide an efficient and adequate coverage compared to cream sunscreen," said Dr Tan. "There may be missed areas or gaps such as skin folds, ears and the back region."
Furthermore, it is difficult to tell if the amount you've sprayed on is adequate, said Dr Lee.
If you expect to be in the sun for longer than 10 to 15 minutes, apply sunscreen under your makeup – even if the makeup already has an SPF.
Don't discard your partially used spray-on sunscreen just yet. "Perhaps it would work better for re-application as it's more convenient to carry around," said Dr Lee. Once you've used up the can of spray-on sunblock, switch to a non-sprayable one and use that for reapplication.
One thing to note though, don't just spray and leave it. You'll still have to smooth the sunscreen over your skin to ensure coverage, said Dr Lee.
MY MAKE-UP ALREADY HAS SPF. DO I STILL HAVE TO WEAR SUNBLOCK?
Yes, you do. "If you expect to be in the sun for longer than 10 to 15 minutes, dermatologists generally recommend applying sunscreen under your makeup – even if the makeup already has an SPF," said Dr Tan. For those with oily and acne-prone skin, get a gel or lotion sunscreen that is easier on skin, she advised.
What about sunscreen reapplication? It feels icky to pile yet another layer of sunblock onto the existing sunblock, make-up, and all that sebum and sweat. "Many women reapply sunscreen over their make-up, which isn't ideal," said Dr Lee.
"But it is better than not reapplying at all. Tinted sunblocks are a possible alternative or use a powder-based sunblock to touch up in the middle of the day. These are very convenient to take with you and can be brushed directly on the face," he suggested.
SPEAKING OF MAKE-UP, DO WE NEED TO USE THE MAKE-UP SPONGE TO APPLY SUNBLOCK EVENLY?
Not recommended, say dermatologists. Some of the sunblock would be absorbed into the sponge and you'll end up applying an insufficient amount, said Dr Teo. By virtue of that, the sponge will lower the efficacy of the sunscreen.
Because the make-up sponge is widely believed to blend products evenly onto skin, "it may even give the false impression that sufficient amount of sunscreen has been applied", she said. "The key thing is the thickness of sunscreen that protects your skin."
SHOULD WE GO OVER SPOTS CAUSED BY SUN DAMAGE WITH EVEN MORE SUNSCREEN AFTER COVERING THE ENTIRE FACE WITH IT?
According to Dr Teo, there is "no objective scientific evidence" that supports the double application of sunscreen. "We know that even areas, which do not have hyper-pigmentation, are prone to developing pigmentation. It's important to note that way before we see pigmentation, it's already been developing under the skin for many years."
An SPF of 30 would do for daily use, she recommended, as it can already block out 97 per cent of the sun's UVB rays. "A higher SPF blocks slightly more but no sunscreen can block 100 per cent of it, so there is little use going for excessively high SPF ratings. In my practice, I typically prescribe an SPF of 50."