Need a wingwoman? Matchmaking mogul Anisa Hassan is on a mission to help set up 1 million marriages
The veteran matchmaker tells CNA Women what she's doing to achieve her "big, bold, audacious" goal and how, in the heat of the pandemic, she brought a couple together the old-school way.
Anisa Hassan stirs in bed. It's dark, so it must be 2, maybe 3am. An idea is brewing in her head. She climbs out of bed and reaches out for her black book. She looks for the two names that had somehow come to her in her sleep and makes a note to set them up. 
For Anisa, waking up in the middle of the night thinking about other people's soulmates is not just normal – it's routine. 
She is the founder of Date High Flyers, a matchmaking service for professionals, and Joompa, a Muslim matchmaking app.  
WEDDING BELLS CALLING
It is a calling she first responded to two decades ago, after leaving behind an illustrious television career that started with a stint as an anchor for Malay current affairs programme Tinjauan. In 2000, she was handpicked to become one of the founding news presenters for CNA, alongside now household names like Glenda Chong and Jill Neubronner. 
After seven years in the newsroom and giving birth to her first child, it began to occur to Anisa that it wasn't what she really wanted to do. 
"For two years I was struggling, having to leave home at 2.30am to be at work at 3am and having to do my makeup at 5am in the morning so I could read the news at 6am. 
"I had to leave my baby behind. And at 2.30am, people were sleeping but I was already leaving for work. I had to sleep by 7pm, which was when my husband came home from work. It was unstable. I didn't want to do that for very long," Anisa told CNA Women.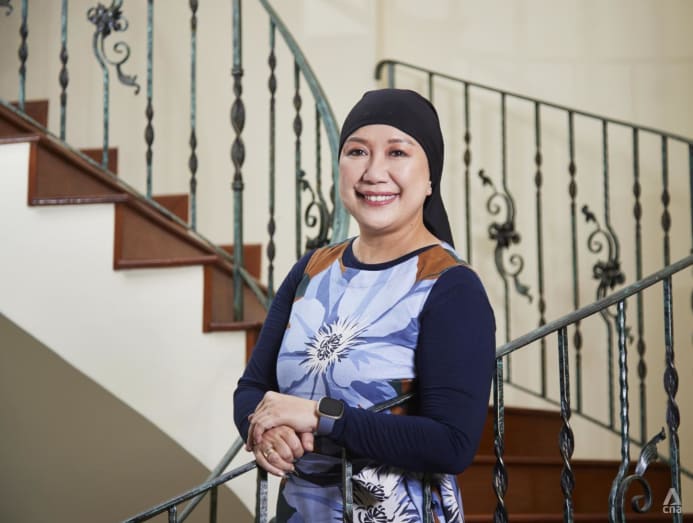 In 2004, Anisa bought a franchise for a US dating agency. She remembers being wheeled to the operating theatre to deliver her second child when an overseas call came for her. It was Entrepreneur magazine, wanting to interview her as the first franchisee of the dating agency outside of the US. 
"I told them to give me two hours. When they called back, I was still half-paralysed by the anaesthesia but I gave the interview anyway. It was my first foray into entrepreneurship and my first international interview," she said. 
Fourteen years in that business, Anisa was ready to start her own brand, this time focusing on matchmaking.
Matchmaking is in Anisa's blood. Growing up, her mother was enthusiastic about setting up the younger members of the family. 
"She would go around saying things like 'are you single?' and 'you're good-looking – let's put the two of you together'. That's how she paired cousins, neighbours and people she saw at a wedding. But I'm not my mother. She didn't have a system – she just matched people according to whether they were attractive and available. I wanted a more dependable way of matching couples; a system that works," she said. 
Today, Date High Flyers matches professionals, including several CEOs. Her clients are in their late 30s to mid-70s. Around 60 per cent of them are either divorced or widowed, and she describes them as "very, very committed to setting down". They come from all over the region, including Singapore, Australia, Hong Kong, Indonesia, Malaysia and Thailand.
Divorce is not a life sentence. You just need a strong wingwoman to support you
"Many of my clients are jet setters who often come to Singapore for work. There are some who are very private, who prefer that I meet them at their location because they don't want anyone to recognise them should they go to my office. 
"We have a nice coffee and I do a comprehensive interview. Afterwards, while the interview is fresh in my mind, I do an assessment," Anisa shared. 
While many of the names in her black book are clients that heard about her online and through word-of-mouth, some are people she's personally approached. 
"I have no qualms approaching people and telling them I'm a matchmaker. I'll ask them if they're single and available, and if they're okay for us to keep in touch and if they are, I'll write their details down. Sometimes, people will say things like 'oh I'm not looking but my friend is'. And that's how I build my network of professionals," she said. 
Naturally, in her line of work, Anisa is privy to the latest relationship trends and perspectives.
With many of her clients seeking love again after divorce, she told CNA Women she realises the stigma relating to breaking up has lifted. 
"In the past, there used to be this 'once bitten, twice shy' kind of stigma. But now people are viewing themselves and divorce more kindly. They tend to be open to the possibility of restarting their life at whatever age. Divorce is not a life sentence. You just need a strong wingwoman to support you. You can start again as long as you learn the lessons you had to learn in your previous marriage," she said. 
A "BIG, BOLD, AUDACIOUS" GOAL
With clients paying anything from S$6,000 to a five-figure sum to engage in her matchmaking services, Anisa's business could be described as lucrative. But it's not scalable, said the 50-year-old entrepreneur. 
At an International Women's Day event held by the Singapore Muslim Women's Association this year, Anisa shared that she hoped to be responsible for one million marriages in her career – a goal she described as "big, bold, audacious". 
"The way I run Date High Flyers – a lot of face-to-face time with my clients – gives me a lot of excitement and a lot of energy. But I'm always front and centre. If I want to take it to the next level, I must have something that's scalable," she said.
To help her reach this goal, Anisa launched Joompa in mid-2020, an app she believes is the first to be created by a career matchmaker. 
This project was a steep learning curve for Anisa. By now she had had a wealth of entrepreneurial experience, but remained a strict "non-techie". 
She found a business partner who worked with her on the technical aspects of app creation, including coding the features and implementing artificial intelligence. 
But in January 2020, mere weeks before the official launch of Joompa, he died. 
"We knew he was ill, but it was still unexpected," said Anisa, adding that what followed was "a very dark period of my life".
"The shock turned my whole body upside down. But I had to put on a brave face for the launch. I had the PR machinery, I had the marketing but of course the app had to be solid and he was in charge of the app," she said.
The team decided to launch anyway and make the improvements in tandem with market feedback, but they were faced with another challenge: The resignation of former Malaysian Prime Minister Mahathir Mohamad. 
"My public relations manager told me, 'Anisa, you can't launch now, the political scene will take over all the media outlets. You'll be drowned'. So, okay, we decided to delay the launch to March.
"But then COVID-19 happened and as you know, the whole world shut down," she said. 
Luckily, word about Joompa got around and the app was launched, albeit in a muted fashion.
A newer version of the app is expected to be launched in January 2023, which will include a feature that allows users to update their dating progress. For example, users who have found their perfect match can update their status with "in a relationship" or "got married". If effective, this will help Anisa and her team track the number of couples they have brought together. 
 A MISSION-DRIVEN BUSINESS
Anisa said the first few months of the pandemic were the most stressful period of her life. A big part of her work was face-to-face and because COVID-19 restricted contact among people, she had "no business and zero revenue". 
Like most businesses, Date High Flyers had to find creative ways for their clients to meet and get to know each other. Luckily, some were proactive, with one 60-year-old client opting to talk with his match, a 49-year-old woman, on the phone instead. 
"He preferred to talk on the phone – the old-fashioned way, you know? They would text 'good morning' and 'good night' to each other, and in the evenings, they would talk on the phone. He even sent her Spotify playlists so they could listen to romantic music together," she said. 
The couple were paired in April 2020 and did not meet until August, making it a five-month courtship without seeing each other, not even virtually.
By December, they were married. 
"(The dating app culture is typically) a culture for hook-ups. But for me, I'm very serious about people finding their life partner," said Anisa. 
Having a big goal to work towards is a reminder for Anisa that her company is more than a business. 
"Some people build a business because they want to sell it. I can do that if I want to but I think there's no meaning to it. When you reach a certain age, like in your 40s or 50s, your life must revolve around a purpose, a mission. Life becomes exciting because you have something to look forward to. 
"When you get up in the morning, you don't want to do something for the money. You want to do it for the freedom (that it gives you). And you want to do something that really matters because then you'll know what to say when you meet your 'maker' and they ask you 'What have you done for this world?'" she said, adding that she also wants to be a good role model for her children.
CNA Women is a section on CNA Lifestyle that seeks to inform, empower and inspire the modern woman. If you have women-related news, issues and ideas to share with us, email CNAWomen [at] mediacorp.com.sg.