She's preventing wildlife from hitting planes at Changi Airport: 'There are surprises every day'
Did you know that bird strikes can pose a danger to planes, especially during take-off and landing? Wildlife expert Yap Xinli talks to CNA Women about what it takes to keep the runways free of animals, in this second instalment of our National Day series about women with unusual jobs.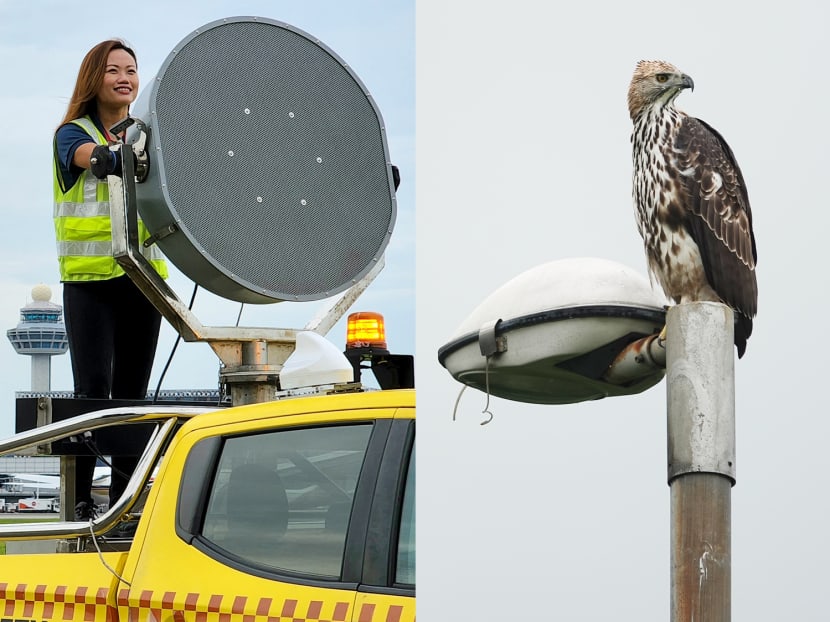 You could say Yap Xinli has an affinity for animals – and animal-related jobs. Specifically, wildlife. The 37-year-old is the manager of airside operations planning with Changi Airport Group, where she oversees the wildlife hazard management programme at Singapore Changi Airport. 
Her team is responsible for keeping the aerodrome – the area of the airport where flight operations take place – free of wildlife. These include birds, dogs, cats, monitor lizards, snakes, and even otters and bats. 
They know the layout of the aerodrome intimately, from where the openings are, to lead wildlife out of the aerodrome, to the fence lines that prevent dogs and cats from straying in.
"A lot of people think I take care of the animals at the airport, such as the Butterfly Garden (at Terminal 3). But I don't," said Yap.
For about 12 hours every day, at regular intervals from 6.30am, her team patrols the aerodrome in their vehicle, looking out for wildlife activity – birds like the house crow, Javan myna and various species of swiftlets and swallows are commonly spotted on the runways. 
It can be pretty intense – Changi Airport has two runways in use, so there are two teams, one for each runway, patrolling the same 4km stretch throughout the day.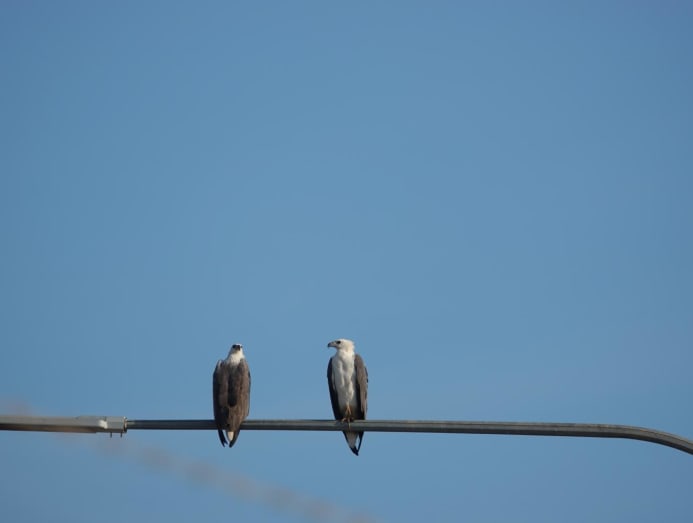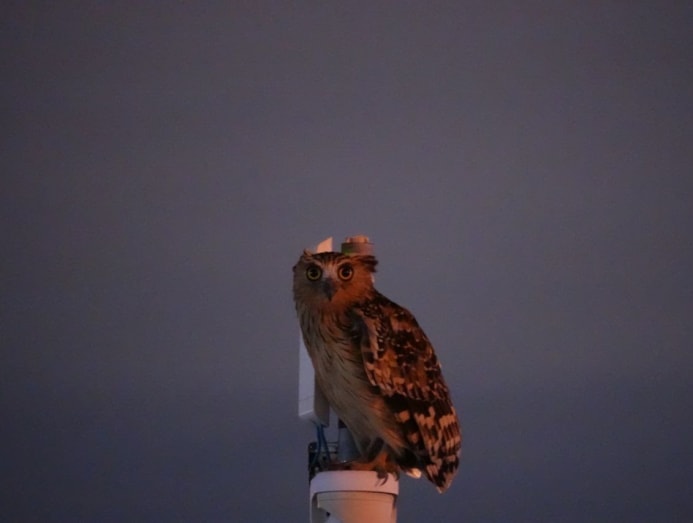 But it's not only birds. The team also keeps an eye out for non-avian animals, such as monitor lizards, snakes, wild dogs and cats that may have wandered in. 
The 37-year-old, who has a biomedical science degree and a masters in wild animal biology, worked in two wildlife-related jobs previously. She was a conservation officer at the Singapore Zoo, then joined the National Parks Board, where she studied zoonotic diseases – diseases which can be passed from animals to humans.
KEEPING THE RUNWAYS FREE FROM WILDLIFE 
She joined Changi Airport Group in April 2017 to head its wildlife hazard management programme and is the only person on her team who has the educational background and experience to work in the role. 
Yap trains her team in identifying wildlife species that stray into the aerodrome and how to use specialised equipment to scare them away. 
The birds could be ingested into the engines, crack the windscreen or hit the radome of the aircraft.
"For birds, we can chase them away and they can fly off by themselves. But for non-avian wildlife, we try to guide them out of the aerodrome," Yap explained.
"We have very secure, double fence lines to prevent dogs and cats from straying in – but once in a while, we do get them. Cats can climb over the fence and the wild dogs do stray in," said Yap. 
It takes teamwork and coordination to get the animals out of the aerodrome – for instance, one person needs to open the gate, and another, to guide the animal in the direction of the exit point. 
"Sometimes we see monitor lizards and snakes on the runways. If the pilot doesn't see them, they'll usually get run over. But they don't pose as much danger to the planes as birds."
AVERTING DANGER POSED BY BIRD STRIKES 
A bird strike happens when a flock of birds hits the plane while it's in the air. The team's job is to prevent this from happening in the aerodrome, to ensure the safety of the pilots and passengers onboard. 
"The birds could be ingested into the engines, crack the windscreen or hit the radome (a dome-shaped structure which protects the radars from bad weather conditions) of the aircraft. Those are the worst-case scenarios," she said. "Many people also don't know that such a risk exists when they take planes."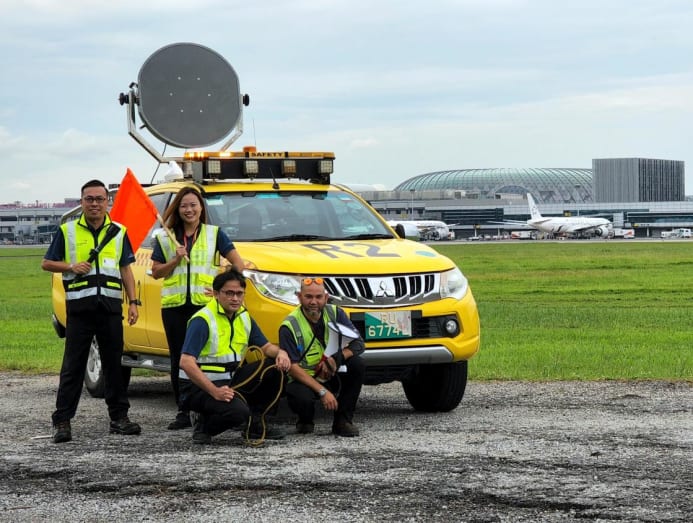 It's the stuff that movies are made of, the most recent being a scene from Top Gun: Maverick, starring Tom Cruise. 
It happens in real life too. In 2009, a US Airways plane piloted by Captain Chesley Sullenberger, or Captain Sully, was forced to make an emergency landing on the Hudson River in New York when a flock of Canadian geese hit the aircraft, killing the engines instantly.
Many people also don't know that such a risk exists when they take planes.
All 155 passengers survived, and Captain Sully's miraculous landing made him a hero overnight. And yes, there's a movie about it – Sully, played by Tom Hanks, was based on true events of the flight. 
Yap explained that birds fly at the height of a plane's take-off and touchdown areas, and that's where they can collide with the aircraft. 
Larger birds, such as the white-bellied sea eagle and intermediate egret, are considered "high-risk" bird species – that means the impact made by such bird strikes would cause more damage to the planes. 
The birds are actually very smart. So we have to constantly look for new tools to be on top of the game.
The team also has to be extra watchful during the bird migratory seasons, when large flocks of birds, such as intermediate egrets, fly great distances to find more favourable food or nesting conditions. In Singapore, migratory birds are typically spotted from September to March.
WHAT'S IN HER TOOLBOX 
During the patrols, the team conducts "active dispersals", a term which means dispersing wildlife, mainly birds, safely with the help of a wide range of tools and equipment. One of the newer acquisitions includes the Long Range Acoustic Device. Shaped like a large speaker, it can project sound waves up to 3km to scare birds away.
"The birds are actually very smart. So we have to constantly look for new tools to be on top of the game," Yap laughed. "We need to be very creative about it."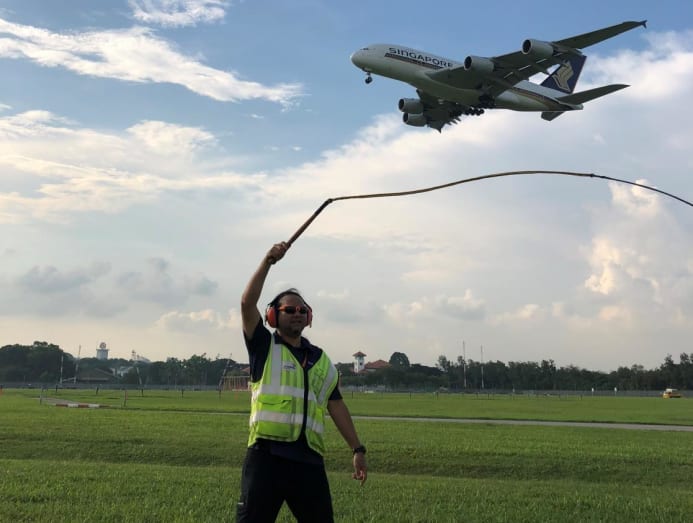 For example, the stockwhip, which produces a booming sound when cracked in the air, is used to scare away the birds. But Yap said the device is not meant to chase birds away. It is, in fact, originally designed to muster cattle in Australia. 
Using a stockwhip can be physically tiring, especially when the birds are stubborn, Yap added. So it takes a lot of patience to disperse them safely.
WORKING WITH THE COMMUNITY
The biggest challenge that Yap faced at the beginning was working with the airport's neighbouring stakeholders and community, such as Tanah Merah Country Club and the ground handling agents. 
While they aren't part of the aerodrome, it was necessary to educate them on actions that could attract wildlife into the aerodrome, such as not covering rubbish bins properly.
"It took quite some time explaining the situation to them, and we have regular meetings and conversations with them to help them understand how their actions can have bigger complications," Yap explained.
"THERE ARE SURPRISES EVERY DAY" 
"It's never boring," said Yap. "There are surprises every day and there's always something new – you see different types of birds getting struck, and sometimes you get bird species that you've never seen before appearing on the airside." The airside refers to the area past immigration clearance at the airport.
Sometimes, there are even surprise visits at the aerodrome. In December 2019, hundreds of migratory Asian openbill storks were seen flying across the skies above Changi Airport. 
"They are very large birds… It's quite a surprise to us because we've never seen so many of them before. Usually, we see the local storks around – 10 of them, at most. But there were hundreds of them during one sighting," said Yap, citing possible reasons such as climate change, which pushed the birds to fly over.
The Asian openbill storks made their appearance almost every day for about two months, although there were fewer than 50 of them for most sightings, Yap said. During the period, the team mainly used the Long Range Acoustic Device to drive them away. 
But still, there were challenges. All the stakeholders involved, from Yap's team, to the Changi Airport Control Tower and even the golf courses around Changi Airport, had to share information about where the birds were so that flights could be coordinated. 
"But over the next few migration seasons, we didn't see them anymore," she added.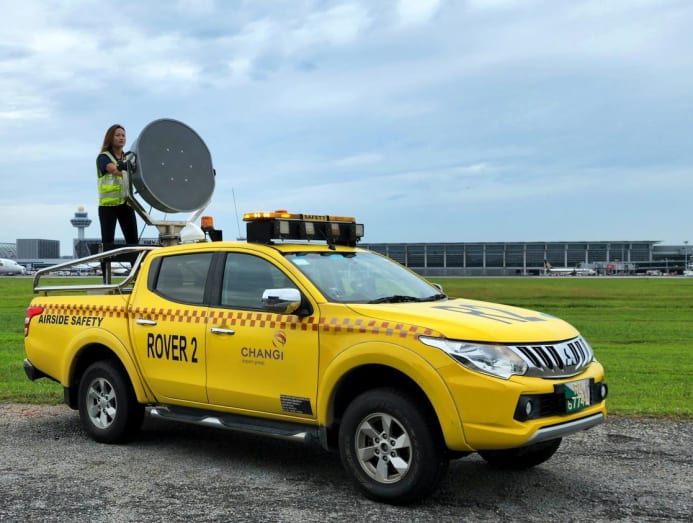 Yap recalled another incident in early 2020 where one of her team members saw a blue and gold macaw at the baggage area.
"It couldn't fly very well… we realised that it had a bird ring on it. Birds that are owned or caught for research purposes will have rings on their legs.
Sometimes you get bird species that you've never seen before appearing on the airside.
"It was a long shot – I quickly Googled and found out there's a page for lost birds, and asked if anyone was looking for lost birds in the east area of Singapore. The community is very small, and a lady reached out to say it might belong to her friend."
It turned out the owner of the bird lived near the airport, and the pet had escaped. "It was a surprise as we don't see such birds in Singapore. It's like a reunion," Yap smiled.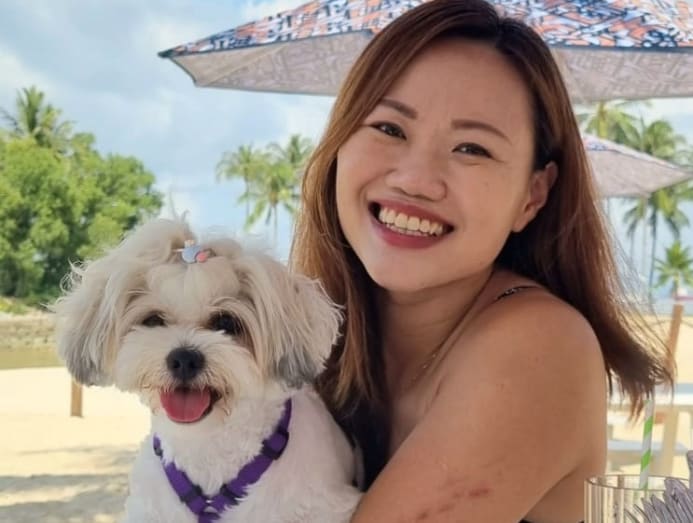 She is thankful that wildlife strikes at the airport have reduced over the years. She's also proud to see that her team, who came in without prior knowledge, has become experts in wildlife hazard management themselves. 
"I came into the job thinking that we were going to chase all these animals out, and as a typical Singaporean, we must bring down the number (of wildlife strikes) to zero," Yap laughed.
But it's so much more than that. "We are not here to chase every single bird or wildlife out of the aerodrome – it's more about preventing them from striking the planes.
"We try our best to manage the risk. Nowadays, you see more wildlife coming into the urban areas – people need to learn how to manage themselves and the animals, so that we can live together harmoniously," she said.
CNA Women is a section on CNA Lifestyle that seeks to inform, empower and inspire the modern woman. If you have women-related news, issues and ideas to share with us, email CNAWomen [at] mediacorp.com.sg.