Petite but packing a punch, she leads an elite police team that protects Singaporeans from violence
Gang fights, assault and terrorism - just some of the incidents Inspector Priscilla Lim has to deal with as part of the Emergency Response Team that protects Singaporeans from some of the most violent offences in the country. She tells CNA Women what her training entailed and what a typical work day is like.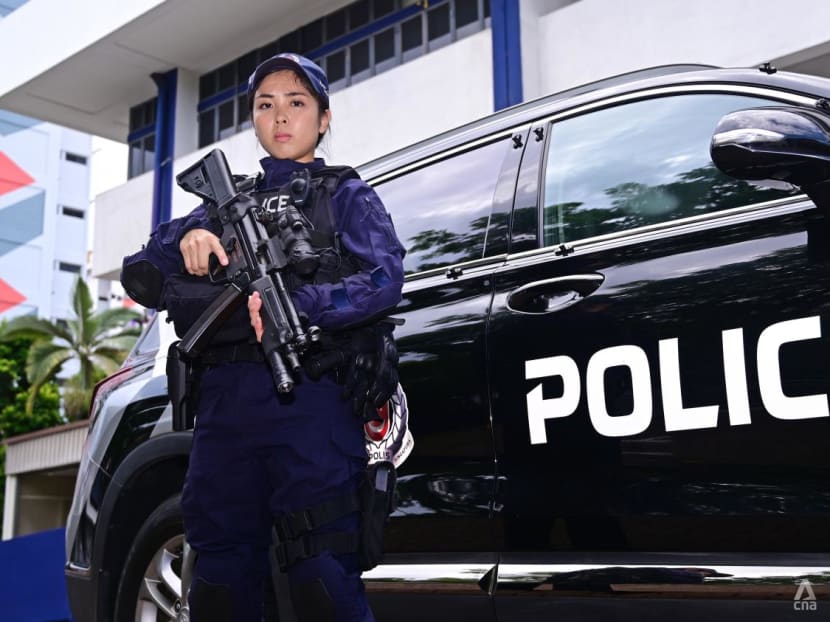 It was 11pm on a quiet night when Inspector Priscilla Lim received an urgent call. A man in Pasir Ris had allegedly threatened his neighbour with a knife. Police intel revealed that he was wanted for drug offences and other violent offences.
Insp Lim rushed to the scene with her team, but the man had already fled to one of the nearby HDB flats. Her team of four split into two and flanked the two staircases on each side of the building, combing it from the top.
When she and her partner heard shouting from the other side of the building, they ran towards it.
"We saw my teammates grabbing onto this guy who was dangling precariously off the ledge of the second floor of the building. He kept screaming for them to let him go and said he wanted to die," she recalled. "I believe he was high on drugs. We finally managed to pull him up and arrest him."
An hour later, around midnight, Insp Lim received another call. This time, a woman in Pasir Ris had reportedly refused her husband's sexual advances and had locked herself in a room. Her husband was banging on the door with a hammer. Lim and her team rushed to her aid and seized the hammer.
Before her night shift was over, Insp Lim received one last call reporting a gang fight in Geylang. However, when she arrived, the gang had already dispersed. So she spent the rest of her shift on mobile patrol looking out for the suspects.
Meet Priscilla Lim, an Emergency Response Team (ERT) Team Leader. The night she described was just the second day of her job leading a team of four, from this specialised tactical unit within the Singapore Police Force (SPF).
Insp Lim's responsibility is to prevent and respond to terror attacks, as well as cases involving firearms and dangerous weapons such as parangs and knives. On regular days, she patrols the east side of Singapore from Geylang to Pasir Ris and Changi, as well as high footfall areas such as the shopping malls and bus interchanges, looking out for signs of suspicious activities and terrorism.
TURNING HEADS AND PERCEPTIONS
It is a dangerous job, and Insp Lim is highly trained in the use of weapons, combat tactics and close-quarters battle. Unlike regular police officers, she is usually fully armed with a submachine gun, pistol, bullet-resistant vest, ballistic helmet and extra rounds of ammunition, even while just on patrol.
That's right – Insp Lim rarely gears down during her nine- to 12-hour shifts. If high intensity chases are involved, she does it with 17kg of gear. Even if she's just in the office doing paperwork, taking a lunch break or going to the toilet, she does it in full gear so as to be always combat ready.
It's rare to see police officers in this sort of full combat gear, much less female officers. That is why Insp Lim is always turning heads.
"When we go for patrol or buy food, people will take a second look. They even stare at me when I am washing my hands in the toilet," she laughed. "Sometimes, they will ask me if my gear is heavy or not."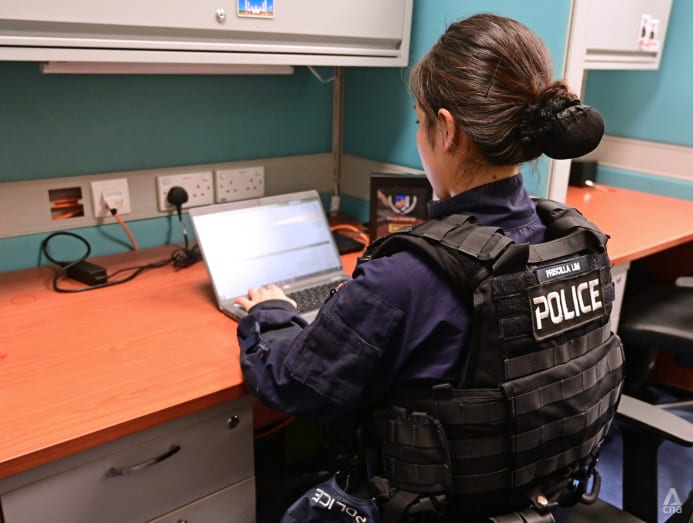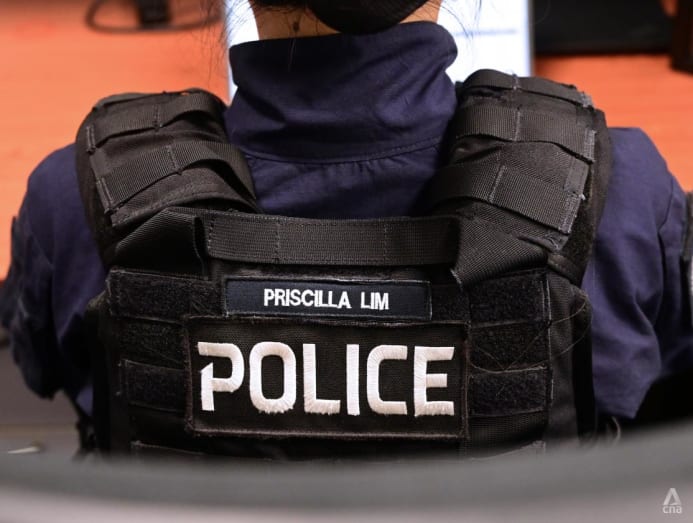 Insp Lim gets this question a lot not just because she is a woman, but also because she is petite. The 27-year-old stands at 1.54m tall and weighs 49kg. When standing beside her teammates, some of whom are 1.8m tall, the contrast is quite stark.
"If you see me out of uniform, you won't believe I am a police officer," she laughed.
Beyond turning heads, what she really takes pride in is turning around common stereotypes about gender and size.
"Even as a child, I have always been smaller than most. And because of my height, people often make fun of me and underestimate me. That's why I picked up martial arts to defend myself," said Insp Lim, who is trained in aikido, wushu, Muay Thai and Krav Maga, an Israeli martial arts. As a tertiary student, she competed in the Singapore National Wushu and Sanda Championship, winning gold medals for three individual and two group events.
"As an ERT officer, I know I cannot win based on my height and weight, so I have to win through my skills," she said, adding that she practises Krav Maga twice a week, and runs between 2.4km and 10km thrice a week, with a weighted vest.
This job is dangerous but very impactful. If you can dissuade someone from committing suicide, or take someone dangerous down, you may save a life and have a direct impact on the community.
She became interested in standing up for justice and maintaining social order from a young age. Her father was a Volunteer Special Constabulary (VSC) officer for 35 years, helping to keep Singapore streets safe. The stories he shared with her, and their father-daughter ritual of watching the television programme Crimewatch together, made her realise how meaningful police work could be.
Then, while on a student exchange to Germany as an undergraduate, she attended a social seminar and met a survivor of sexual crime whose perpetrator was not punished. The then-21-year-old decided that very day, to follow in her father's footsteps and sign on as a VSC officer.
That was the beginning of her SPF journey. While still in university, she trained for six months under the VSC programme before being deployed as a Ground Response Officer responding to 999 calls.
After graduating from university, she joined SPF full-time, where she underwent nine months of training before being posted to a Neighbourhood Police Centre and then an Investigation Branch.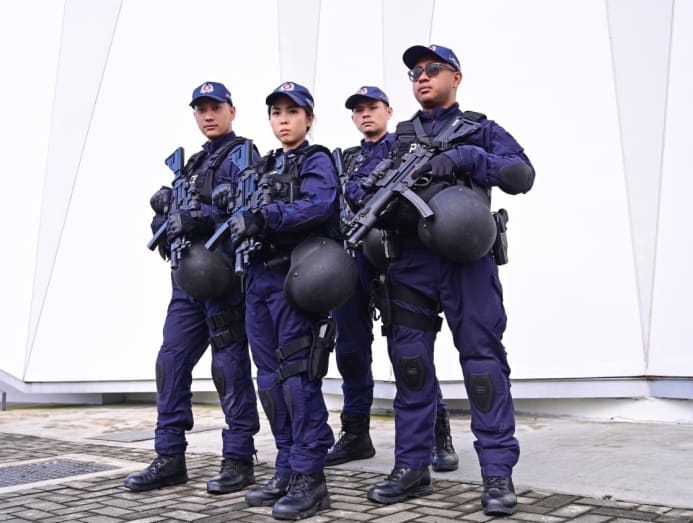 "When I was due for my new posting as team leader last year, there were ongoing terror threats around the world. I felt that Singapore may not be spared and wanted to be in a position to do something in times of crisis, so I decided to join the ERT," she said.
SURVIVING ARDUOUS TRAINING
To qualify as an ERT officer, Insp Lim had to undergo four weeks of gruelling training at the Special Operations Command. This included physical training, where trainees have to run, complete circuit training and rope training with a 10kg weighted vest. She also underwent range training with submachine guns and pistols, and learned how to transit quickly from one weapon to another in case of malfunction.
That was her favourite part. "It felt like being in a thriller or action movie where the hero would sling their submachine gun back and quickly transit to their side arms or pistol," she laughed.
She also underwent close-quarters battle training in simulation exercises against paper targets and a gunman – usually the trainer – and learned important strategies such as how to enter different types of rooms in dangerous situations.
It was a tough course. For instance, ERT trainees are expected to shoot with at least 70 per cent accuracy at a range of up to 25m to qualify. They are also assessed for tactical knowledge and judgement, and can be disqualified if they make bad decisions that pose safety hazards during close-quarters battle training.
"Many people thought I wouldn't make it because of my size. We were all expected to carry the same weight while training. So I carried the same weight as an 80kg man," she said, adding that there were only six female trainees in the class of 24.
Insp Lim also put pressure on herself. "I was only 26, and my team included people who were a lot more experienced than I was. The oldest guy in my team was 40. So when I had to step in the role of team leader, I sometimes doubted my own tactical decisions," she said.
"But my teammates assured me that whatever decision I made, they would follow me throughout the whole assault. Knowing that my team will always have my back gave me the confidence to lead them. But I always made it a point to remain humble and ask for my men's opinion during the after-action review to learn from them."
PUTTING HER LIFE ON THE LINE
Insp Lim has since experienced her fair share of action. Since her job involves cases related to dangerous weapons, she is often involved in drug-related cases, violent assaults, as well as suicide attempts, in some cases.
"There was one case in Geylang where a guy stabbed a woman whom he claimed to be his girlfriend multiple times because she refused to follow him to a hotel. We managed to trace the suspect back to his house and found him sitting outside.
"He told us what happened and pointed us to a bag beside him where the (assault) knife was. But after talking for a while, he suddenly got aggressive and violent. While making the arrest, he bit one of my officers and kicked the groin of another," she recounted.
Another time, when she was trying to stop a drug offender from killing herself, the offender put up a big struggle. "I pinned her down with two other female officers. But she was very strong because she was high on drugs and she bit one of the officers. Such bites can be dangerous because of the risk of HIV and other contagious diseases," she said.
Insp Lim however, believes in confronting such dangers head on. "Because, if not me, then who?" she asked.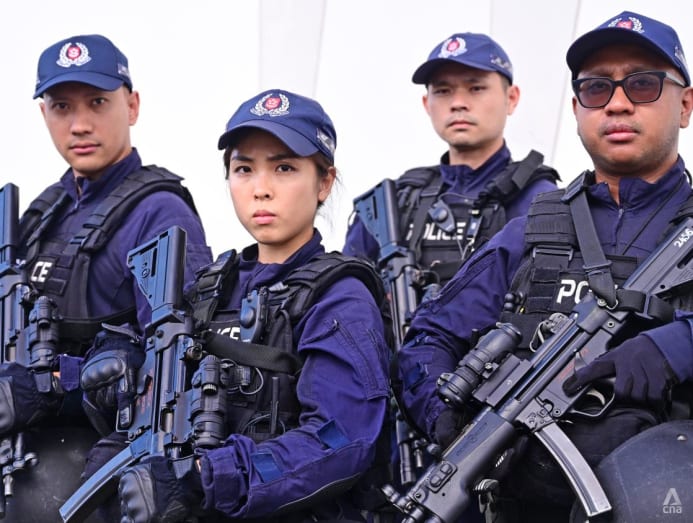 "This job is dangerous but very impactful. If you can dissuade someone from committing suicide, or take someone dangerous down, you may save a life and have a direct impact on the community," she said.
Besides keeping law and order, she also believes in the importance of continued vigilance against terrorism. "A lot of my friends and family members like to say that Singapore is very safe. But anything can happen. And when people are so confident, it concerns me," she added.
"As an ERT officer, I hope to keep Singapore safe and secure despite the rising terror threats around the world. I think the current generation tends to be more violent because they are playing more violent computer games and may have difficulty separating the games from real life. They can also take on more extremist viewpoints because of the Internet and social media," she said.
"We have to be vigilant and make sure when we do our patrols, it is not just to project police presence, but also to detect suspicious activity. We should nip these in the bud rather than wait for things to happen and then respond to it. That would be too late," she said.
How does it feel like to patrol Singapore and respond to violent incidents – all while wearing and carrying 17kg of equipment and gear the entire day? Inspector Priscilla Lim of the ERT Bedok Division takes us through her day.
CNA Women is a section on CNA Lifestyle that seeks to inform, empower and inspire the modern woman. If you have women-related news, issues and ideas to share with us, email CNAWomen [at] mediacorp.com.sg.