What does it take to be a female investigation officer in Singapore?
On International Women's Day, Deputy Superintendent of Police Teo Ko Sing talks to CNA Women about what the job means to her, including working on the Golden Dragon Hotel murder case in Geylang shortly after joining the Criminal Investigation Department's Special Investigation Section.
Deputy Superintendent of Police Teo Ko Sing was 24 when she joined the Singapore Police Force (SPF) in 2012, moving from an office job in another government agency. She didn't want to be "confined to an office job", the environmental engineering graduate said. And she was also inspired by a female friend who joined the force before her. 
It is rewarding when the investigation outcome has an impact on the victims – I get to provide closure to victims when the crime is solved.
She started as an investigation officer dealing with cases from missing persons to theft, then became the team leader of a patrolling team before moving on to handle policy work.
She eventually found her calling in investigation work, so it's no surprise that her current posting, since October 2018, is with the Special Investigation Section (SIS) in the Criminal Investigation Department (CID).
At first meeting, the 34-year-old seems serious – as you'd almost expect her to be, given the nature of her job.
But she displays a lighthearted side,too, sharing that she's "very different" in her work and personal life. "In my personal life, I'm very lazy – because I just don't want to think and make decisions," she laughed. 
You could say her sentiments are perfectly understandable – when dealing with serious crimes such as murder, making swift decisions in every step of the investigation is expected. The fate of the accused, which for murder, is punishable by death. 
CNA Women finds out what makes her tick, and how she came to solve the Geylang hotel murder case involving a Bangladeshi worker and his Indonesian maid girlfriend. 
HAS DEALING WITH SERIOUS CRIMES LIKE MURDER CHANGED YOUR PERSPECTIVE ON LIFE?
When a serious crime, like murder, is committed, it's not about who's right, but who's left behind. The perpetrator will have to face the consequences, and the deceased's next of kin has to handle the grief of the passing. 
As an investigation officer, I uncover the whole process, including the thought processes and decisions made by the perpetrators, which led to multiple tragedies and loss of lives. This makes me reflect more on my small and big decisions in life. Do I need to be angry over this matter? Can I do things in another way? Should I give up?
I've learnt to be more calm and collected in handling my emotions. I've also learnt to treasure my family and friends as life events can be unpredictable. We never know how much time we have left to spend with them.
THE GEYLANG HOTEL MURDER WAS YOUR FIRST MURDER CASE – TELL US MORE ABOUT THAT. 
This was in December 2018 and it was two months after I joined SIS. I was very new and inexperienced compared to the other officers. 
The case involved a female foreigner who was found dead at a hotel room in Geylang. She was found on the bed with strangulation around her neck.
Through ground inquiries and CCTV footage, we quickly established that a male foreigner was suspected to have caused her death. But he had left the scene and couldn't be found. 
WALK US THROUGH WHAT HAPPENED WHEN YOU ARRIVED AT THE MURDER SCENE.
If you ask me whether I was ready to investigate the case then, I would say I wasn't. But regardless, I was there at the scene and I had to take charge of the situation. 
You can imagine that everyone wants an answer – on why, what, how, where and when it happened. Information would flow in from multiple sources at the same time. 
WHAT WAS THE MOST STRESSFUL PART AT THAT TIME?
I had a missing perpetrator who had fled the scene. For the public's safety, we had to find him very fast. 
Of course, I also felt the weight of responsibility on my shoulders, as I would be the one making the important decisions to move the investigation forward, and apprehend the perpetrator quickly to stop him from causing further harm.
HOW DID YOU MANAGE TO ARREST HIM?
We arrested him through an ambush at his workplace the next morning, when he attempted to get his passport from his employer. His arrest was made no more than 14 hours after the case was reported. 
We leave no stone unturned – so it takes a lot of effort to prove a case of murder.
But you can imagine how much probing and ground inquiries we had to make. We had to knock on doors, get people to come down and show us CCTV footage. It was a lot of effort – I definitely couldn't do it alone. 
WHAT HAPPENS AFTER AN ARREST HAS BEEN MADE?
Although we apprehended the suspect, the story doesn't end there. In fact, for murder cases such as this, it's a two-year journey, minimally, so the investigation had just begun. 
Now the issue is about prosecution. We need closure for the victim. In other words, we have to build a case against the accused person for murder beyond reasonable doubt (which means that there must be sufficient evidence presented to the court to deem a person guilty of the crime).
At the end of the day, I'm no judge. But I will present all evidence accurately and without bias.
The offence of murder is punishable by death, so you must appreciate that a life could be taken based on our investigation findings. There's a saying in SIS: We leave no stone unturned – so it takes a lot of effort to prove a case of murder. I had to go to the postmortem to listen to what pathologists say, the circumstances of the injuries, medical findings, forensic examinations, interviews, and psychiatric evaluation.
DID YOU ACHIEVE WHAT YOU WANTED WHEN THE CASE WAS CONCLUDED?
At the end of the day, I'm no judge. But I will present all evidence accurately and without bias. And I do so with a clear conscience that I've handled the case objectively and not allowed personal emotions to cloud my judgement or prejudice the investigation.
WHAT WOULD YOU SAY IS THE MOST REWARDING PART OF BEING AN INVESTIGATION OFFICER?
For me, it is rewarding when the investigation outcome has an impact on the victims – I get to provide closure to victims when the crime is solved.
Being in the police force, I meet a lot of people from different walks of life. I find inspiration in everyone I meet.
Everyone's experiences are unique – for example, I'm inspired by my colleague's pursuit of justice or passion for their projects. Members of the public also inspire me in their little ways – such as their courage to come forward to report their cases.
WHAT IS IT LIKE TO BE A FEMALE OFFICER IN A MALE-DOMINATED WORK ENVIRONMENT? 
I'm proud to say that I'm able to contribute by challenging gender stereotype, and to prove that a female investigation officer is equally professional and capable in their investigation work.
WHAT IS THE HARDEST PART OF THE JOB?
Managing the loved ones and next-of-kin of both the deceased and the accused. When a person may have made a mistake, their loved ones are very supportive of him or her although they acknowledge that there are consequences that he or she has to face.
HOW DO YOU COPE WITH THE LONG WORKING HOURS?  
Taking the Geylang murder case as an example, it was a 14-hour day from the time I arrived at the scene. Sometimes, the initial investigation can drag on for days. It can be very intense.
We try our best to go home and have a shower, have a nap before coming back to the office to continue. The longest that I didn't go home was a good five days – we have safari beds in the office. 
Personally, I don't have personal time (laughs). But I also don't think the long working hours are causing me to not have personal time – it's about the quality of the personal time you spend with your loved ones. I have very supportive parents (I still live with them) who don't feel that I don't spend enough time with them.
WHAT DO YOU DO TO DECOMPRESS?
I usually don't talk about my cases at home. I try to watch happy shows, such as variety shows and short clips. I don't enjoy dramas with a lot of crying (laughs) – as that would be more emotional. There are a lot of ways to protect my mental health, and I also run to keep myself fit. 
GIVEN THE EMOTIONAL CHALLENGES OF THE JOB, DO YOU THINK YOU HAVE BECOME MORE OR LESS EMPATHETIC SINCE YOU STARTED?  
I think it's even easier to be empathetic. It's unlike a drama when you see someone cry. Here, you are seeing this person crying in front of you. Anyone who faces it will have a soft heart for the deceased's next of kin or loved ones.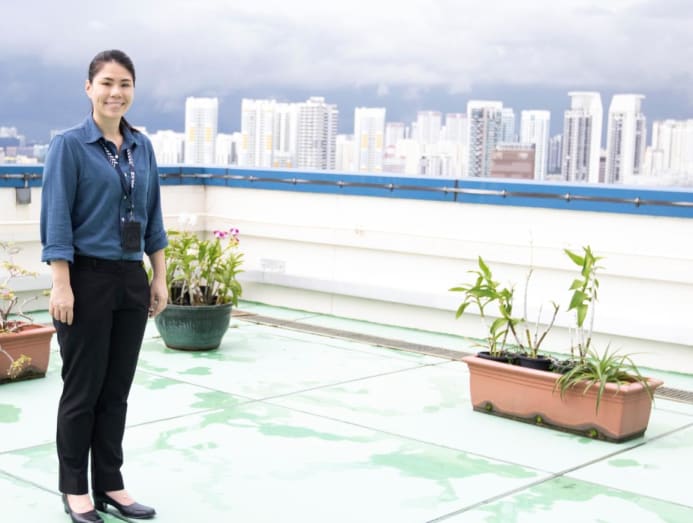 As for the accused, sometimes they are the loved ones of the deceased. When presenting their side of the story, whatever the reasons they have in doing such a thing, they too will have to pour out their emotions to the court during statement taking.
To put it simply, both sides are human. It's more about helping them to have their account, said in the way they want to say it, and present it to the court. This is to be fair to them.
WHAT KEEPS YOU GOING THROUGH THE CHALLENGES?
My former supervisor once told me what he observed throughout his decades-long career, that people mainly stay in the job for two reasons: They either like the work environment and the people, or they find meaning in their work. I can safely say that I've found both where I am, and that's what sustains me.
This story is part of CNA Women's series marking International Women's Day on Mar 8. CNA will be hosting its annual Leadership Summit on this day, themed Women Inspiring Change. It will spotlight the social, economic and political achievements of women, and will feature speakers such as Rappler CEO and Nobel Peace Prize laureate Maria Ressa, and Trip.com CEO Jane Sun. Watch it live here on Mar 8, 1.30pm to 5pm. Details of the event and speakers can be found here.
CNA Women is a section on CNA Lifestyle that seeks to inform, empower and inspire the modern woman. If you have women-related news, issues and ideas to share with us, email CNAWomen [at] mediacorp.com.sg.