Period poverty exists in Singapore – so I helped start a non-profit that gives out free pads to women
Learning that women from low-income households struggle to afford this monthly essential inspired undergrad Kelly Hui and her friends to start Go With The Flow. To mark Menstrual Hygiene Day on Saturday (May 28), she tells CNA Women about the group's mission to eradicate period poverty in Singapore.
Rice, canned food, instant noodles, biscuits, soap, toothpaste and detergent are common essential items found in bags given to the needy through distribution programmes in Singapore. The usual stuff. 
My friends and I volunteer at these programmes every month, where we pack such essentials into bags, which are then given to the bottom 20th percentile in the community. 
Somewhere along repeating this monthly process over the past four years, my friend Evonne Chng, 30, said: "Wah, actually why got no pads ah?" 
She had observed that something half the population requires every month was missing from this definition of "essentials". Were period products assumed to be affordable, and therefore, excluded?
That was what sparked us to start Go With The Flow (GWTF) – a local non-profit that aims to bridge the gap in access to menstrual healthcare in Singapore through donation and distribution channels. In addition to providing menstrual products to those who struggle to afford it, our aim is also to raise awareness and educate the public about menstrual hygiene.  
We are a six-member all-women team, comprising sisters Evonne Chng, 30, and Elisa Chng, 35, Kristina Gweneth Simundo, Ranza Takeda Koay and Shakthi Mohan, who are all 21, and 22-year-old me.
Period poverty, the inability to access menstrual products, is a silent but real and distressing issue for many low-income communities in Singapore. Watch how a non-profit, Go With The Flow, wants to reduce it – one free pad at a time.
PERIOD POVERTY IN SINGAPORE DOES EXIST
I had never heard of the term "period poverty" before and only came across it while conceptualising GWTF. It describes the lack of access to menstrual healthcare. When you google the term, images of teenage girls in developing countries appear – places like Singapore don't come up.
But the GWTF team believes that where there is poverty – and there is poverty in Singapore – there is bound to be period poverty.
According to the Household Expenditure Survey, the bottom 20 per cent of Singapore households spend S$2,570 monthly yet earn S$2,235 a month. This places them at a monthly shortfall of S$335 for their day-to-day living expenses.
While a pack of pads may not seem like much, at an average of S$6 each, the costs can accumulate to about S$72 a year per menstruator. Each household would often have more than one person of menstruating age, such as a GWTF beneficiary who has eight daughters.
Sanitary pads are not the first priority on the shopping lists of low-income households. There are more important things to spend money on: Milk powder, groceries, school items and so on.
One of the beneficiaries described every month as a battle between choosing a meal or a pack of pads. In a month where money is tight, she chooses to eat instead and creates makeshift pads by sticking double-sided tape onto diapers that her toddler can no longer fit into. 
The idea of somebody having to struggle through something that other women in Singapore deal with in comfort and security every month simply didn't sit right with my friends and I.
On top of a lack of access, the social stigma surrounding menstruation is so huge that people avoid discussing the topic of periods altogether. When we tried to start conversations with menstruators about menstrual healthcare, many shied away in embarrassment or spoke using euphemisms like "bloody Mary" or called it "that one".
If no one dares to speak freely about menstruation, then problems like period poverty simply get buried and become harder to solve.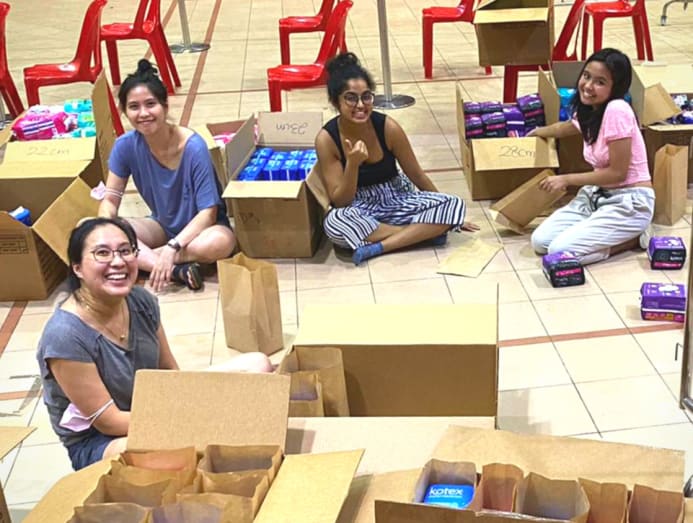 But onward we pushed. We launched Go With The Flow in December 2020. The six of us are undergraduates, engineers and educators by day. By night, we were making period-positive infographics on Instagram, losing sleep together decorating our first three donation boxes and sending at least 15 cold emails a week to find a home for our next donation box.
After half a year, things started to pick up as we crossed our 2000th pad donation. It gave us the confidence that donations were steadily coming in, and that we would be able to accept beneficiaries on a monthly basis.
A MONTHLY AFFAIR OF COLLECTING, SORTING, PACKING, REPEAT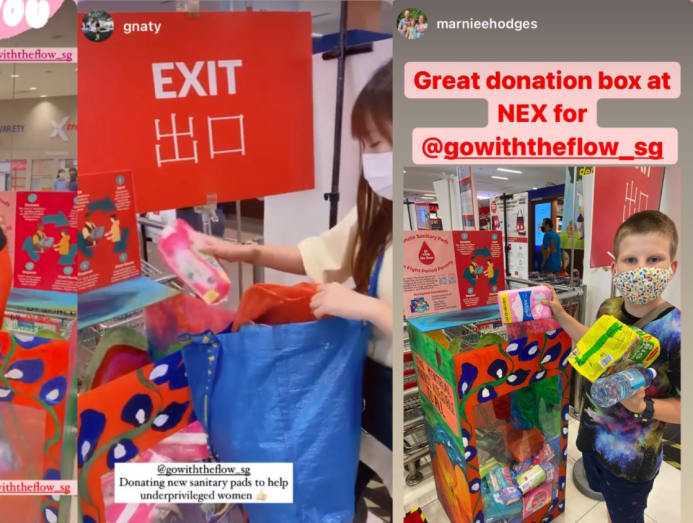 We place donation boxes at public spaces islandwide on a rotational basis so the public can drop off their sanitary pad donations. Our boxes can currently be found at Chinatown Point, West Coast Family Service Centre and Clementi Family Service Centre.
Once the boxes are filled, we sort them by type to ensure that each beneficiary receives a pack of night, day and liner pads each. GWTF needs 2,400 packets of pads every month, and our donations sometimes fall short. Some support from businesses like menstrual hygiene brand Kotex and money we raise from GWTF fundraisers like bake sales help fill the gaps. 
Our group of 48 volunteers, a mix of working adults and students of all ages, help us pack the GWTF care packages. They also help transport them to our partner social service organisations who then disseminate the pads to their beneficiaries. These organisations include family service centres that help low-income and/or vulnerable families in each neighbourhood, and social service agencies like Babes, which supports teenage mothers.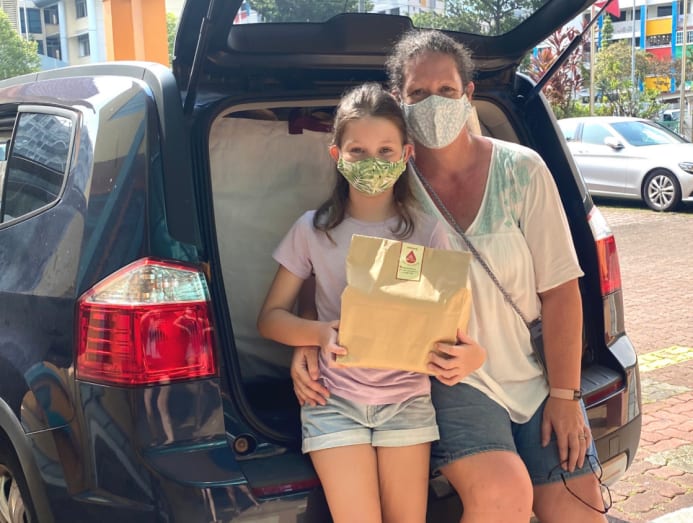 With the help of The Period Co, which sells reusable menstrual products, we were also able to begin offering our beneficiaries reusable menstrual cups, period panties and cloth pads.
While these haven't been the most popular option as they take some getting used to, it is important to GWTF to make the option available because everybody deserves equal access and a dignified choice to all kinds of period products.
ADVOCATING FOR A BIGGER MESSAGE
In July 2021, we started our work in advocacy with secondary schools so that youths can organise their own mini GWTF donation drives to help reduce period poverty in the community and also understand why something biological shouldn't be thought of as gross or shameful. 
On Instagram, we make posts to encourage others (and oftentimes ourselves) to unlearn the shame that's attached to menstruation. Our most recent one was to the men in our lives and why they should care about menstrual healthcare.
To date, GWTF serves up to 800 beneficiaries. They are identified by accredited social service organisations – which helps ensure that the donations are going to the people who need them, since these places conduct their own means testing.
While this is a good start, our ultimate aim is to make period products 100 per cent accessible to any woman who needs them, without the need to prove her "poorness", something that can turn into an undignifying experience.
Along our journey, different organisations also pointed out gaps in other sanitation needs, the most common being the low-income elderly's access to adult diapers. So in January 2022, we started Go With The Motion (GWTM), a sister organisation to GWTF that runs similarly, but instead of pads, think adult diapers.
As we mark Menstrual Hygiene Day on Saturday (May 28), our hope is for Singapore to begin recognising menstruation as a biological process and that sanitary pads are just as important as anything else in the essentials bag – a woman has no choice in whether she needs it or not.  
I hope we will soon begin to see it being included as a necessary item in distribution programmes beyond GWTF, and placed into the hands of any woman who needs them.
CNA Women is a section on CNA Lifestyle that seeks to inform, empower and inspire the modern woman. If you have women-related news, issues and ideas to share with us, email CNAWomen [at] mediacorp.com.sg.